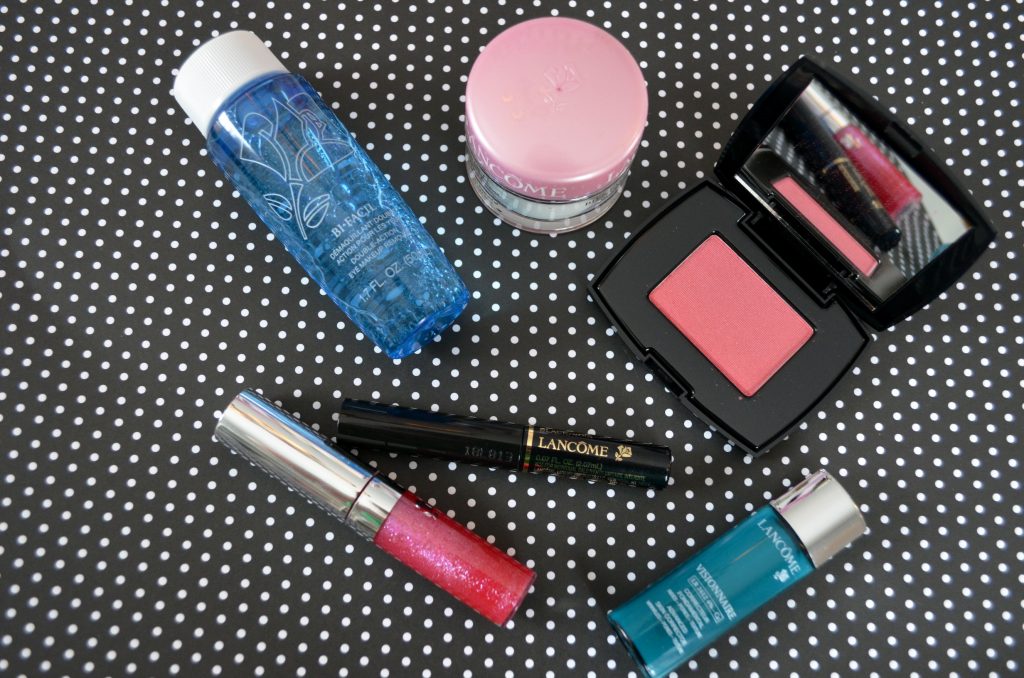 When isn't it a good time to do a makeup haul? Well, I can't think of a better time than to celebrate my little sister's February wedding. I'm the Matron of Honor and will be doing her makeup and mine! While my mum was getting her eyes done at the Lancome counter, of course I had to purchase a few items too.
What really convinced me to splurge was the gift promotion they were having. If you spent $35, you'd receive a bag filled with makeup goodies that totaled up to about $70! I remember when I was a little girl going to the mall with my mum when she purchased Lancome makeup. As one of their promotions, they would give you a loaf of French bread and a tote bag. Looking back, it seems so strange to give out a loaf of take-home-to-bake bread with purchase, but it solidified the idea that Lancome was a French brand! I stopped writing this post to call my mum and ask her about it. She began laughing as we reminisced. She said that when she'd get her makeup from the booth, we'd always have a meal that went with French bread that evening! How neat! Long gone are the days when you receive a loaf of bread with purchase, but the company always has gift promotions that include makeup bonuses!
For the main item, I purchased a primer that I'd been wanting to try for awhile: the LA Base Pro.
This primer from Lancome is designed to help your makeup look perfect for photos (and in person). What really sold me on it was the texture. The product feels like silk and isn't sticky or thick. La Base Pro is supposed to help your makeup look more vibrant while helping it stay put! I especially liked the products ability to diffuse light, reducing lines and imperfections. I have pretty large pores and have tried a lot of different primers. What this product did was smooth my skin and help it look much less oily during the day. Pricey at $42, this is an item I consider a beauty investment.
[Update]
I was pleased with the primer and used it on my sister for her wedding (and on me!) I noticed that her pores looked a lot better when it was applied and that her foundation went on much smoother. It was hard to measure how well it made her makeup last because she usually doesn't wear foundation.
My skin, however, looked really great during the wedding and during photos. I kept some concealer and a beauty blender in my purse and only needed about two touch-ups. I have acne and uneven skin tones. The base really helped create a smooth surface for my blush and bronzer. Since I've been wearing LA Base Pro I've even gotten a few compliments on my skin. Muahah…if they even knew!
Included in the gift was a choice of makeup bag and many other goodies. Here's a breakdown!
I picked out this adorable makeup bag with my gift. There were two others to choose from but I loved the stripes and teal color. It reminded me of Kate Spade. The zipper has a flower with a crystal. Fannncy.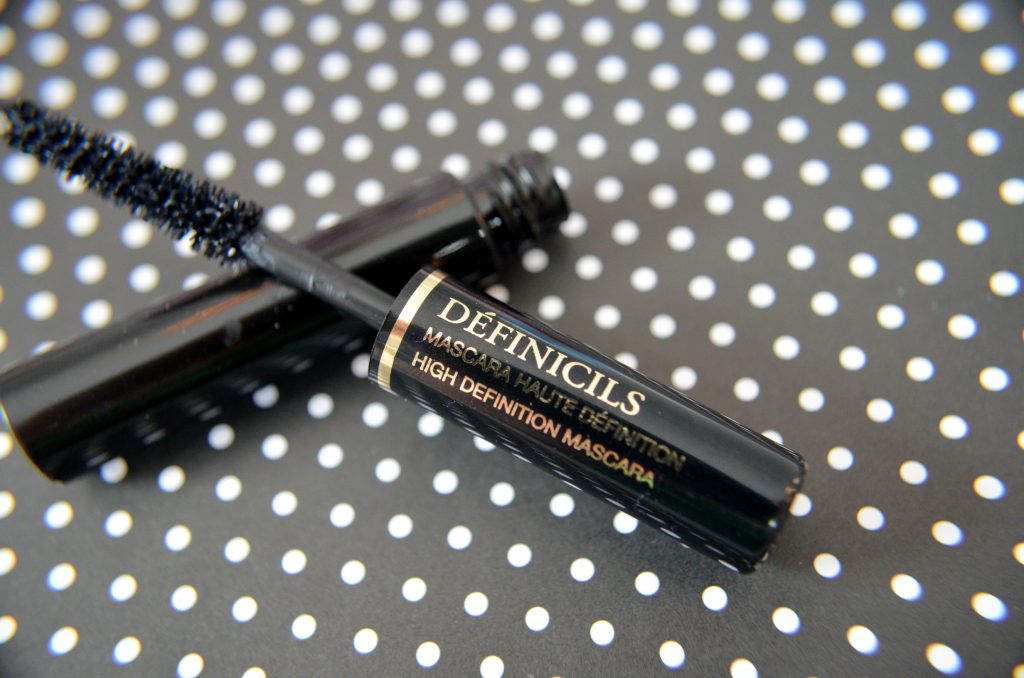 Definicils Mascara in black
I almost purchased a full size of this mascara, but I'll be honest, I'm waiting for Benefit's Roller Lash mascara which is coming out at the end of February.  I always seem to have trouble with my bottom lashes. Mascara rubs off and gives me raccoon eyes. I told my mum this and she said that she was in love with Definicils and it doesn't smear. When our friend (a Lancome rep) brought out the primer, I was sold…but I was happy to get a sample of this in my gift. Mum was right: the product stays on and doesn't rub. I'm impressed. I like this better for my lower lashes than my holy grail mascara: Benefit's They're Real. Mixing both products seemed to give off the best results. Definicils on my bottom and Benefit's on the top.
Although mum said she liked Definicils, a few friends talked her into trying the newest mascara from Lancome: Grandoise. I tried hers and liked it. The curved "swan neck" applicator helps you get every individual lash.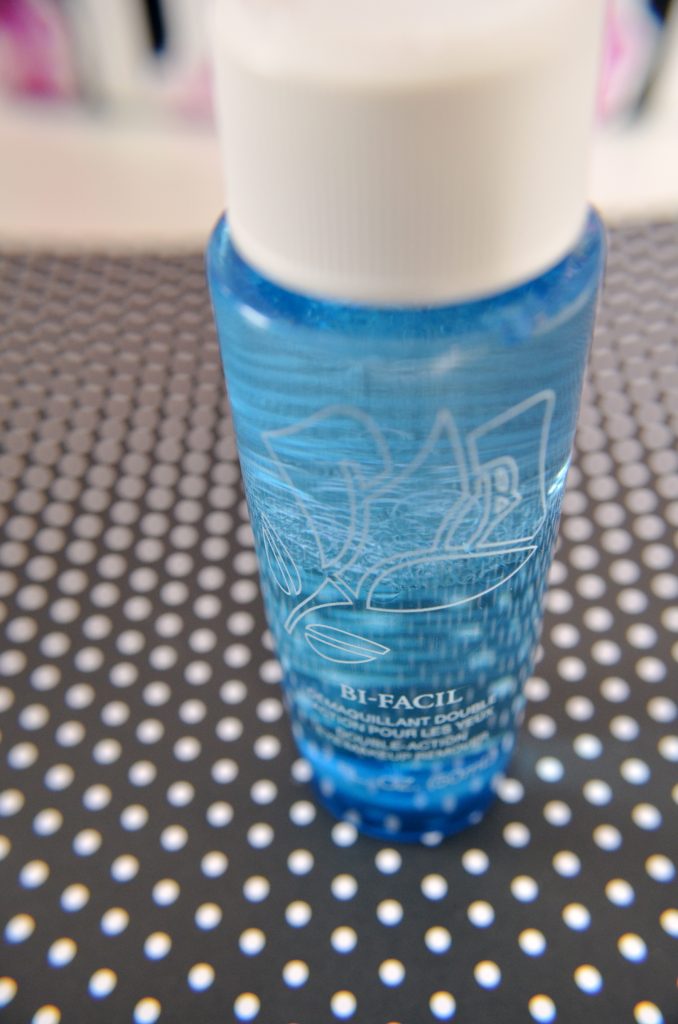 This product is a holy grail for many makeup addicts! I've never purchased a full size because I always get them free in bonus gifts. Right before my sisters' wedding, I used this to clean my beauty blender. Let me tell you, it worked phenomenal. The makeup that had been inside the sponge grossed me out. I kept pouring the makeup remover on the sponge and running it under hot water until it looked like new! I haven't yet had a chance to use the makeup remover on my face, but if it works half as good as it did on the makeup sponge, I'll be impressed.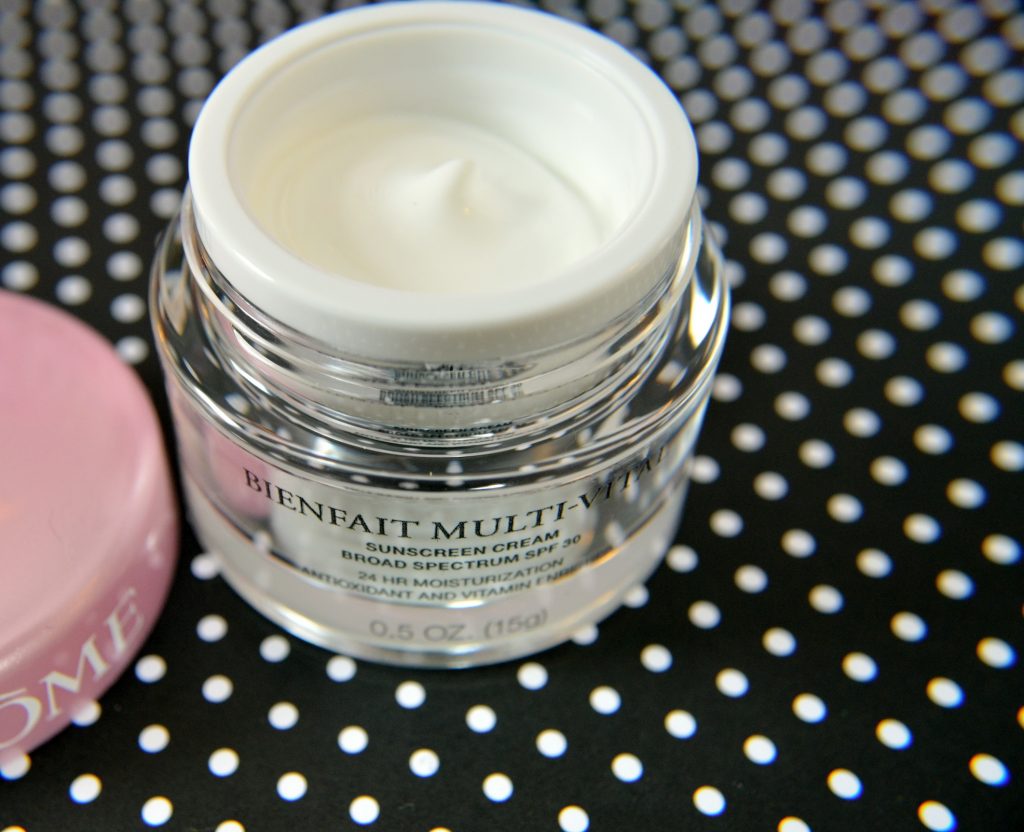 Bienfait Multi-Vital SPF 30 Cream
I always get excited about lipsticks and other items in my gift but this was a pleasant surprise. With 30 SPF, you can't go wrong with this indulgent moisturizer. Although I'm partial to LUSH products, I've been using this in the morning before I put on the LA Base Pro Primer. The sample came with a lot of product and it didn't feel too heavy on my skin. It smelled really fresh. I still prefer my LUSH moisturizer called Celestial.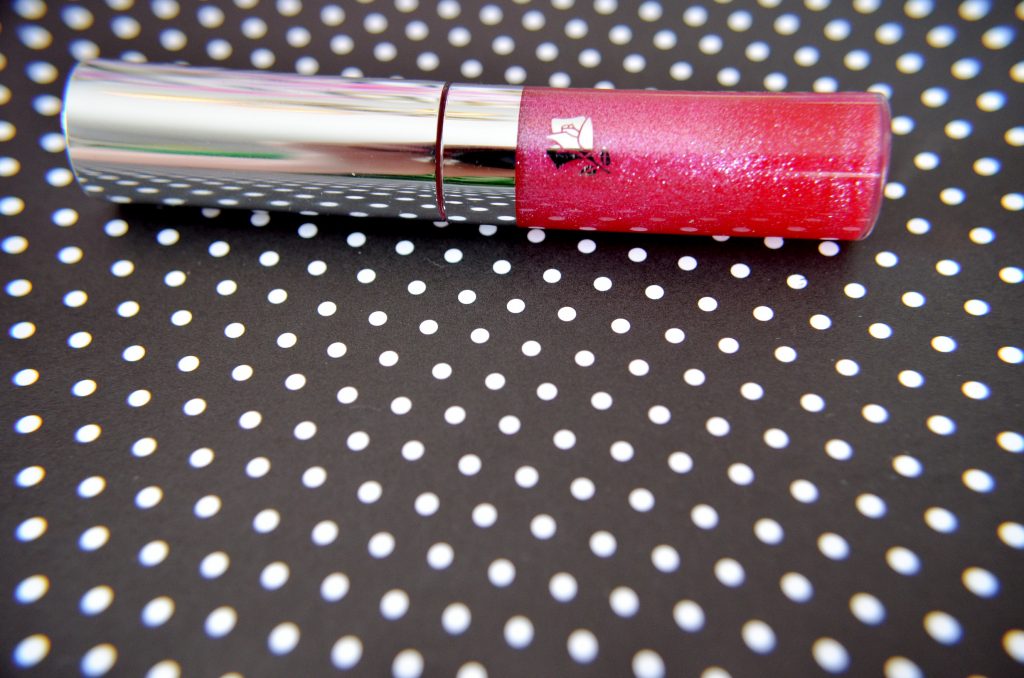 Lancome Color Fever Gloss Sensual Vibrant LipSine in Hot Number
This gloss was underwhelming. Nothing too great. Just a simple lip gloss. It has little color payoff and a lot of shimmer. Although this girl loves glitter, the product just wasn't something I got too excited about. I did, however, put some on when heading to the church for my sister's wedding (before I did my makeup). I really love the packaging and the application wand is nice. The smell reminds me of chemicals. If you like lip shimmer that's a little pigmented, this may be your go-to "no makeup "makeup gloss.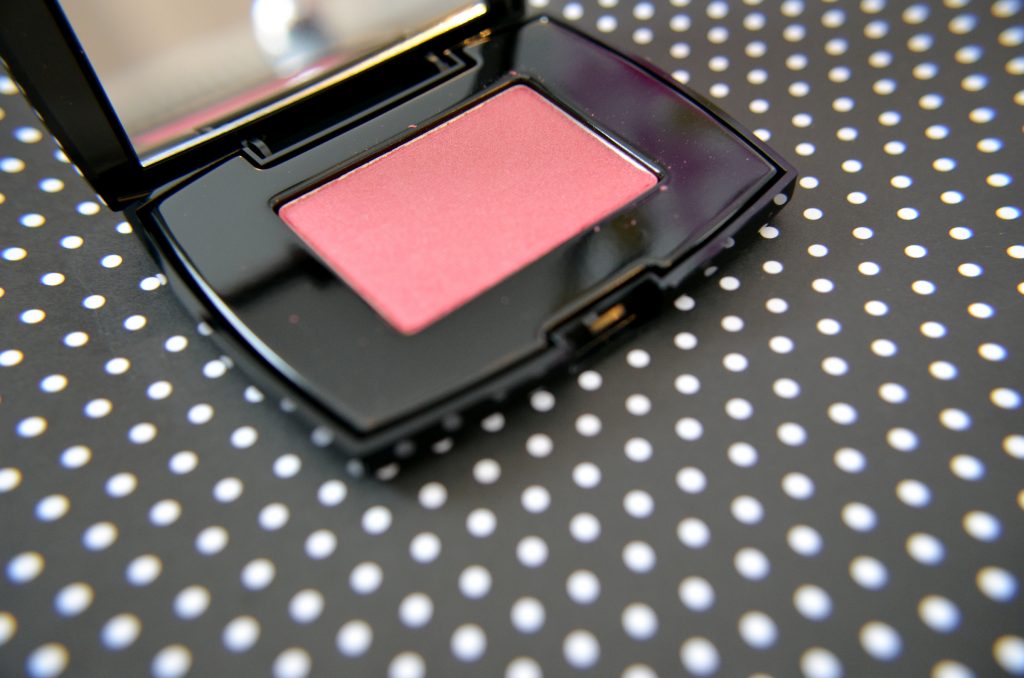 BLUSH SUBTIL Powder Blush in Shimmer Pink Pool 
This blush rocks. The packaging is really nice and I like the mirror which makes for easy application. Blush Subtil is oil-free and is a powder blush. The shimmer is the right amount and the color is a pretty pink – perfect for my skin tone! I don't go through blushes too quickly so I think this will last me a long time. I like applying it with a peachy lipgloss and light eye makeup for a "fresh-face" look.
Overall: It was a pricy investment.
I do love picking up products that I know will last me a long time and will help my makeup stay on longer. Honestly, I wouldn't have purchased the LA Base Pro if it hadn't been for the bonus items and my sisters' upcoming wedding. (They get you with those bonuses!) I'm pleased with the product but I'm not sure how other brands would compare since I've never purchased a full-sized face primer. I've used samples of Smashbox's Photo Finish Primer and Benefit's Porefessional. They seem to be similar in quality but I can't make a right assessment since I didn't wear them as often.