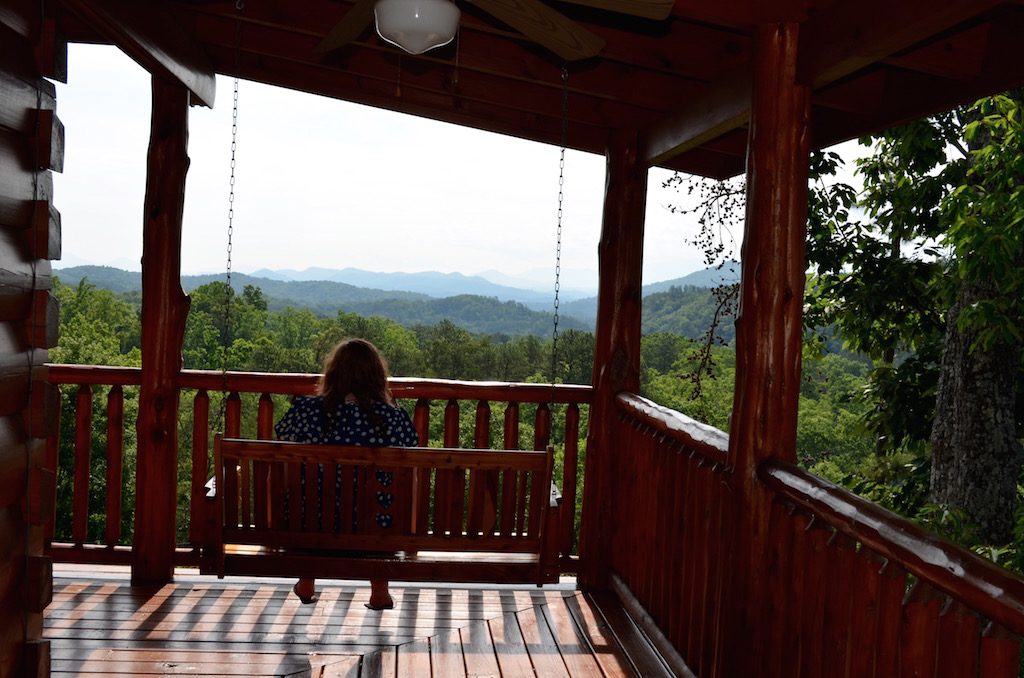 As promised, I will be breaking down our southern road trip. We began our trip on Monday, May 25th with family. To see the whole trip overview click here.
Monday, May 25th: Cumberland Falls 
While driving down to Pigeon Forge, we stopped at Cumberland Falls. Located in the Daniel Boone National Forest near Corbin, Kentucky, this falls is a popular destination for those wanting to see the moonbow (a rainbow seen under a full moon). We visited during the afternoon and hiked about two-three miles. It was really hot and humid, but it was a good hike and the falls were worth the trek. You can also just drive straight up to the falls.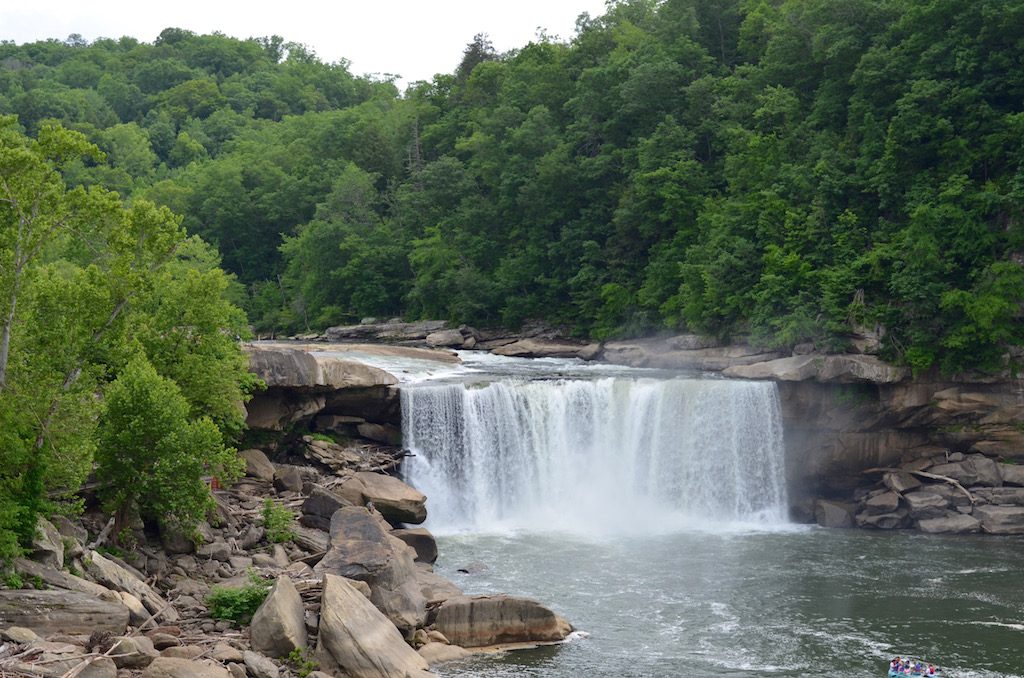 Do you see the small raft in the corner of the picture? It helps you get an idea of how big the falls are. The rocks at the bottom are really large. I learned there was once a hotel overlooking the water but it burned down 1949.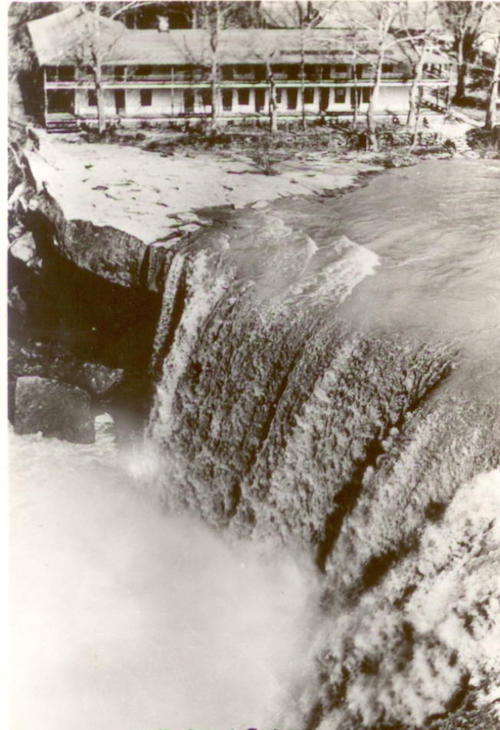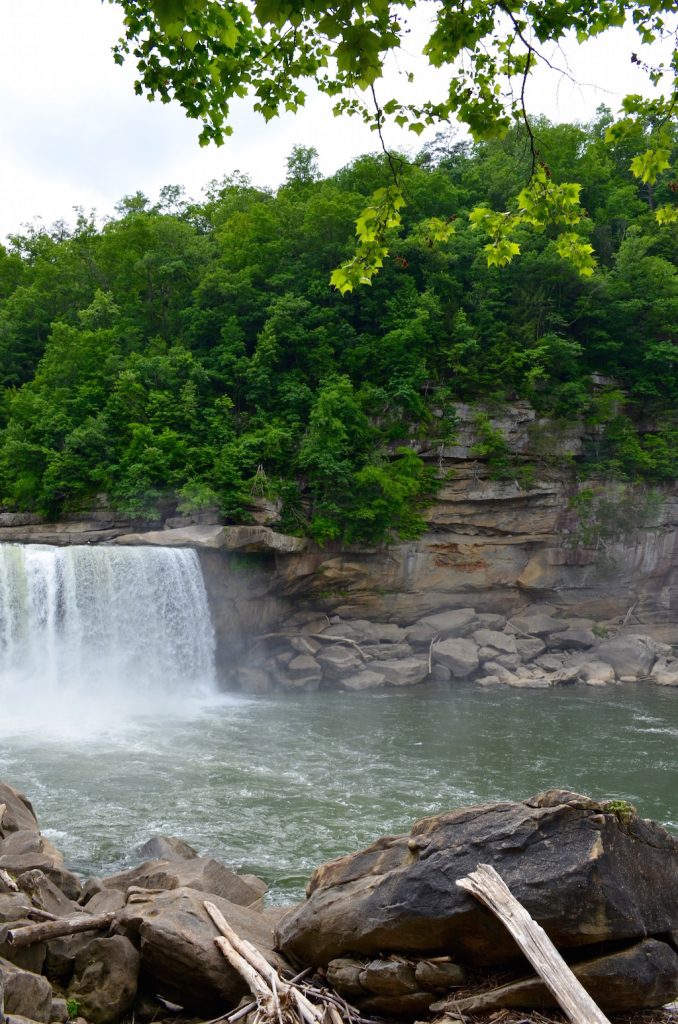 After hiking, we drove to Knoxville, TN. We stayed the night at the Hampton Inn. I love Hampton Inns. This one had a salt water pool! The next morning, we woke up and drove into the Smoky Mountain National Park.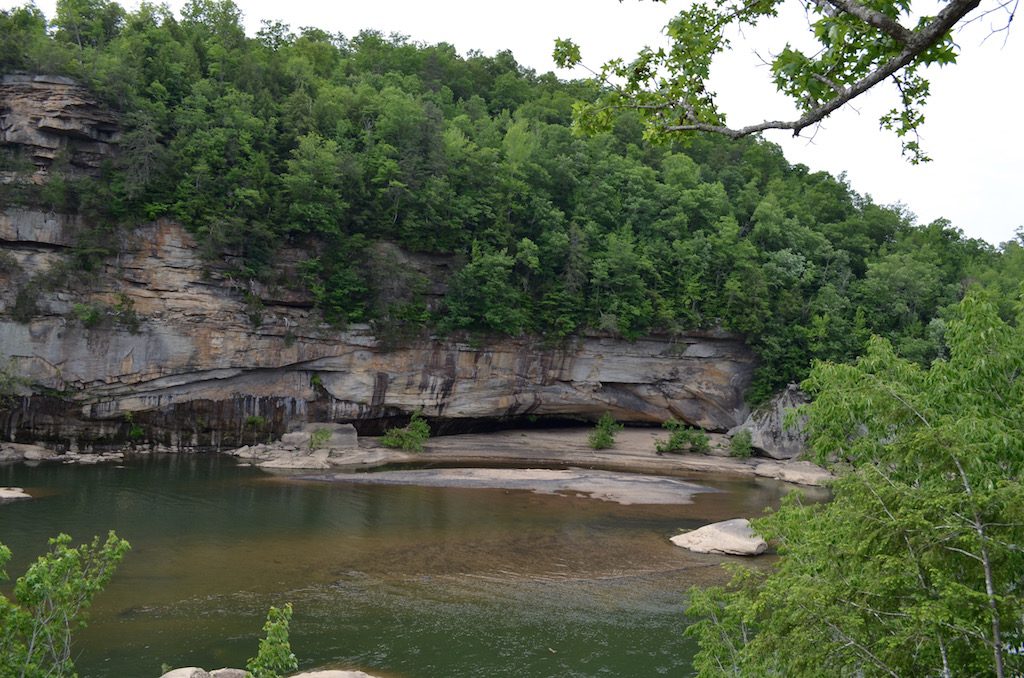 Tuesday, May 26th: Smoky Mountain National Park, Cherokee Village, the Cabin 
On Tuesday we woke up and drove into the Smoky Mountain National Park. Together, it was me, my dad, Dustin's mum and dad, his brother,  his little sister, and Dustin. We stopped at an overlook and took the picture below of Gatlinburg. I've stayed at the hotel that's higher up. It's also where my little sister stayed on her honeymoon. It's currently owned by Hilton and is called The Park Vista by Doubletree. It's really cool and has a 15-story atrium.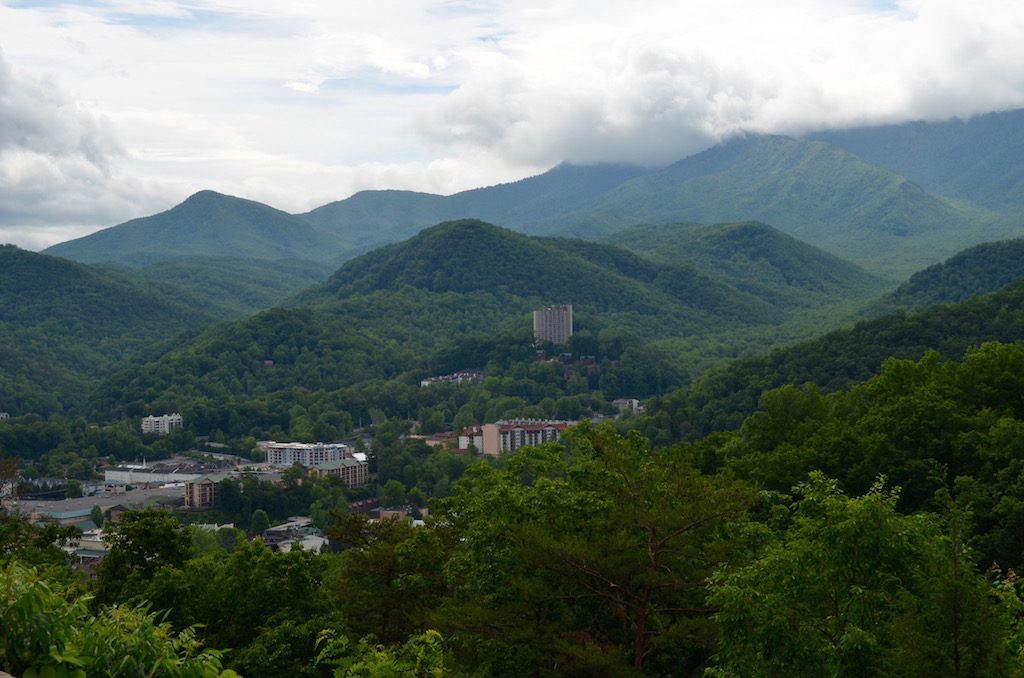 Along with stopping a the park's visitors center, we hiked to Laurel Falls. After that, we drove over the mountain to Cherokee in North Carolina. I remember visiting this little village when I was a small girl. It's on an Indian reservation and has many different shops. It seemed a little run down and there weren't many people there. Just going over the mountain was worth the trip, but I probably wouldn't suggest going to Cherokee unfortunately. It just isn't how it used to be.
After Cherokee, we drove back over the mountain and found our cabin! The cabin was rented through Cabins of the Smoky Mountains. Since we were staying in May, we received a great discount. I believe it was less than $300 per night and we stayed three nights. Dad and Dustin's dad and mum shared the cost of the cabin. Dustin and I later contributed by paying for everyone's aerial tram ride, which was about $85. The actual cabin name was Love View More.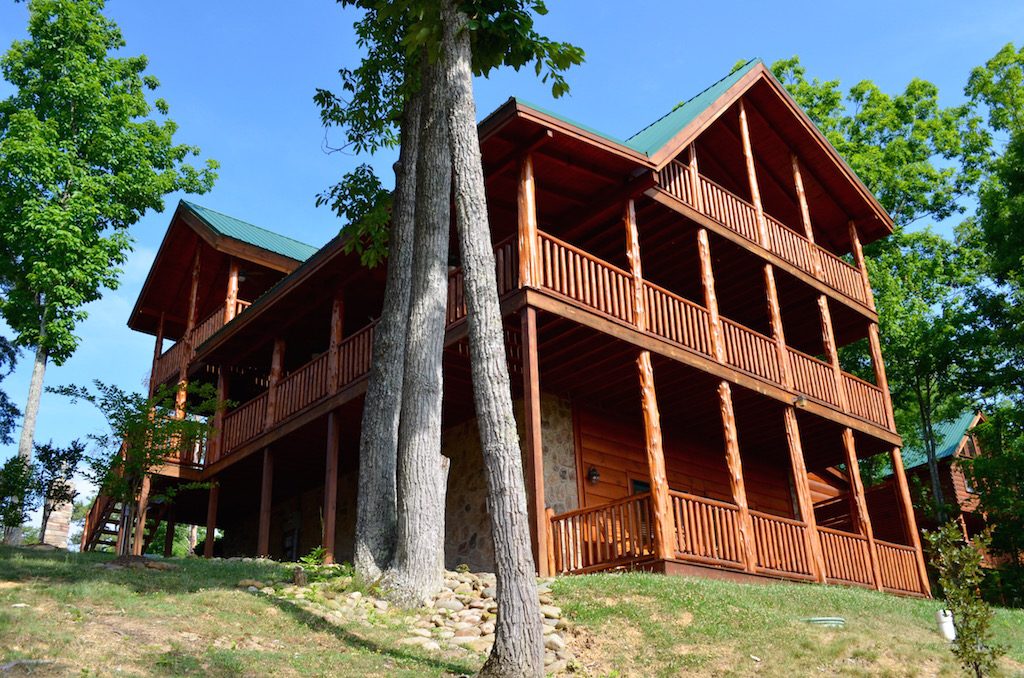 The cabin was massive. It's probably one of the nicest places I've ever stayed. Five balconies, four massive bedrooms, five bathrooms, a theater room, a game room, and more.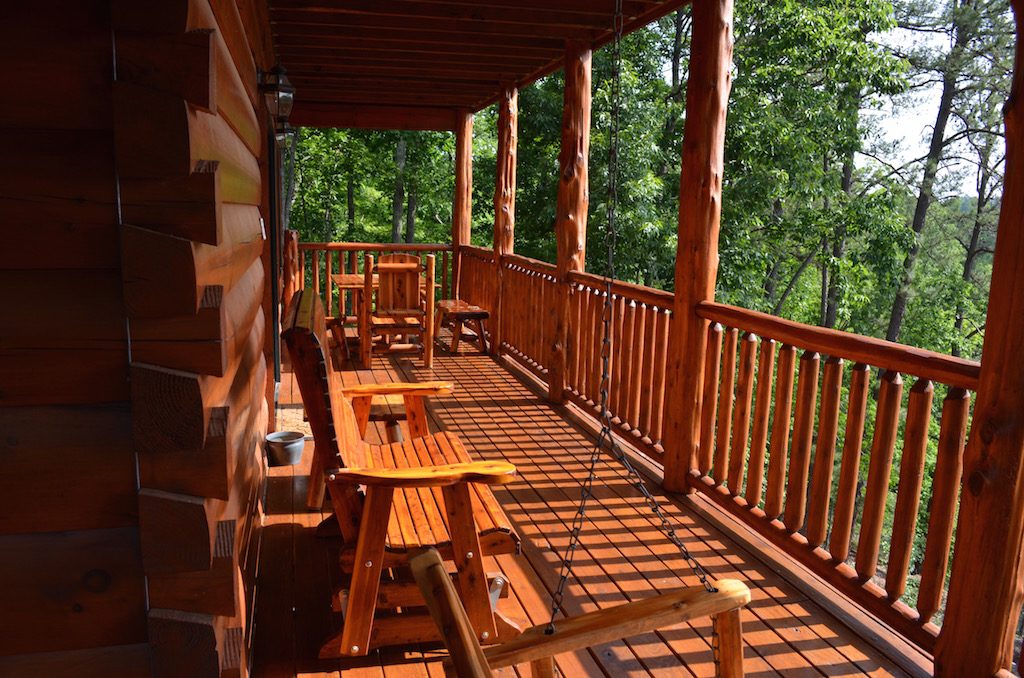 We spent a lot of time on the front porch, which was attached to the living room and dining room. The view was spectacular. I can't even describe it.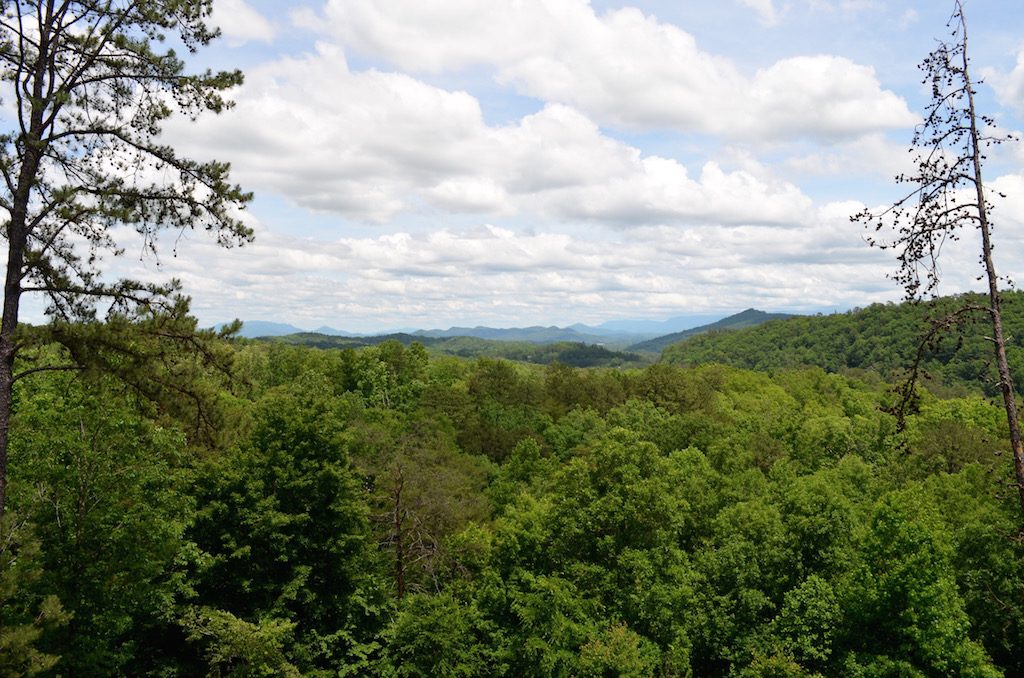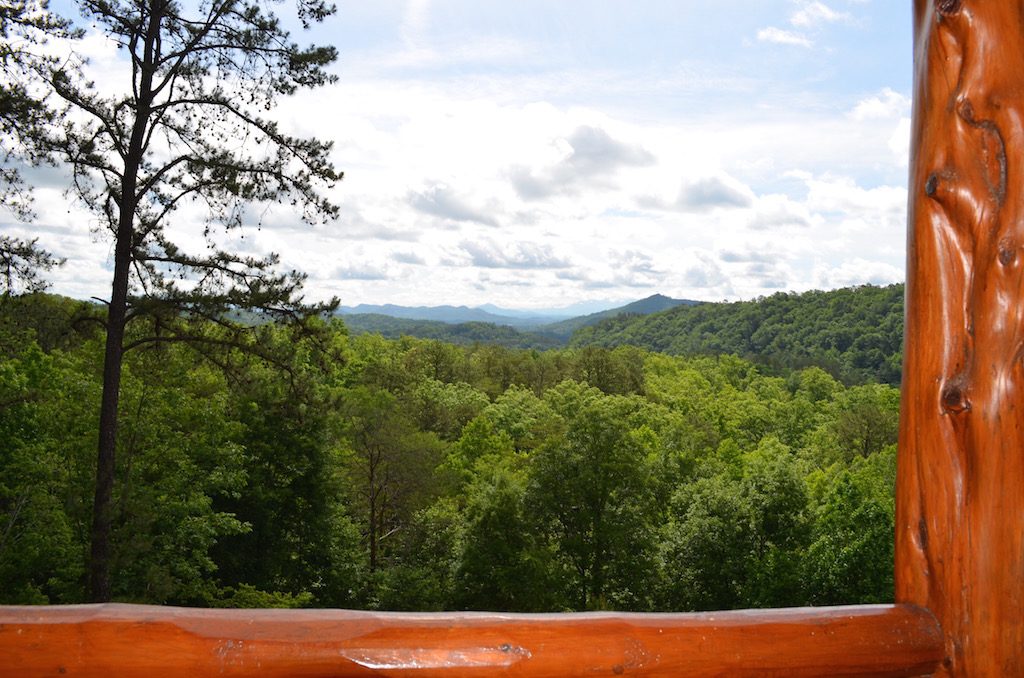 Above is a picture of the view from the front porch. We all got a private bedroom except Dustin's siblings who shared. Each bedroom had it's own bathroom, some with double sinks. The master suite was Dustin's parents room. It had it's own private balcony, a garden tub, vaulted ceilings, and a master bathroom.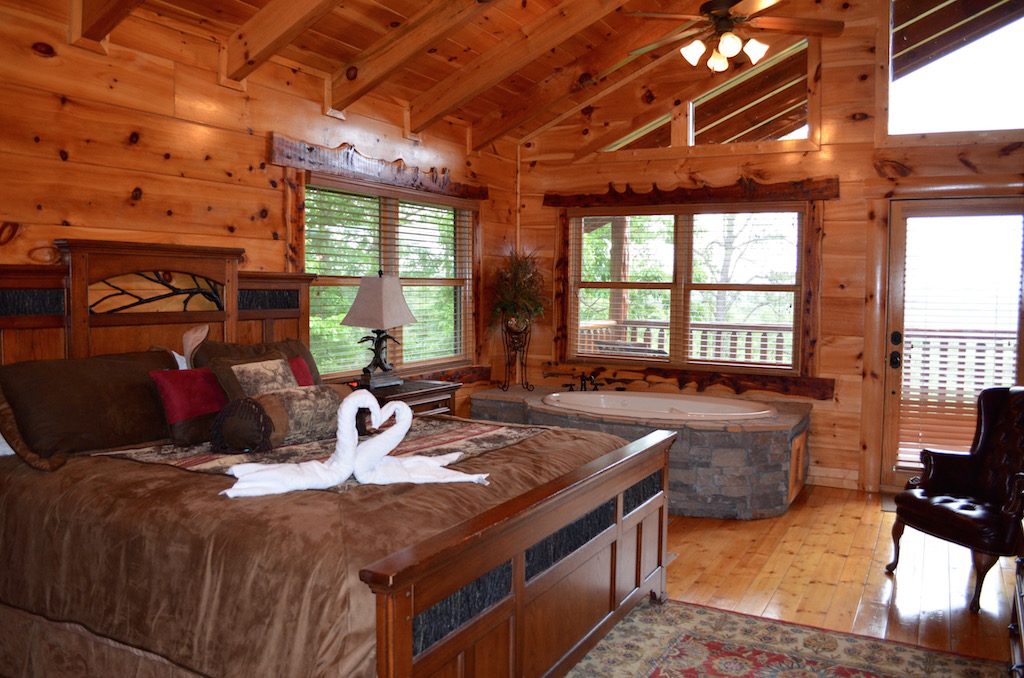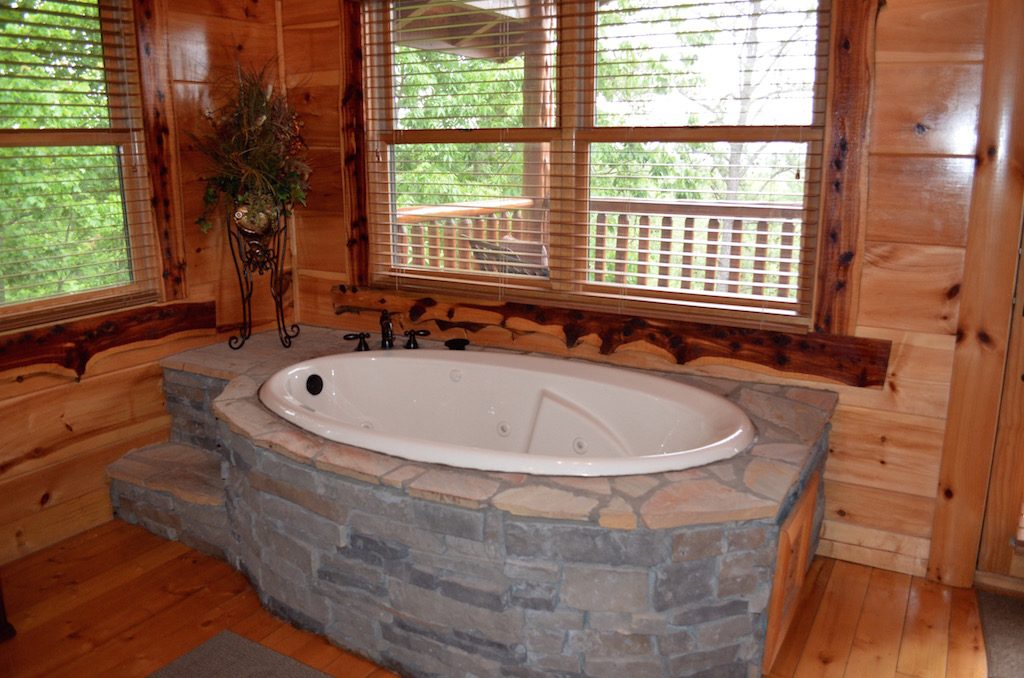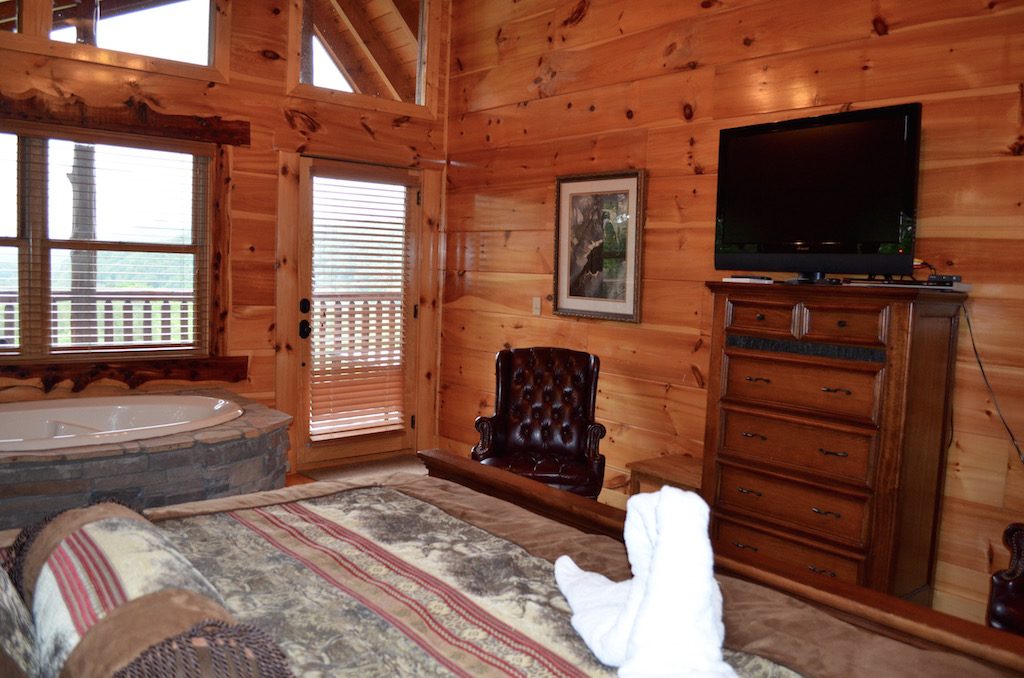 Dustin and I picked the bedroom in the basement. There were glass doors that led to the hot tub on the bottom level. There was also a private bathroom attached. I loved the king sized bed and the decorations were really fun. We had plenty of room!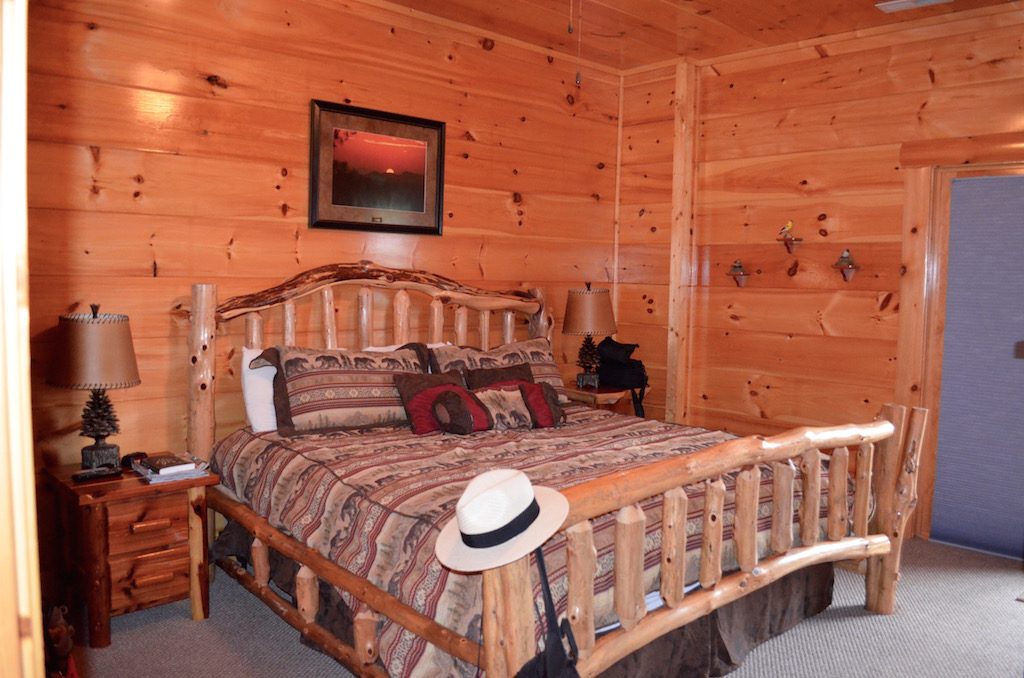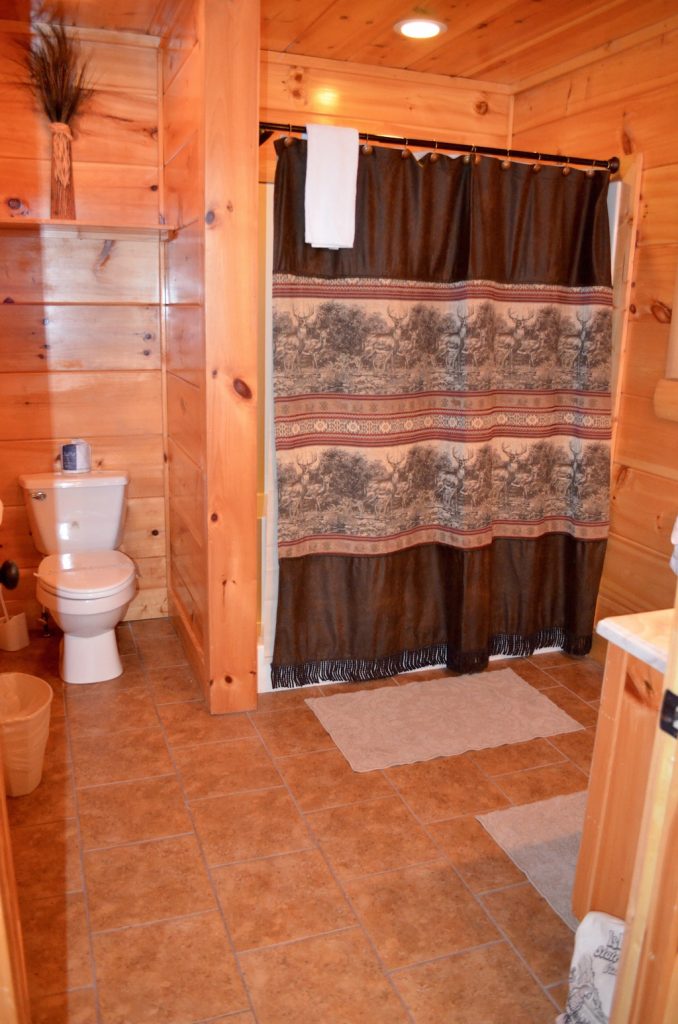 Below is a picture of one of the other bedrooms. When we arrived the towels were folded. I loved the exposed beams and wood. Each bedroom also had a flat screen tv.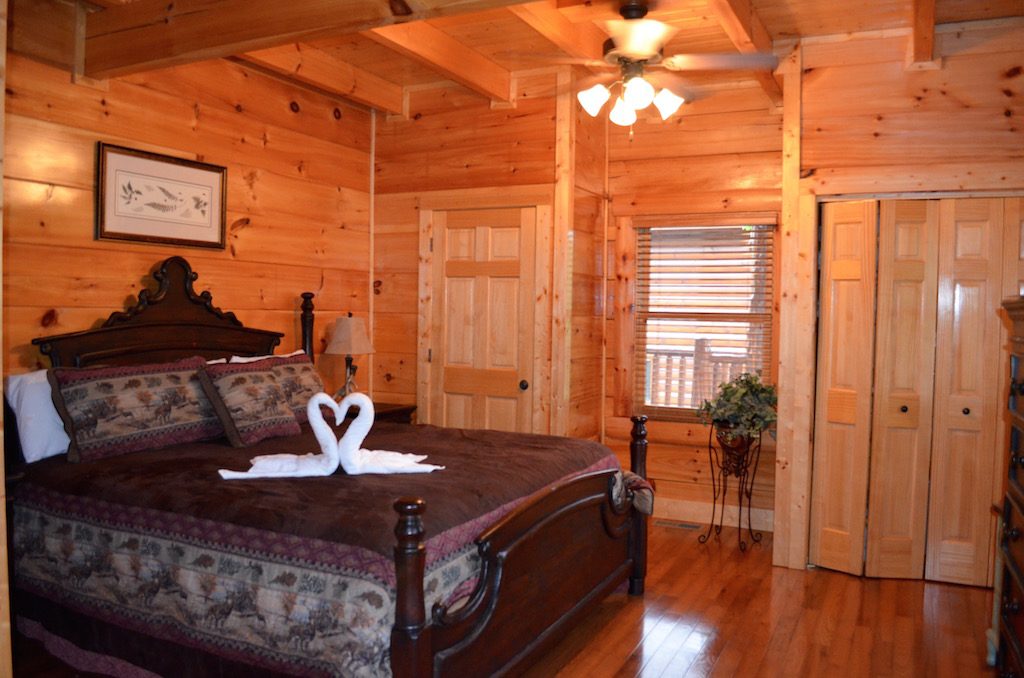 Two of the four bedrooms had their own private decks. Our bedroom had a door that opened to a communal deck. Below is a picture of the dual sinks in one of the bathrooms.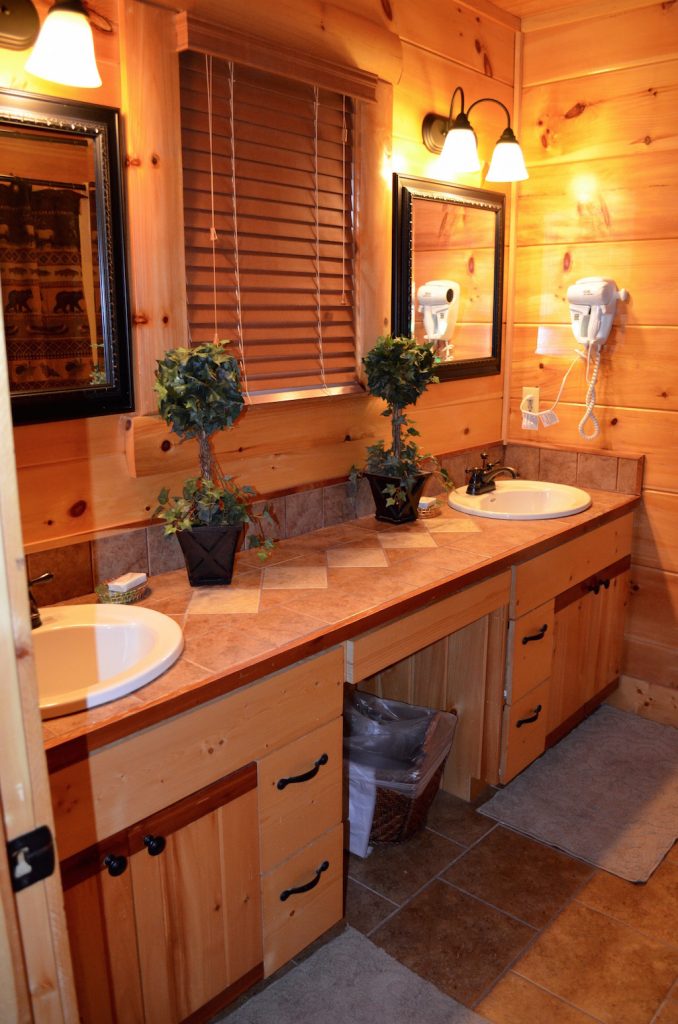 We didn't spend that much time in the family room. Instead, we found ourselves at the dining room table, out on the porches, or playing in the game room. Although this room was wonderful. The TV (not pictured) was massive and the couches were comfy. The kitchen was well equipped and even had an ice maker appliance built under one of the cabinets. I loved the granite countertops and the space. One morning our dads combined forces and made us a yummy breakfast. Other than that, we just snacked. We dined out more.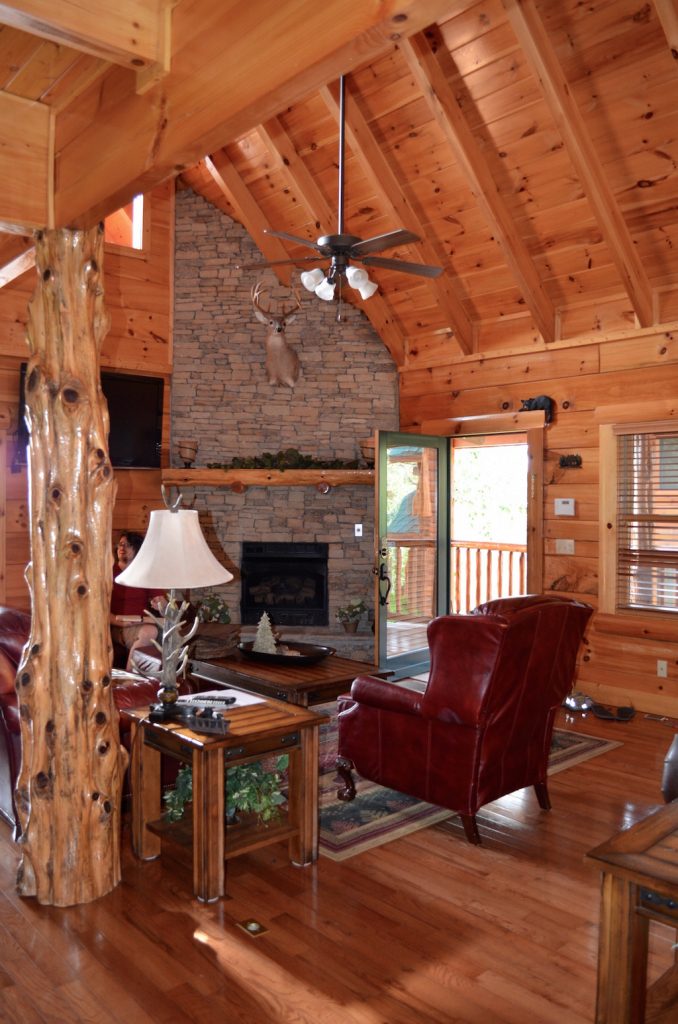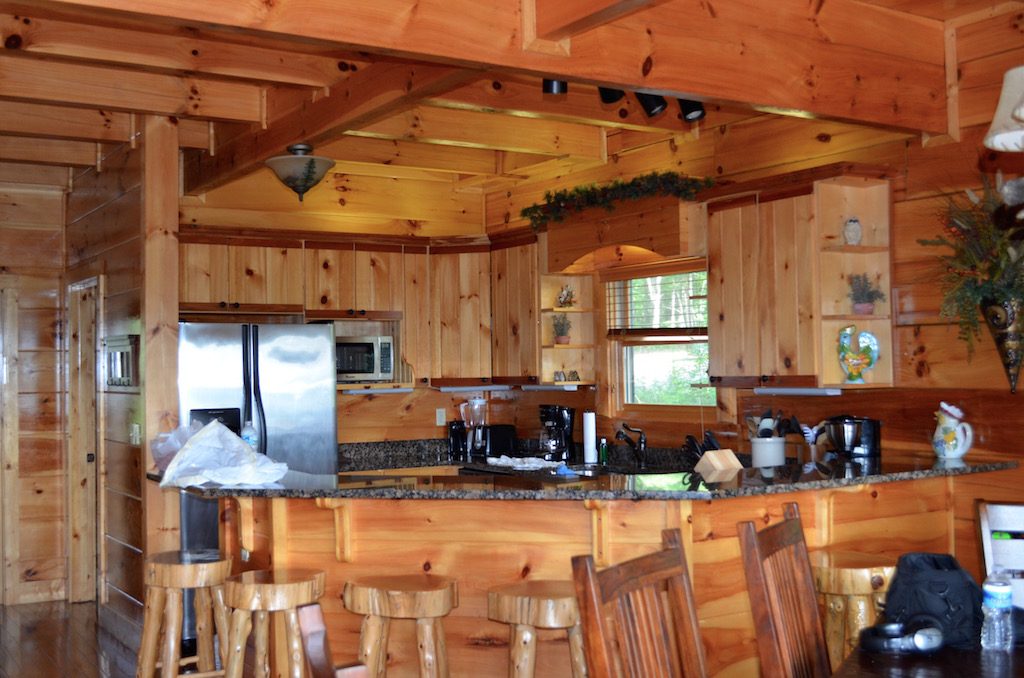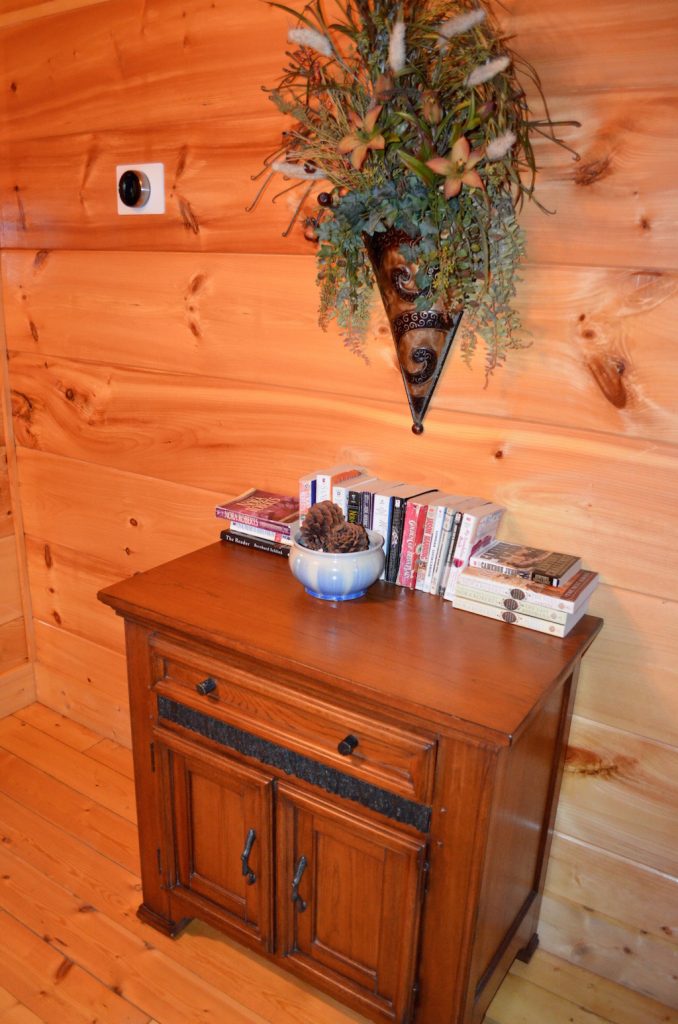 The game room and movie room were decorated with fun art, including a Gone with the Wind movie poster.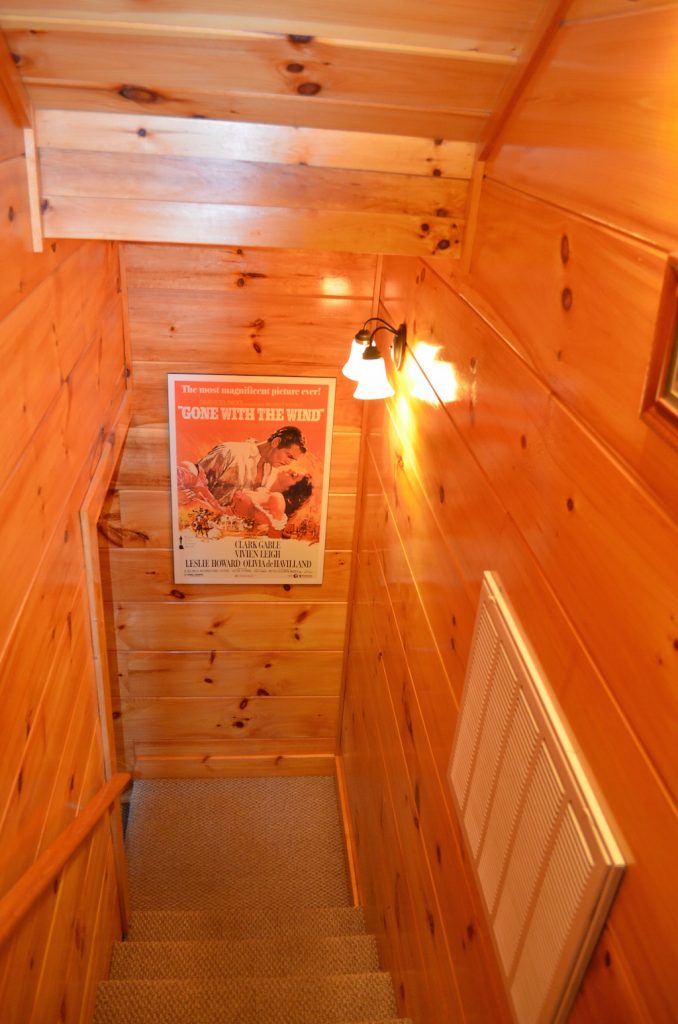 A lot of time was spent playing pool and arcade games. The arcade machine had lots of different vintage games and use was unlimited. The boys (and everyone else) couldn't stay away from it! We turned on the fireplace a few times. It was really cozy.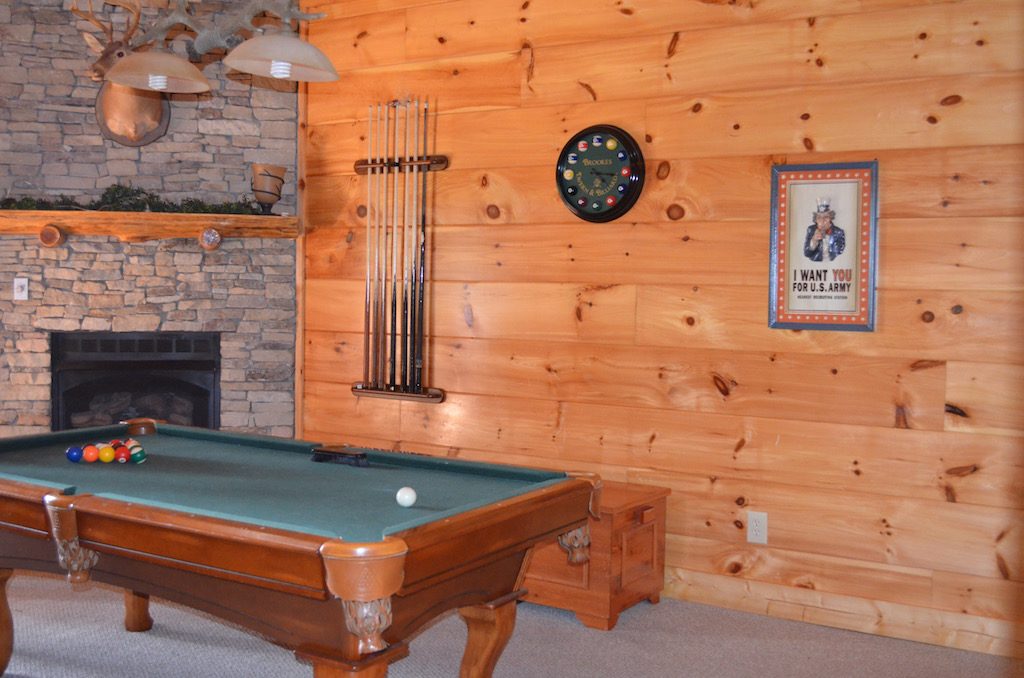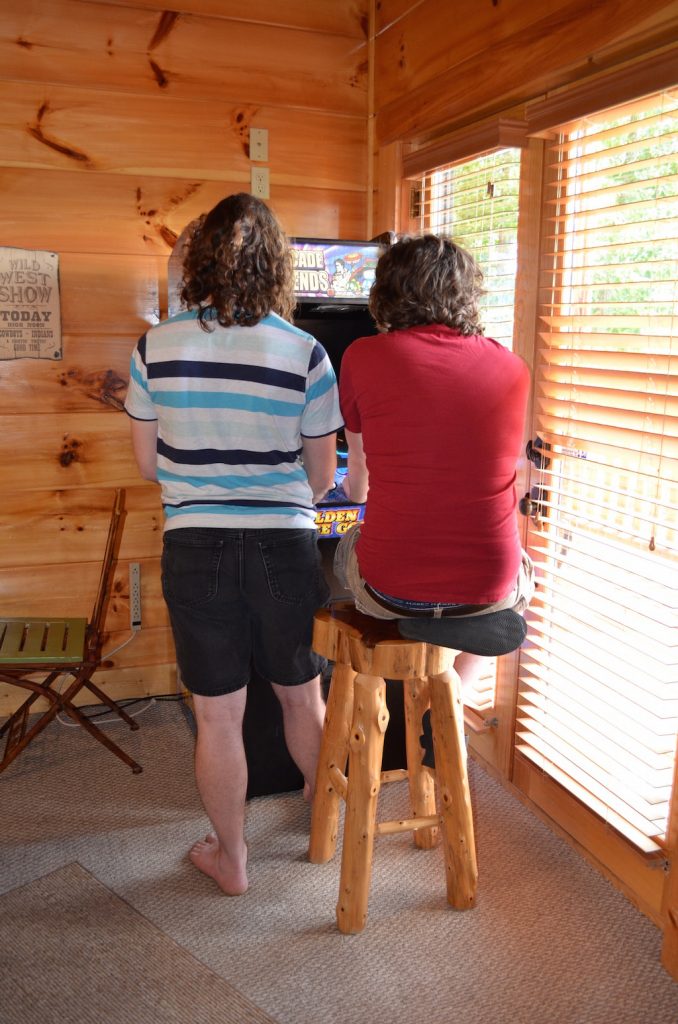 Believe it or not, we didn't really use the theater room. It had it's own bathroom and was such a cool thing to have in the cabin. We all love movies, but we were pretty busy seeing the sights. One night we just watched TV down there before bed. The sound system was good and the picture clear. (Love that Grease poster).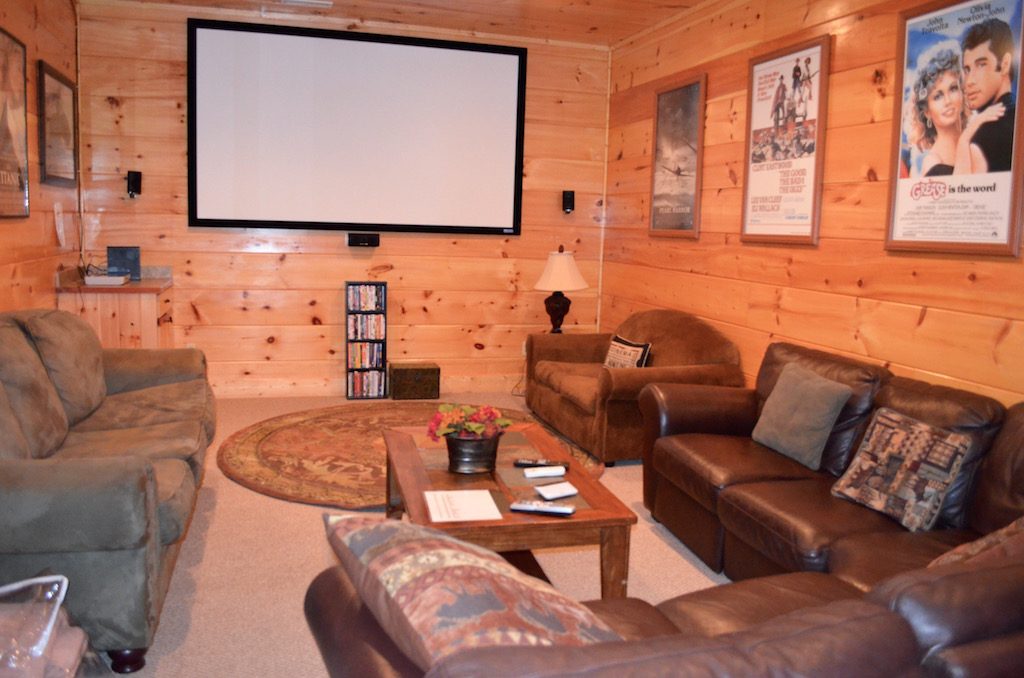 Wednesday, May 27th: Poison Ivy Scare & Dixie Stampede
Every morning Dustin and I would wake up and try to get some work in. On Wednesday, Dustin was breaking out in poison ivy. We were unsure of how bad it was until his eyes began to swell. After a trip to Urgent Care and $200+ in medical bills, we were glad we paid attention. I guess Dustin is extremely allergic to poison ivy and it had gotten into his bloodstream. The doctor at Urgent Care gave him a shot and watched him until his swelling went down. His tongue was tingling and his lips were swollen. The doctor told us if it got any worse he needed to get to the ER. She gave us directions, but with steroids he got a little better.
That evening we got to go to The Dixie Stampede. Was it corny? A little. Was it fun? YES! I've been three times now and I love it. Headed up by Dolly Parton, this attraction is fun for all ages and includes a full meal. You eat with your hands "country style" and watch a show. There are live animals like horses, pigs, mini ponies, bison, and more. The tricks are cool and they've added a woman who flies around attached to invisible cords, representing a Native American bird. The service was great and our waiter took good care of us, making sure we had lots of sweet tea.
I was so full at the end. The amount of food is so big. You get a cheesy roll, a bowl of creamy vegetable soup, half a baked potato, a whole chicken, BBQ pork loin, corn-on-the-cob, and an apple turnover. The chicken is really strange (because it's an entire chicken) when they lay it on your plate, but it's delicious. There are wet wipes for your hands too.
For $60, it's a bit of a splurge, but it was fun for the whole family and the horse  tricks were worth seeing. Look around for coupons!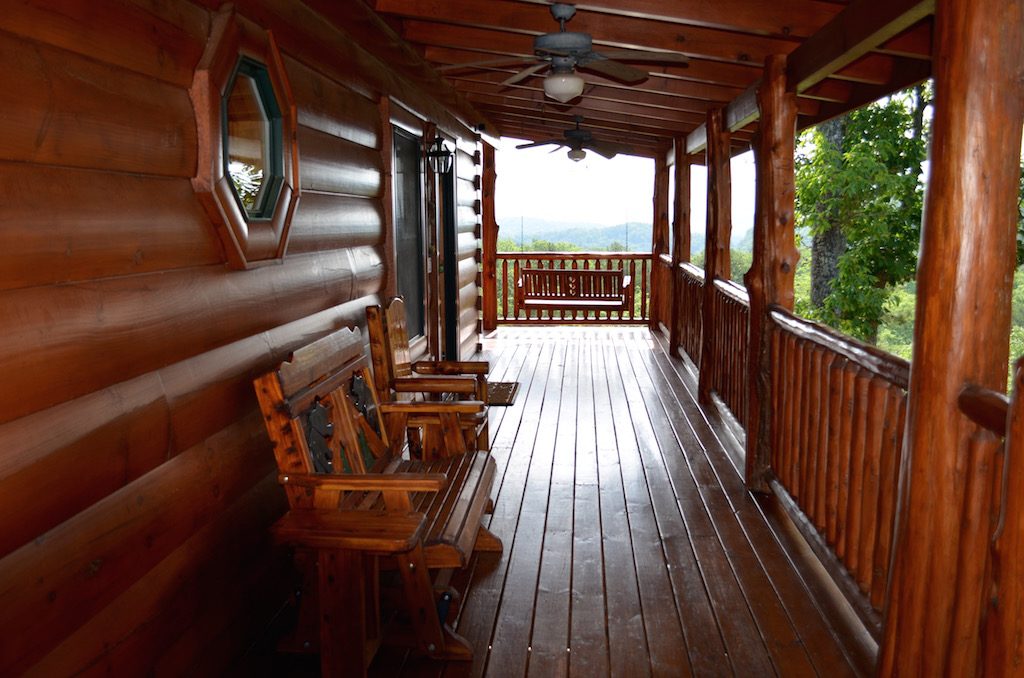 Dustin working in the morning with his coffee.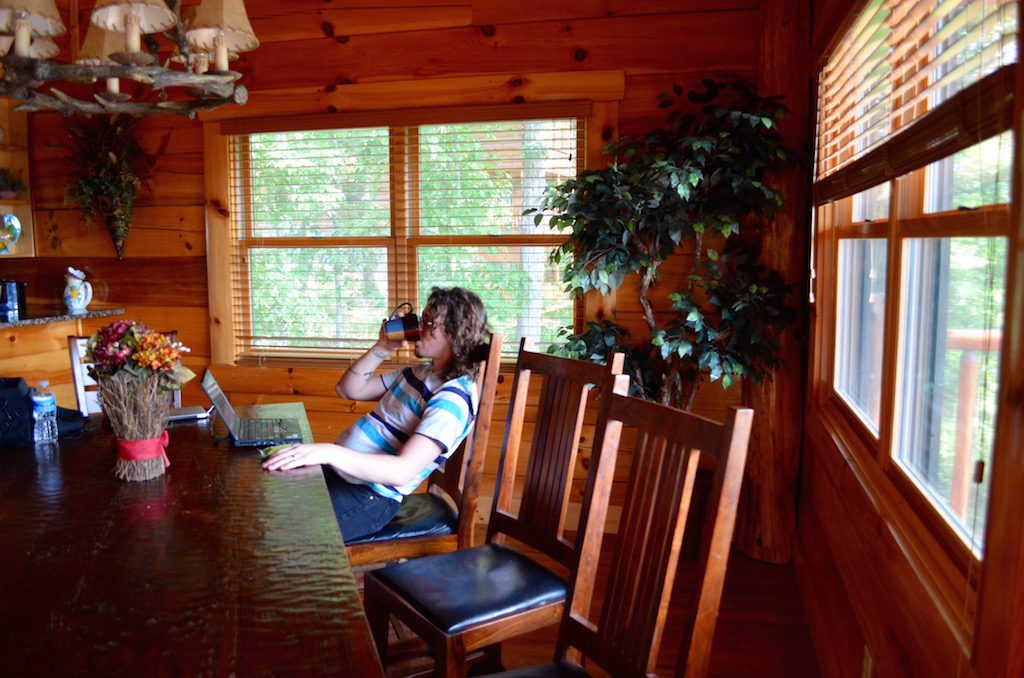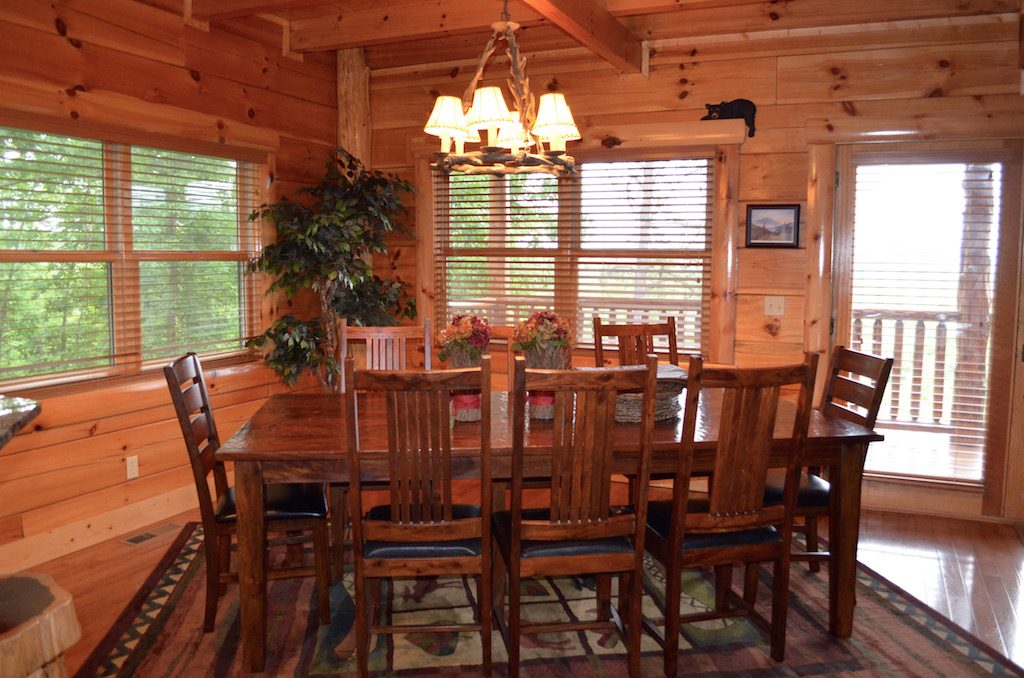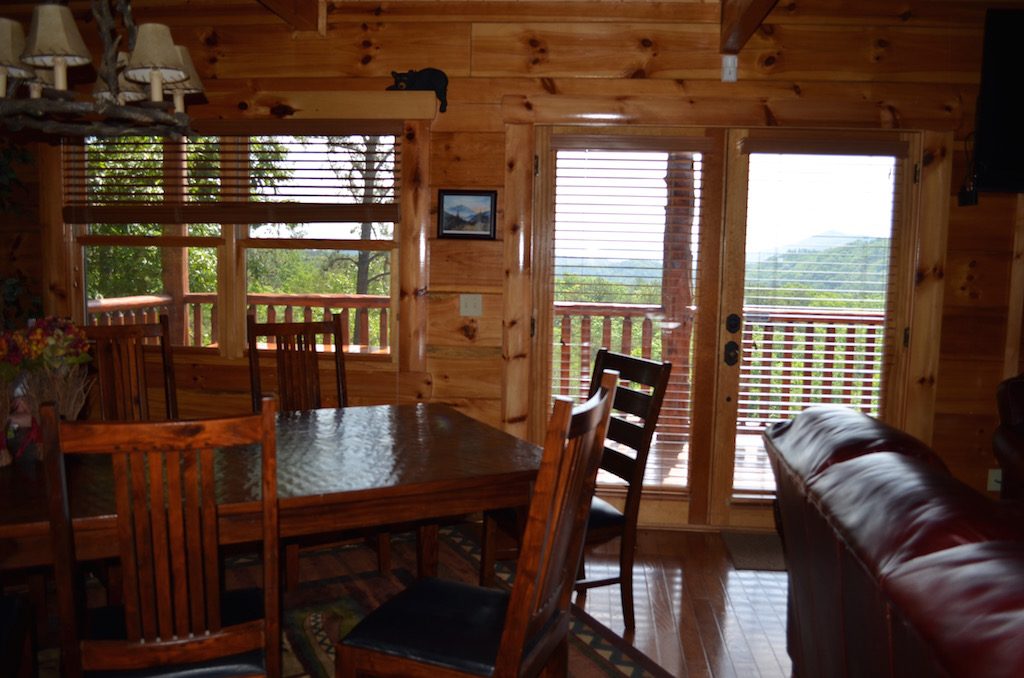 I already miss this porch swing 🙂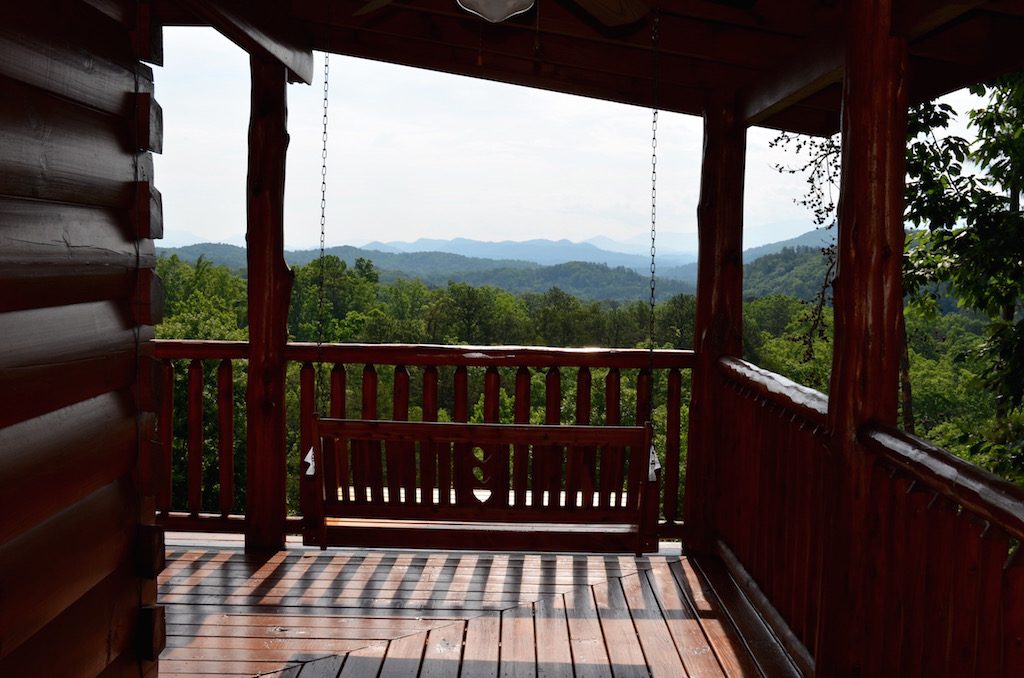 I think that's enough of our trip for this post. (And that's only three days!) Next, we had a few more days with the family and then headed off on our own.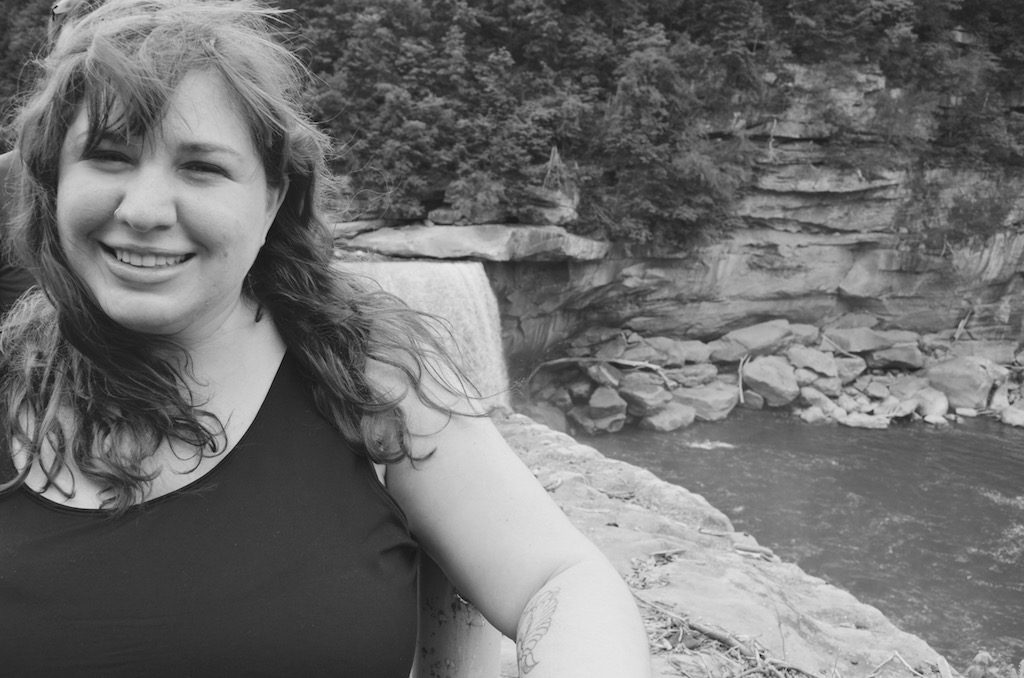 love & laughter,
Tiffany