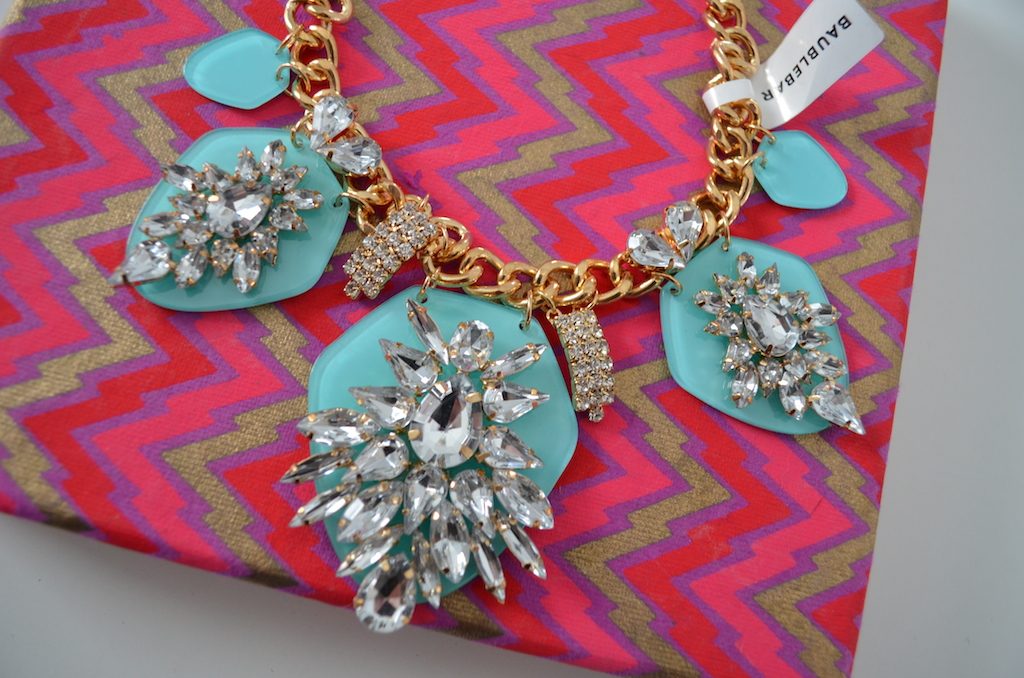 In preparation for the blog launch, I purchased a few items for the photo shoot. I couldn't resist when BaubleBar sent me an email about their sample sale! I first heard of BaubleBar online. The bright colors and fun logo kept popping up on one of my sidebars. I assumed it was super pricey and just not something for me. Before I knew it, I was looking at their different products and contemplating some baubles for my sister's wedding. (Maybe this brand was something I could afford!) BaubleBar has different discounts each week. There's a weekly "buried bauble" that's discounted. This jewelry item is usually $20. There are other sales for only $10. If you receive their emails, you get a hint as to where the buried bauble is hidden. After Christmas, I signed up for the company's emails and saw some earrings for only $10 that would compliment my bridesmaid dress. I was shocked that the earrings included free shipping and free returns. Once it came in the mail I was sold. BaubleBar makes it feel like you're receiving a special gift. Everything – from the product to the receipt are packaged professionally. After receiving and rocking the earrings, I ordered two more items for my blog branding shoot coming up.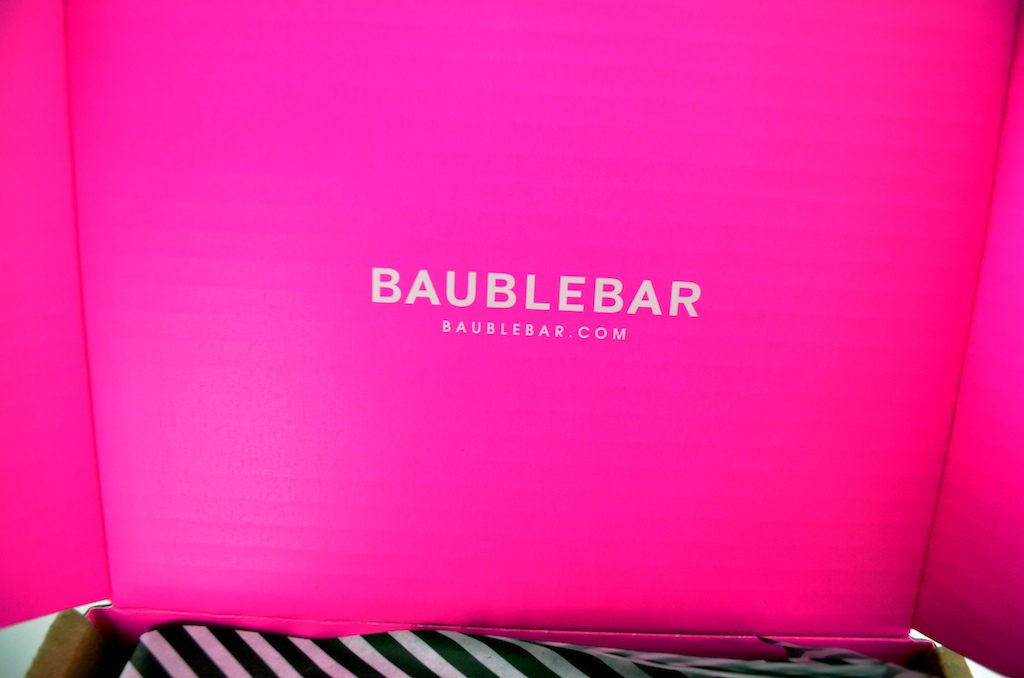 When you open the box, you can see the inside has a bright pink color and the company's logo. Also note the fun striped tissue paper.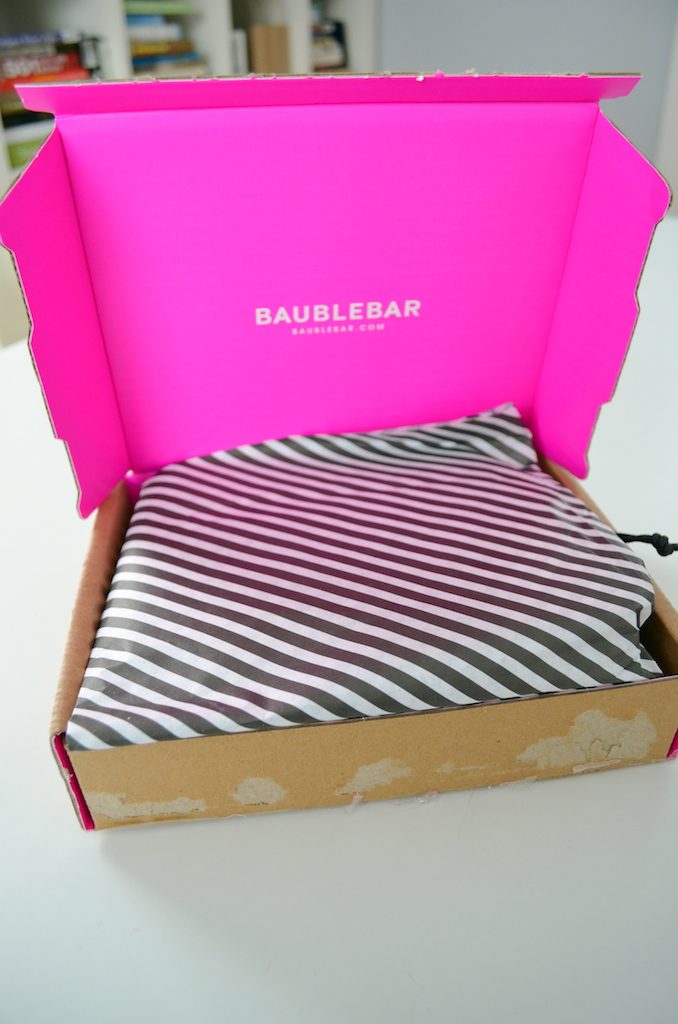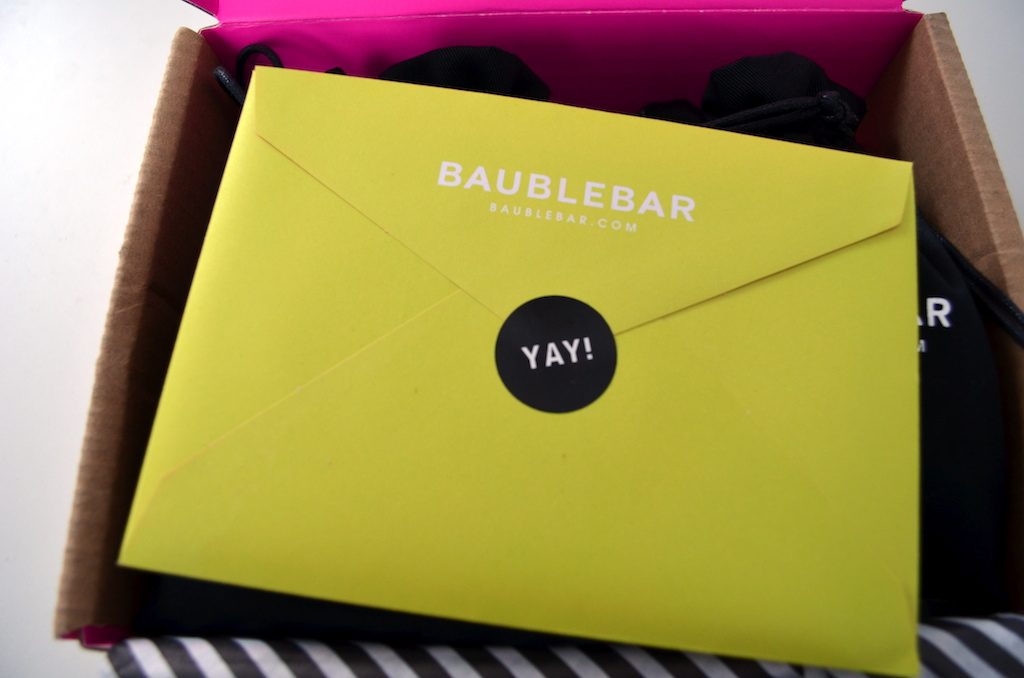 I'm a sucker for pretty paper goods. Included in all orders is a neon envelope with your receipt. I thought the little "Yay!" envelope seal made the entire package!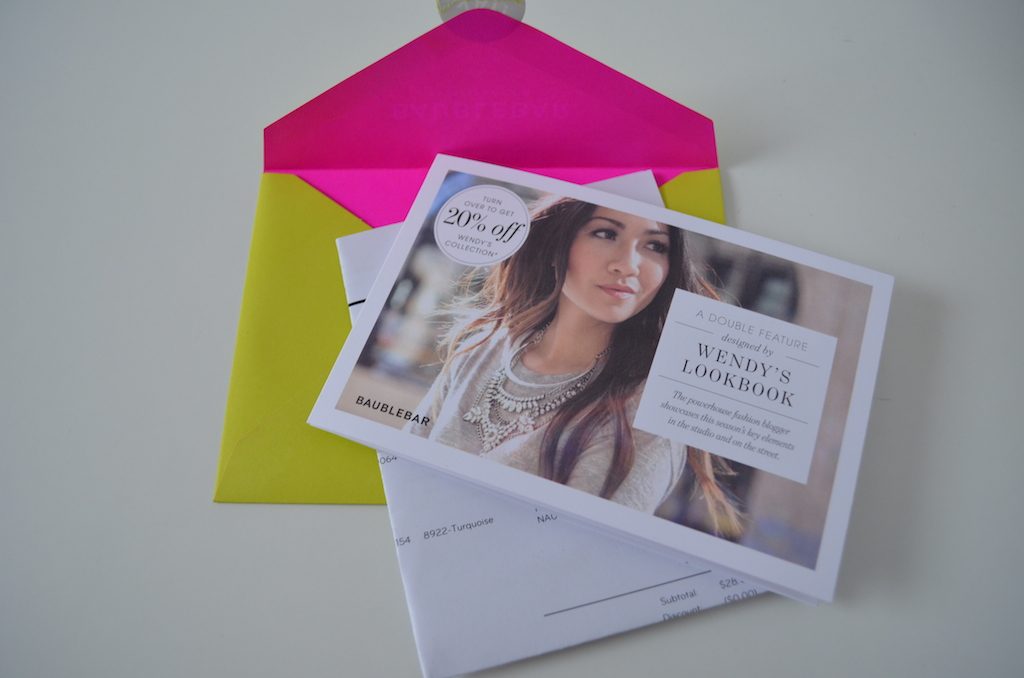 My card included a little catalogue introducing Wendy's Lookbook collaboration and a code for 20% off my next purchase.  BaubleBar works with all different women to showcase it's jewelry. Wendy Nguyen is a famous blogger and fashion guru from Wendy's Lookbook.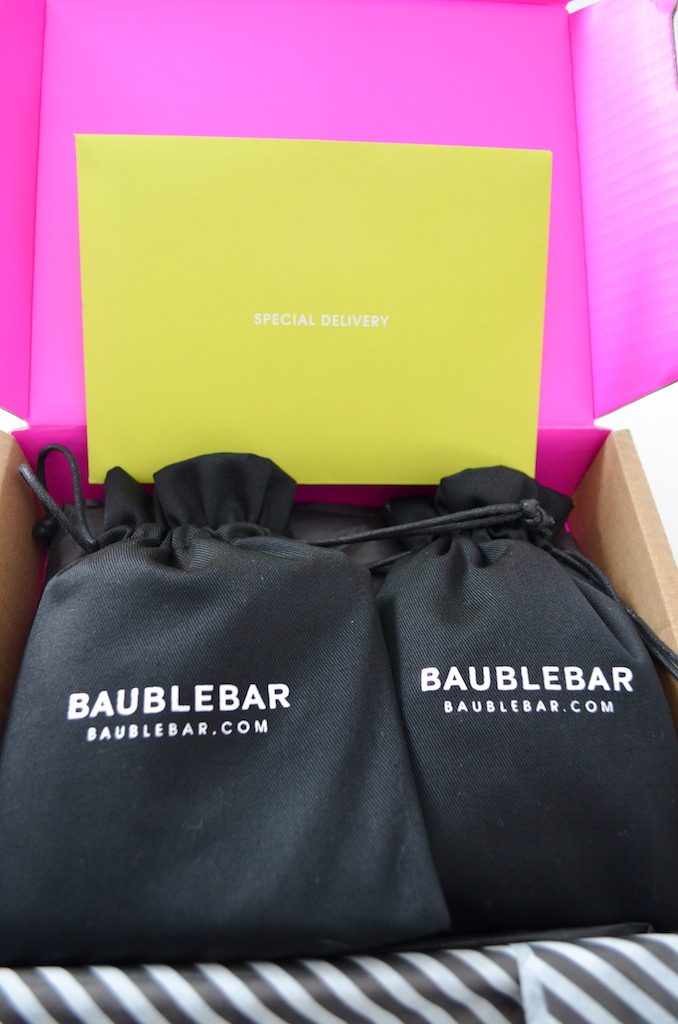 Each item comes packaged in a drawstring cloth bag. This is perfect for storing your baubles after you wear them.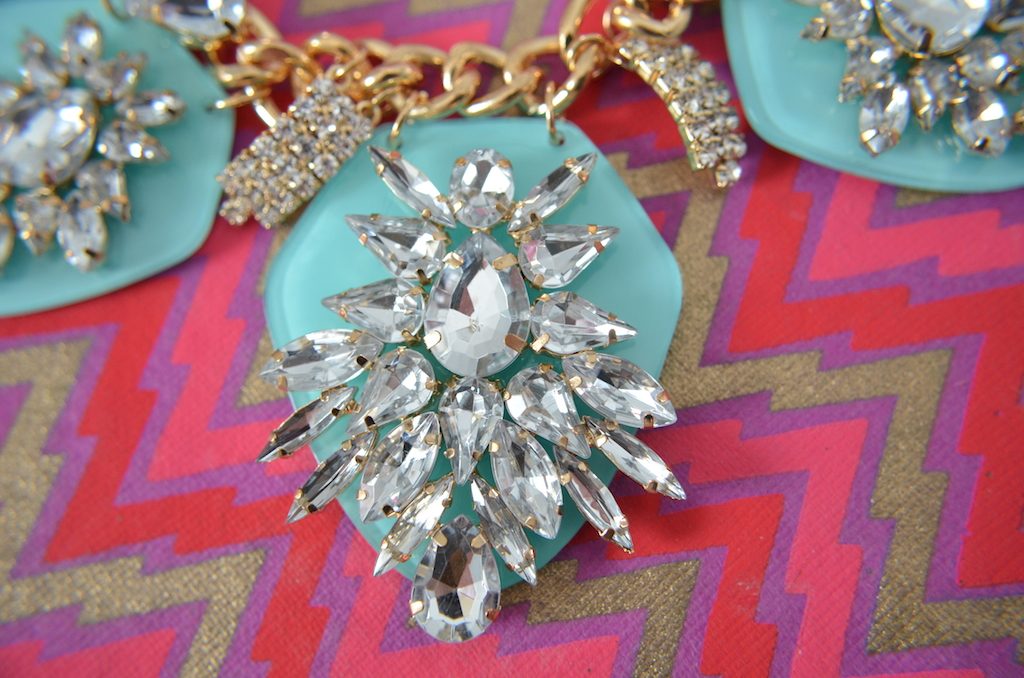 Why hello there! This necklace was something I was really looking forward to. For the BaubleBar sample sale the site had items that were up to 75% off. This necklace was $18. I think regularly it would probably be around $45-50. Even at $45, I'd probably purchase it for a special occasion or as a go-to statement necklace.
The design has turquoise plates which are cut out into different geometric shapes. These are attached to a thick (and shiny) gold chain. In total there are five different turquoise plates and three of them have sparkly pieces adhered to them. The center of the necklace has a large collection of faux crystals in different shapes. Some of the shapes are teardrops while others are emerald-cut. There are also two crystal sections that hang on either side of the main plate. What really surprised me was how well-made the piece was. It was heavy and didn't feel like something from Forever 21. I like purchasing more affordable jewelry (under $20) but this piece is made with much more quality. And it was under $20 since it was on sale!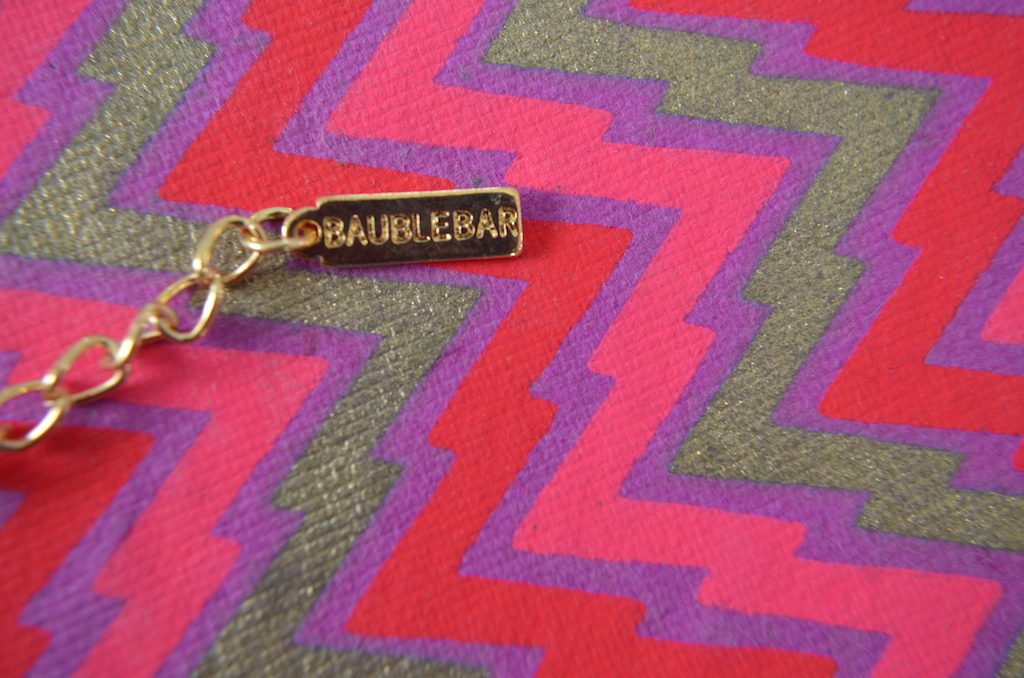 Near the clasp is a pretty tag with the logo on it.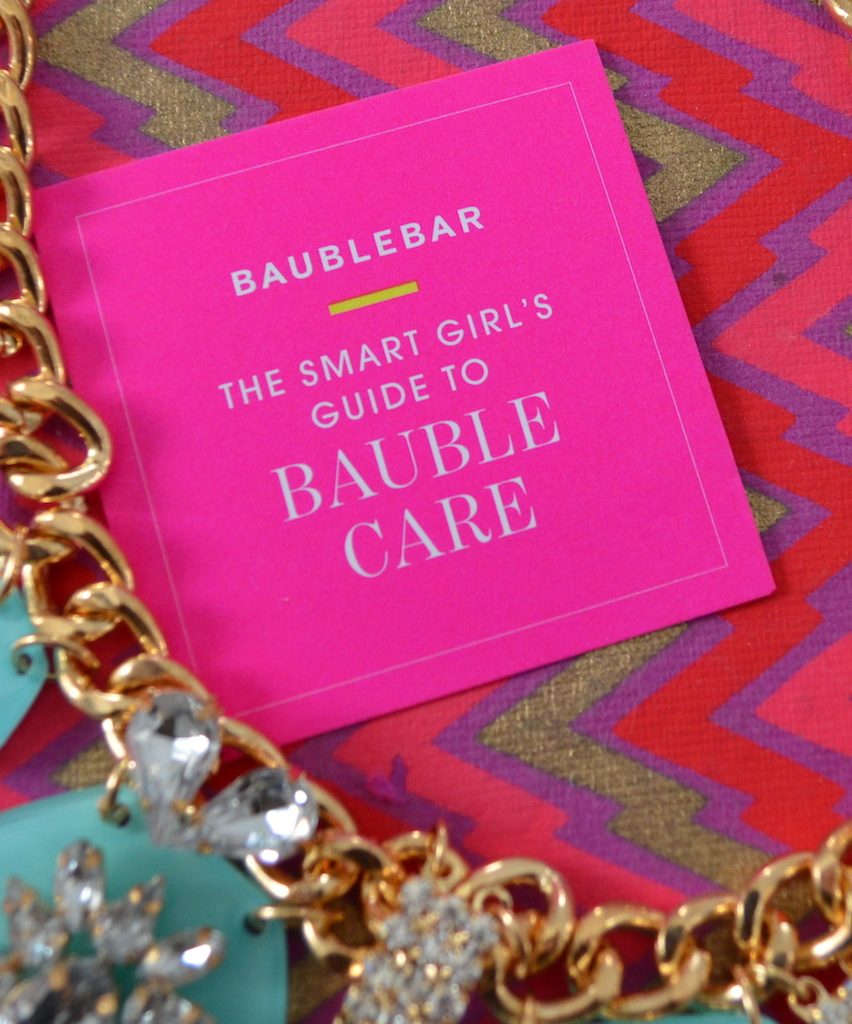 Included in each piece of jewelry was a little card describing how to care for it. I think this is a great idea because so often I throw jewelry around without properly caring for it and then I'm bummed when it breaks or changes colors.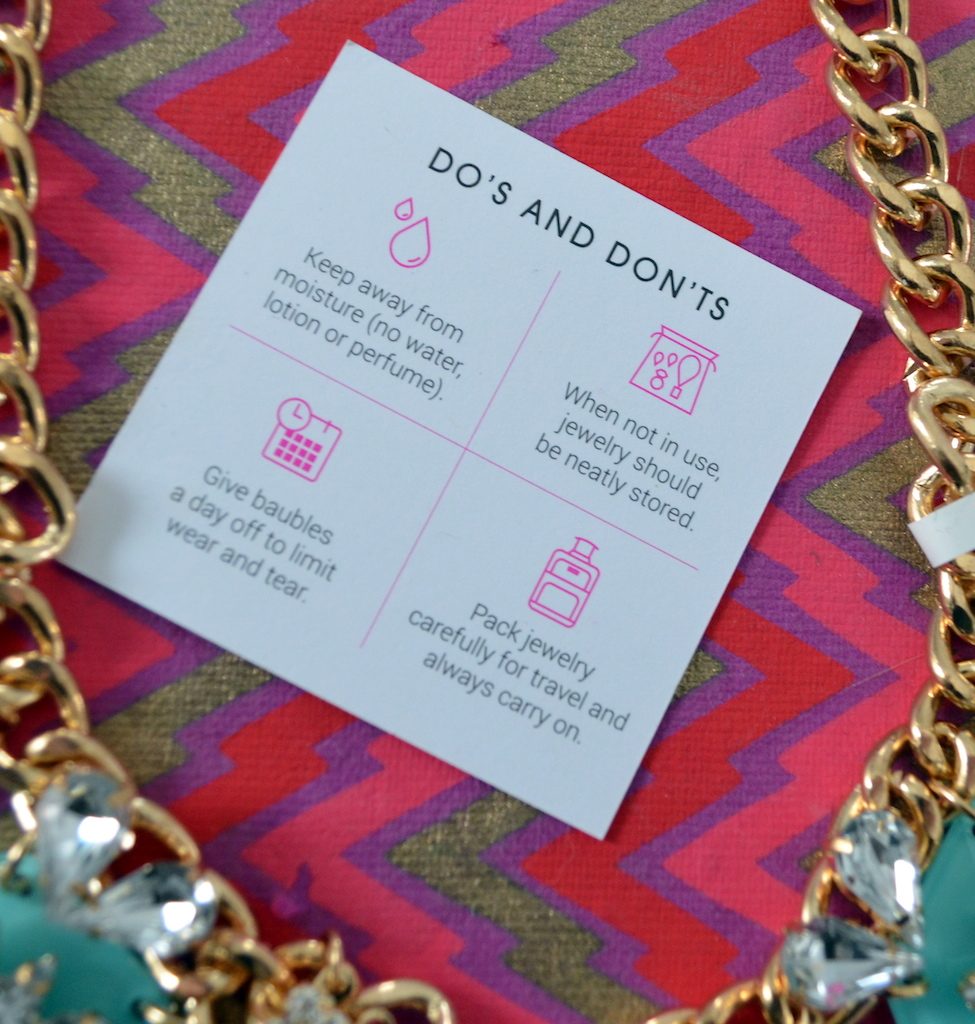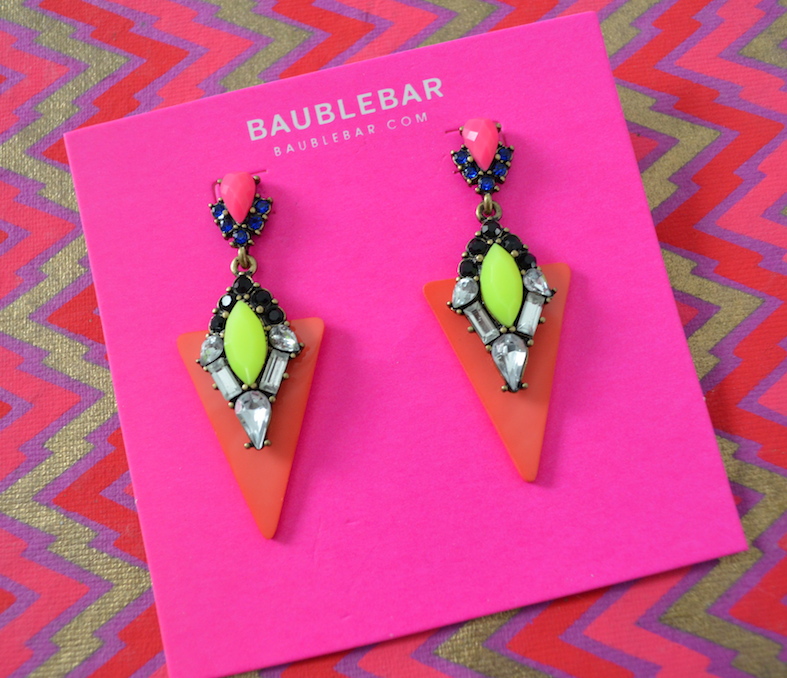 These earrings popped on the BaubleBar website and I couldn't resist adding them to my cart. The bright neon colors and fun shapes were what caught my attention. These will look great with a simple colored t-shirt or even to dress up a cozy sweatshirt and jeans. They were marked down to $10. I think regularly they would be about $25.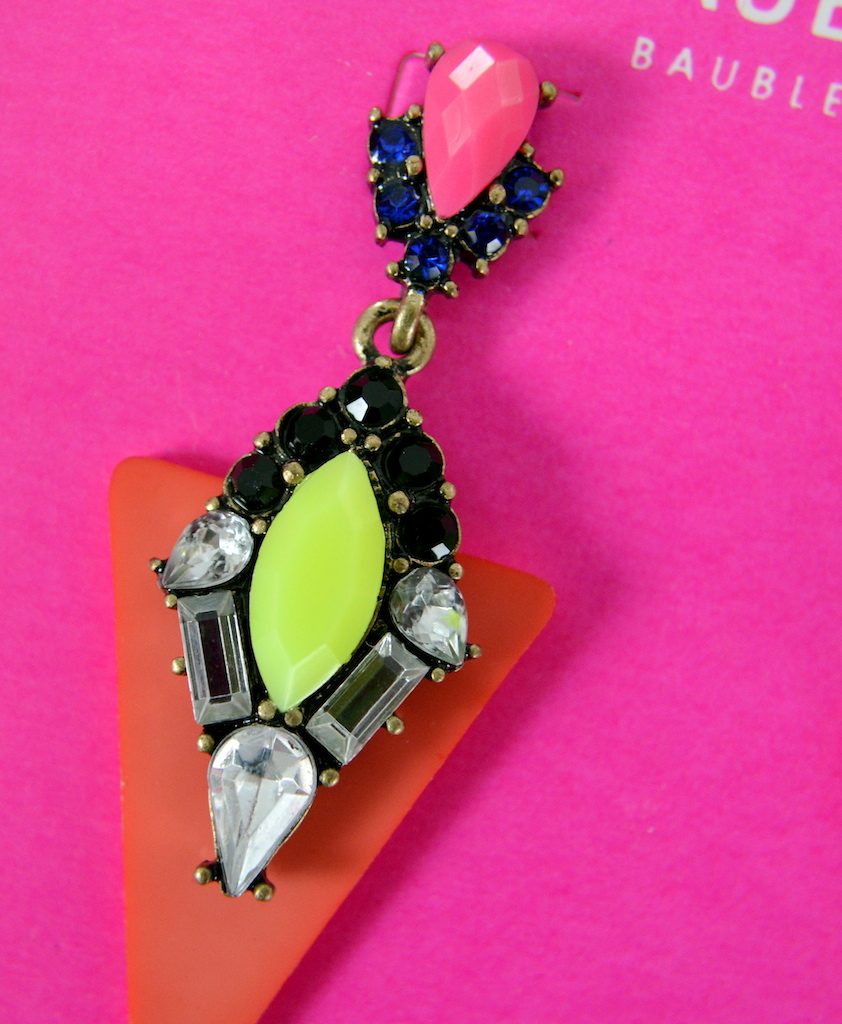 Look at those details! I like the size and shape. Quirky and classic at the same time.
BaubleBar has all types of jewelry that isn't limited to these neon colors and style. At different times their site has a Guest Bartender that will showcase different styles of baubles. In the past the brand has worked with the lovely Emma Roberts and bloggers Erica Chan Coffman and Lauren Kolodny from Honestly WTF.
The site also offers personalized options and free shipping/returns!
What do you think? Would you order an item from BaubleBar? Is it too pricey for you or does the quality and uniqueness of it make it worth the splurge?