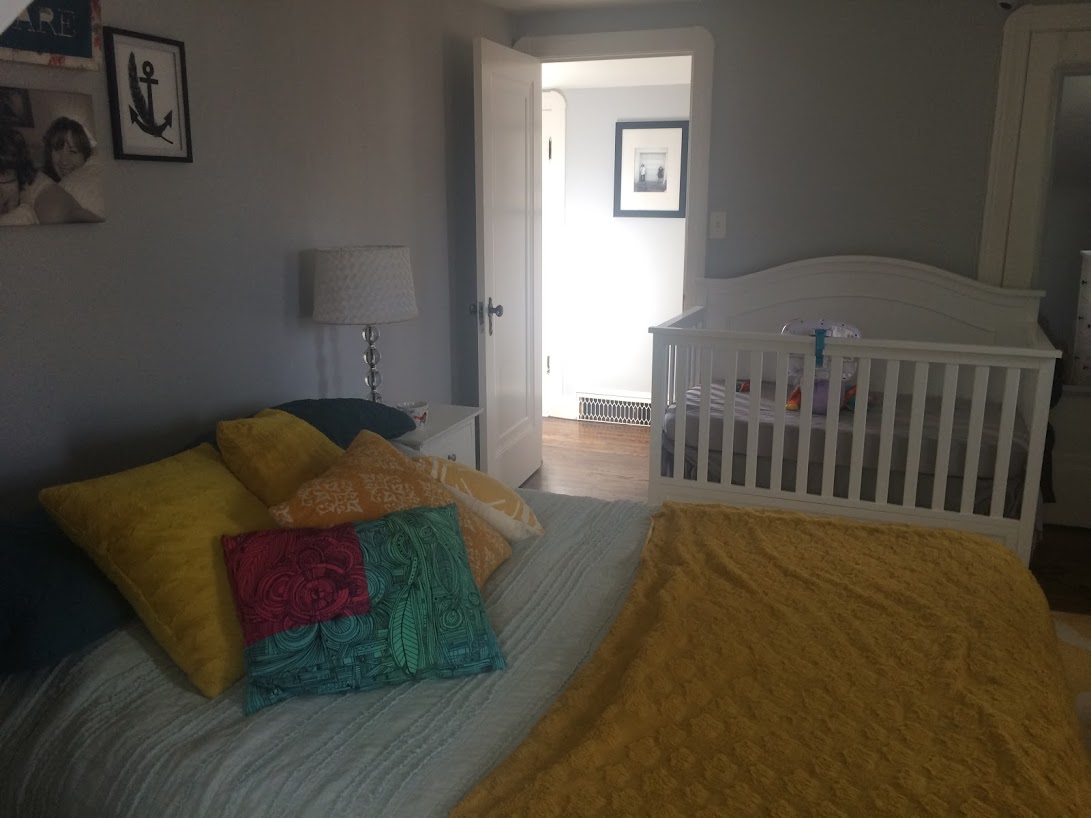 Hello All! It's been a little bit! Instead of writing an update on Isabella, I thought I'd post about how our bedroom is set up for her and her feeding tube! Before we brought Bella home, I looked everywhere online and really only found a few resources for setting up a space for a gtube fed baby that I loved. I decided that having Bella and her equipment (even though it's not a ton) could look stylish and neat in our space. So I've worked hard to find solutions that work for us. Of course, it's taken a bit, but this is what we've come up with!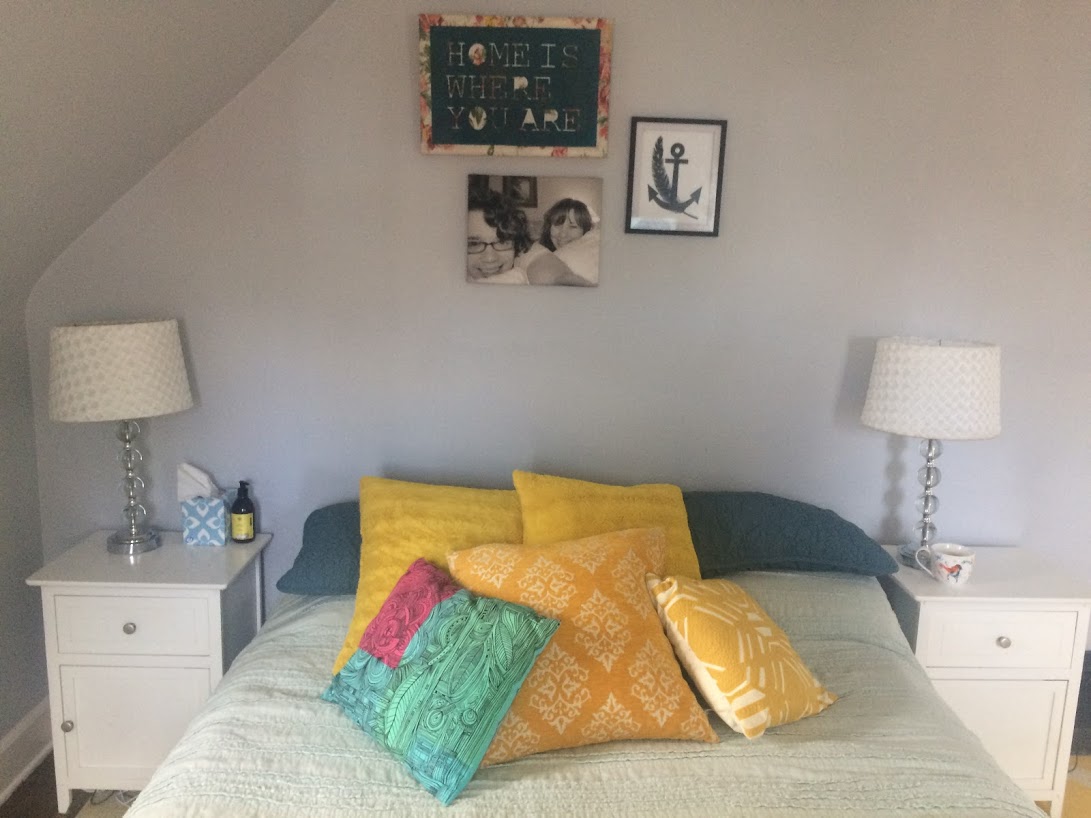 She's napping beside me right now…so I might have to make this shorter than I'd like. When she wakes up, we'll have to play!
For context: Isabella is 9 months old and has a gtube. Her gtube is a Minnie One Button by AMT. She is on continuous overnight feeds. She just recently outgrew her bassinet (she's 12 1/2 lbs and it holds up to 15 but she's rolling). She's itty bitty thanks to being a micropreemie and having feeding difficulties!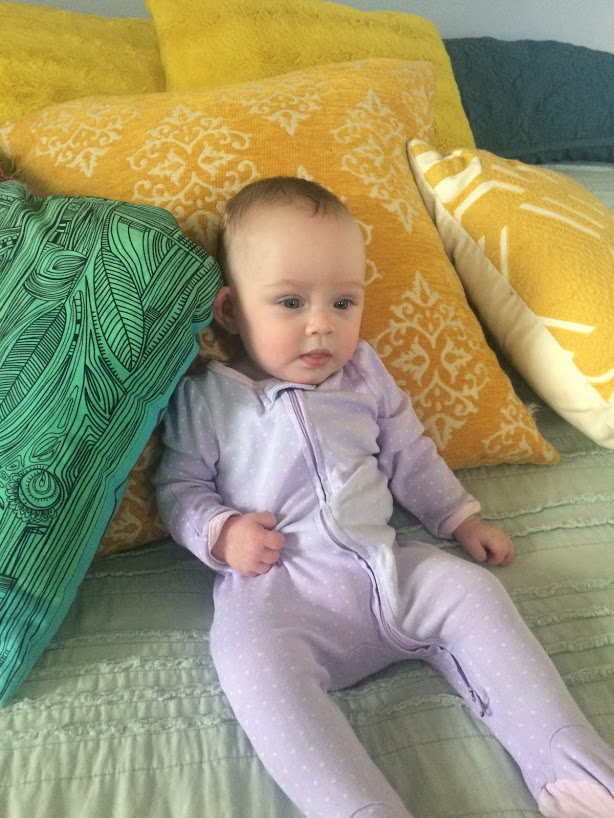 Isabella's Clothing 
Babies with Gtubes may need to be "hooked up" all night. We primarily use button down sleepers. We run her tubing through the space between the buttons. Of course, sometimes I love a zipped up sleeper OR we purchased them before we knew she'd have a Gtube (darn my need to be "prepared"). In this case, I take scissors (fabric ones work best) and cut a slit near the leg. If the sleeper zips down instead of up (like in this picture above) we can run the tubing out the bottom before zipping it all the way! It's also interesting to note that Gtube babies can leak. Their stoma (hole in their stomach) leaks and sometimes gets stomach stuff on their clothes or you or their bed. In this case, Bella's gtube leakage stained her sleeper. The acid in the stomach contents basically "bleaches" it. See the right side?
In some cases a baby may need to have gloves to cover their hands from grabbing their tubing. Bella got too smart and pulls her gloves off. We love the sleepers that have built in mittens. She has more trouble pulling them off. But, they aren't readily available in larger sizes. I'll have to make a post all about the best clothing for tubies later!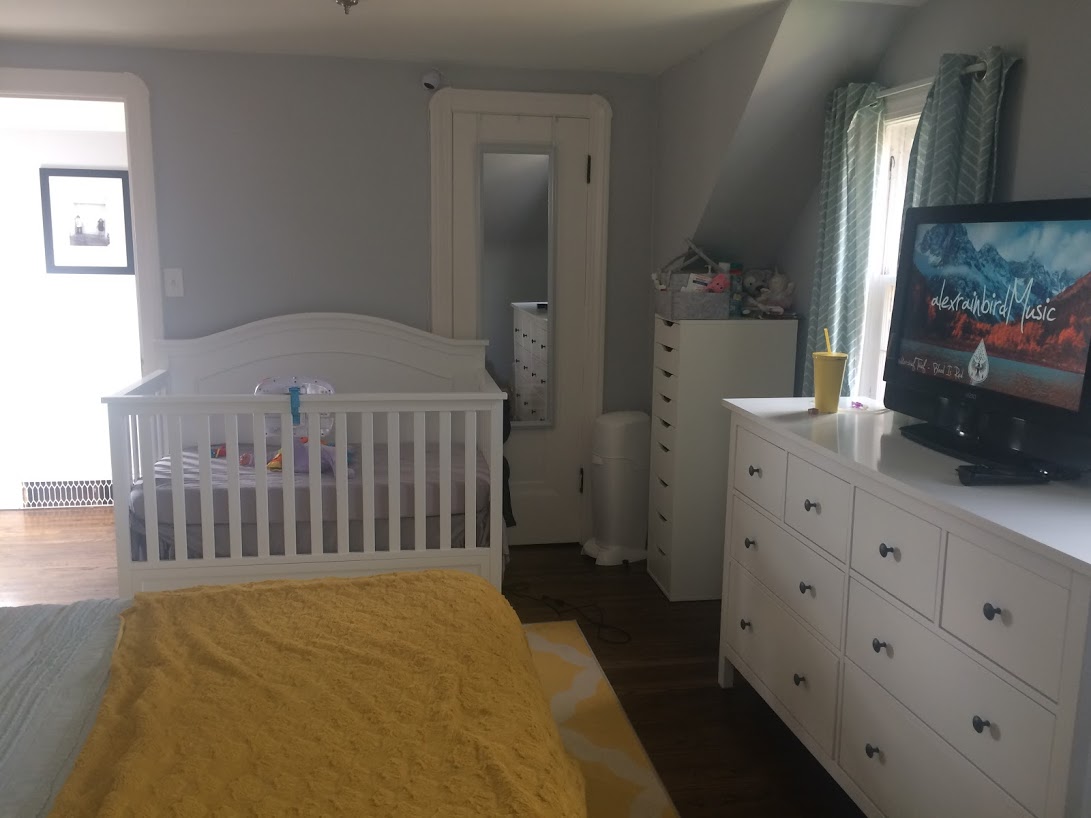 Our Room Setup
Our home has only 2 bedrooms. It's a small cape cod style brick home. We set up a lovely nursery for Isabella, assuming she would spend time in the other bedroom. Instead, we have Bella in our room out of necessity and love it! (I would strongly suggest sharing a room with your baby as long as you can. Some of the most precious moments have taken place in this little room. Lots of memories).
Why Does She Need to Be In Our Bedroom?
1.) A & B's
Isabella has a lot of health concerns. When we brought her home from the NICU she slept in our room because she had had A & B's (apnea and bradycardia, pauses in breathing and lower heart rates) before being discharged from the NICU and we weren't comfortable having her sleep away from us. She was clear of them, or else she wouldn't have been able to go home, but we were still a little bit weary of them. 100+ days in a Neonatal Intensive Care Unit does that to you.
2.) AC
Our home also doesn't have central air so we would have her stay in our space with the air running. 
3.) Overnight Feeds 
Until Bella was over 6 months old we were on a strict 3 hour schedule. When she was about 7 months we went to a 4 hour schedule. Then, around 8 months we switched to overnight continuous feeds.
Before switching to overnight feeds, Bella would be sleeping, then we'd get her up and she'd need to be hooked up to her pump and would eat for an hour and then be held for at least 30 minutes afterward or she would vomit. We would pause the feed if she retched and sometimes held her for two hours or longer. This was very tiring. We fed her 10:30pm 1:30am, 4:30am, and 7:30am. Then, we graduated to 11pm, 3am and 7am. You can imagine how much that helped us! Then we switched to continuous feeds which is a win win for everyone! 
During the night feeds it was easiest to just have Bella close-by. We took turns doing the feeds while sitting upright in bed. We'd watch movies on our phones, play games, or read. Eventually we'd get so tired that we'd bring ice packs to bed to keep us from nodding off. We could't fall asleep while holding Bella for fear she'd suffocate or aspirate. We both got used to sleeping with the lights on and lots of noise! 
4.) Aspirating & Choking 
At one point, Bella was vomiting up to 6-7 times a night. We would hear her begin to choke and would run to her bassinet to help her clear her throat. This was terrifying as we practiced safe sleep and she'd be on her back. We got used to her sounds and could tell when she was coughing or about to vomit. We had extra bedding/clothing/etc. If she were in another room we wouldn't be able to hear her and risk not getting to her in time and her aspirating her vomit. We would also switch our clothing sometimes up to 4 times a night since she'd vomit on us. 
5.) Continuous Overnight Feeds
Now, some of the previous concerns aren't as prevalent. I no longer worry about A & B's now that she's almost 9 months and it's the winter so air conditioning isn't a concern. 
We do worry about her choking and aspirating. Although she can clear her throat on her own, we worry she will fall back asleep in her vomit or swallow it wrong. 
She is also now getting continuously fed by her Kangaroo Pump. We need to be able to hear if it alerts us to an empty bag or clog. We do wake up 2x a night to refill the formula, change her diaper, and give her a medication. She can go all night without vomiting, but usually vomits at least once during the night (which we hear). 
The Crib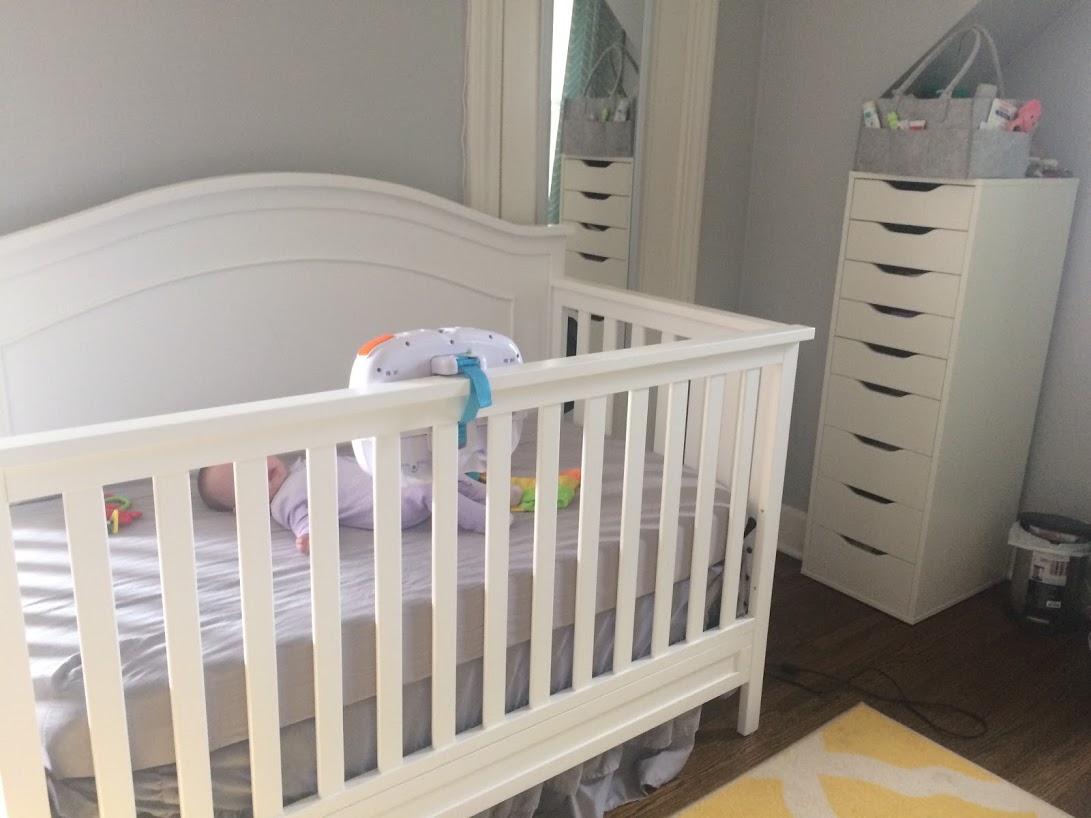 We moved my makeup vanity to make room for Isabella's crib. The crib is just basic white and works great. We didn't have a lot of room in the space so we actually have it covering my closet. We simply scoot it over if I need in it, which I don't very often since most of my cozy clothes are in drawers. My dad gifted it to us for around $200 and it converts to a toddler bed and headboard. We use a Abbot Safety Crib Mattress with a waterproof mattress cover. Bella's sheets need changed a lot throughout the night. We use basic gray fitted sheets we were gifted from Target. The fun ruffle is from Amazon, but we removed it because the kitties were enjoying hanging out under the crib during the day. 
Storage Solutions
We found early on that we needed A LOT of storage for Bella.
Diaper Caddies Are My BFF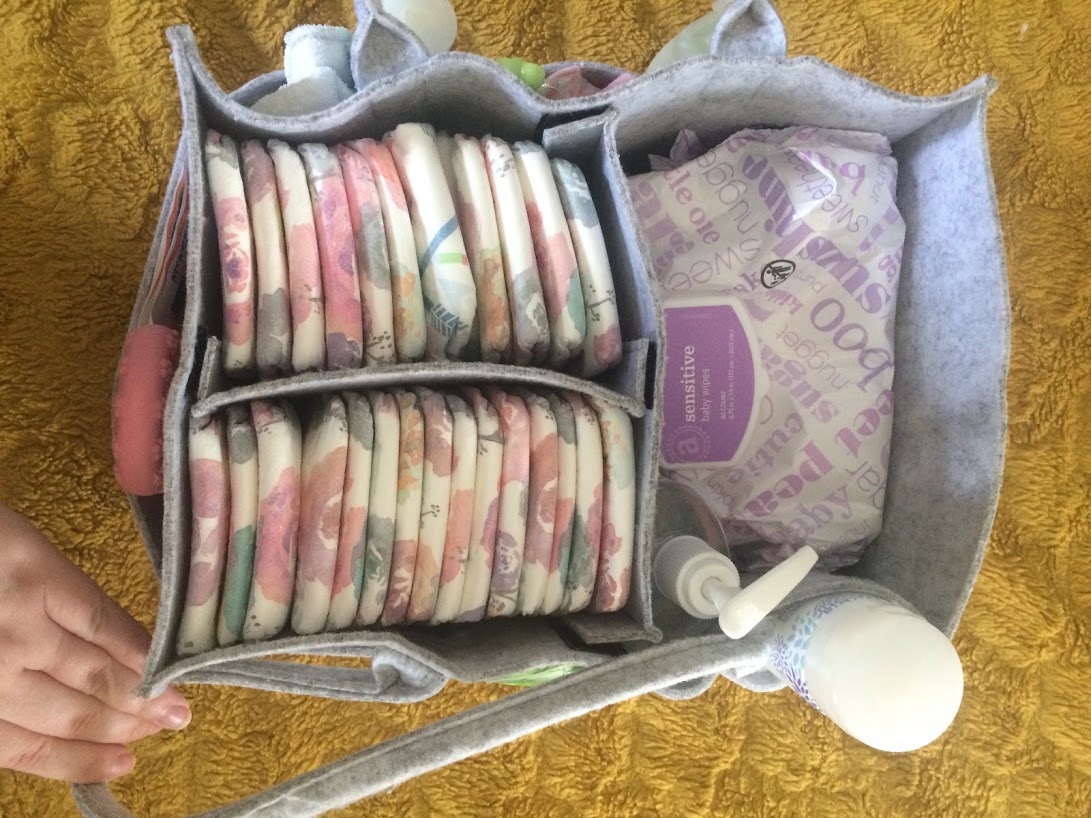 To begin, I created a fun little diaper caddy for upstairs and downstairs. This diaper caddy was a big lifeline and helped me stay organized! I found two gray caddies with plenty of storage from Amazon. Both are almost identical, expect the bedroom one used to have some topical medicines Bella needed at night.
The caddy is packed (and re-stocked as needed) with the basics: diapers, wipes, hand sanitizer, and anything else we might need. 
Topical Medicine, Diaper Rash Cream, Thermometer, Medical Tape, Socks

Teether, Split Sponges

More Medicine, Boogy Wipes, Lavendar Lotion

Items in the diaper caddy
On the sides I pack:
-Topical Medications
For Bella we have one for her Hemangioma and one for her Gtube site. I wouldn't ever put oral medications out for safety reasons, especially as she gets older and can reach into the caddy. 
-Split Sponges 
These go around her Gtube site and keep it dry and clean. We usually use sterile ones that we open as needed. We also have made our own with cosmetic sponges. 
-Boogy Wipes
Saline solution wipes to soften boogers (haven't needed them!) 
-Honest Company Lavender Lotion
My all time favorite baby product ever. I love this stuff and use it on Bella after baths, before bed and on myself! 
-Medical Tape 
We don't use this a ton, but sometimes need it to secure her tubing or her stoma site. It also comes in handy to manipulate the tubing and move it away from her. 
-Digital Thermometer 
Once a NICU mom, always a NICU mom. She had her temp taken every 3hrs. I don't obsessively check it, but it's there if I need it. 
-Teether/Toys
Sometimes you need to be able to grab a toy real quick to distract or soothe a baby! 
-Warm Socks
Bella always would choke herself with her hands when she was younger. She'd gag and then throw up! We would put socks over her hands as mittens because we went through so many. She'd throw up on them constantly. So an extra pair served us well. For a long time she'd grab her tubing, but she's getting better about it. The socks on her hands also kept her from grabbing her tubing or the med port attached to the tubing. 
-Sanitizer 
Would you want your diaper changed and then your mommy feeding you without washing her hands? 🙂 We sanitize like it's our business. I'll change her diaper then give her meds or hook her up to the feed. I use sanitizer in between. 
I really can't say enough about this caddy solution. It's awesome. Everyone who helps with Bella knows the caddy has everything you need. I keep it stocked and ready. Some items have been added, others subtracted. Usually there's a burp cloth thrown on top for emergency spit ups. At the bottom you might find chapstick or a favorite hand lotion for me. I also attach those little sanitizers to the handles to guarantee there's always sanitizer close by. 
Things that have been subtracted: mittens, gauze pads, cotton swabs, gtube cleaning kits, homemade diaper cream, and water wipes.
Things that have been added: cotten swabs, a nose frieda sucker, saline spray for the nose, assorted toys, and a notepad and pen (to write symptoms, important numbers, etc) 
Makeup Drawer Conversion (ALEX Drawer from IKEA)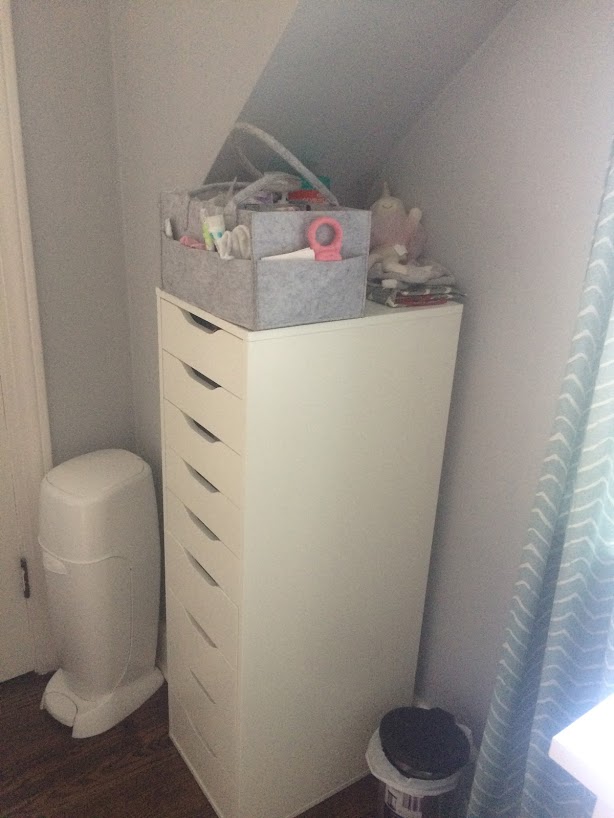 You might know from this blog, but before Bella, I enjoyed writing about makeup and beauty products! I have quite the collection (err hoard) of makeup products. Having a baby changes from things and I don't add much to my collection these days. I do, however, have an awesome storage drawer set for my things! I kept it in tact as long as I could until Bella's things overflowed into it. I actually still have my makeup, beauty supplies, and jewelry in it, but have made room for some Bella essentials. (My vanity is now in her room where I get ready and she also has lots of storage in her room.) These items are only essentials and things we need to grab during the night or morning. However, I could see where if you needed the space for other medical items or general baby items you could put them in the drawers. This would be great for a baby with a vent!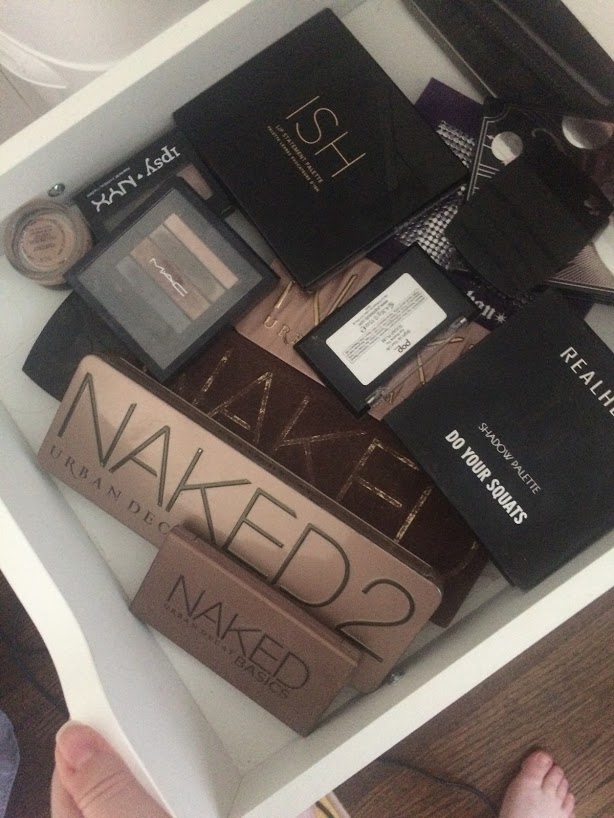 I still have my makeup in the drawers, but have cleared 3 for Bella's things.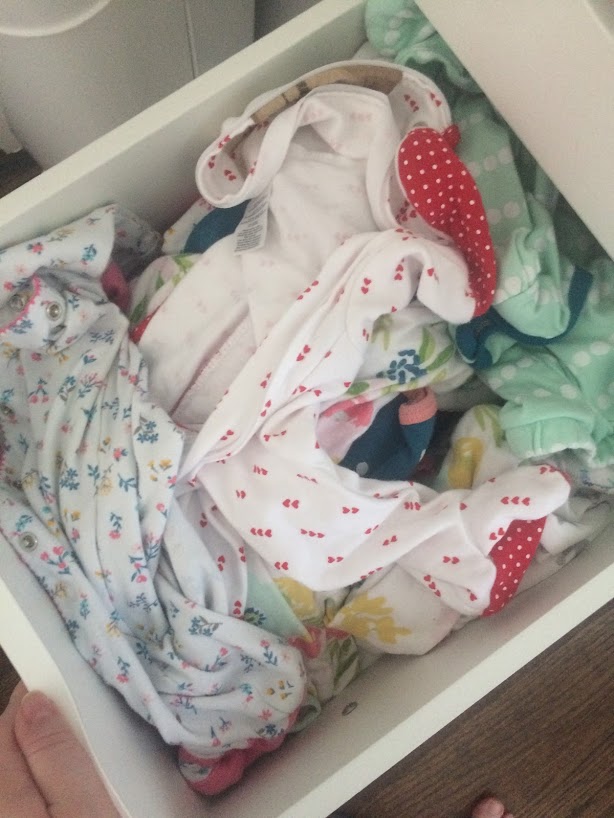 We go through SO MANY sleepers since she vomits quite a bit. And sometimes her gtube leaks.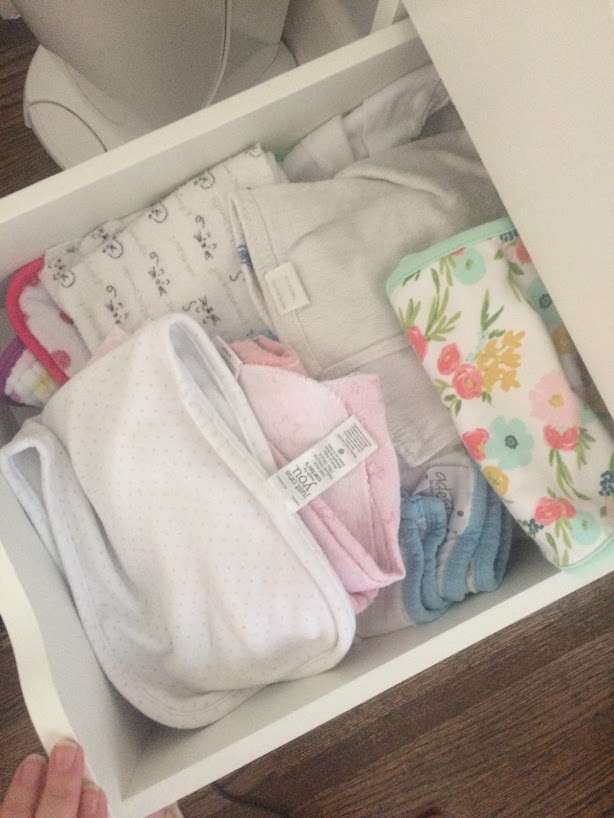 We also go through about 6 or more burp cloths a day.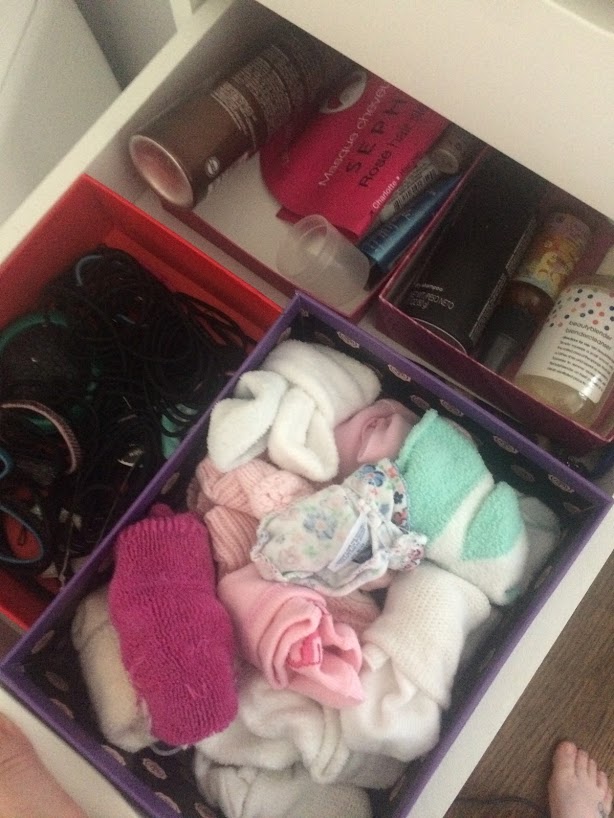 I juusssttt added a small space for her socks. We noticed we always put them on at night or before her days so I threw them in here. There's also a few mittens in there. 
Items in the diaper caddy

Storage behind the caddy
Lastly, I place the diaper caddy on top of the drawers and use the space behind it to hide a few things! We always keep extra sanitizer, sanitizing wipes, a blanket or changing pad to change her on, and a few favorite toys. 
I've thought about putting pull out drawers under her crib, but I just run into her bedroom to grab her outfits which are hung up in the morning. So there really isn't a need. We put extra sheets for her crib in the Alex drawers as well.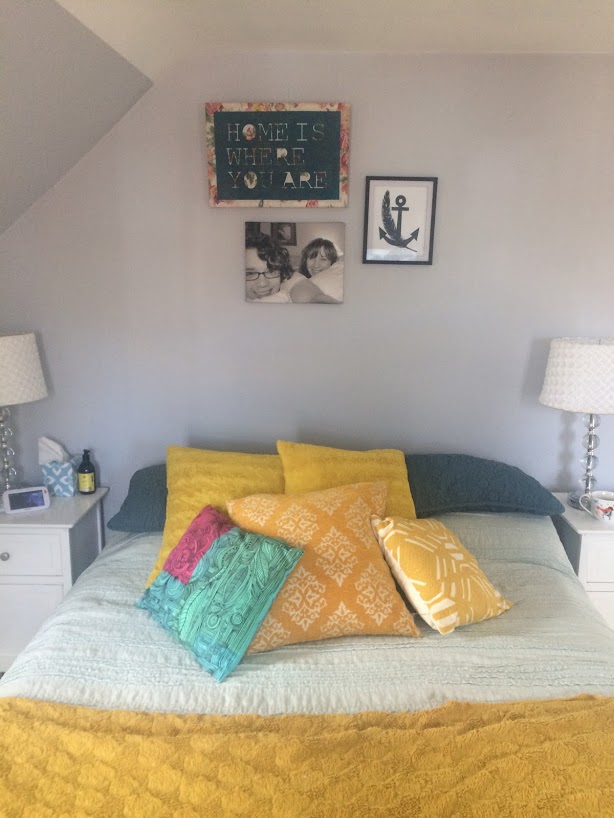 Our Monitor 
As Bella gets bigger, we have the option of leaving her in her crib sometimes without us in the room. I can only count the time we've done this on one hand, but it's a nice option. To be honest, Dustin wakes up and goes to work in his office. I keep sleeping in the room with Bella. He brings our monitor with him and is able to listen and see Bella even though I'm in the room. We mounted our monitor right above her crib so we can see her completely. We absolutely love it.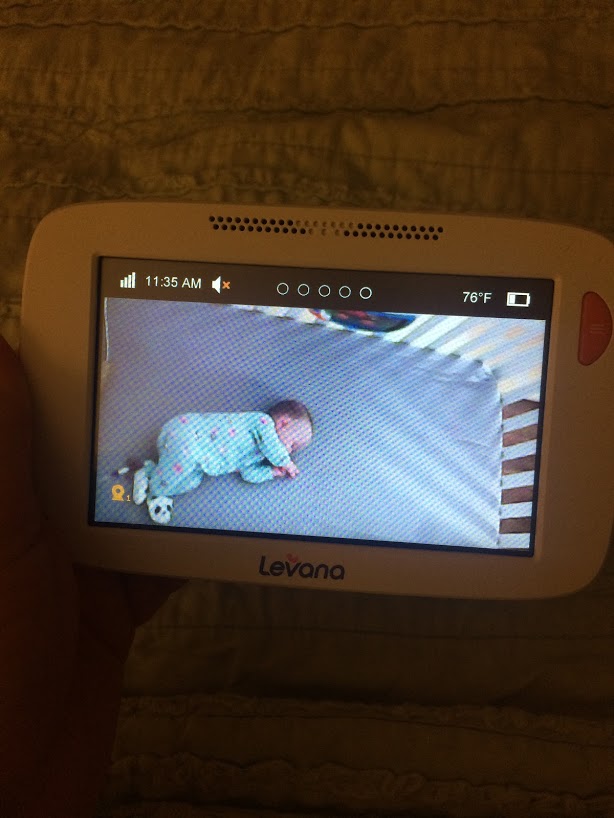 We bought the Levana monitor from Khols with some Khols cash that was given to us. I love it. I don't remember the model. It tells us the time, temperature in the room, and is both color and has great night vision. You can also talk to the baby through it, walkie-talkie style! 
When Bella vomits in the morning after Dustin goes downstairs he can hear her and see us. If I need assistance getting her cleaned up, or catching the vomit, or changing the bedding, he can run up the stairs in a minute. (He works from home). This is great since sometimes I'm a little groggy from just waking up and it's good to have an extra set of hands. We can also communicate back and forth. He can hear us and we can hear him. Sometimes he can see her grabbing her tube and making a fuss. Sometimes he hears her coughing before she throws up. It's nice to have him "watching us." He laughs that he can hear me snoring and can tell if we're both still asleep!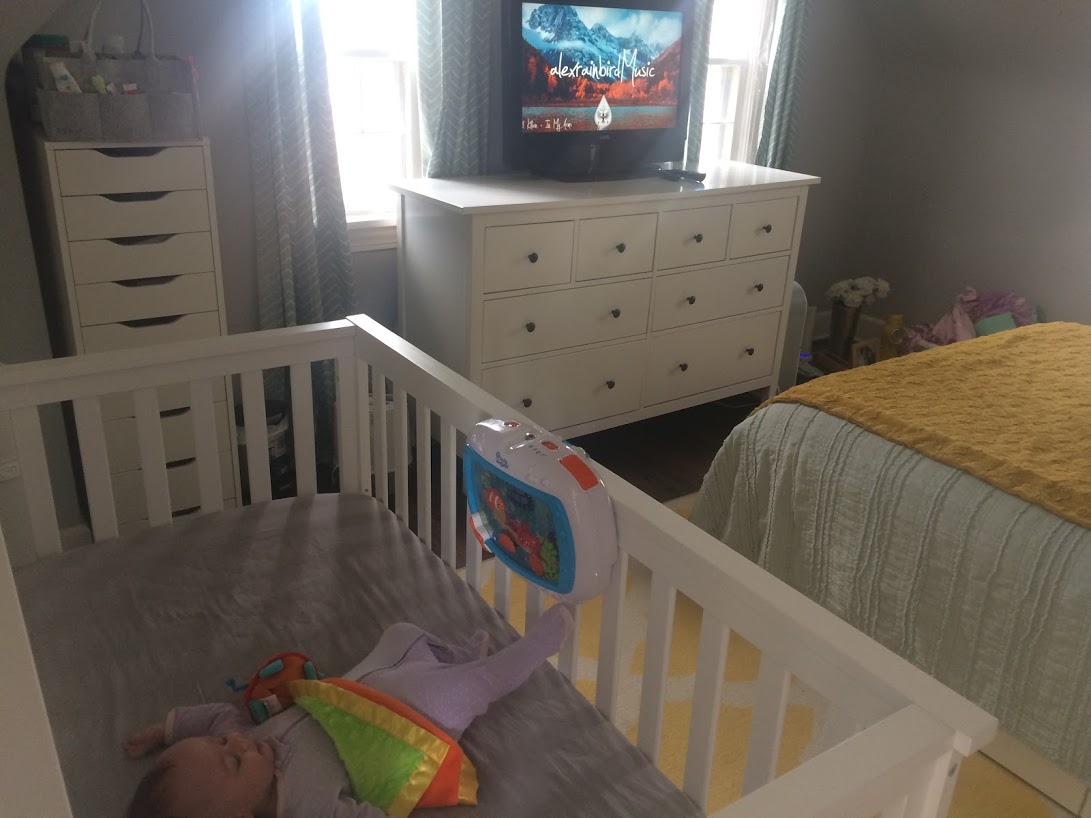 Crib Accessories
We don't keep much of anything in Bella's crib. I was hesitant about the fish electronic toy, but she used it in the NICU and loved it. We have the one with a remote control. We only set it to "waves" at night as a sound maker. She's learned to kick it on with the orange button, which is pretty fun. It's also nice for her to see when I'm tidying up the bedroom and restocking her diaper caddy or getting ready in the morning. I would never have a toy in her crib while she's sleeping, but if I'm watching I let her have one or two if I'm in the room. 
Trash
We have both a small trash can and a diaper genie. (Both need taking out in this picture). The diaper genie works great and we use it for heavier diapers. The small trash can is used for gauze, tubie covers, medical tape, and wipes.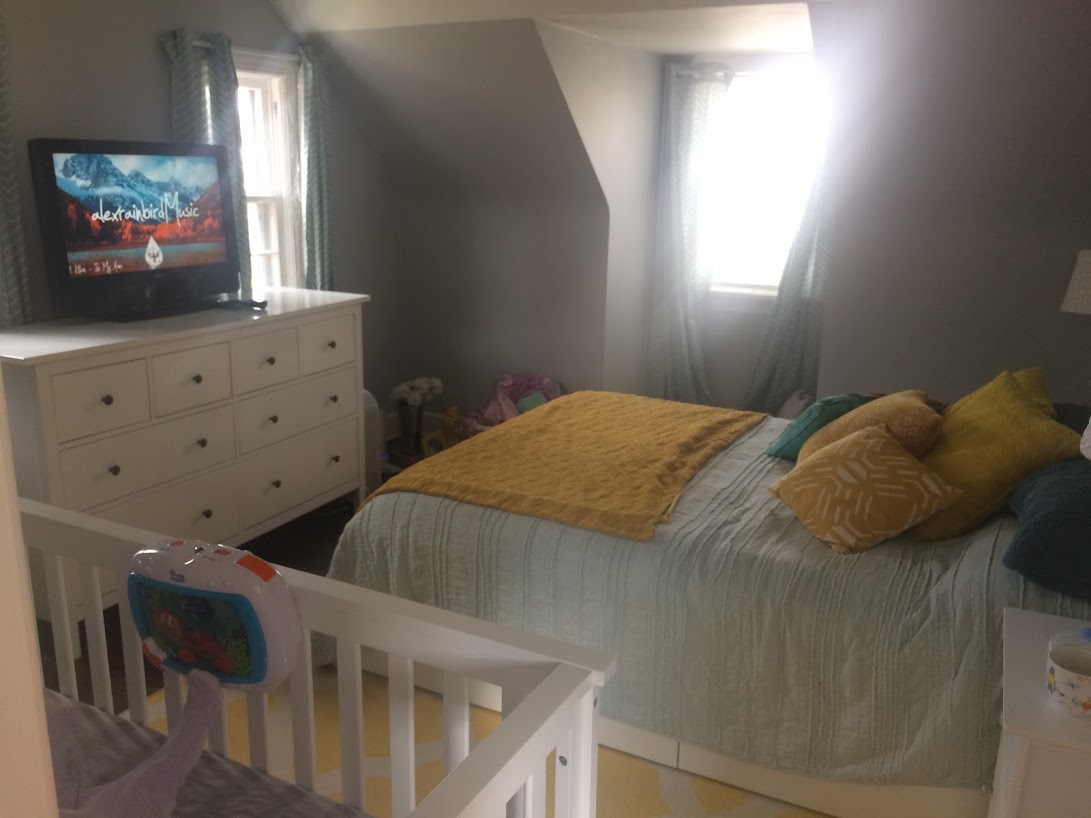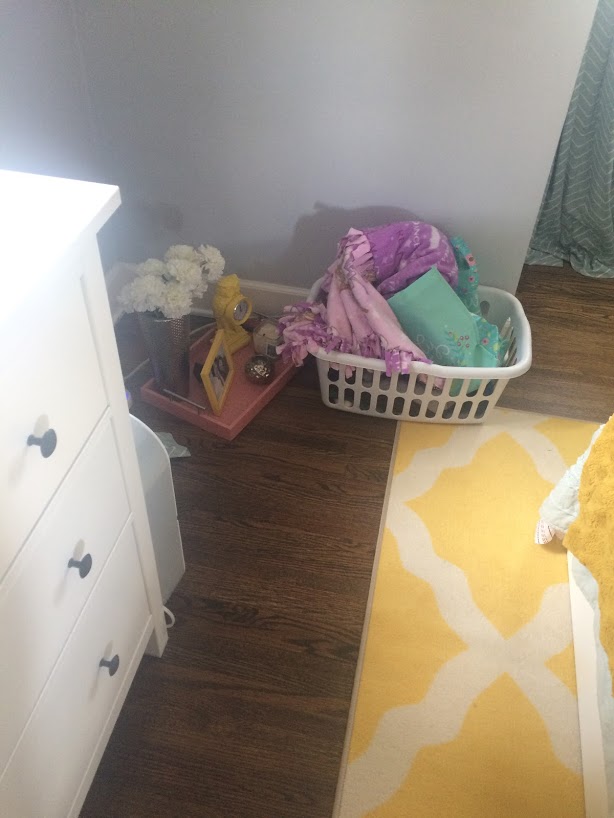 You may see these pictures and think things are too "staged." Well, they are. Although this is how our room looks most days, I do utilize a few tricks to make it look nice. I always stash un-folded laundry on the other side of the bed! I also have a fun robot vacuum and use it in the bedroom from time to time. I try to keep handy storage solutions close so that everything has it's own place. That helps because otherwise I feel stressed. Every night before bed we tidy up and every morning I try to make the bed. 🙂 
Also, you may* have noticed my bra hanging on the closet door lol.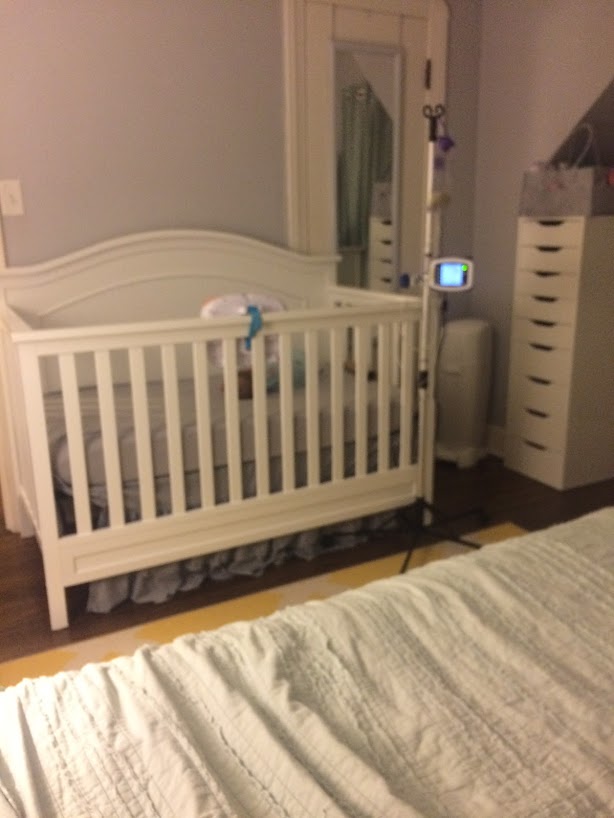 The only thing that is different when Bella is eating/sleeping is her IV pole and pump! We bring it up at nighttime. This is what the set up looks like. If you hate light, you'll want to tape a black piece of paper over the pump face. We don't mind it. I actually like the glow and pumping noise! 
A Unique Use of Paper Towel Rolls 
Last, but not least, I do worry about Bella getting strangled by her feeding pump tubing. It's long. And it worries me. We looked online and our best solution is running it through empty paper towel rolls. Our perfect number is 3! She is unable to wrap it around her neck this way. She does grab them and sometimes puts the tubing in her mouth. For the most part she doesn't. The pump will also alert us if there is a clog, so if it was being wound tight around her it'd alarm us. She usually sleeps very well and only grabs the tubing when she's ready to wake up and get our attention! She's never pulled her tube out on her own, but had kicked the medical port open once. That's for another time. 
I hope this is helpful for any other tubie mom who wants their space to look nice!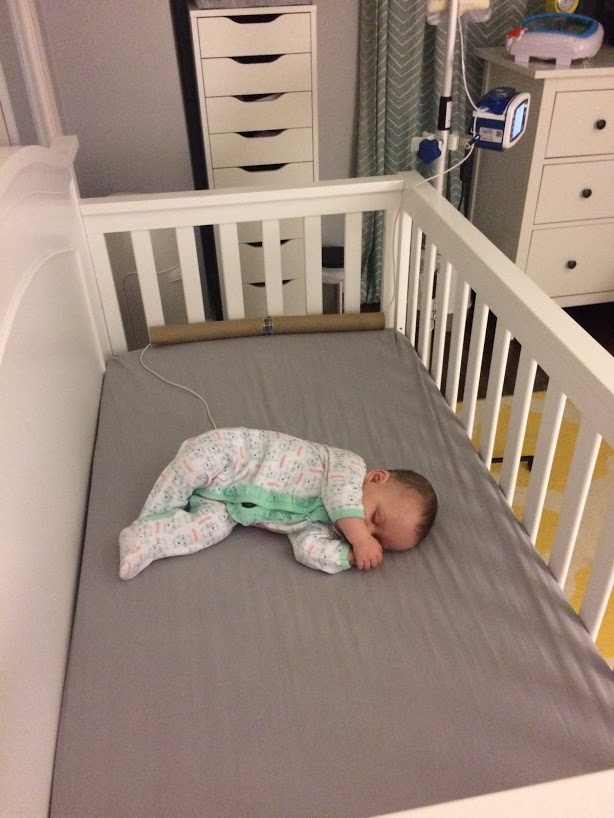 XOXO
T