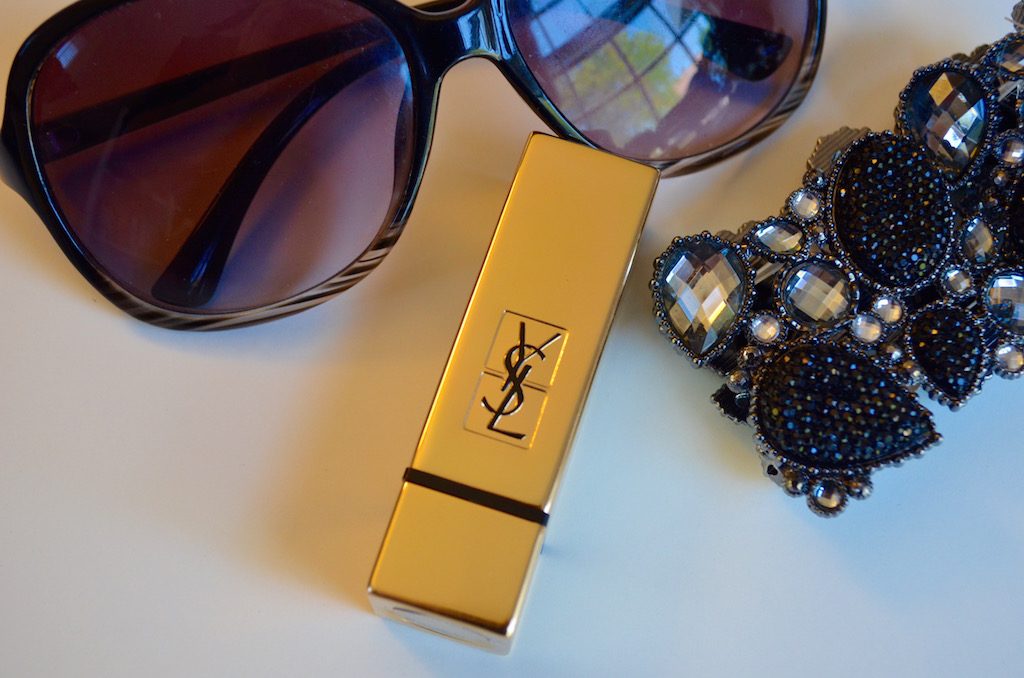 Hello darlings! I've waited a bit to give a full review on the YSL Vox Box because I wanted to really use the lipsticks and give an in-depth assessment. A month or so ago I received two full sized YSL Rouge Pur Couture lipsticks in the mail. These lipsticks were sent from Influenster as part of their testing. I've been a member for a few years now. These are the highest value items I've received yet! I plan on writing a post about how I became an Influenster and what it's been like for me.
Here's how it went down: I reviewed some other YSL products in the past. I didn't think I'd be lucky enough to receive more…but I was wrong! I received an email with a quick survey. I filled it out and within a week I received an email saying I was chosen to try the Voxbox! I seriously jumped up and down, smiling ear-to-ear. In a week, this black box was at my doorstep. Here's that it looked like!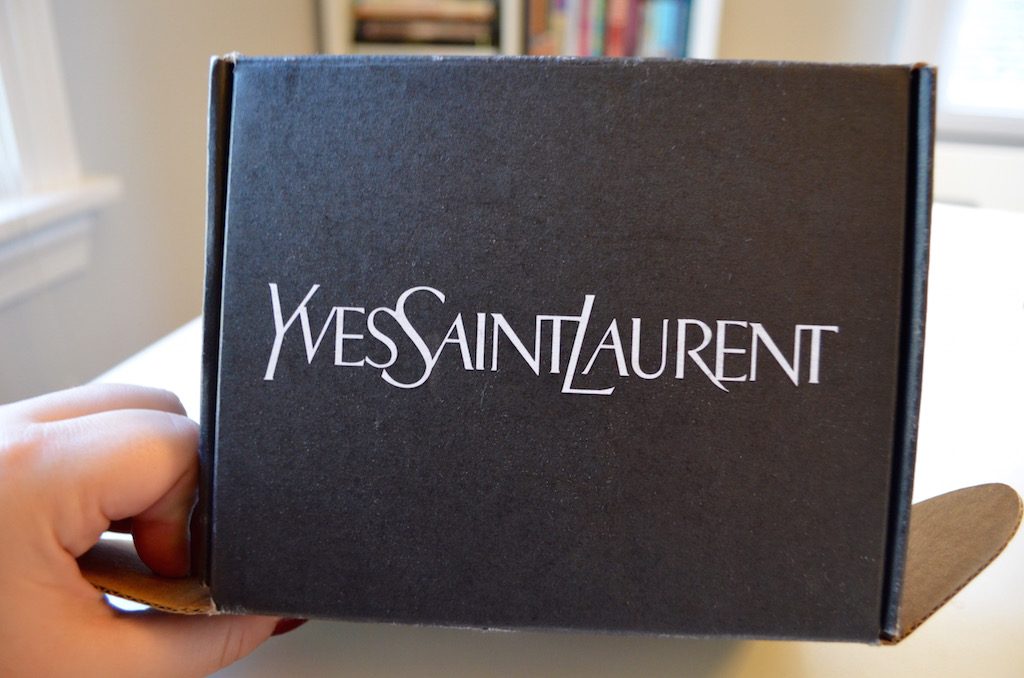 Once open, there was a card from Influenster and YSL along with the two lipsticks. I love Cara Delevingne. She's the "face" of the Rouge Pur Couture Collection and is always killing it in their ads. The lipsticks were wrapped in black tissue paper.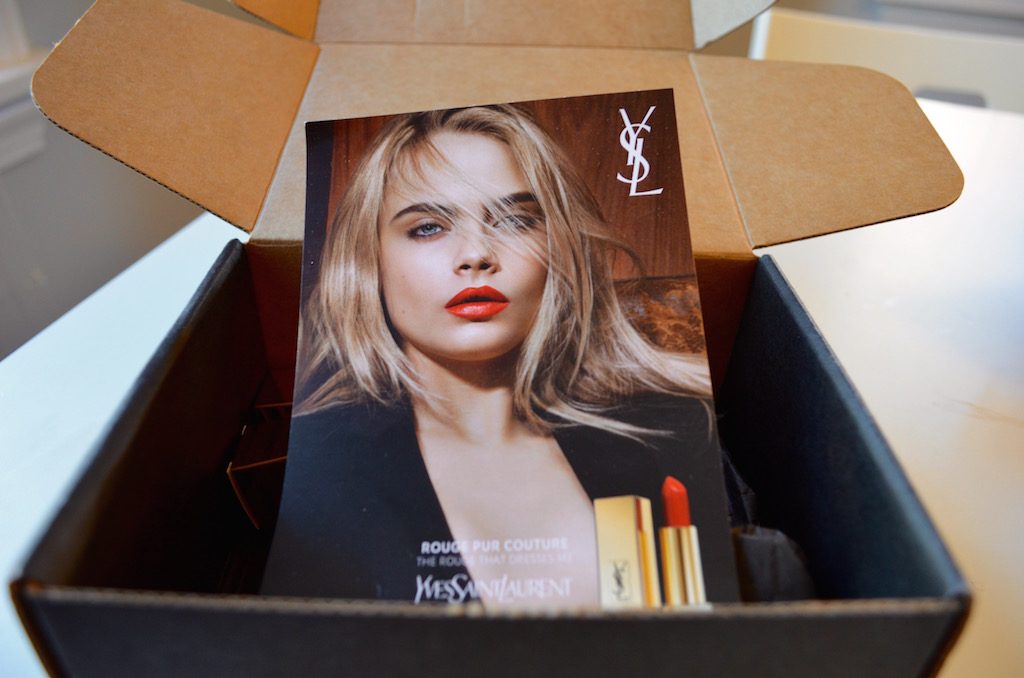 Each lipstick was packaged in a shimmery gold box. I've learned that higher-end lipsticks don't typically put names on their products. Instead, they're recognized by numbers. I'm not sure why this is, but I later had to look up the name of the shades on Sephora's website. I received both 19 and 9. They are full sized. Each is worth $36, placing the box value at $72!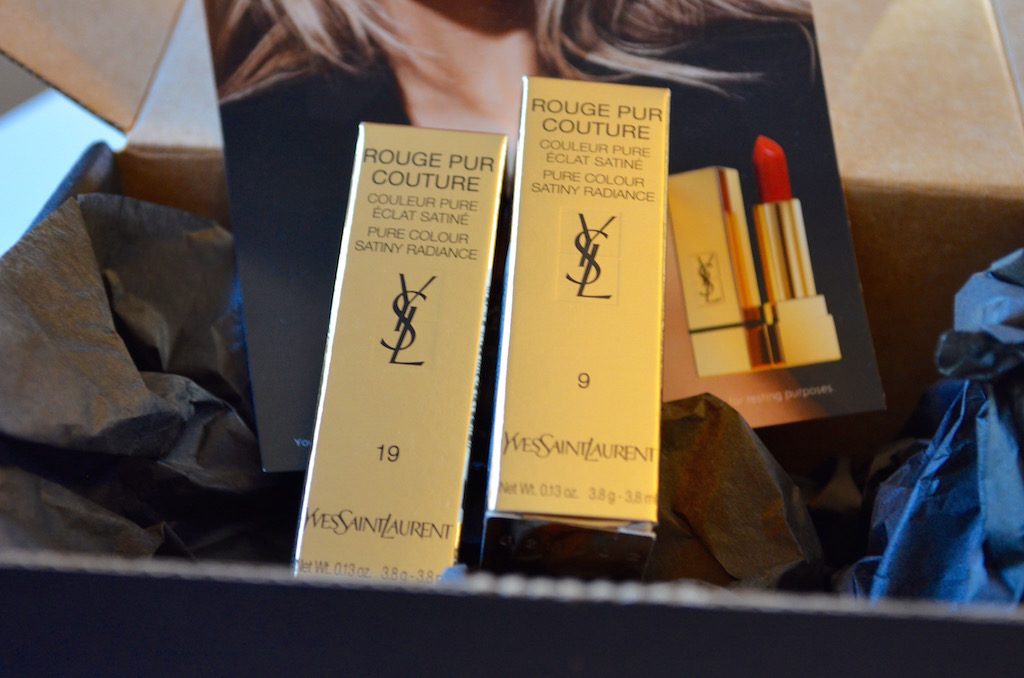 Here they are chilling with Cara! At this point I was squealing and doing a happy-dance.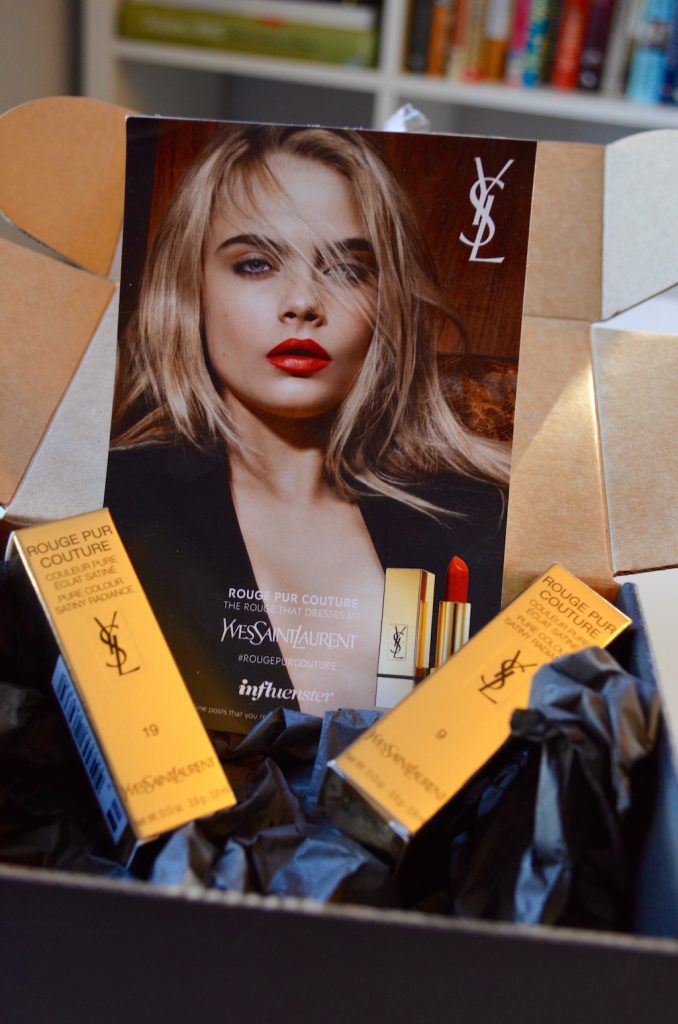 I opened the boxes carefully and held each lipstick. The "oohs and awws" took place as I twisted the lipstick up and down. Some things I noticed right off the bat:
The lipstick cases were super heavy 
The YSL logo wasn't slapped on, but instead is part of the design on the side
Even the lipstick product has YSL on it
The closure isn't magnetic, but holds the lipstick closed really tightly
The lipstick smells like Roses and reminds me of past elegance
The #19 lipstick is in the shade Fuchsia. This is a bright fuchsia pink. It's bright and cheery. It makes your teeth look extra white. I wore this with a black dress and purple heels to church one Sunday and received a lot of compliments. It's not for the faint of heart and is more dramatic. Below is a swatch of it on my wrist. When wearing this shade, I keep the rest of my face makeup minimal. I applied black liner, mascara, highlighter, and just a little blush to help the color stand out.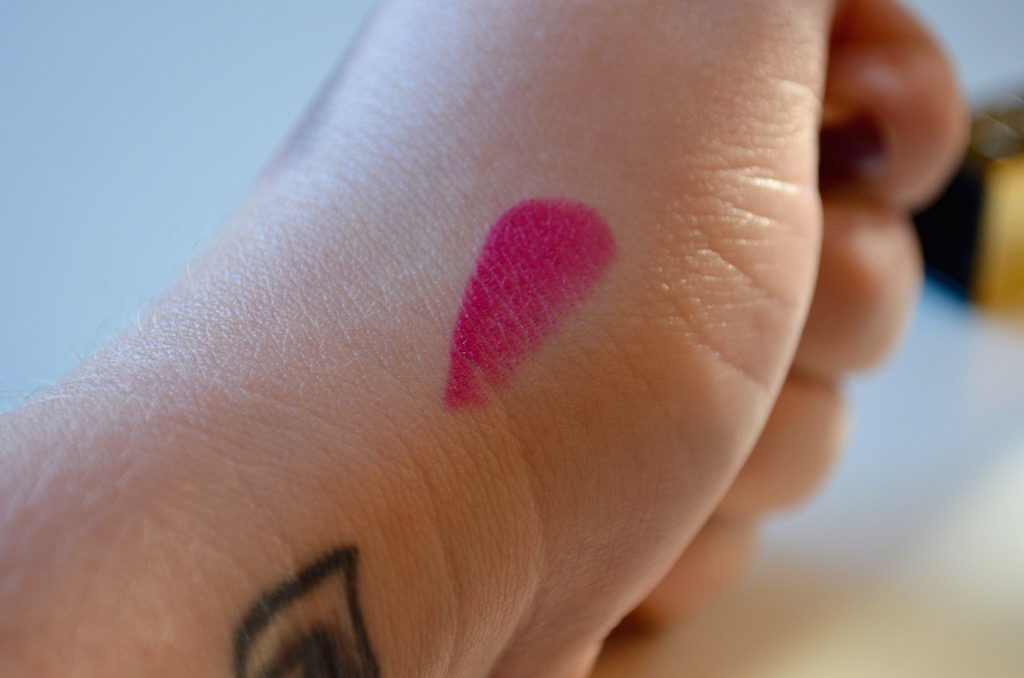 See the bottom of the lipstick? It doesn't say the shade, just the number!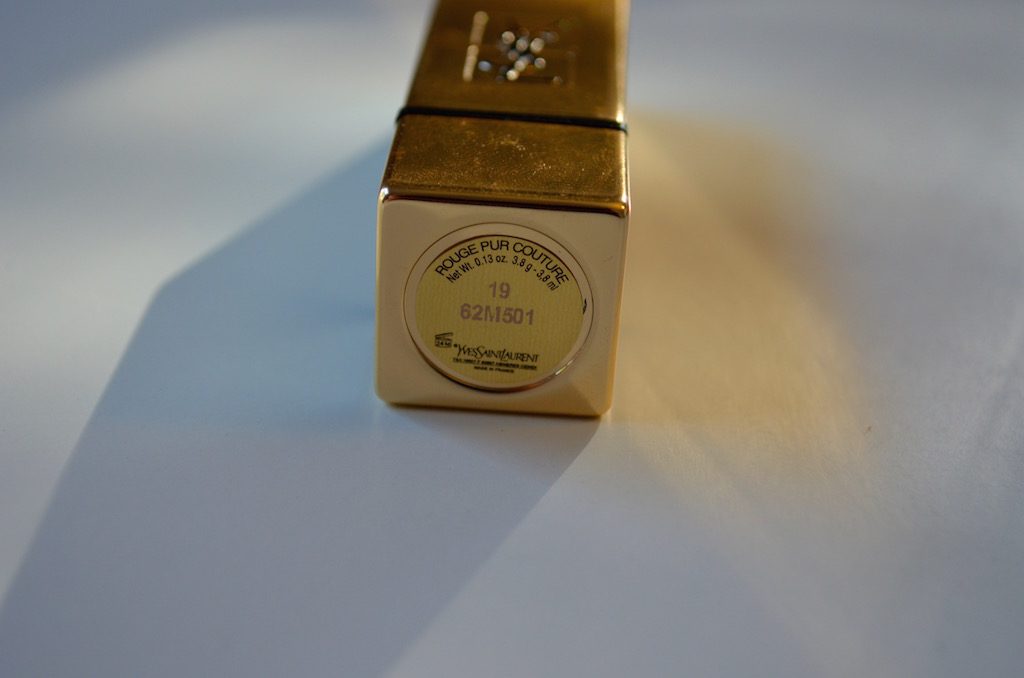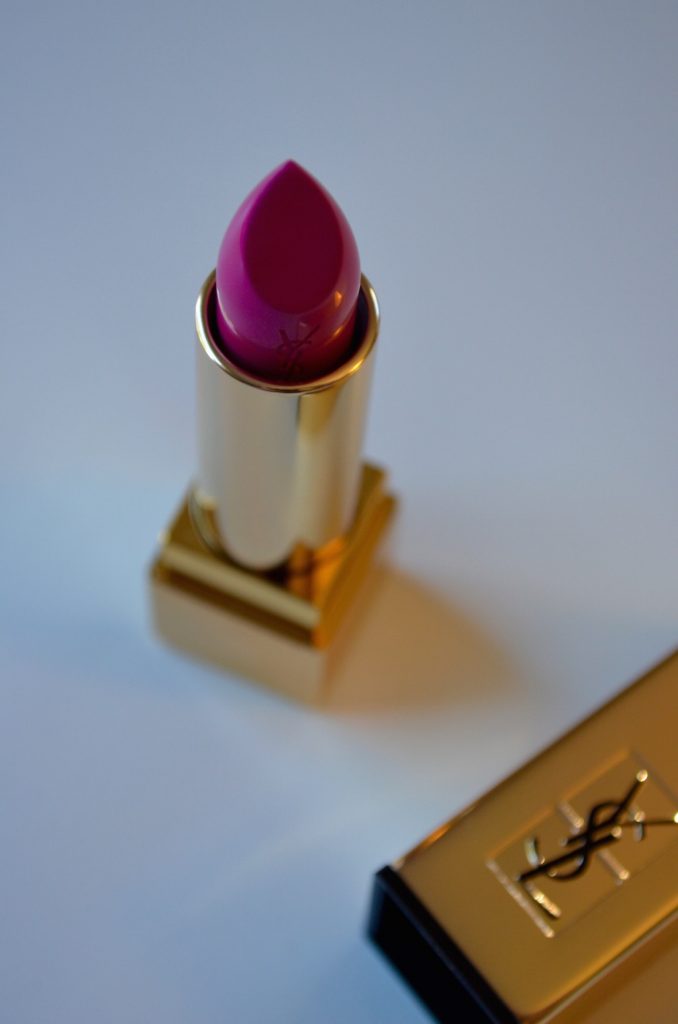 The other shade I received was #9 and it's called Rose Stiletto. This shade is described as a rich berry rose. It's a beautiful shade that's classic and under-stated. It's not near as bright as Fuchsia, but it does demand attention when it's on your lips. I've been wearing it a lot more than the other shade because it compliments a number of different makeup looks. It's perfect for Fall, too. I've been wearing it with a slightly smokey eye and then a bronzer.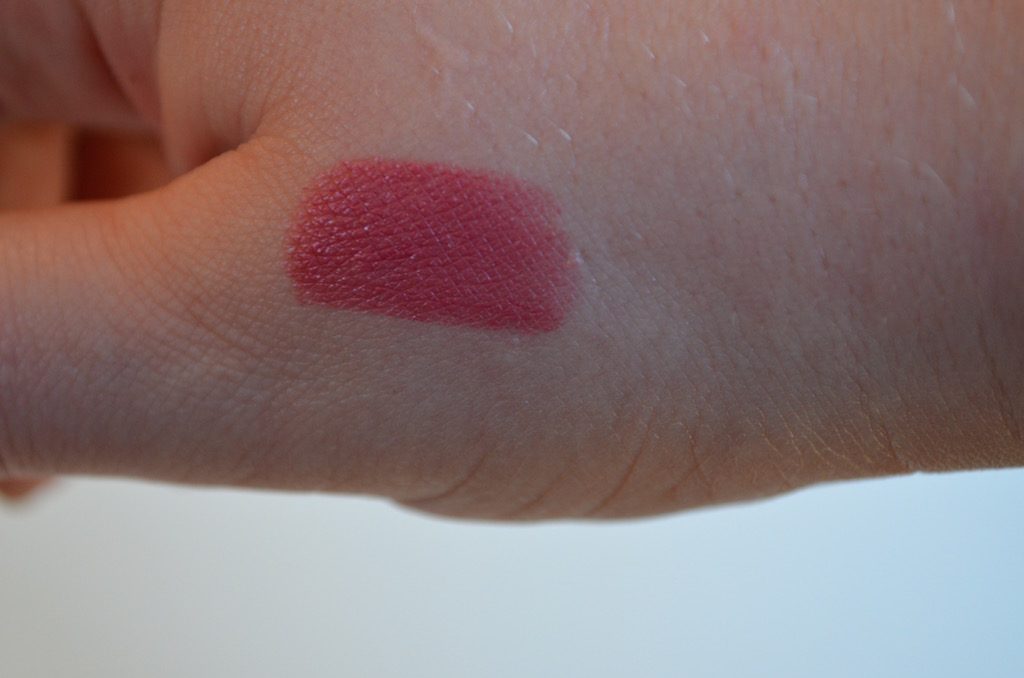 The formula for the YSL Rouge Pur Couture lipsticks is unlike any I've tried in the past. It's moisturizing and goes on like butter. The smell is fantastic and the lipstick bullets themselves are works of art. When I apply the lipstick, I only need one swipe to get the color pay off I expect. You don't have to keep going over it and you don't need to add a primer or any gloss. I appreciate that the formula doesn't feather or smear off my lips. I've worn it in hot weather and it doesn't budge. The only thing is, you need to reapply it after you eat or drink coffee. I don't mind that, since it's not supposed to be a lip stain.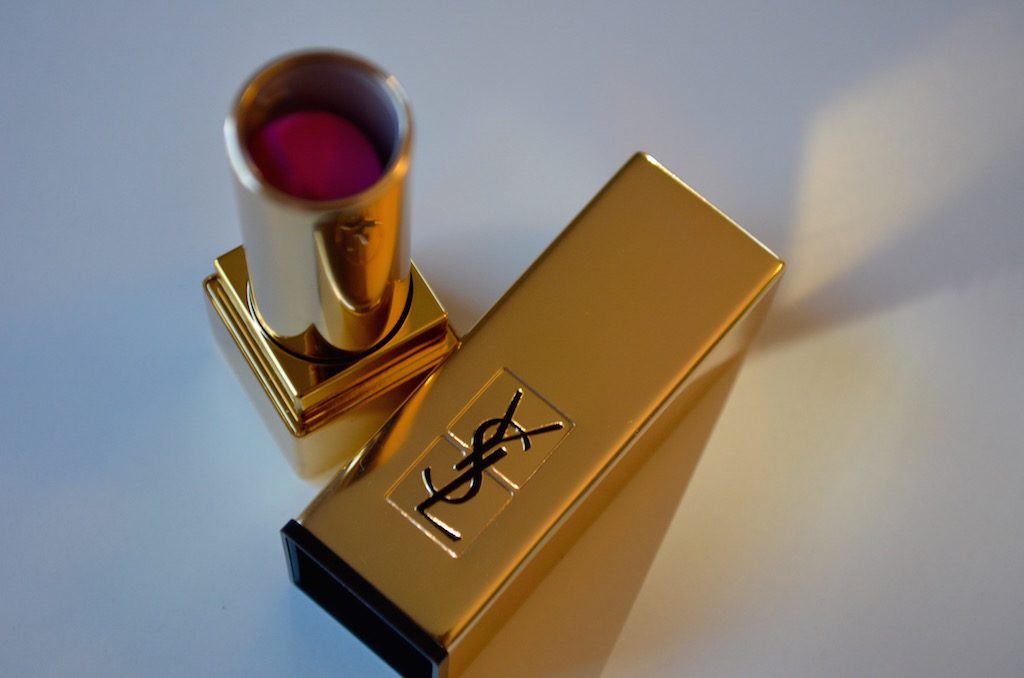 I've also noticed a little goes a long way. Since you're not reapplying the product every few hours, it lasts longer. Rose Stiletto doesn't even look used and I've been using it off and on for about a month! The packaging keeps the lipsticks from opening in your purse and the luxurious feel makes you want to grab them and apply them nonstop (even though you don't have to).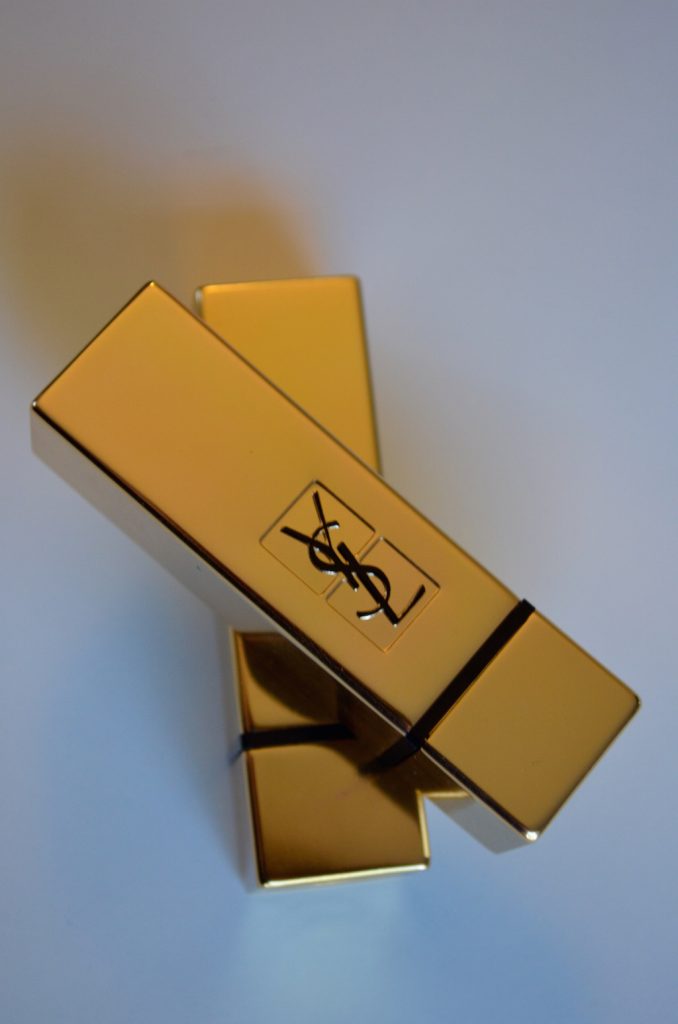 I had never really considered purchasing YSL lipsticks as a collection. I had hoped for Christmas I might get one last year. Now, though, after receiving these for free, I've determined I'd like to collect a few more. The quality is unlike other brands and they look stunning on my makeup vanity. Along with regular finish (like the ones I received), YSL offers satin and matte versions of the shades. I think I'll stick with the regular since it's treated me so well.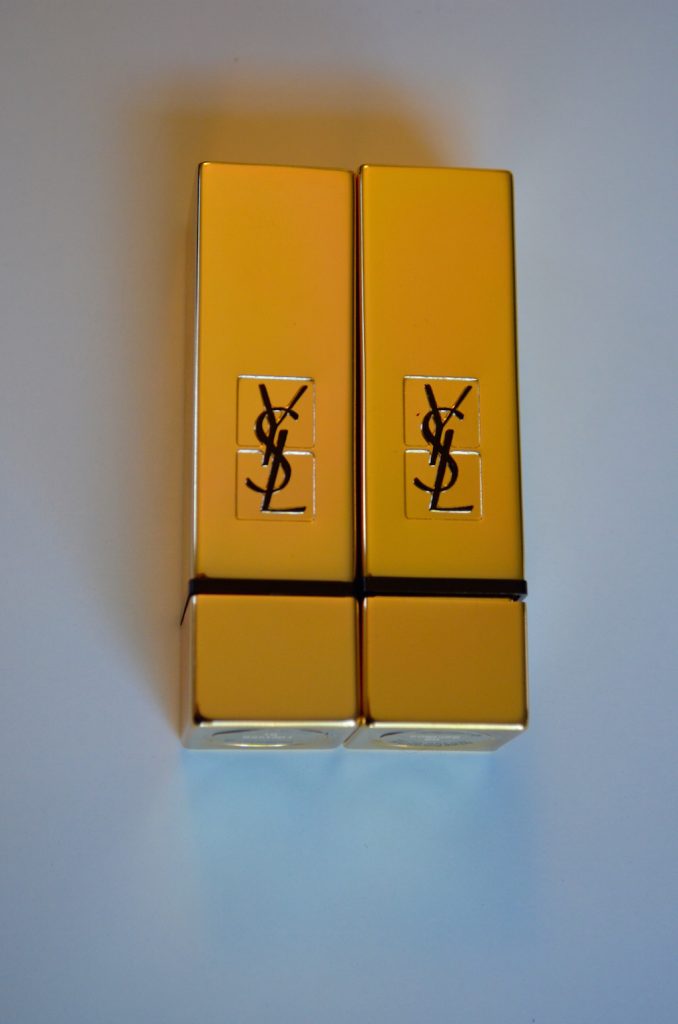 Overall, my rating is a 10+/10. I hoped these would be as luxurious as they looked, and I wasn't let down. Influenster kindly sent them to me for free to try out. Everything in this post is my own personal opinion. I'd tell you if they were a flop. (See my review on the Touché Eclat Blur Perfector which kinda sucked.)
Each lipstick in the Yves Saint Laurent Rouge Pur Couture collection is $36. You can order them from Sephora, Nordstrom, Barney's and YSLBeauty.com. I just saw that Nordstrom has them 10% off and they're only $32! That's pretty rare, so take advantage of the discount if you're interested in trying a more luxurious lipstick.
Love & Laughter,
Tiffany