Easter and Spring is officially right around the corner! As the weather is warming up and my coffee order turns from hot to iced, my mind is on bright colors and outdoor fun. I don't think you're ever too old for gifts and bright colors. For this fun DIY, I decided to mix both. With some of my girlfriends in mind, I made these "Mason Jar Easter Friend Gifts." Every single thing I purchased was found at the Dollar Tree and they only took a few minutes to put together. The best part in my opinion? The mason jars have glass handles so they're more like summer mugs – perfect for iced drinks in the warmer weather.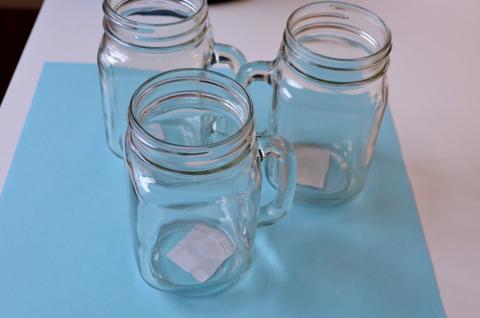 I began with some adorable mason jar mugs I bought. I didn't bother to remove the sticker on the bottom. I'm not as OCD as some other DIYers.
Next, I thought about what would go in my adorable Easter basket-esque Mason Jars. Along with the traditional candy, I wanted to add some items my friends could use everyday. I also wanted to keep the colors the same to make it look extra cool. My main focus was on a yellow, bright gift. I made sure each item I purchased had a yellow option. I bought: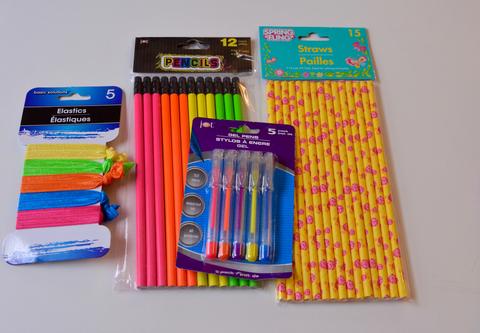 -Hair elastics
-Neon pencils
-Neon mini gel pens
-Paper straws
I figured the girls could always use writing utensils, the paper straws would be perfect for the mason jar glasses, and your hair always needs to be put back in the warmer weather so the elastic bands were the perfect touch. I also kept in mind the size of the jars and the size of the bright Easter eggs I purchased.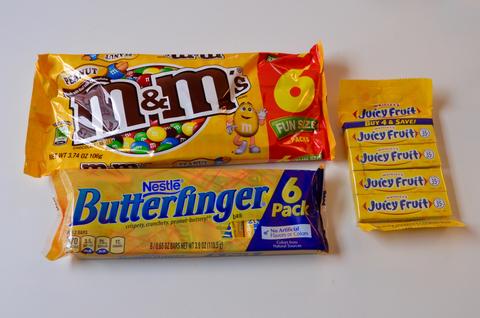 It was a little bit of a struggle to find yellow candy! I picked M&Ms, Butterfingers, and Juicy Fruit. Other candy not pictured included Sixlets, Taffy, and candy necklaces.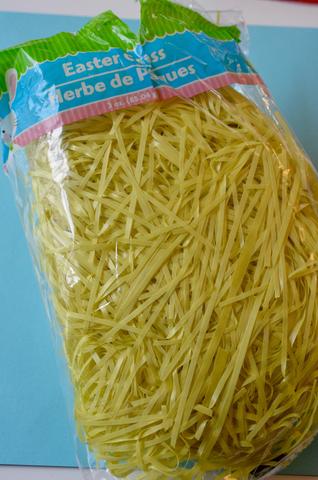 Of course you can't have a gift that's inspired by Spring/Easter without this fake grass stuff! I began by stuffing some in the bottom of the glasses.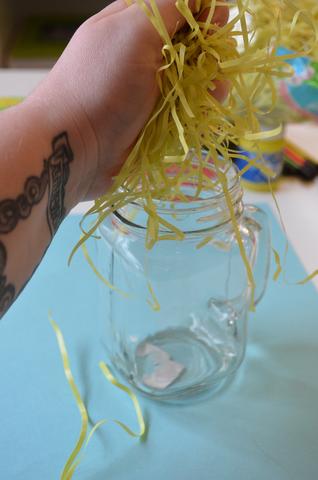 You may need to take a pencil or longer object to stuff it in.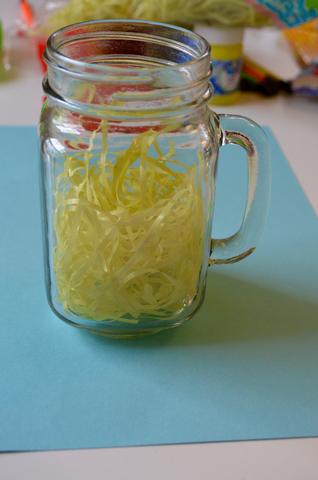 Once all the fake grass is in, it's up to you and your creativity to fill the jar up with color coordinated/or not so coordinated items.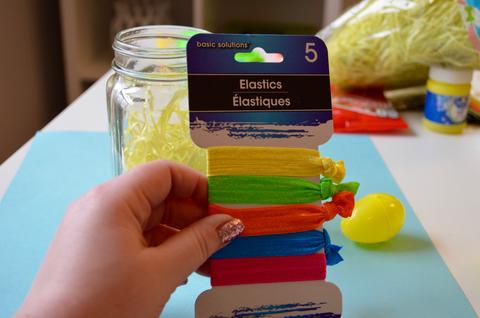 I thought a yellow elastic hair tie would work well in the smaller yellow Easter eggs.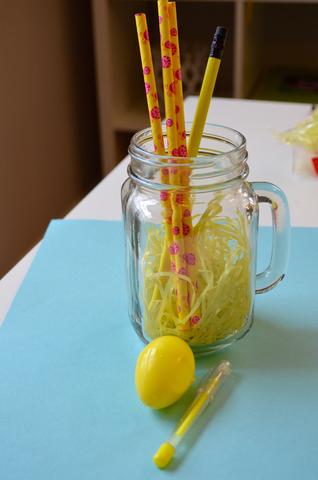 I also had a little yellow gel pen ready after placing some paper straws (aren't they cool) and a neon yellow pencil in.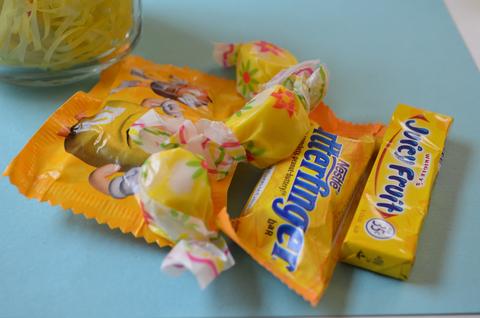 The candy was ready, too!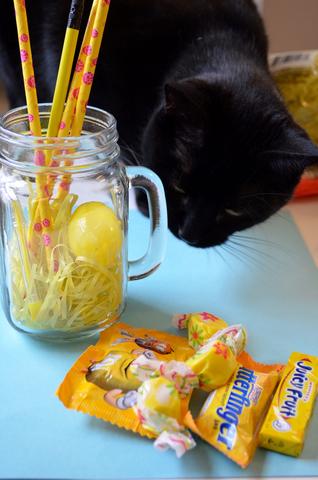 Silly kitty, this gift isn't for you!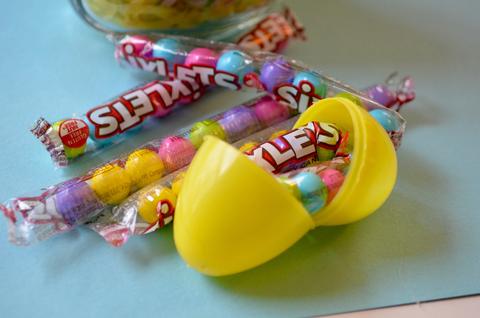 If an item doesn't match the color scheme, like these Sixlets, I placed them in a yellow egg!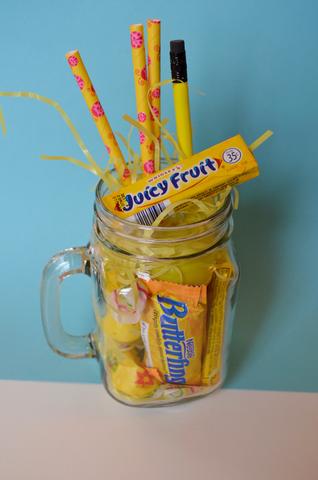 Once the jar is filled, it's ready for giving! After I was done, I realized a little tag that says "For You" would be really nice. I added more fake yellow grass and made sure there was no empty space in the jar. What a cup of sunshine!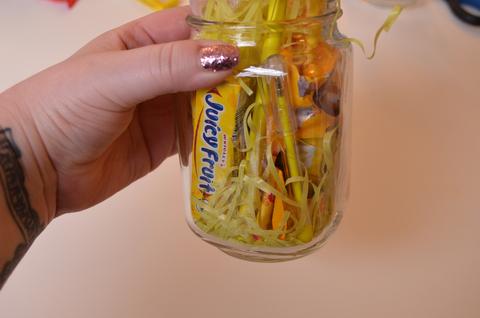 I had planned to do three filled with yellow items, but I remembered my one friend loved pink. Since I had a lot of pink items…I went ahead and did a different color theme!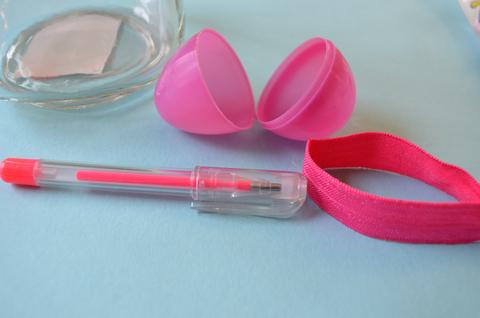 Hot pink rules. I placed the hair tie inside the pink egg. Don't you love the mini gel pen?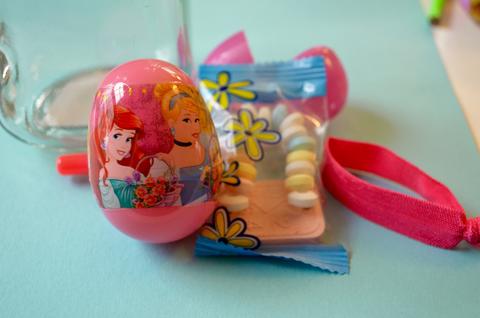 It doesn't matter if you're 10 or 30…Disney Princesses rock. So do candy bracelets. My bestie Jess will love this.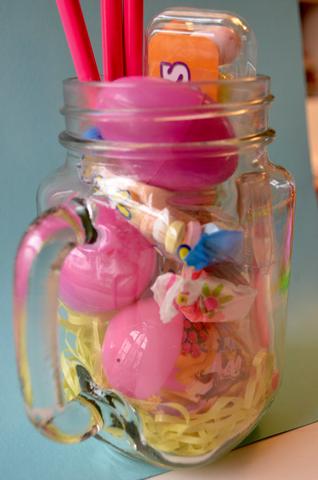 I didn't have pink grass, but you still get the idea of the color scheme. To make this gift more personalized you could write the recipient's name in sharpie on the cup.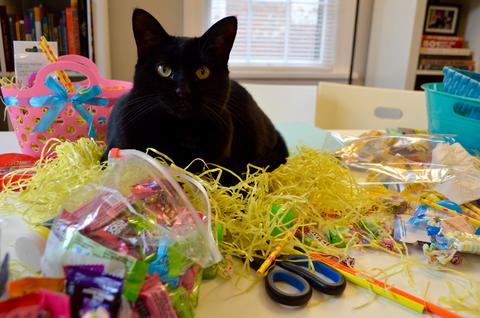 Behind the scenes picture…the kitty loved bedding down on the fake grass.
Since the mason jars didn't have a ton of room, I had extra supplies. I thought outside of the "Easter basket box" and used little clear plastic punch cups for mini baskets. These will be given to a few of our family members.
Peace,
Tiffany