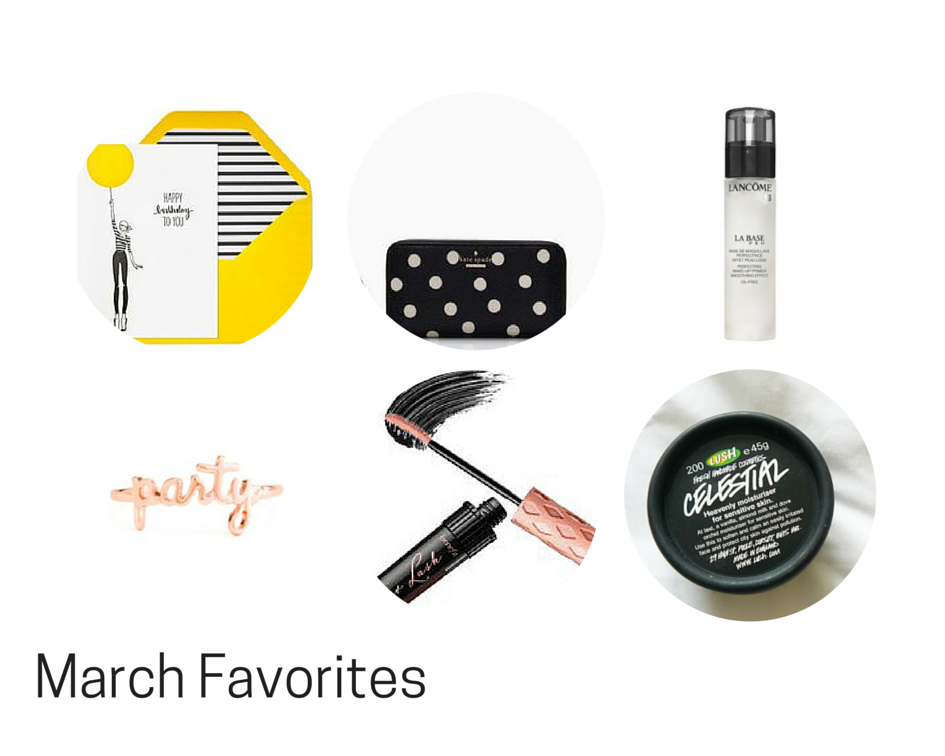 This month there are so many exciting new makeup items I tried and loved! There are also a few things I'm digging that I don't (quite) own (yet).
Westside Kate Birthday Card, $6 from Crumple & Toss
This cute birthday card is perfect for a stylish pal's March birthday! I just discovered the online stationary/gift boutique Crumple & Toss and love most everything they offer. The store also offers quirky products from Ban.do, so you know it's right up my alley. I've fallen for lots of new brands just by clicking around their site. This specific card is from Sugar Paper LA.
Cedar Street Dot Lacey Wallet from Kate Spade,  $178
If I didn't already own a beautifully chic wallet from Betsey Johnson ($15-20 from TJMAXX), I may consider purchasing this polka dot wallet from Kate Spade. I'm not into designers too much, but man, I'd love to get my paws on a Kate Spade bag! This wallet has a classic look and has plenty of storage for all of my random $1 or less gift cards accumulating in my purse.
LA Base Pro Primer from Lancome, $42 
I've tried a lot of different makeup primers but was swayed by the incredible gift offered by Lancome in February if you spent $35 or more. I'll be honest: this stuff works. I used it for my sister's wedding and it kept my makeup from smearing off my face and revealing my constant struggle with adult acne! Instead, my sister and I looked flawless and our skin stayed looking matte. I'll have to post pictures of the wedding so you can see for yourself! It's a pricey beauty investment at $42 (that's at least 10 caramel lattes)…but you only use a dime size every day and it keeps you from reapplying even pricier foundation.
If you haven't already (and just why not?) check out my post about this makeup primer from Lancome for even more deets.
It Girl Cuff in Party from Ban.do, $20
I've just recently discovered this fantastically (This IS indeed a word. I looked it up) awesome brand called Ban.do. Basically if you could sum up my style and quirky-chic lifestyle goals you could just photograph me laying in a pile of products from this company. The bright colors. The quirky sayings. The prints. The empowering message. Ohh ahh! I think it's for the best I live at least 100 miles or more away from a place that carries their products. This still didn't keep me from making an order for my upcoming photo shoot for the blog. I didn't order this rose gold script bracelet but I might for another event. You can wear it along or layer it with other jewelry for a fun look.
Roller Lash Mascara from Benefit Cosmetics, $24
The new mascara from Benefit came out in late February and I ordered it from Sephora! I've used it a number of times and love the way it curls my lashes. The jury is still out whether I like it more than They're Real Mascara, but we shall see. Stay tuned for a full review with pictures!
Celestial Moisturizer from LUSH, $24.95
The weather outside here in Ohio is still frightful and my skin is turning grayer and gloomier. A way I've been combating this is by applying moisturizer during the day when my skin is completely nekkid. I received a sample of Gorgeous moisturizer from Lush in a gift box a few years back. It changed my skin and I was dead-set on purchasing it…no matter the cost. Then I went into Lush and realized it was $89.95. Needless to say, I asked for a similar product that was more within my beauty budget. A few of the gals turned me onto Celestial after giving me a sample to try. I've been using it for about a year and have purchased it twice. In the summer, I don't use it but in the winter it keeps my skin feeling super soft. It smells like sweet almond yogurt (if that's a thing) and is made with Fresh Dove Orchid Extract which is supposed to do magic for your face. It's made specifically for sensitive skin so that's a plus.