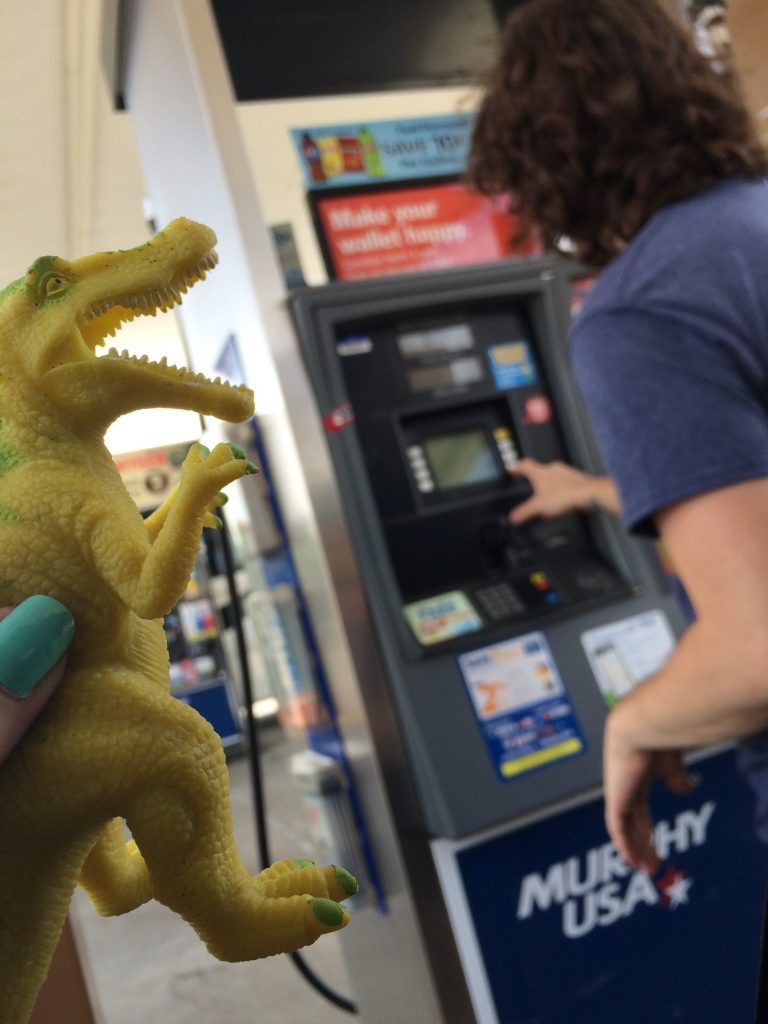 You can't have a good road trip without gas, right? Well, I thought this would be a great photo-op! A few years ago we got this fun silicone bean-stuffed dinosaur. We have no idea where we got it. Dustin says we may* have found him on the beach somewhere. We're not sure. BUT we like to take him on trips as out travel mascot. I know it sounds funny and some people don't get it, but it's kind of a fun way to document our travels.
Meet Dino, the Awesome Travel Dude!
Above is Dustin getting gas for our trip. I had some writing to do so we left around 11am on Friday, June 3rd and headed from Mansfield to Caryville, Tennesee. Our first stop was Jungle Jims in Cincinnati, Ohio. Other stops included Lexington, Kentucky and Cumberland Falls, Kentucky.
Jungle Jims, 1st Stop, Cincinnati, Ohio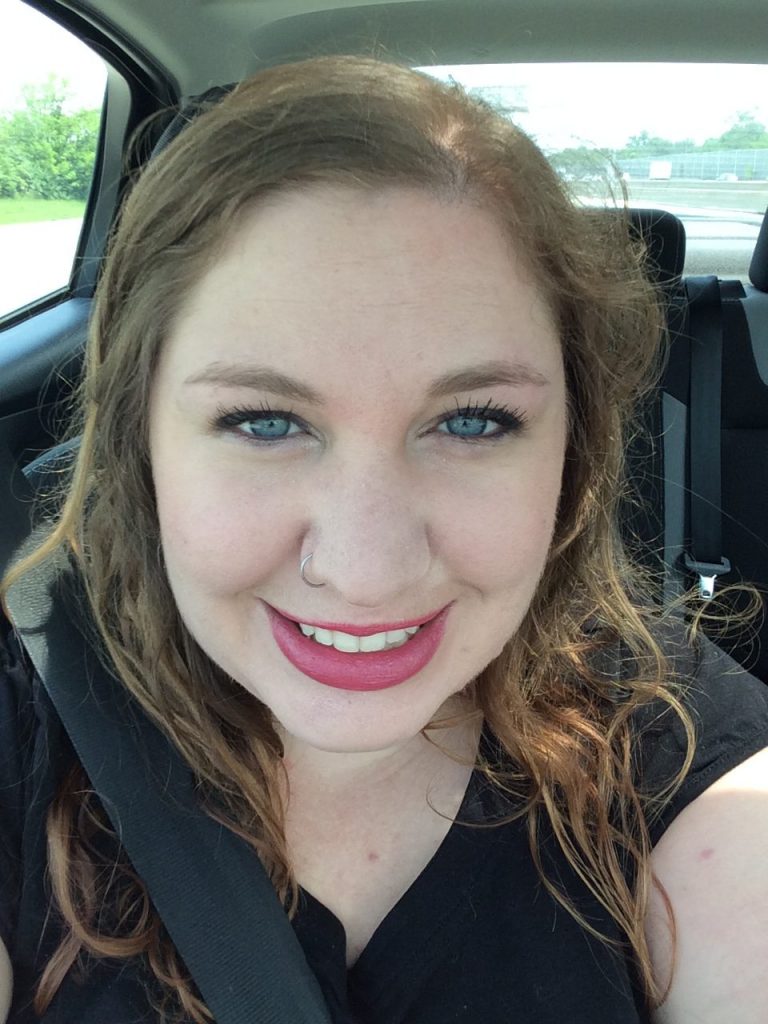 Oh, hey, there's me! I had a writing interview this day with Neutrogena. I thought it was going to be a video call but ended up just being a phone conference. In this picture I was trying to mimic Hayden Panettiere's makeup since she's one of the faces of the brand. A lot of their products are simple and not over-pronounced. I really like the blue eyeliner I had on. The lip pencil was OK. I forget the shade but it was one of their brighter ones. Can you tell my skin is clearing up? Ever since I've started eating a plant-based whole food diet it's gotten a lot better. Oh, and I've lost 25lbs.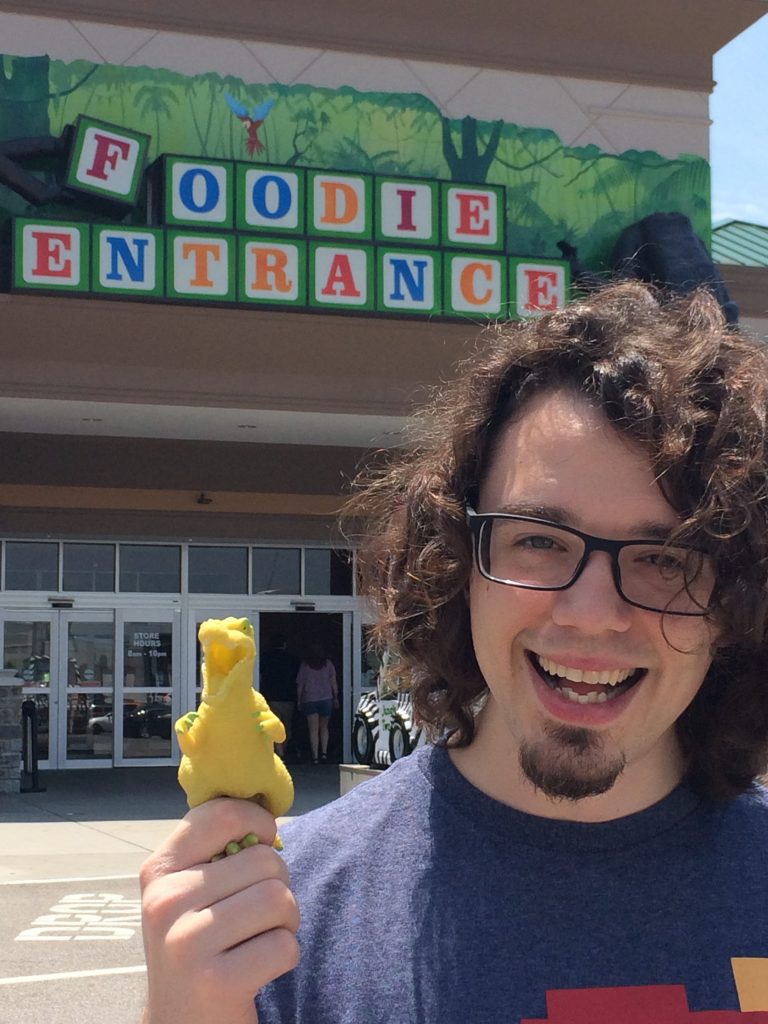 It took us about 2 1/2 hrs to get to Jungle Jims from our house. This place is ah-mazing. If you love food and love traveling this is the place to shop. I would drive there just to spend the day. It's a MASSIVE grocery store with foods from all over the world. My mum first told us about it and said they had $5,000+ bottles of wine. I didn't get it…until I went for the first time. It's seriously almost like an amusement park. They also give out free samples. It's hard for me since I'm vegan, but they had some I could try.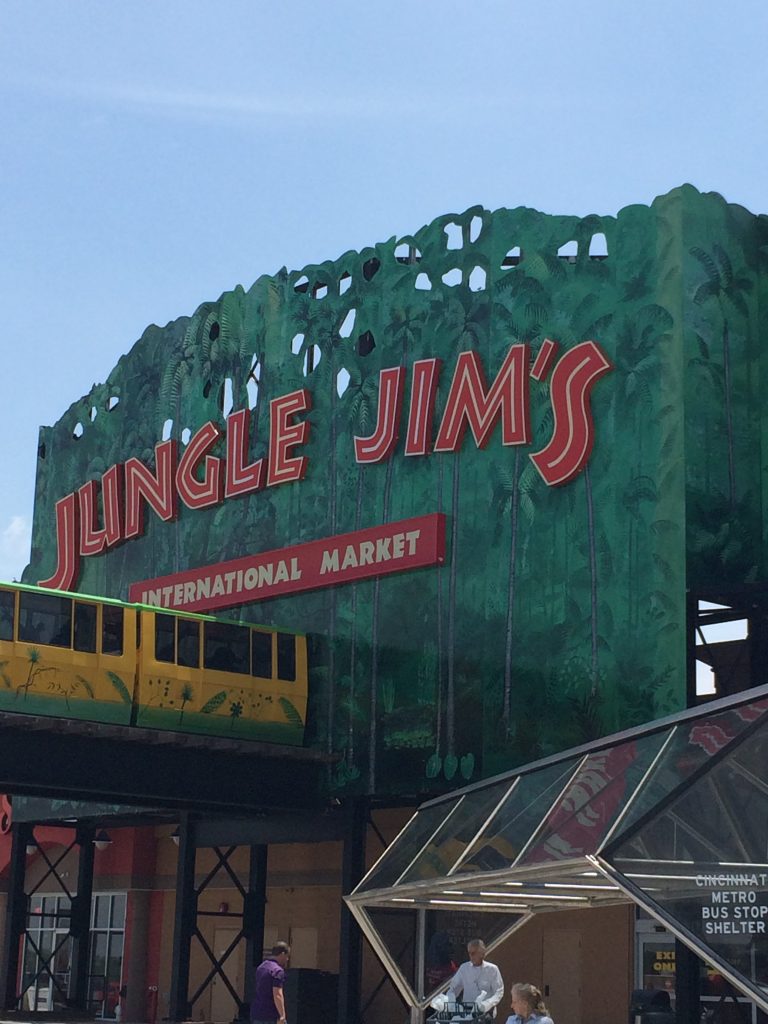 Outside there are animal noises and a really cool looking elevated train. You can't ride it, it's just for looks. Once you walk inside you're overwhelmed with the size. The store even gives tours. We came at a random time but there were still lots of samples out. We had to limit our time or else we wouldn't make it anywhere else this day.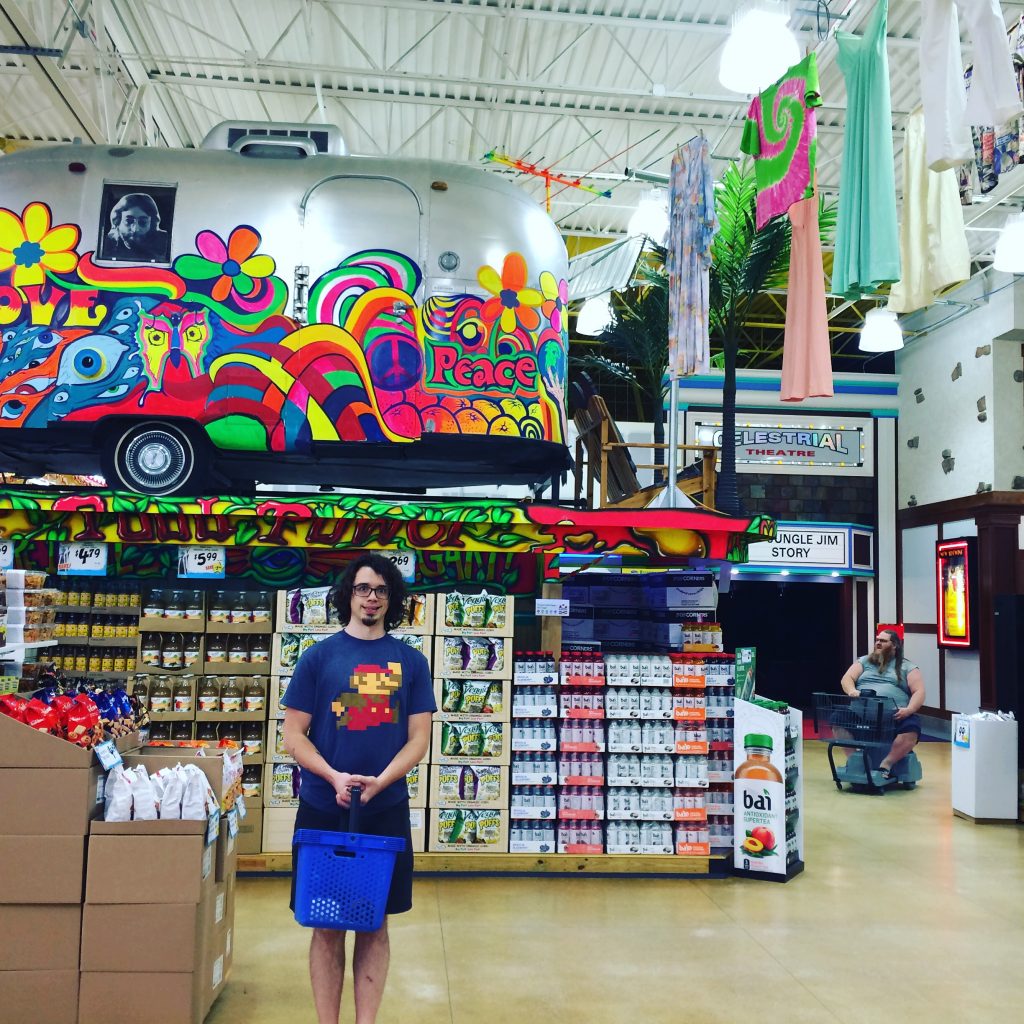 There's a fun hippie theme in one section of the store. I told Dustin to stand for a picture. I think this was in the all natural section. The air steam painted trailer, picture of John Lennon, and tie dye clothes were perfect. We didn't buy a lot since we were watching our money and brought out own meals. Things aren't much more expensive than regular stores here. We bought some wafers (Manner) that we liked from Austria, some vinegar flavored edible crickets, a weird drink for Dustin, and some Italian pasta and sauce that we tried. The pasta sauce was from Bon Jovi's dad. It was a garden marinara and it was excellent. The free sample got us hooked and we bought the $7 sauce and $2 pasta. Later, we made it at my grandparent's cabin. It was so good! I later realized it had butter in it. A no no on my diet (and my stomach). Bummer.
PS- Go into the bathrooms. They look like porta pots on the outside but are really nice modern bathrooms on the inside. Mind = Blown!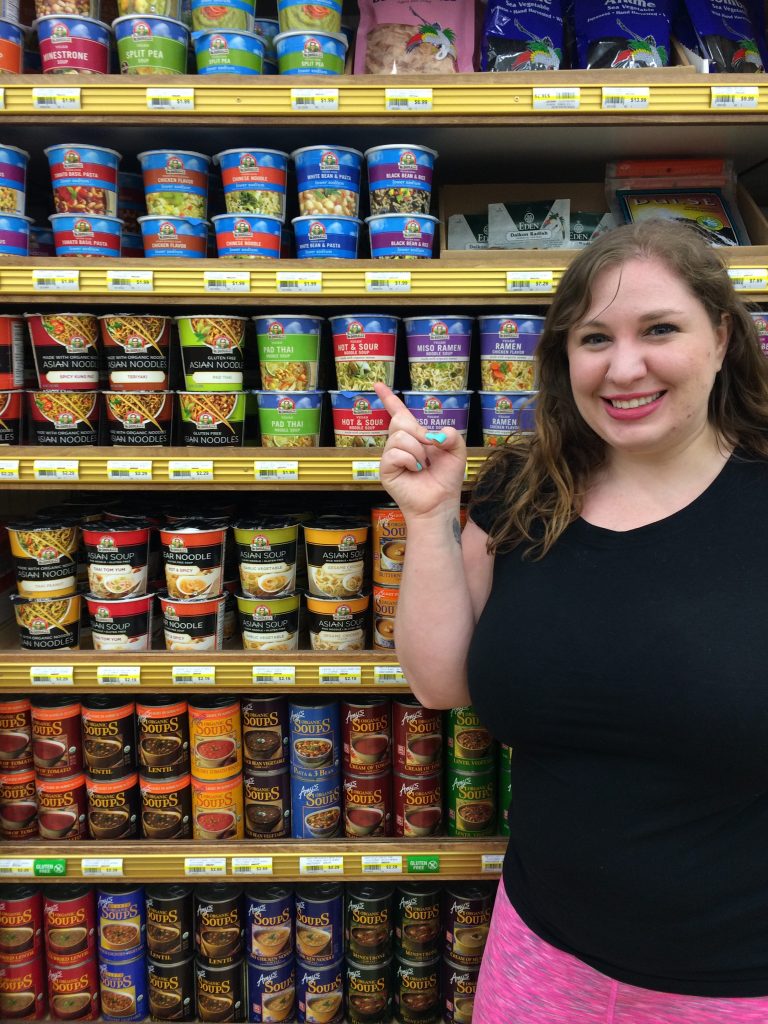 Dustin and I also found Dr McDougall foods! This is the brand that started me on my whole foods plant-based diet. I love the food and now I'm vegan and feeling the best I've felt in years. I wanted a picture by the wall of the food to send to my family. Also, to keep track of my progress. One of my goals is to send my testimony to Dr. McDougall once I hit my goal weight!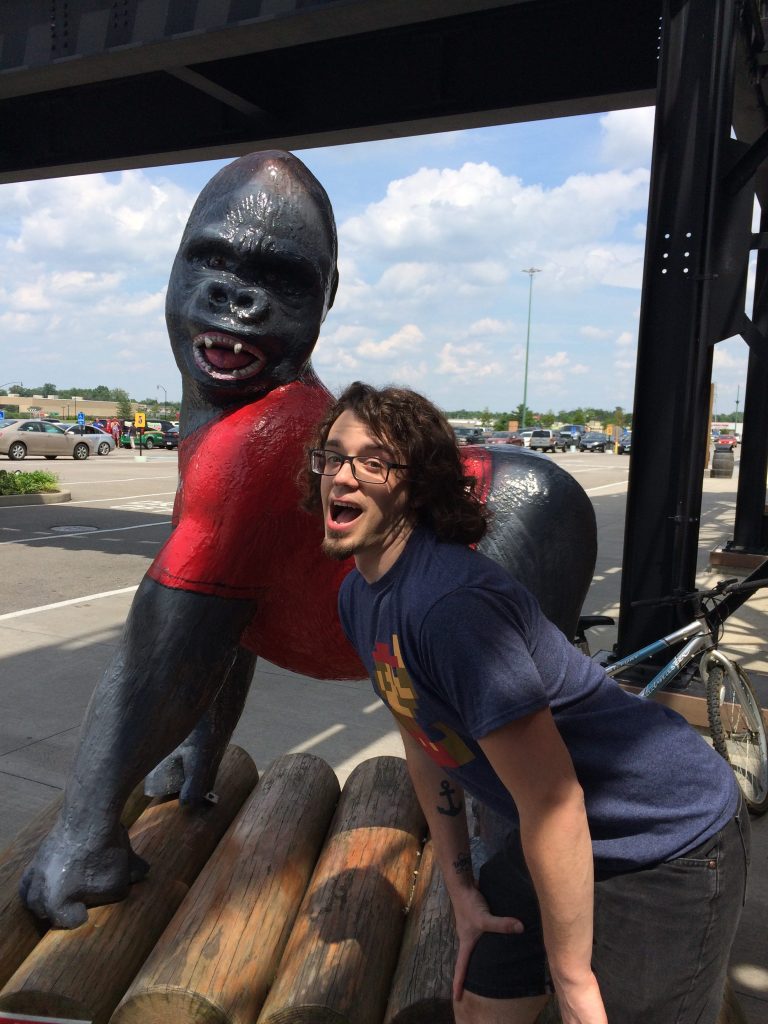 There aren't any words for this picture. Later, we sat in the car and tried a weird drink Dustin picked out. I took a video but forget where I put it. I hated it. The texture was weird. The basil seeds were slimy. I don't think Dustin liked it because we dumped it out in Lexington, KY.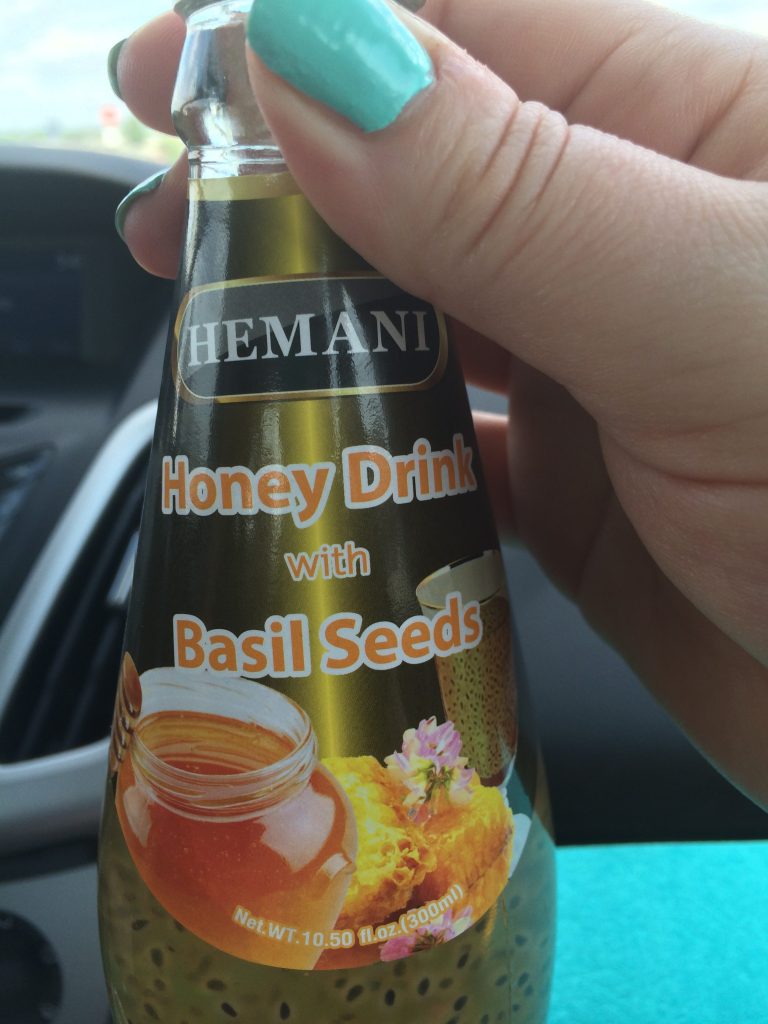 Last thing we did in Cinci was eat at Jimmy Johns. I only had eaten there once in Chicago and didn't remember loving it. Well, we liked it a lot better this time. Maybe because we appreciate fresh food better. They had a vegan option for me too. I had a veggie sub with avocado and some kettle chips. The kettle chips were a splurge, but good!
Mary Todd Lincoln's House, 2nd Stop Lexington, Kentucky
I had plans for us to stop at a neat little place called the Rabbit Hash General Store. This store is in Burlington, Kentucky and is one of the oldest general stores around. The town is known because they have dogs as their mayors whom the residents vote for each term. I wanted to stop by and catch a glimpse pet of the furry mayor. Unfortunately, as I read up on it and after we put in into the GPS we realized it burned down recently. So, we skipped it and kept heading to Lexington. Another stop we considered was The American Sign Museum in Cincinnati. This looked really cool but was $15pp and we wanted to hike more than look at signs so we saved it for another day since it's closer to us.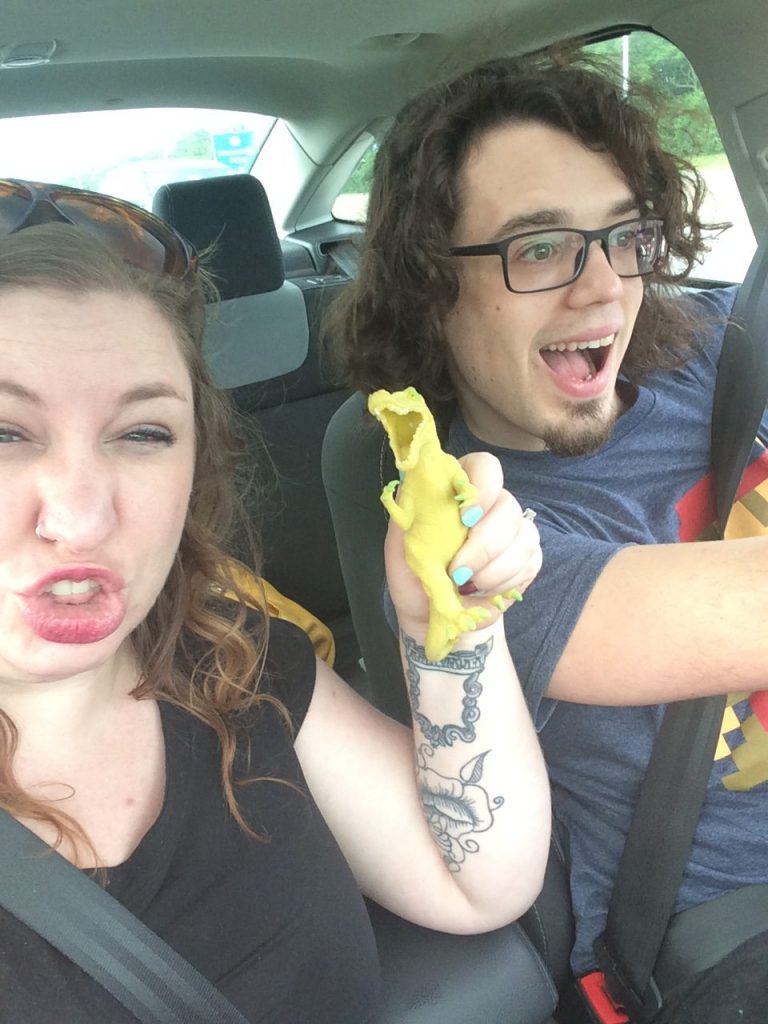 Silly Dino selfie! Once we hit Lexington we were so excited to see all the cool rock "fences." There were rocks stacked along the road and it looked so sophisticated. There were lots of horse stables (as to be expected) and charm. Mary Todd Lincoln's home was located right downtown. We parked beside the conference center and walked to it. It was closed, but we read all the information outside and got to see some of the other historic homes.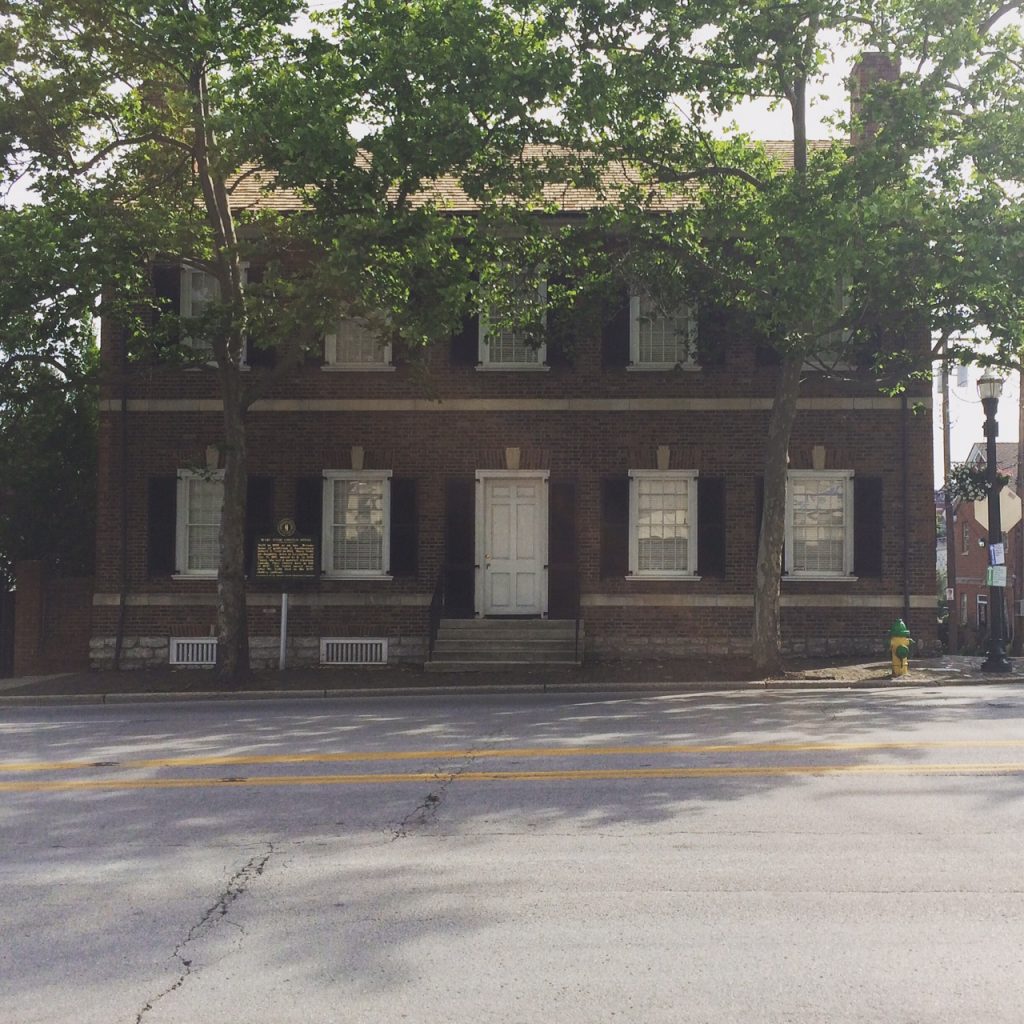 At this time, we were both needing to go to the restroom and needing some caffeine. Somehow I always notice when there's a local coffee shop nearby. There was one near our car. Daily Offerings Coffee Roastery was across the street from the Hilton and smelled wonderful. I have been without coffee for close to two months but Dustin got an iced coffee and I got some of their orange black tea. It was delicious.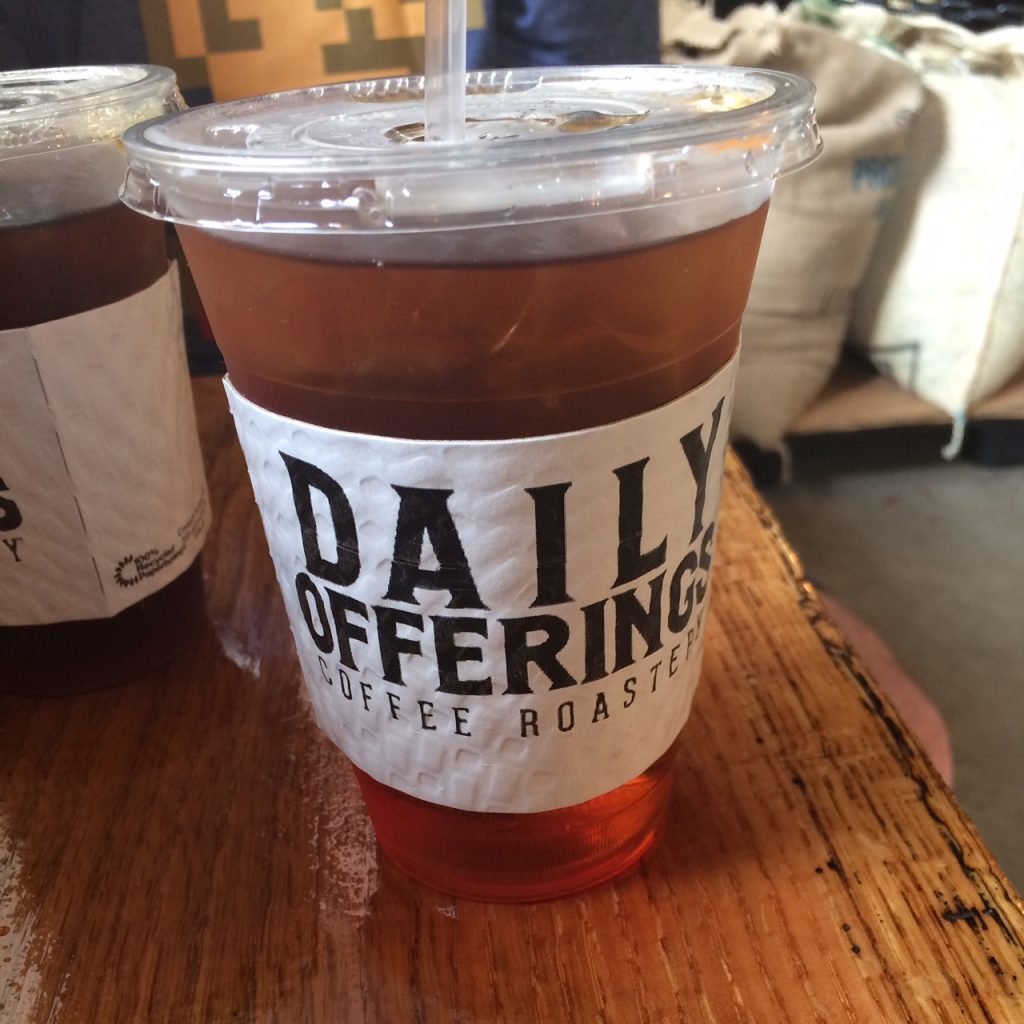 It was also a great time for an "Instagram" model shot.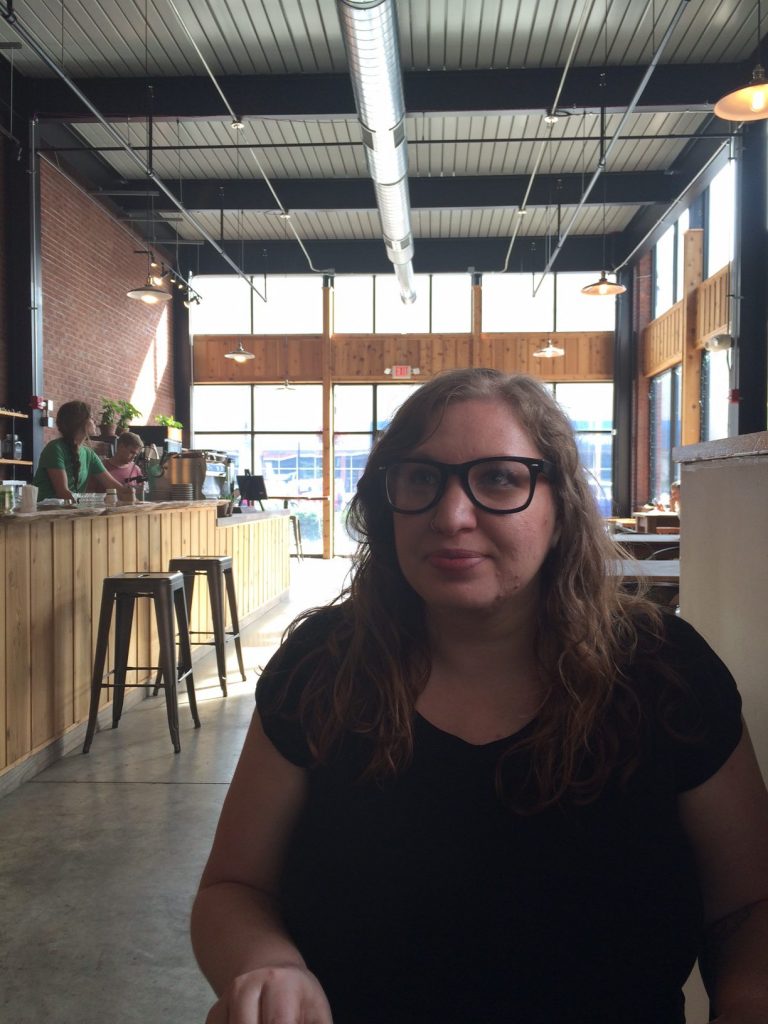 "Don't look, you look artsy and mysterious."
While walking we walked by a cool interior design store. I had to capture this horse that was encrusted with jewels.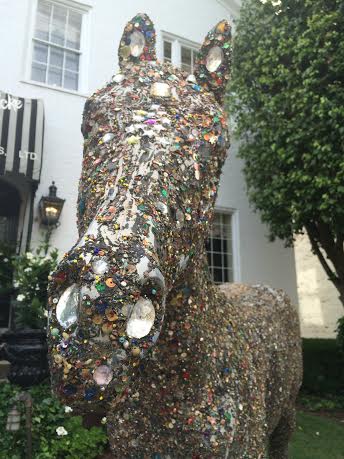 Cumberland Falls, 3rd Stop, Corbin, Tennessee
After Lexington, we kept driving to Cumberland Falls. We went here last year with out families. My dad took me there before as well. It's on the way and is a cool stop. It's also known for its moonbeam.
Traffic was rough and that was frustrating because the clock was ticking. I didn't want to get there when it was dark. We crept up to the lodge and put on our tennis shoes. After a quick bathroom break we hiked down to the falls. It was a two mile hike from Du Pointe Lodge there and back. It was pretty steep. I remembered last year doing it and hating it. This year it was hard, but not as difficult since I've been working out. Before, I didn't dare climb the rocks at the bottom since I was so out of shape. This time we climbed up them at the base and had a snack.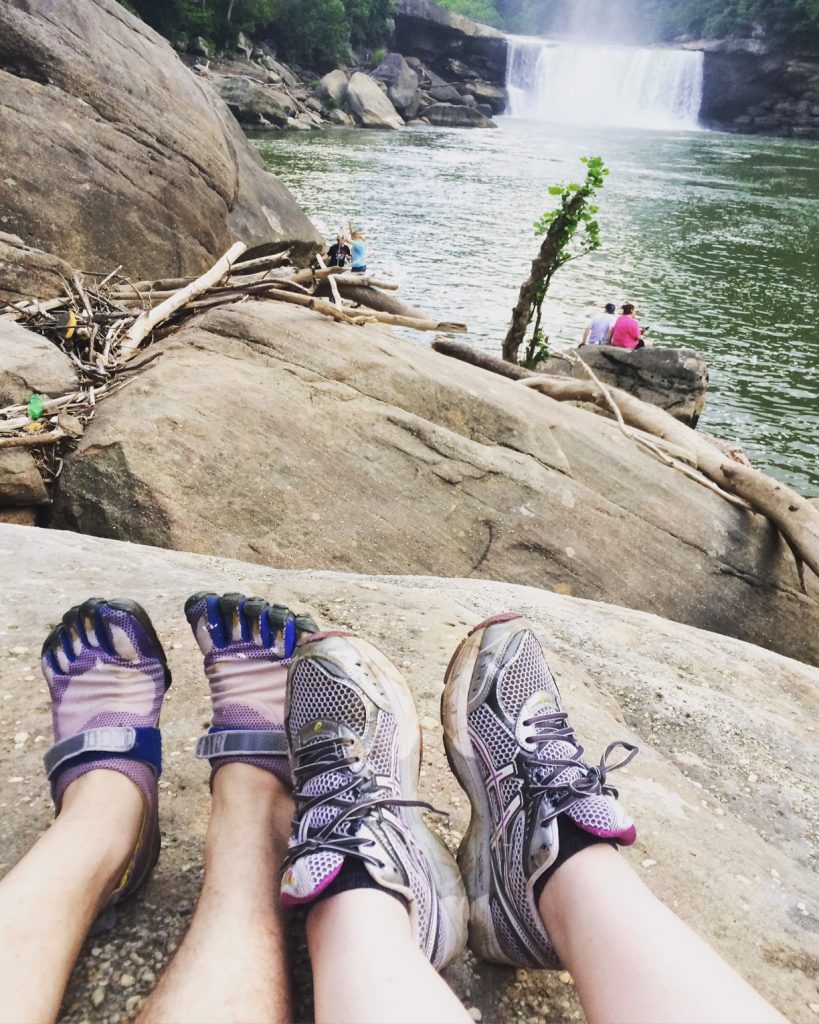 It was really special. Sitting there watching the falls as the darkness fell. We were the only ones there other than those fishing. I snacked on a banana and some granola. On our way back up the sun went down. It was darker but we made it up fine. I kept running into spider webs though. That part sucked. I'd like to go back and hike even further. Our hotel was in Caryville, Tennessee. We pulled in pretty late. Close to 9pm, maybe later. We took turns showering off from the hike and had some McDougall meals. We watched TV and went to bed right away!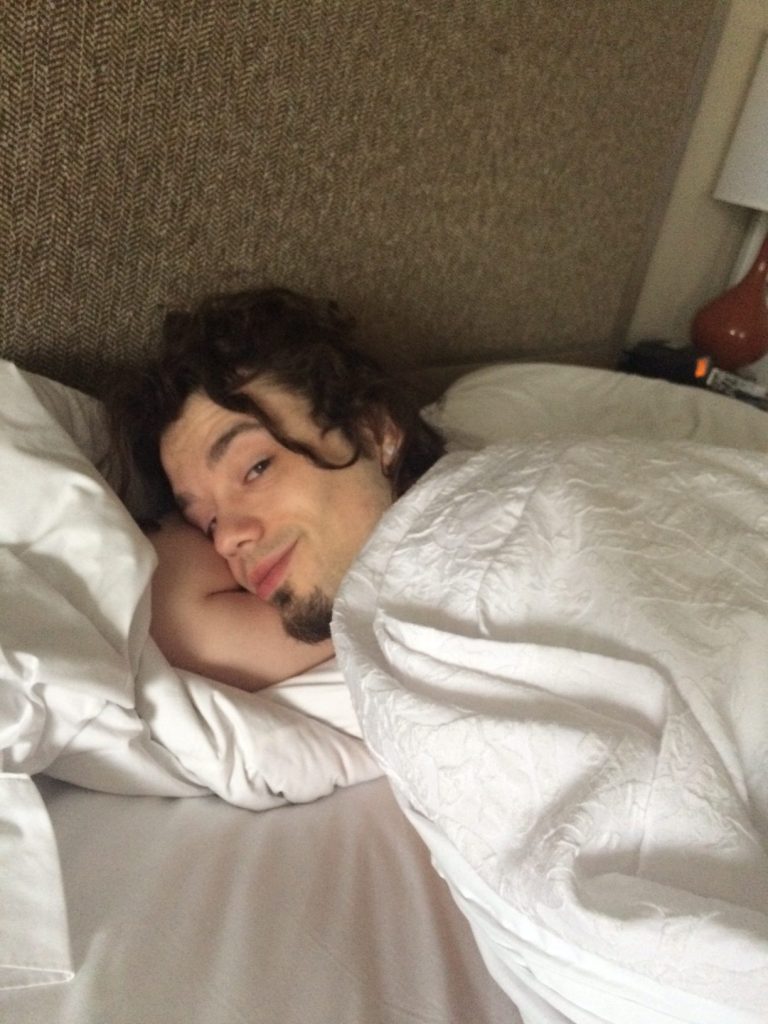 Dustin's tired! We drove about six hours and hiked. I'd call that a good first day!
Love & Laughter,
Tiffany
PS- I used the Roadtrippers Ap which is free on my Iphone to find stops along the way. I planned it out ahead of time!