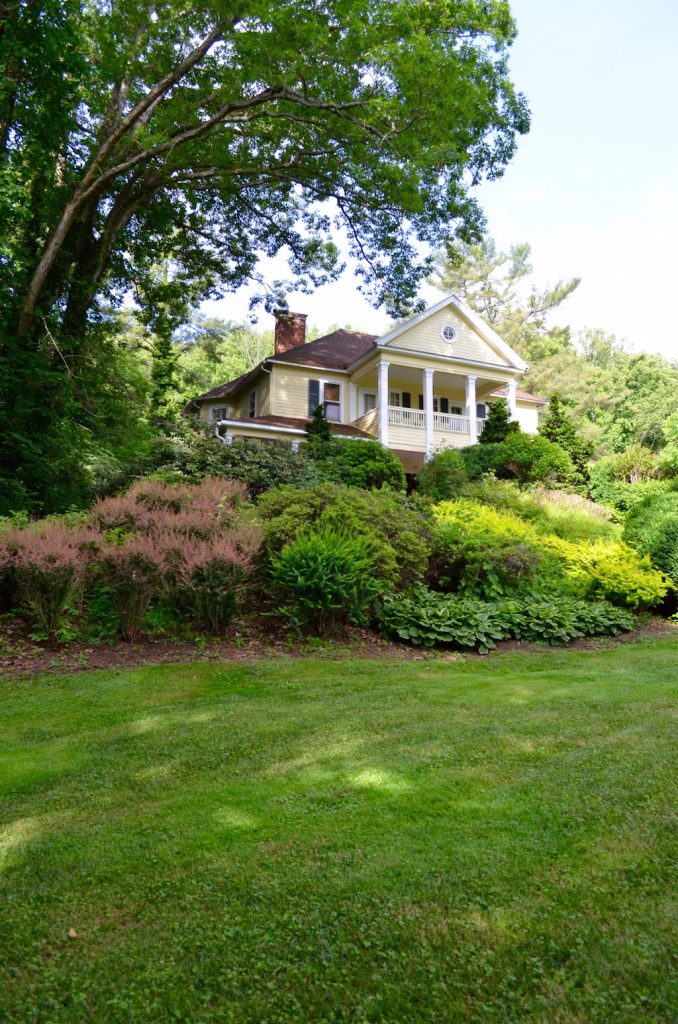 When we went off on our own, we headed to The Yellow House On Plott Creek Road. This little bed and breakfast is located in the charming town of Waynesville, North Carolina. I had heard of it through Groupon. For $299, you received a two-night stay in a suite, checking in on Friday. As usual, I read reviews before purchasing the deal and saw plenty of high ratings. The pictures looked fantastic. We left Starbucks and drove straight to the bed and breakfast in the rain. I hadn't realized we were running a little late for check-in, so I called ahead and let the inn-keeper know. Shawn was extremely accommodating welcomed us at the door.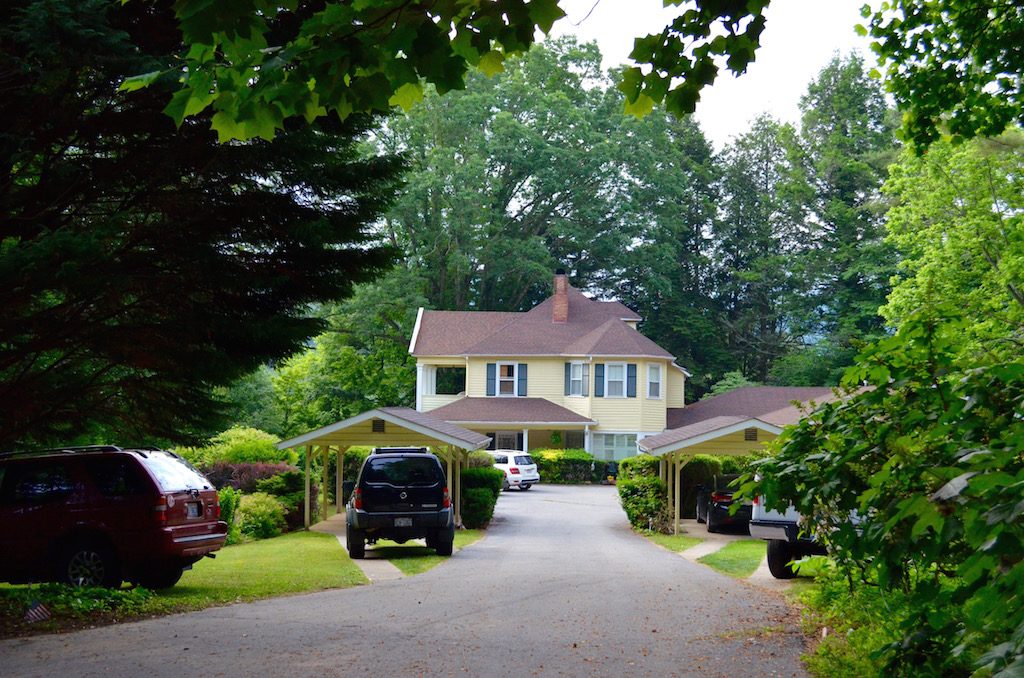 Friday, May 29th: First Night at The Yellow House & Dinner at The Sweet Onion
As soon as we drove up, the air seemed to get lighter. There was a magical feeling about this place. It felt as if we had gone back in time. The yellow house overlooked a lot of greenery and you could see it from the road. The mountains in the background looked like someone had painted them. We heard a bunch of folks talking on the front porch and saw some plates and glasses of wine.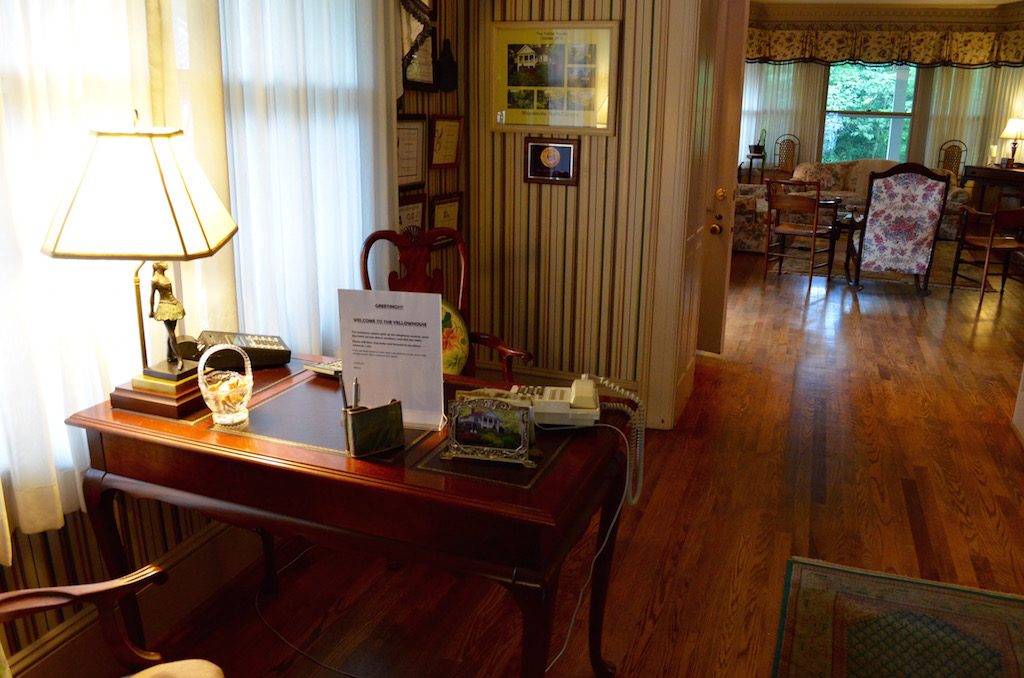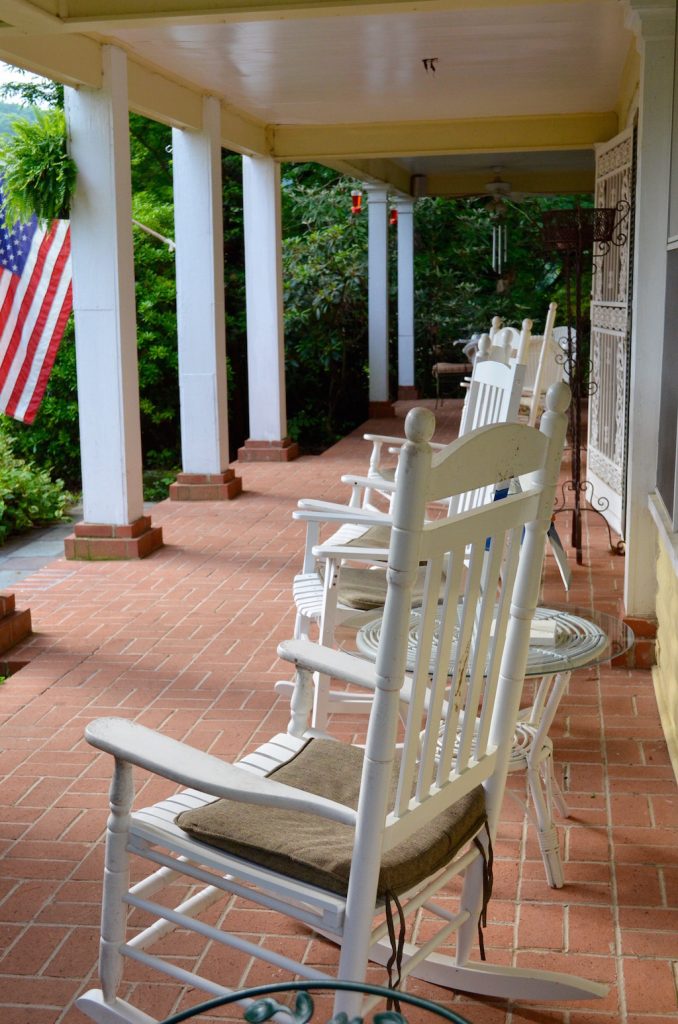 When we walked in, a man introduced himself as Shawn. He began whisking us around the old home, pointing out port wine, a pantry full of snacks, a cheese plate, and board games. It felt like we were coming back home to place we'd never been. There were about ten different people eating appetizers and visiting in the parlor and front porch. Shawn explained that it was their cheese and wine reception.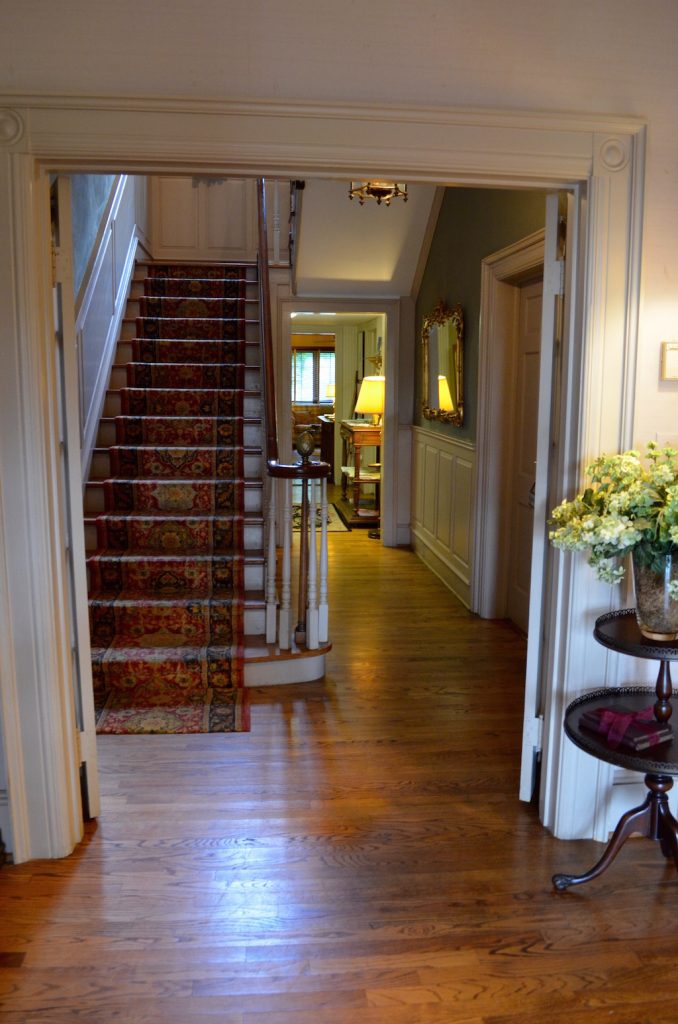 The floor creaked below our feet and the china in the cabinets softly clinked as we walked into the butler pantry. Shawn told us to help ourselves to snack bars, cereal, fresh fruit, and cookies (he baked fresh every day). He showed us the hot water for tea and where we could leave our plates. There was also a room with books and lots of board games. Before taking us to our suite, which was located in another building, Shawn explained that the inn had plenty of material on the town and all the menus from local restaurants.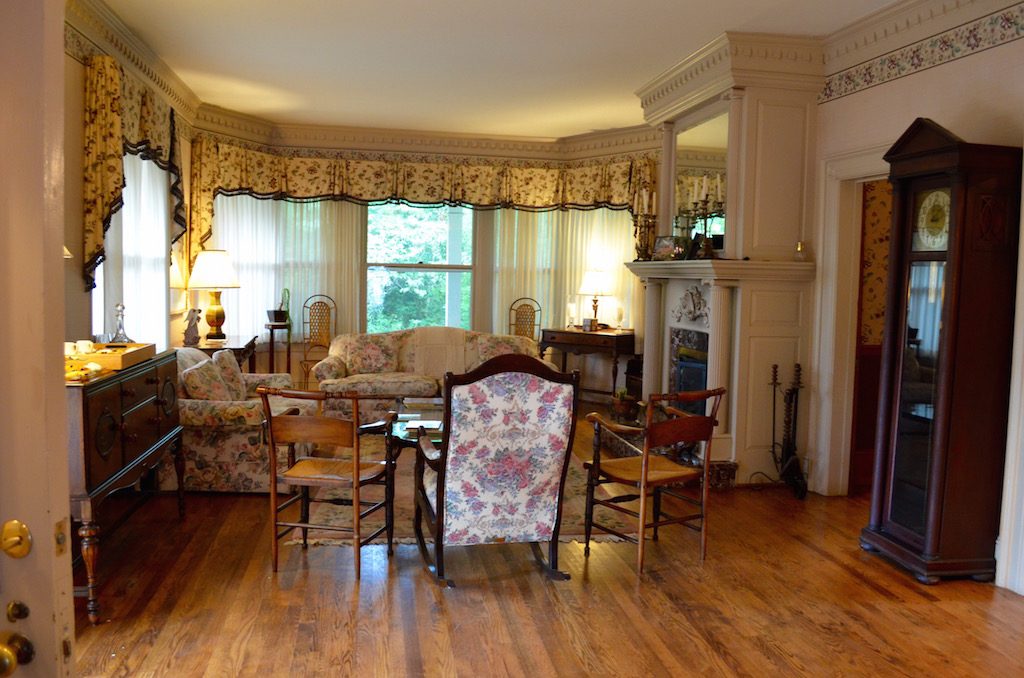 I noticed the inn was clean and well appointed. It was cozy and worn but not stuffy. A large clock stood to the right and there was a buffet with port wine and small glasses. On the coffee table there were lots of different photo books dedicated to the bed and breakfast. My favorite was a day in the life of the inn's cat. Shawn had made the book, telling the story of the inn from the resident cat's perspective. Another book was filled with pictures of the inn during different seasons.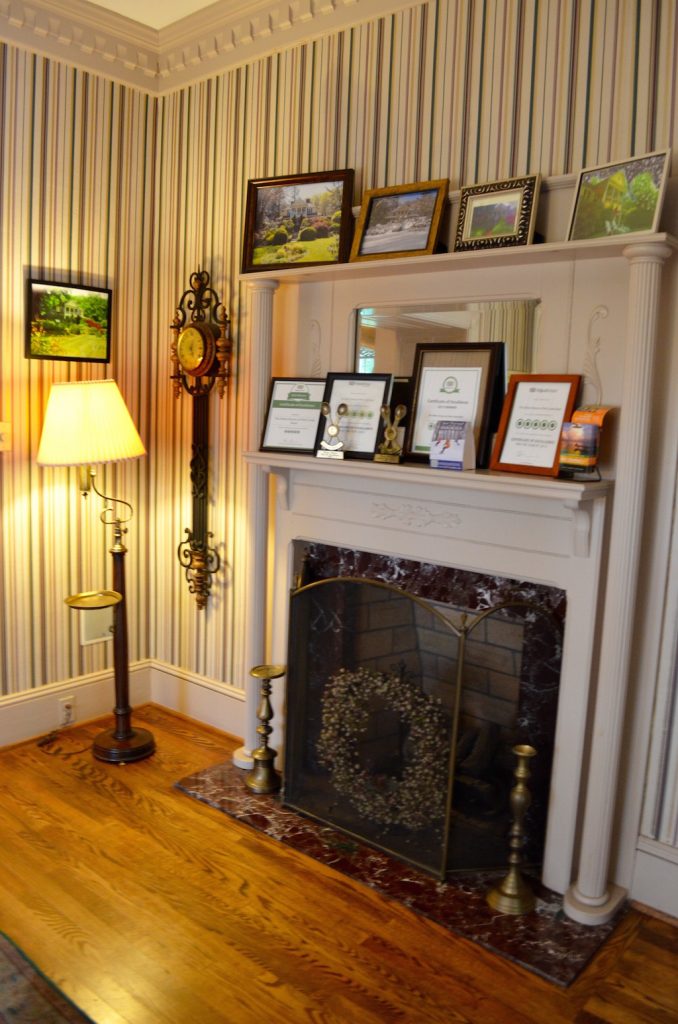 We followed Shawn up a small road to another building that housed our suite.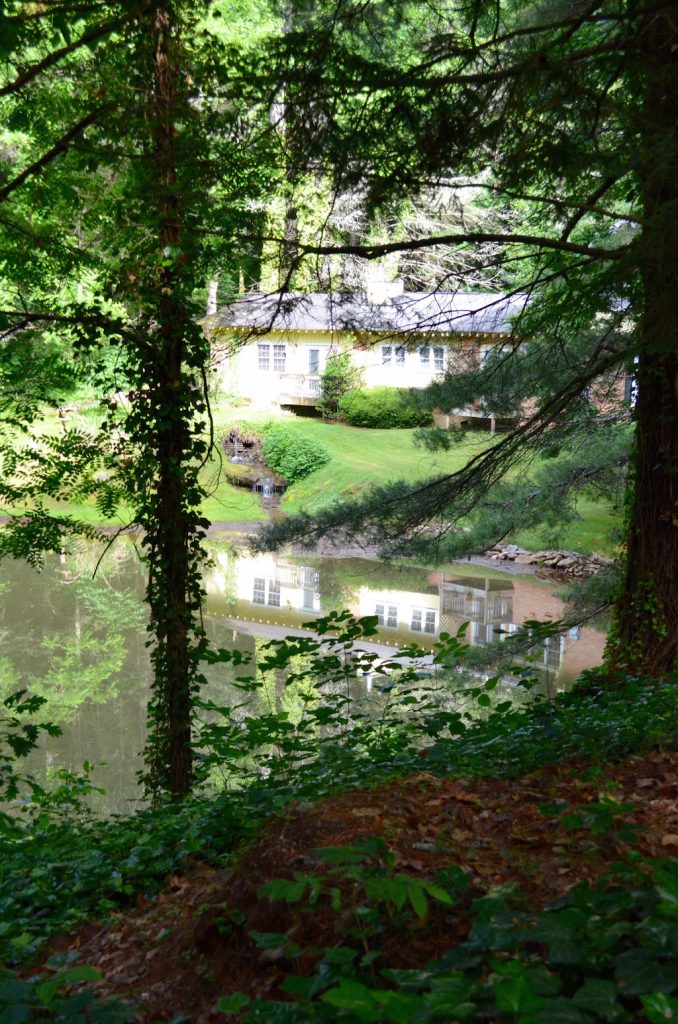 We booked the Kinsale Suite. It's located in a small house overlooking the upper pond. Along with a front area with rocking chairs, the suite had a small porch in the back. I loved hearing the creek as we got out of our car and Shawn climbed out of his golf cart .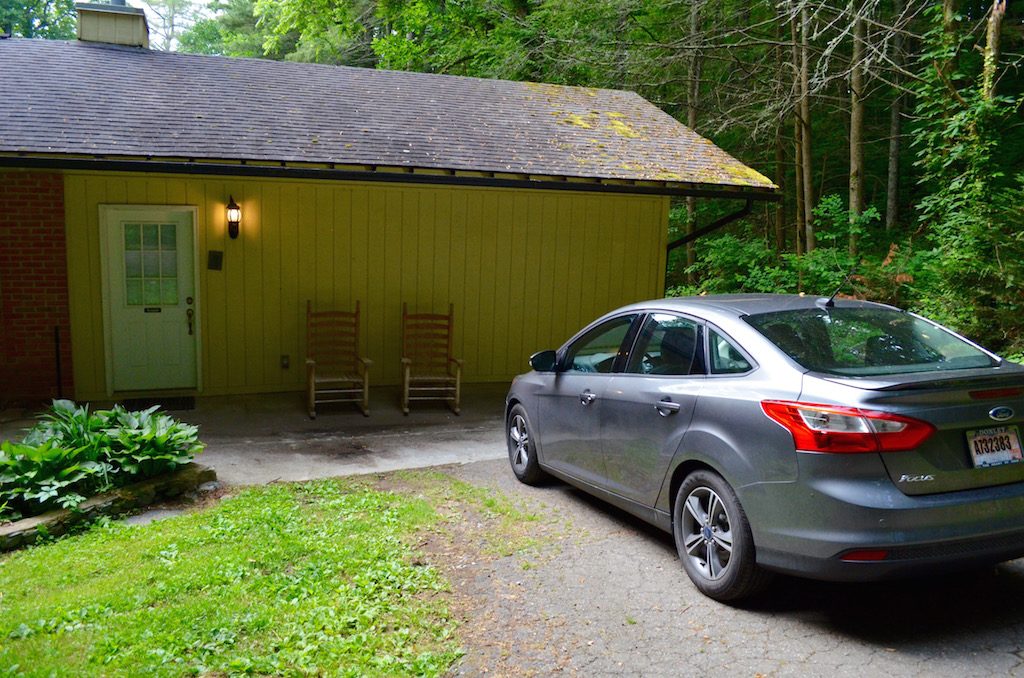 Once inside, I was surprised at how clean and cozy the space felt. Shawn showed us around, offering instructions on the double-sided fireplace and showing us how to close the built-in blinds. He also explained that the fridge was stocked with complimentary drinks and told us how the air-jetted tub worked. He told us he'd leave some cheese and crackers out a little bit longer and told us to hurry back to the house and eat. I sat some bags down and headed over.
The wine and cheese reception was great. Shawn had two different types of wine, china laid out, hummus, crackers, different cheeses, and snacks. We both grabbed some plates and a glass of wine. Sitting on the front porch, we took a deep breath and looked over the property. You could hear the birds chirping and glasses clinking. Some people were sitting inside, others at the outside sitting area. Afterwards, we looked around at the menus collected in a basket near the reception area. Shawn told us that there would be a wait since we didn't have reservations. I laughed. We were in the middle of nowhere, how could there be a wait for dinner? After deciding on a place called The Sweet Onion, we went back to the suite to freshen up.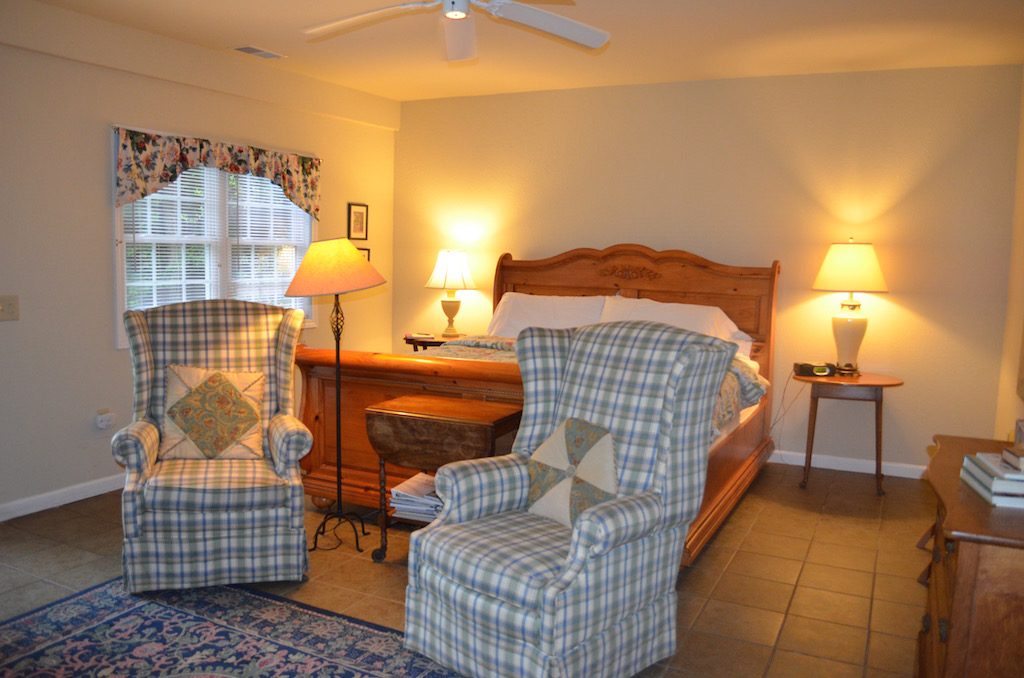 The Kinsale was ideal. The bed was extra comfy and I loved the unique art and furniture.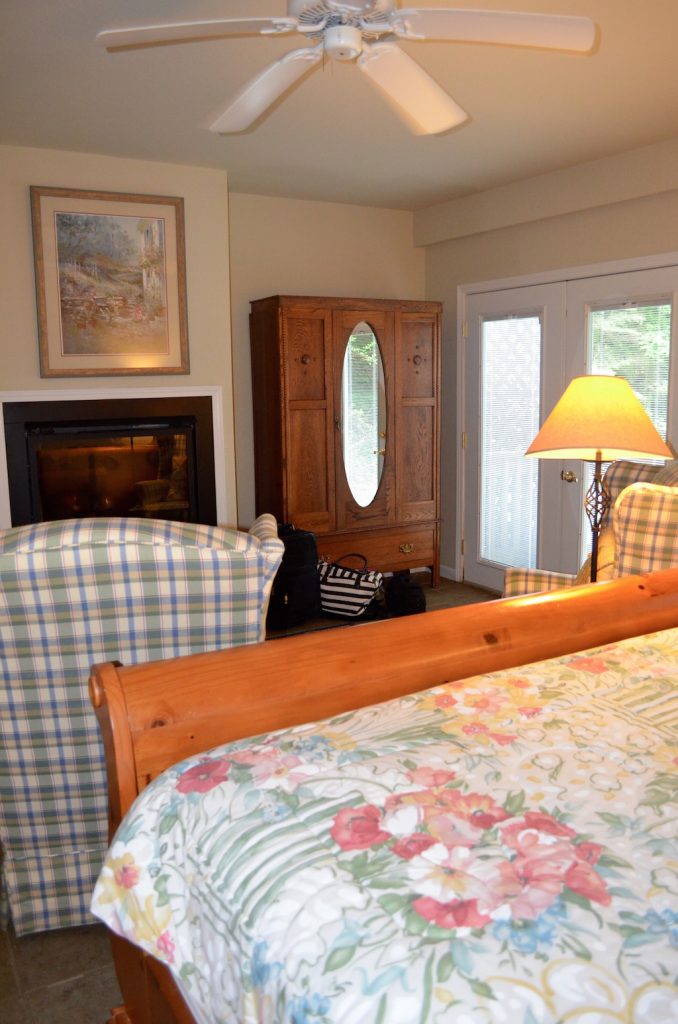 We adjusted the individual thermostat and turned up the air conditioning. I looked around, inspecting the room. I loved the double-sided fireplace that could be enjoyed from the bed and bathtub.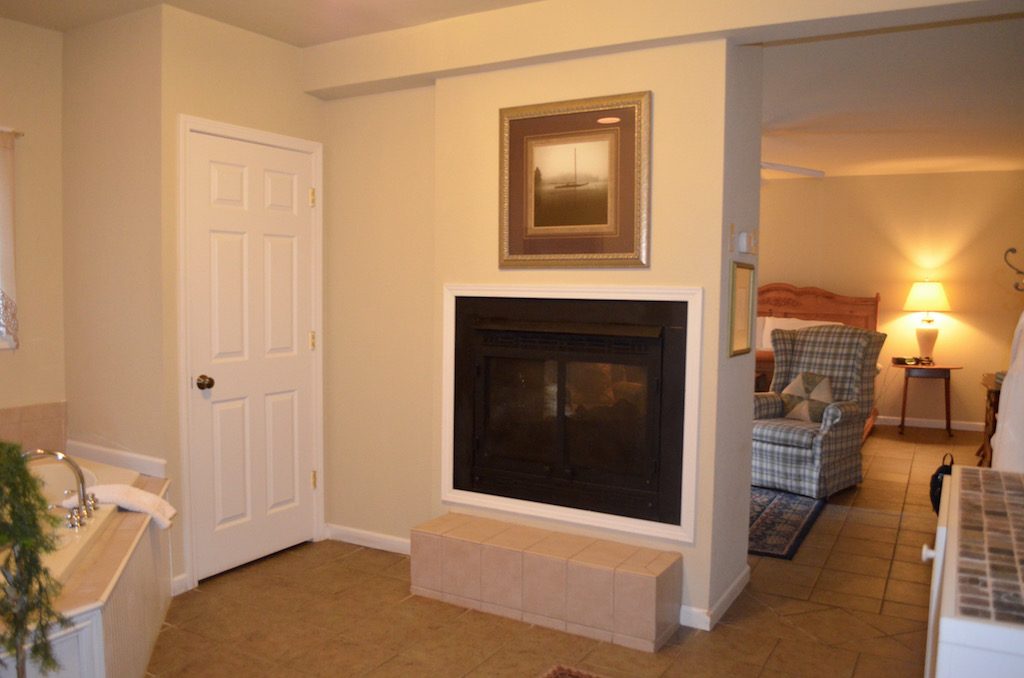 The space was large, with two separate rooms and a bathroom with a walk-in shower. The tub was sparkling and had Yellow House branded bath salts beside it and soaps. I also noticed handmade mugs with the bed and breakfast's logo on them by the coffee maker.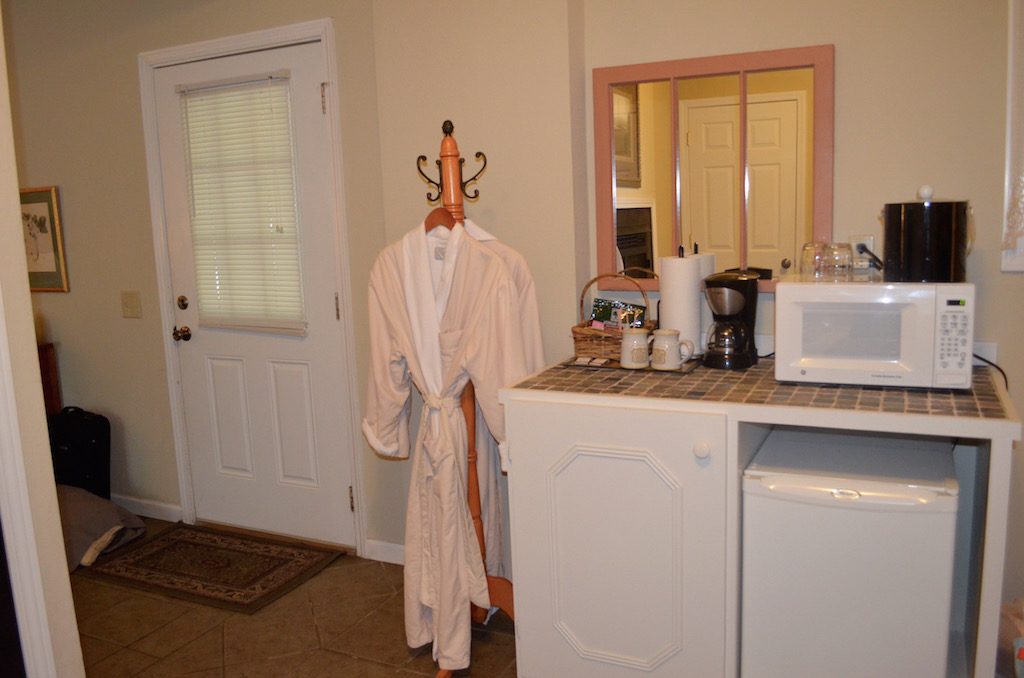 There was an ice box, microwave, coffee maker, and fridge. Inside the fridge were bottled juices, sodas, and Perrier Sparkling Bottled Water. Coffee and tea was placed in a basket near a roll of paper towels. There were also extra cozy robes with the bed and breakfast's logo on them hanging up. They smelled like fresh linen and were really soft to the touch.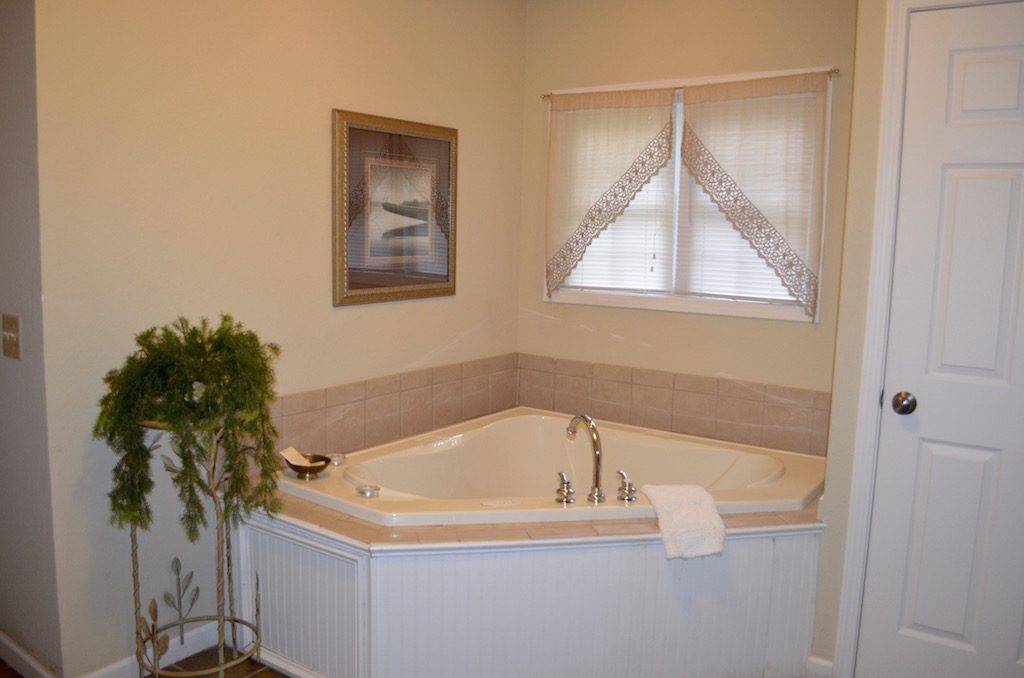 Another unique touch was a dark hand towel with the words "Make Up" embroidered onto it. The rest of the towels were white, so this was a good place to take off my red lipstick.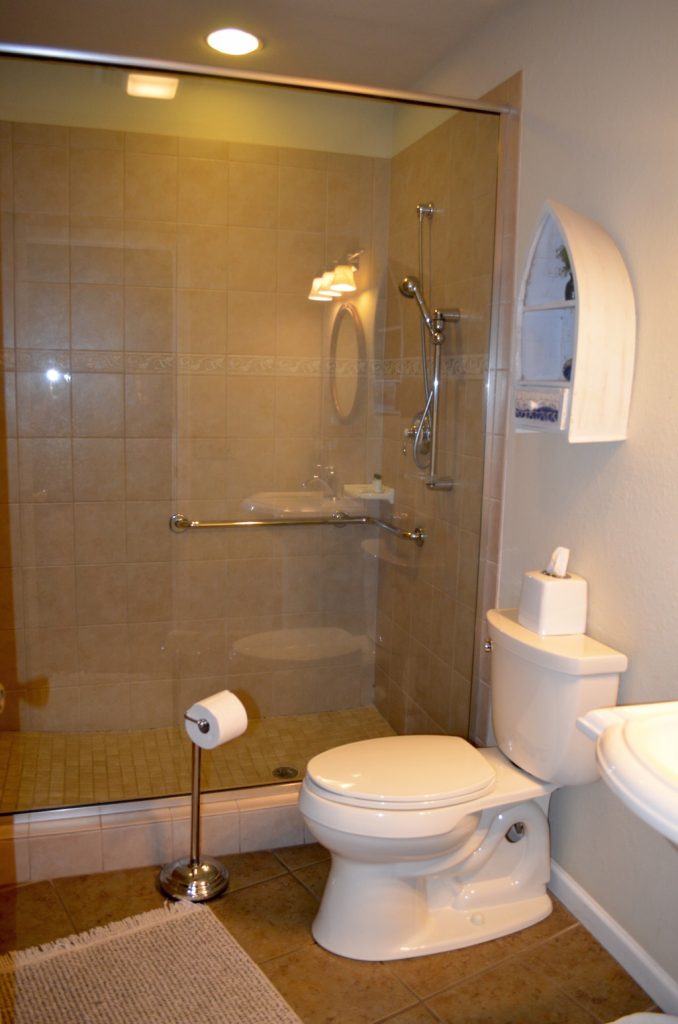 After freshening up, we drove to The Sweet Onion. Sure enough, Shawn had been right. There was a thirty minute wait for the Southern farm fresh restaurant. Downtown Waynesville, The Sweet Onion made me think of a New Age hippie that grew up in the South. There were waiters with cool tattoos serving up fresh fritters and fried chicken. Water was poured into mason jars and the place felt like a modern southern diner…only more pricey.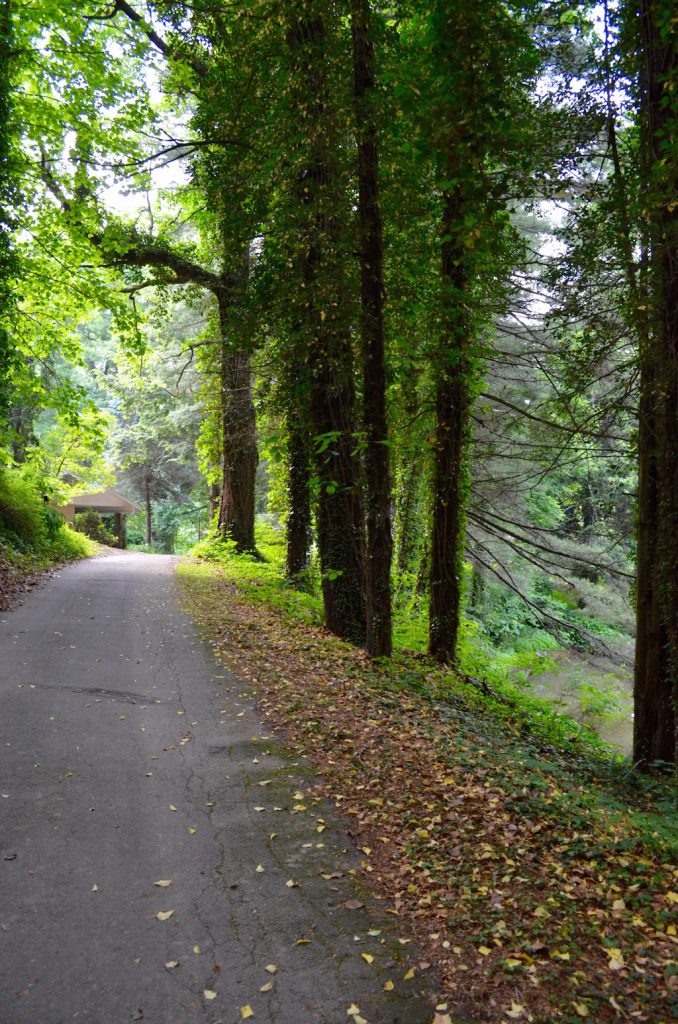 The food was phenomenal. I ordered chicken fingers with macaroni and cheese. Dustin had a chicken parmesan sandwich. We talked and talked and laughed. It was a wonderful meal. When we left, we decided to walk around the little town.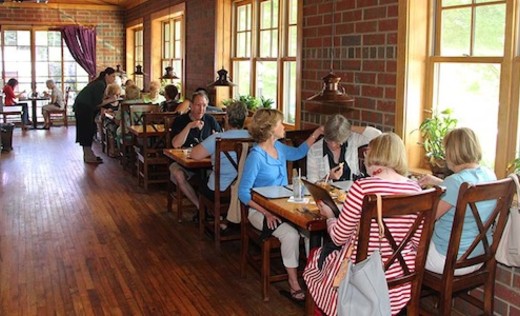 Waynesville is quaint. It reminds me of the town in the book/movie The Notebook. There are cute little shops with mountains as the backdrop. Even though it's a country area, there are nice art shops and galleries. Everything was closed but the May air was hot. We walked and walked. There were a few bars and pizza joints open. I was surprised to see an old theater. The Strand is a boutique theater that offers free viewings of movies. It was late and we wanted to enjoy our room. If we weren't tired we would have watched a movie and ordered some homemade sodas. There were lots of people walking dogs and we even looked in the window of a dog bakery. Sleepy, we headed back to the Yellow House amidst the mountains.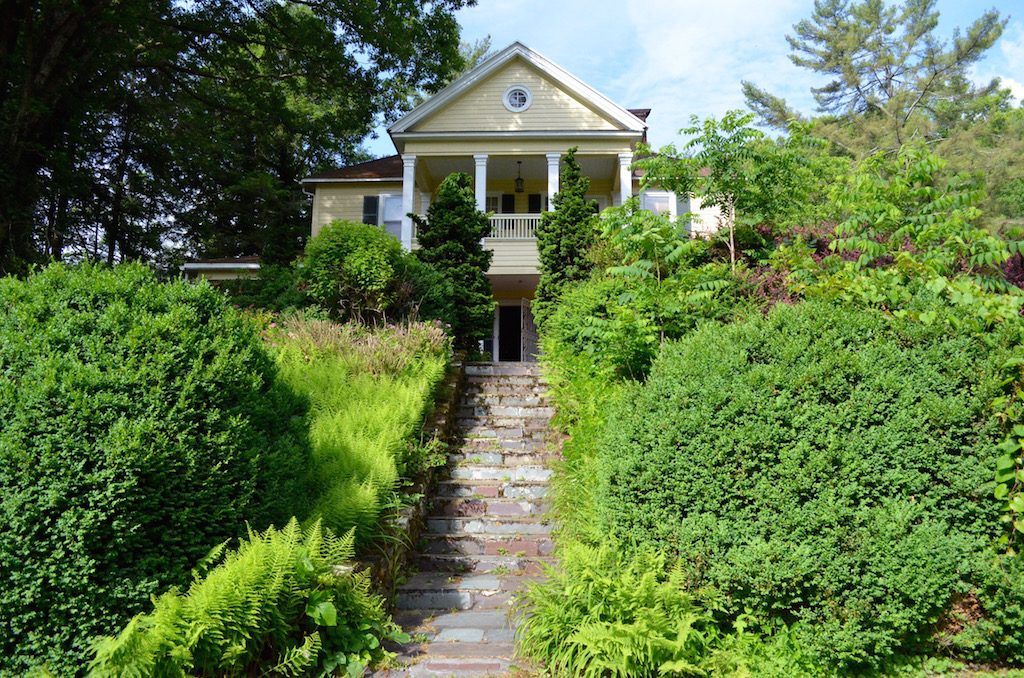 We walked to the Yellow House (a four minute walk) from our suite. Shawn had showed us the code to get in. Lights were low and people were talking upstairs. We sat in the parlor and drank small glasses of port wine. We talked about our dinner and moving to the mountains. After grabbing a board game, we headed back to our room. There were matches and small aromatic candles near the bath. I took a relaxing bath and we went to sleep early.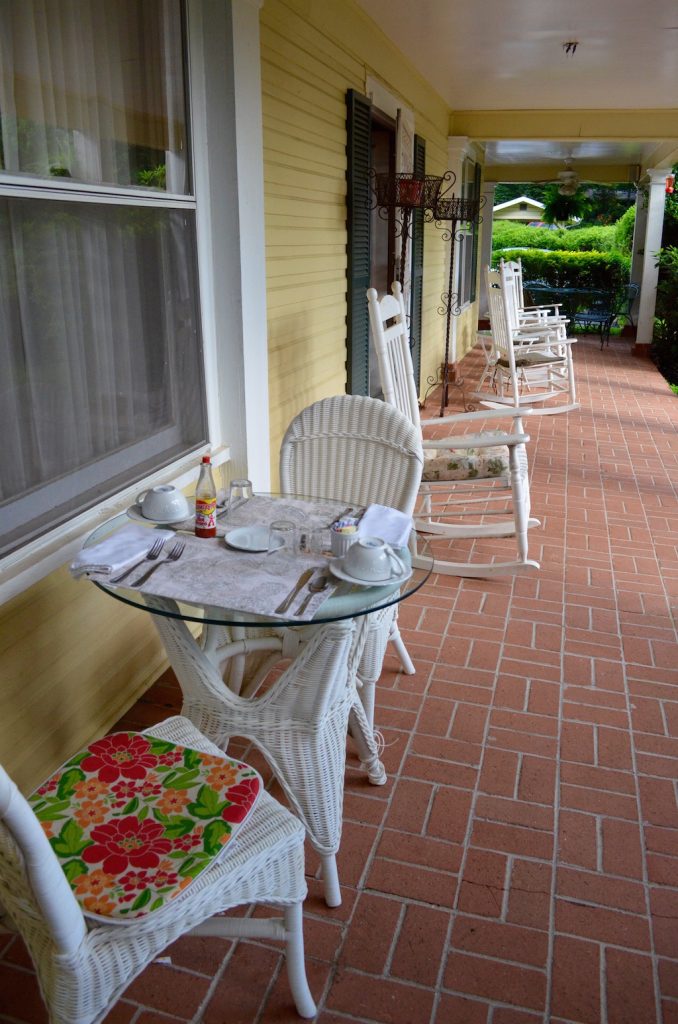 The next morning, we walked to the front porch for breakfast. Shawn asked us if we wanted to eat inside or outside. Of course we said outside. The weather and view was perfect! A few welcoming women waited on us and offered us juice and coffee. Shawn was walking around in an apron, visiting casually with other guests. I could smell the food.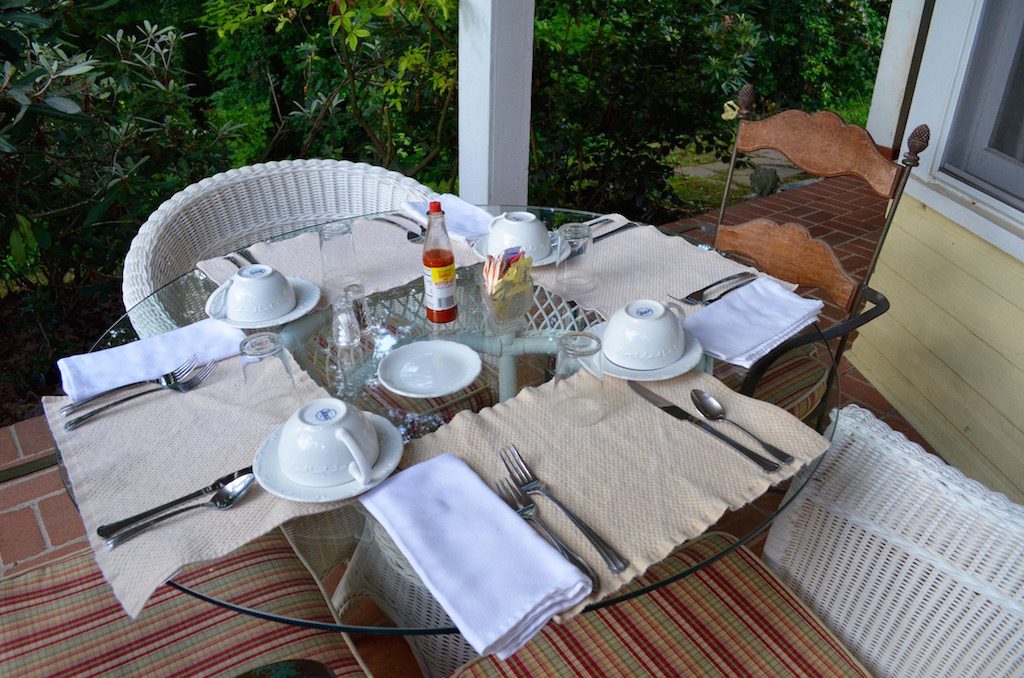 The first morning we had the following: fruit cups with yogurt, bacon, peach french toast, and more fruit for dessert with powdered sugar. The peach french toast was delicious. Shawn handed out recipe cards. The next morning we had fruit, asparagus, tator tots, and ham spinach quiche.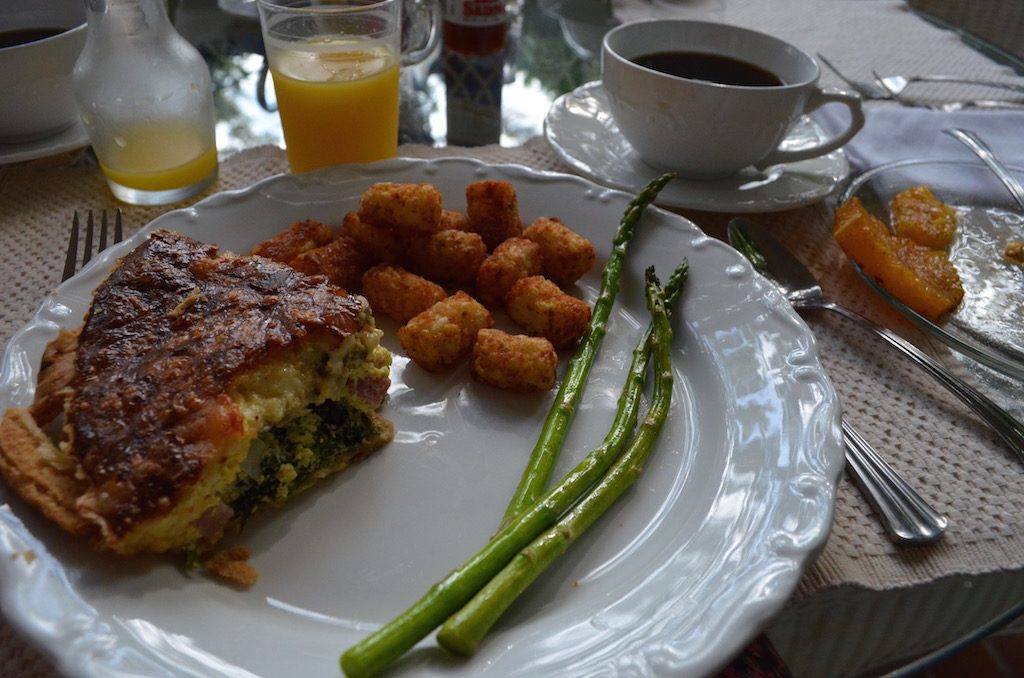 The portion sizes were abundant. We were seated with another couple. After visiting, we realized we had a lot in common. This was their second time there using a Groupon and they had driven from Atlanta, Georgia. They were both Christians and we found that out from where the wife had gone to college (another conservative-Christian school). It was really nice to get to visit with other Christians. What a blessing! I wish I would've gotten their information. The husband was from Ecuador and had a strong accent. The wife had also lived in Chicago near Lincoln Square. We knew a lot of the same areas and subway stops. (We also had matching blue nail polish!)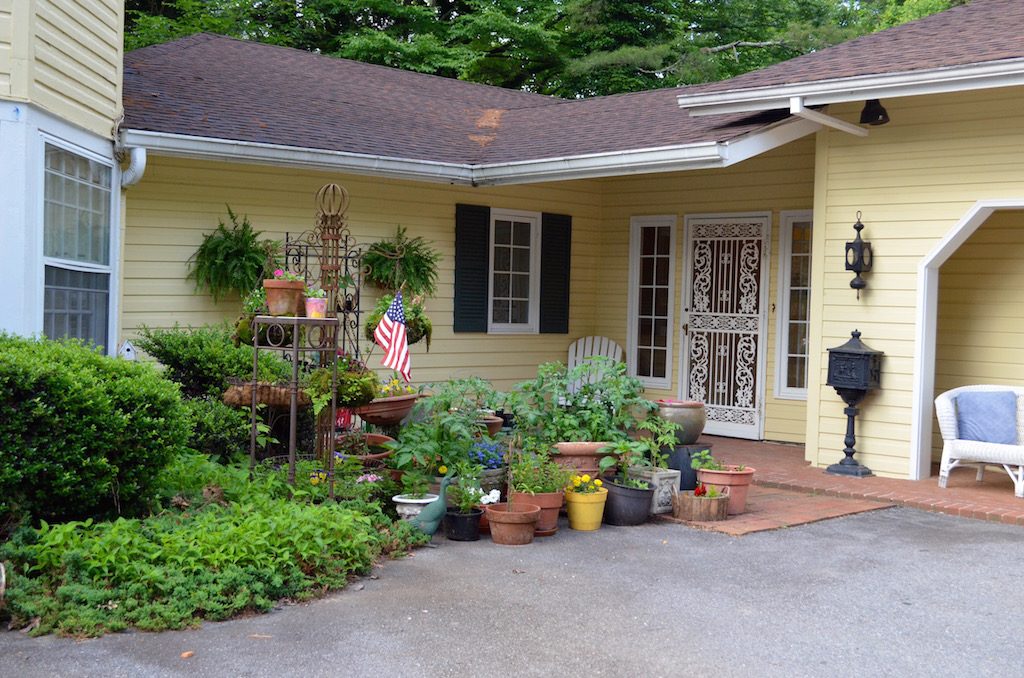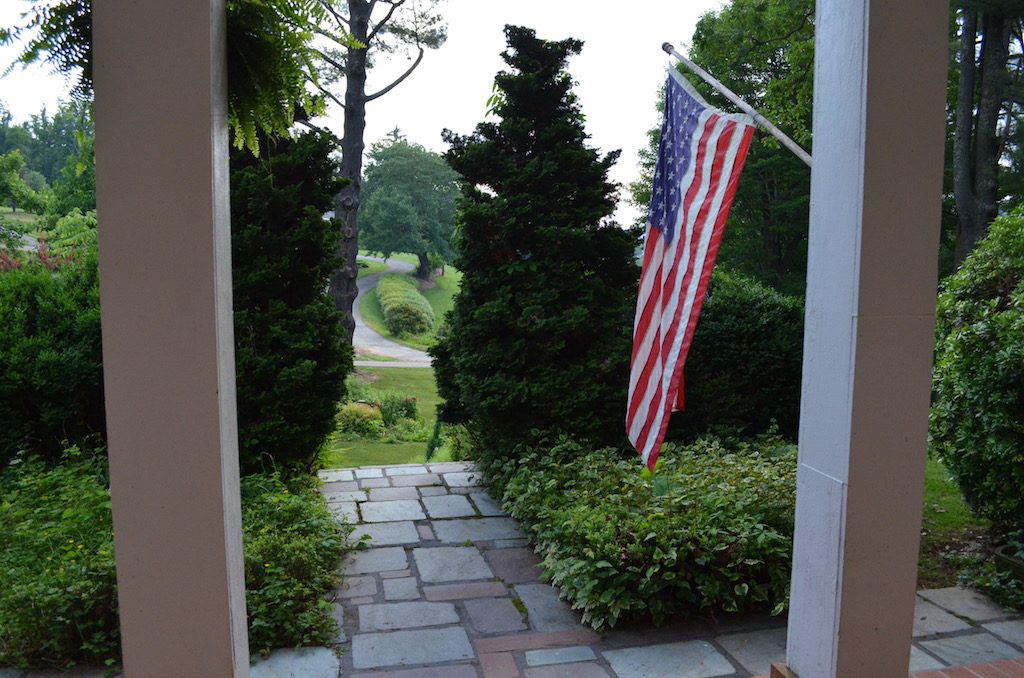 That day, Saturday, May 30th,  we explored Asheville, North Carolina. Among the things we did was work at a coffee shop, visit the Biltmore, and eat at a local taco place. We left The Yellow House on Sunday, May 31st.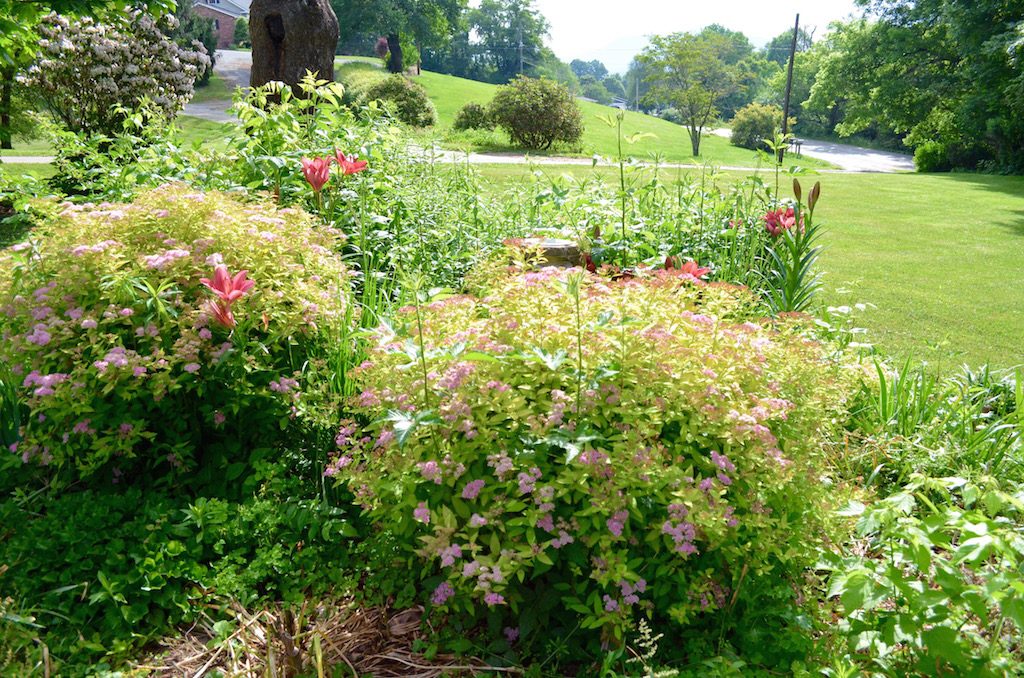 A few times we saw a black and white kitty lazying around the property. We walked around and enjoyed the outdoors. It was kept beautifully. There were lots of butterflies and other birds.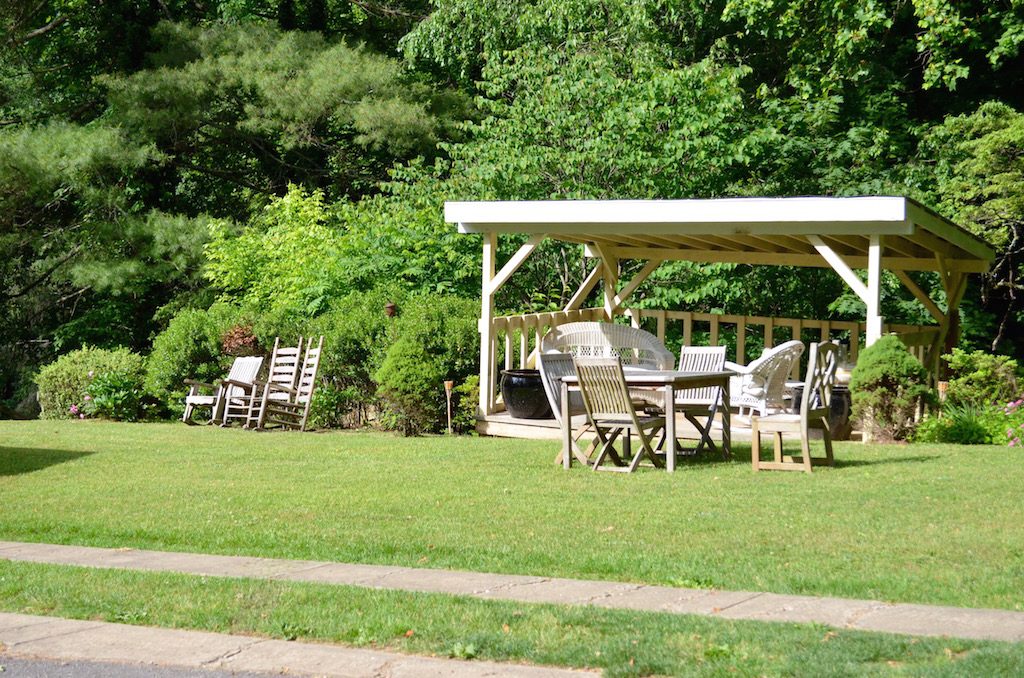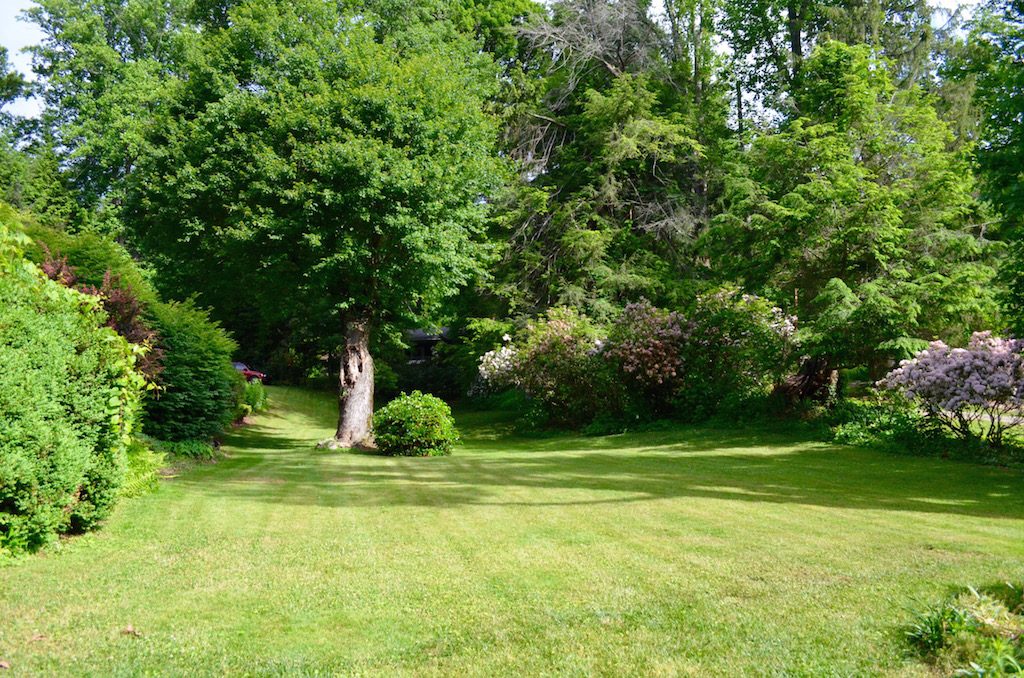 Dustin managed to find a hammock. He laid back and took a deep breath in. We were relaxed and wanted to stay a few more nights. While checking out, Shawn told us more about the area and also told us the brand of the port wine we sipped (Taylor Tawny Port). Before heading out, we played cards on the front porch.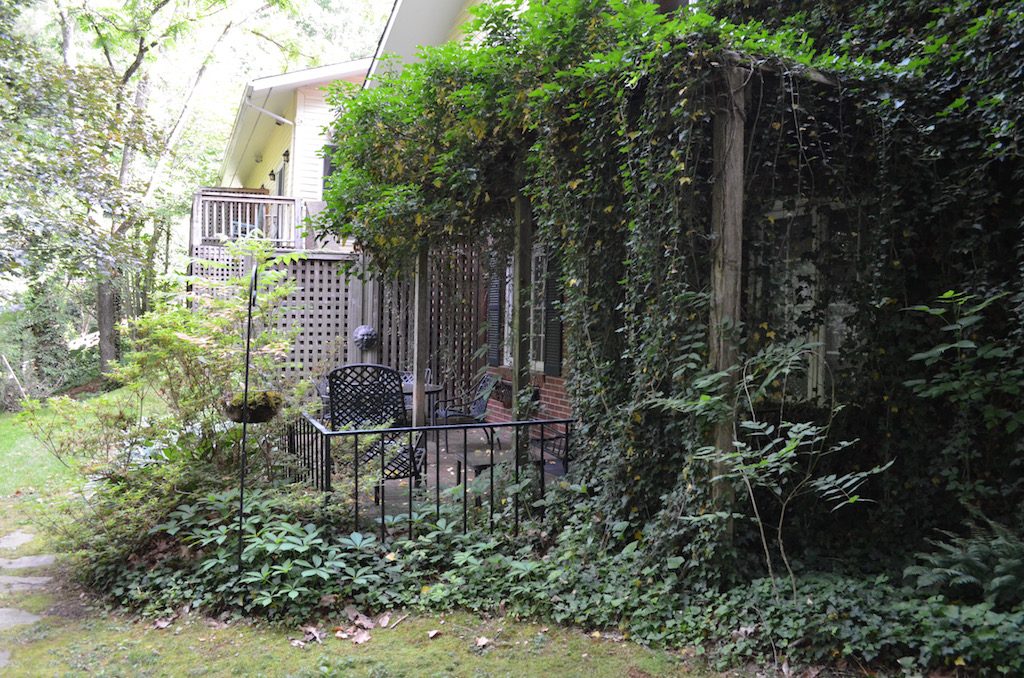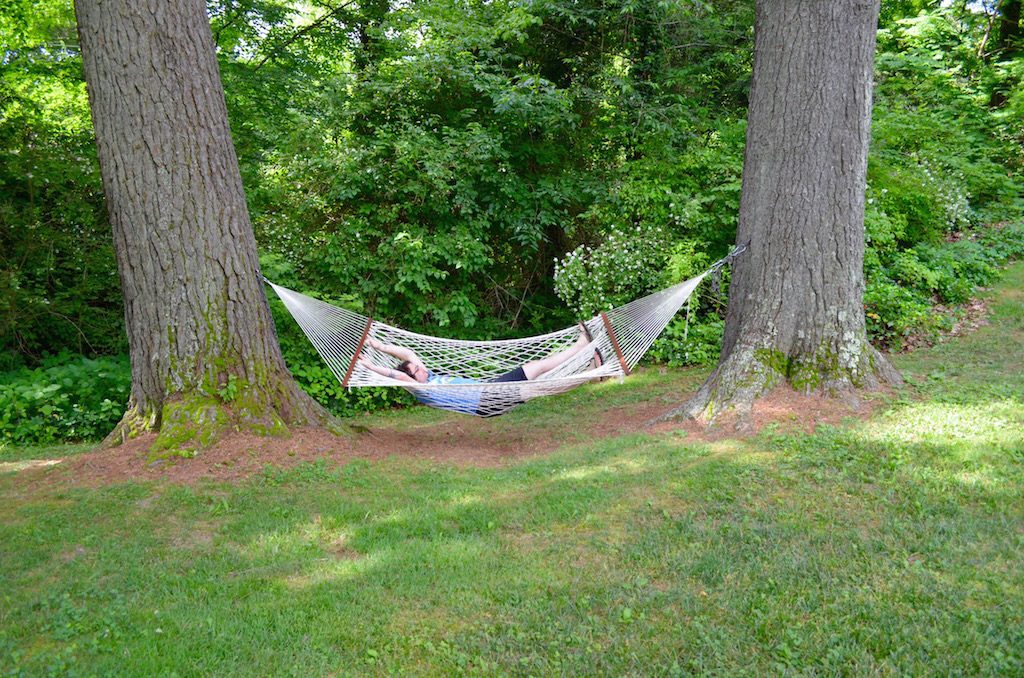 It was such a lovely experience. The Groupon deal is gone but I've heard they have them occasionally. Even if you don't have a Groupon it's well worth it for the stay. You can read lots of reviews on Tripadvisior. Here's a link to my contribution. This bed and breakfast way by far one of the nicest we've visited. If you stay, tell Shawn we said hello!
Love & Laughter,
Tiffany