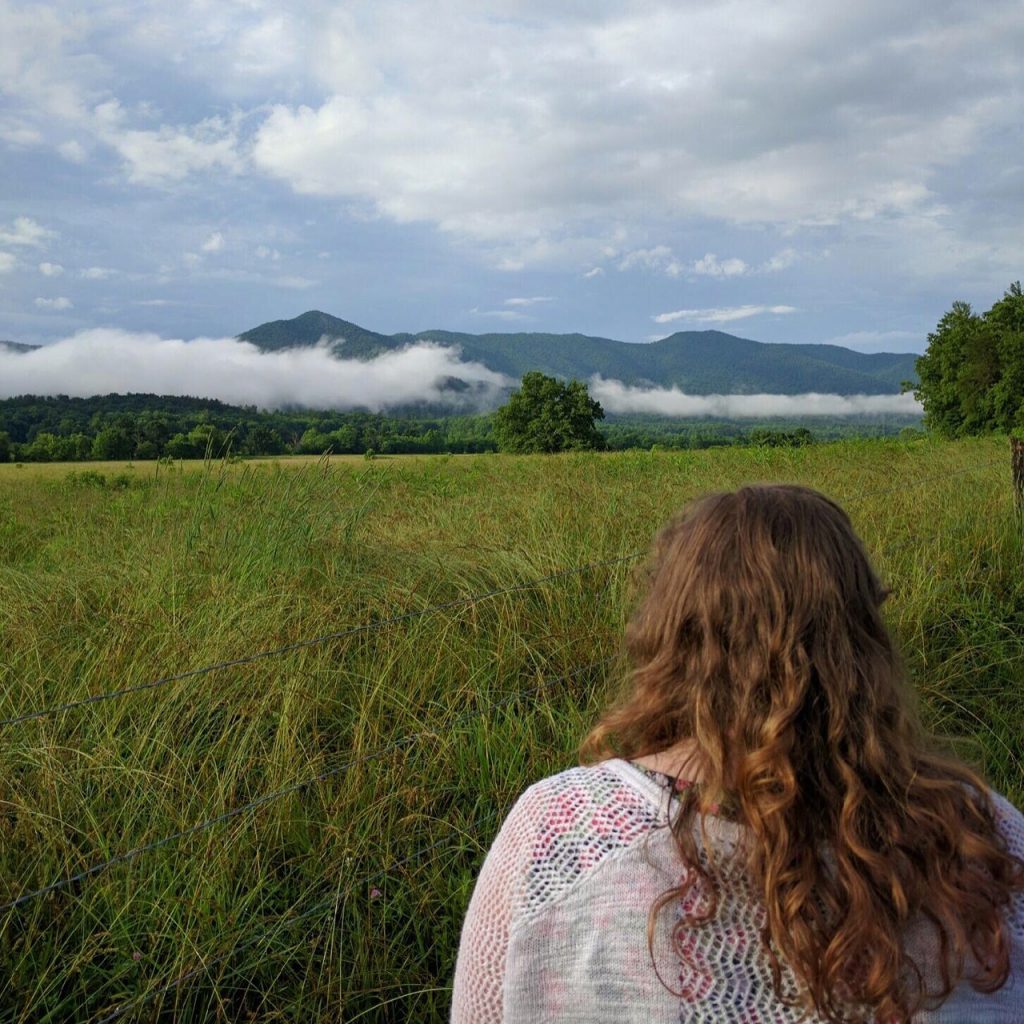 It was Saturday, June 4th, and we'd already done so much! After feeding goats on the roof (literally), we decided it was time for us to eat!
The Old Mill Restaurant & Shops, Pigeon Forge, Tennessee
One of our all-time favorite places to eat is The Old Mill Restaurant in Pigeon Forge. The portions are massive and the food is so delicious. There are also a lot of shops and things to do before eating. We went into the shops at the Old Mill Square. The Farmhouse Kitchen was adorable and there were lots of samples to try. We purchased some sparkling cider and some chip dip for Dustin's parents who were graciously watching our kitties while we were away.
I was super excited to go into Sassafras. The shop was in a little corner and had some adorable jewelry. In the back, everything was an extra 50% off. I picked up both a necklace and a bracelet for under $10. There were lots of opportunities to try different olive oils and we snacked and snacked, tasting different combinations.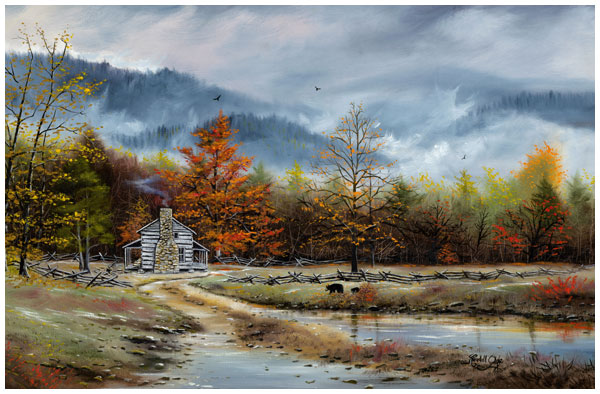 One of the neater stores we walked into was the Randall Ogle Gallery. Inside there were some beautiful paintings. The man there was Randall himself. We were able to talk to him and he told us more about Cades Cove and how to see a bear. His paintings were really peaceful. On the brochure I picked up it said:
"Smokey Mountain Heritage," the focal point of native artist Randall Ogle's work, depicts unique scenes of the Great Smokey Mountains. The largest collection of Cades Cove artwork in the area featuring the special edition series "Cades Cove, Yesteryear."
Once we had enough shopping, we grabbed a seat at The Old Mill. I hadn't had cheese in a long time but ordered a small side of macaroni and cheese. Even though it was delicious, I regretted it later! The mashed potatoes, corn fritters, and green beans were to die for! It is truly a magnificent place. It was also the only time I allowed myself sweet tea on the trip. This was a hard decision for me, but I know it was a good one. Sweet tea has too much sugar in it!
The Park Vista by Doubletree, Gatlinburg, Tennessee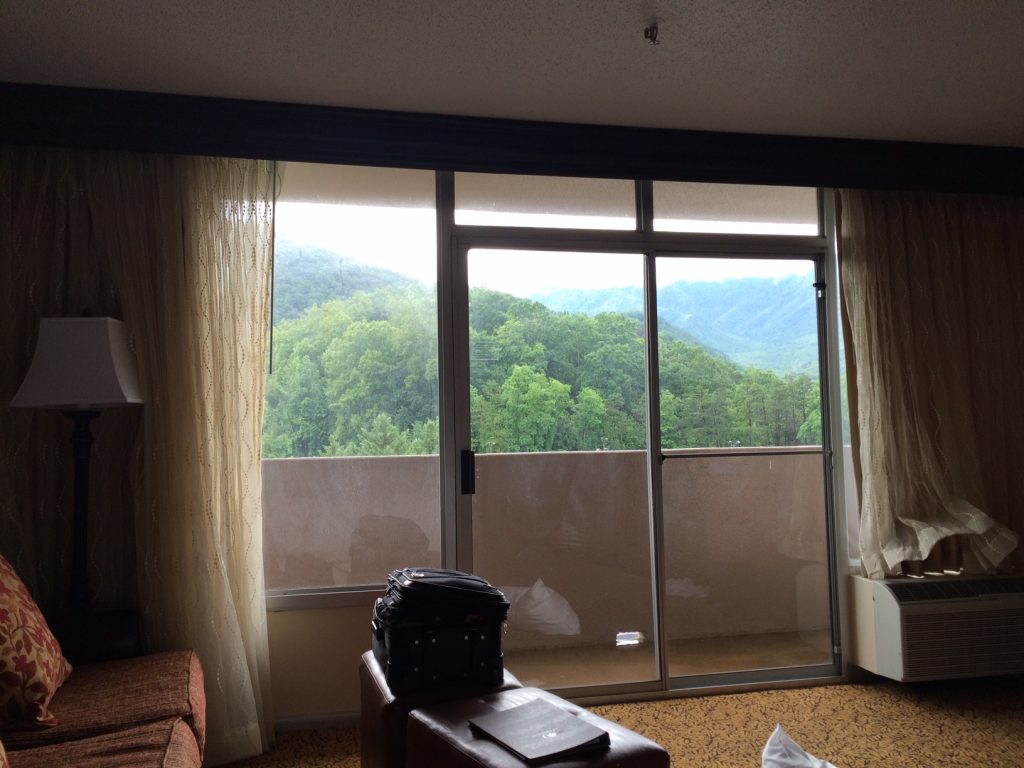 Our room at The Park Vista was really nice. As a Hilton Honors member we got free bottles water and a mountain view upgrade. They also had us draw a prize out of a bowl. We won a coupon for a free appetizer at the hotel's bar or restaurant.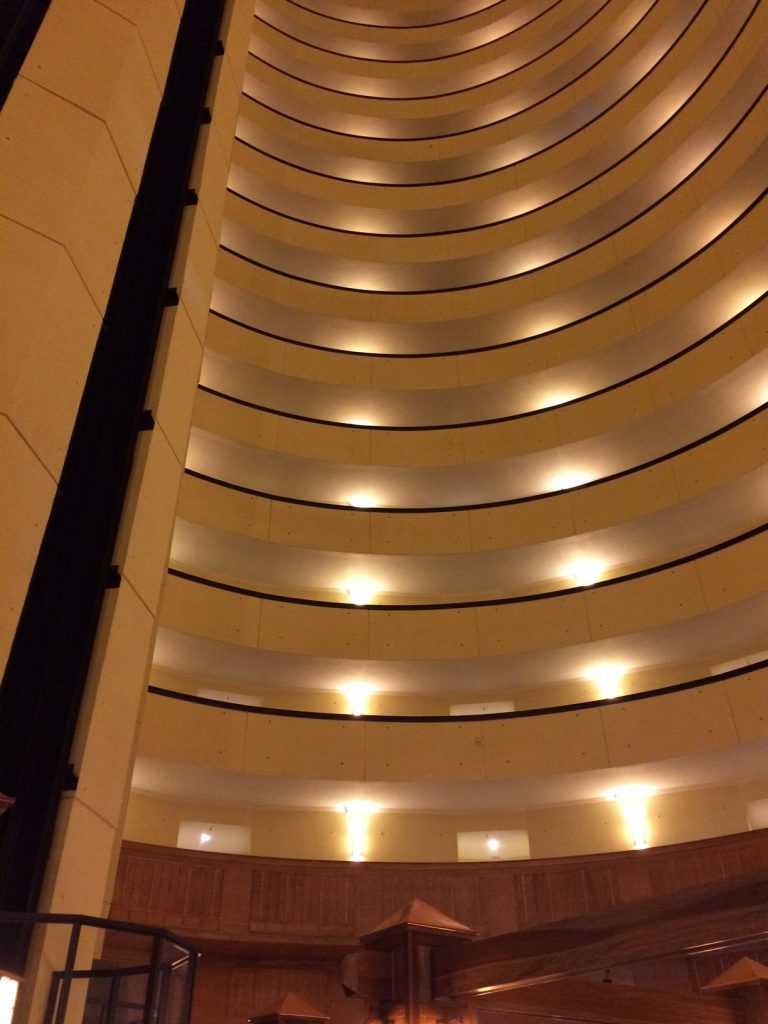 The hotel itself is a large cylinder. When I was a little girl my parents brought me here. I remember dropping a Toy Story toy down the 15th floor that we got in a kids meal. It was of an army figure with a parachute on its back. We would race to see whose hit the ground first. It looked like this: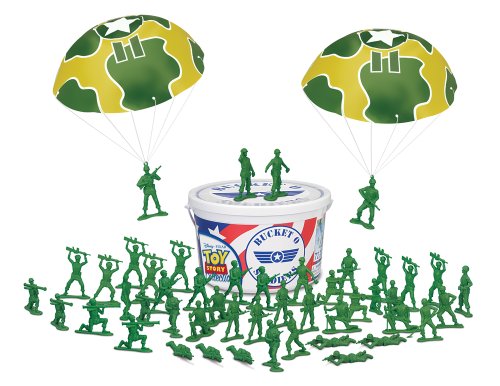 Now, the hotel is owned by Hilton and has been remodeled. It's up on a mountain and offers great views. The pool is also pretty fabulous. They have a nice waterslide that we went on a lot the next morning.
Cades Cove, Great Smokey Mountains National Park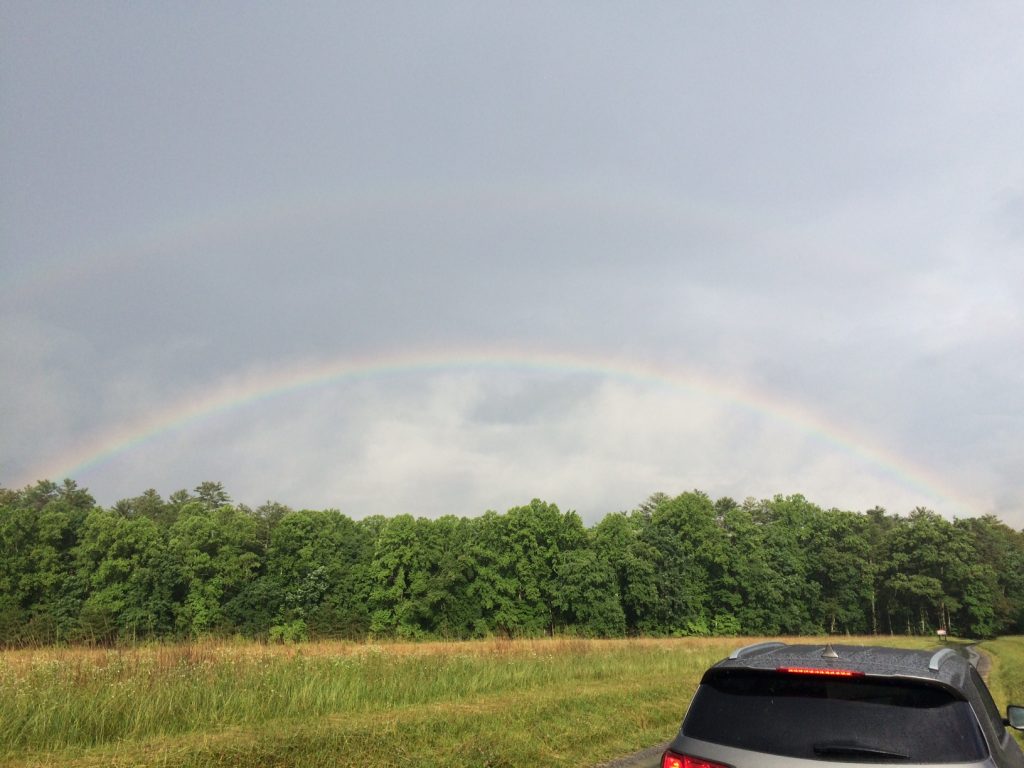 Unfortunately, the hotel was so full (at 5pm) that we weren't able to check-in to our room. This was super sad since it was a pretty pricey hotel room for one night. We shrugged and decided to head to Cades Cove since it was raining. Cades Cove is outside of Gatlinburg and is part of the Great Smokey Mountains National Park. It's a looonnnnggg drive. It took us over an hour to get back to the park.
Was it worth it? Yes. Because BEARS.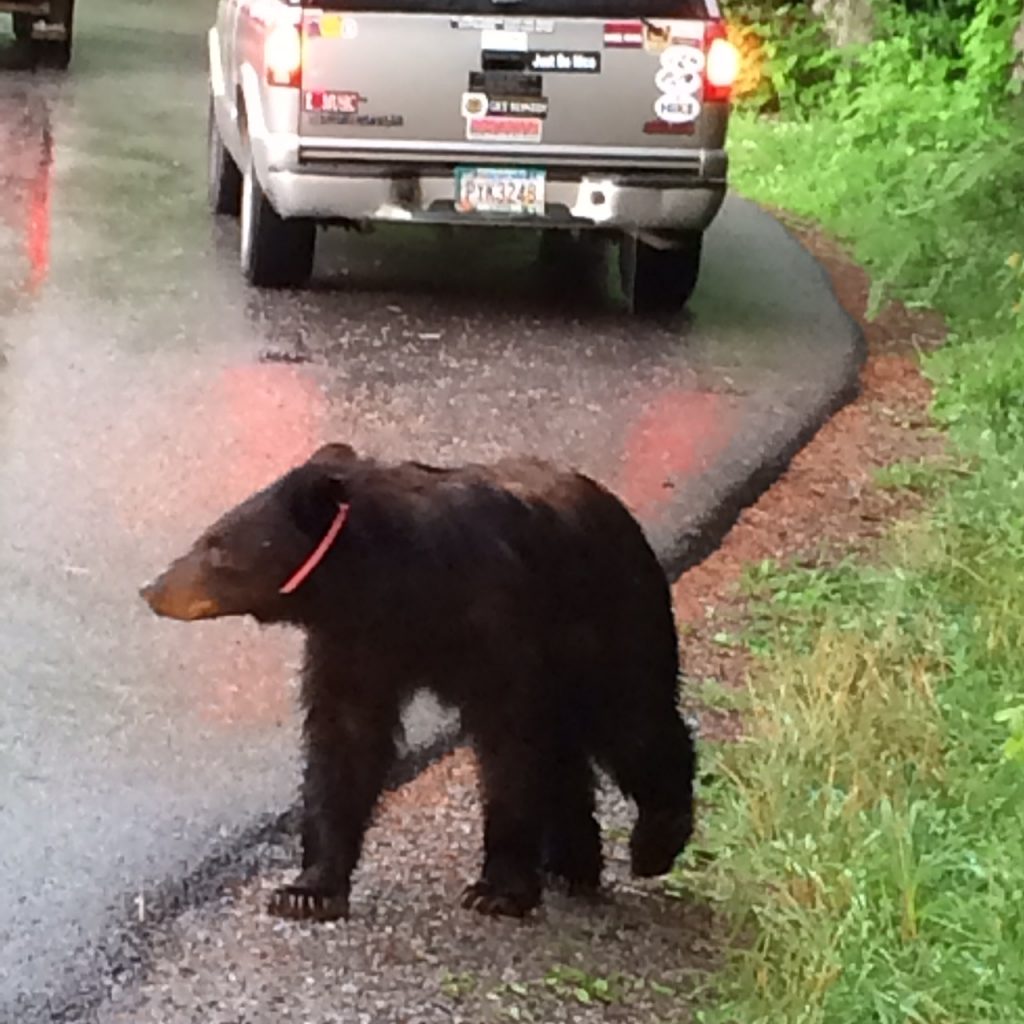 I prayed and prayed we would see a bear. I'd heard of others driving back and not seeing one and just seeing deer. I concluded that even if we didn't see a bear it was a beautiful place (which it is)!
It's one of those untouched places in the world that makes you feel alive and free. The beauty was overwhelming.
Lucky for us there had been rain. So, we got a double rainbow.  (A Full On Double Rainbow!) This was actually after we had already seen a bear. A young, adolescent bear, as Dustin would call him, pass in front of our car!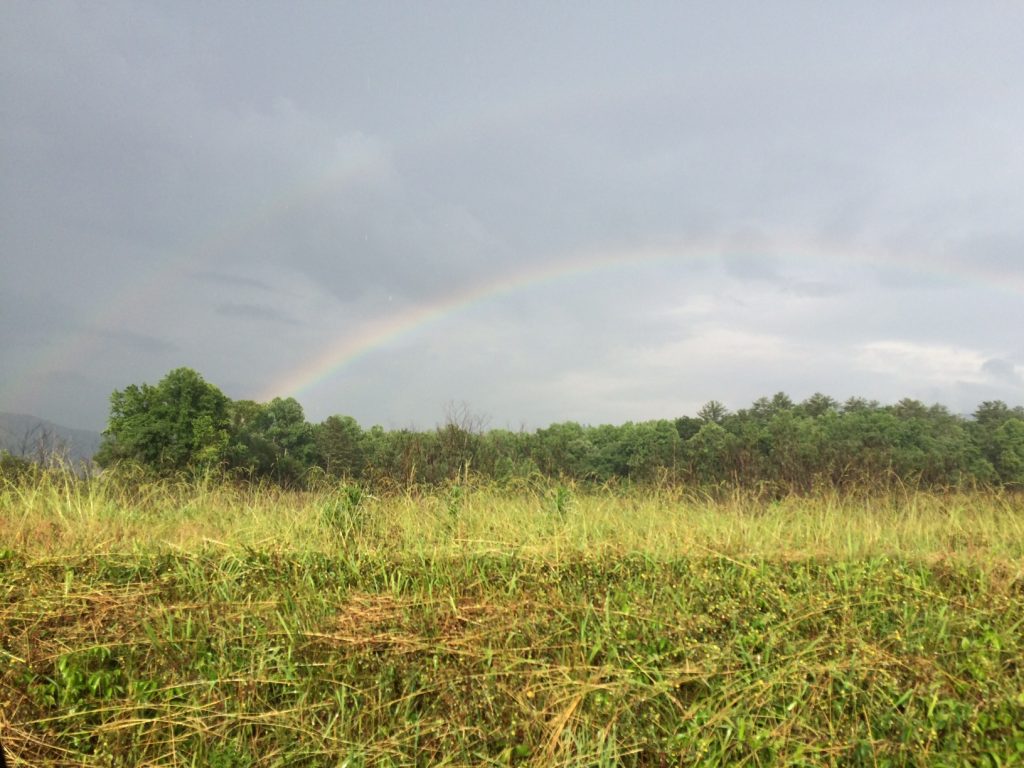 What a beautiful sight! The Lord stays true to his promises!
We drove the 11 mile loop and ended up seeing not one, but two bears. The first was smaller, but went right in front of our car. We got out and got to see him very up close!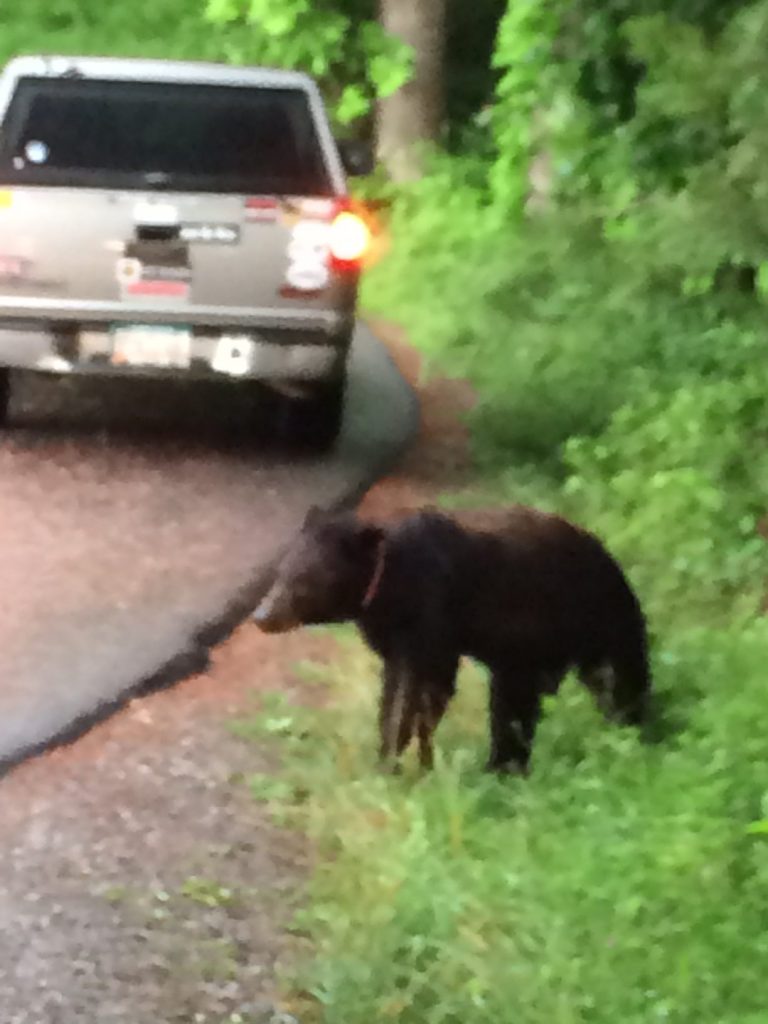 We drove and saw ponies, turkey, and lots of dear. The wild turkey were pretty funny to watch as the moved their heads around in the grass. Later, we got to see a very large bear. This one I'd say was closer to 300+ pounds. He was further away, but we were on a hill and he was eating so we got to watch him well for over ten minutes. We actually left before he did!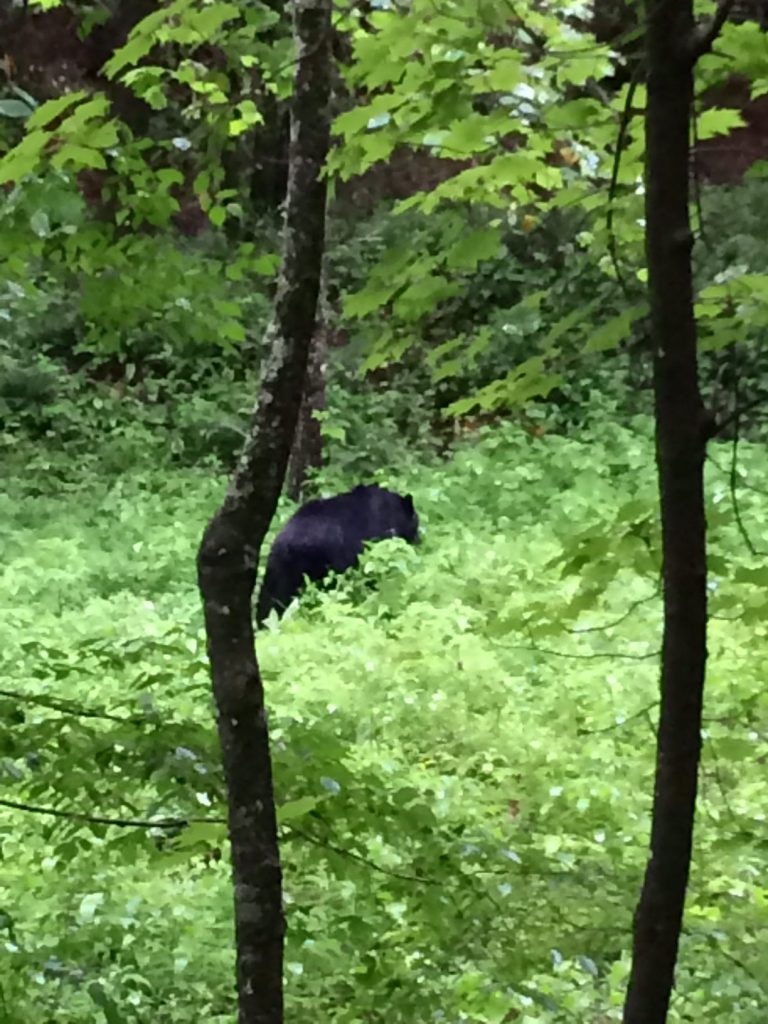 It's difficult to make him out, but I think you get the idea. There were others with massive lenses and professional cameras. We just used our phones and tried to live in the moment. Other things we did at Cades Cove included visiting some old cabins and an old church. We walked into the church out of the rain and explored. It was too dark to take pictures. The cabin was very cozy. It would've been a lovely sight to wake up to the mountains every morning. Below are pictures we took right in front of one of the original cabins.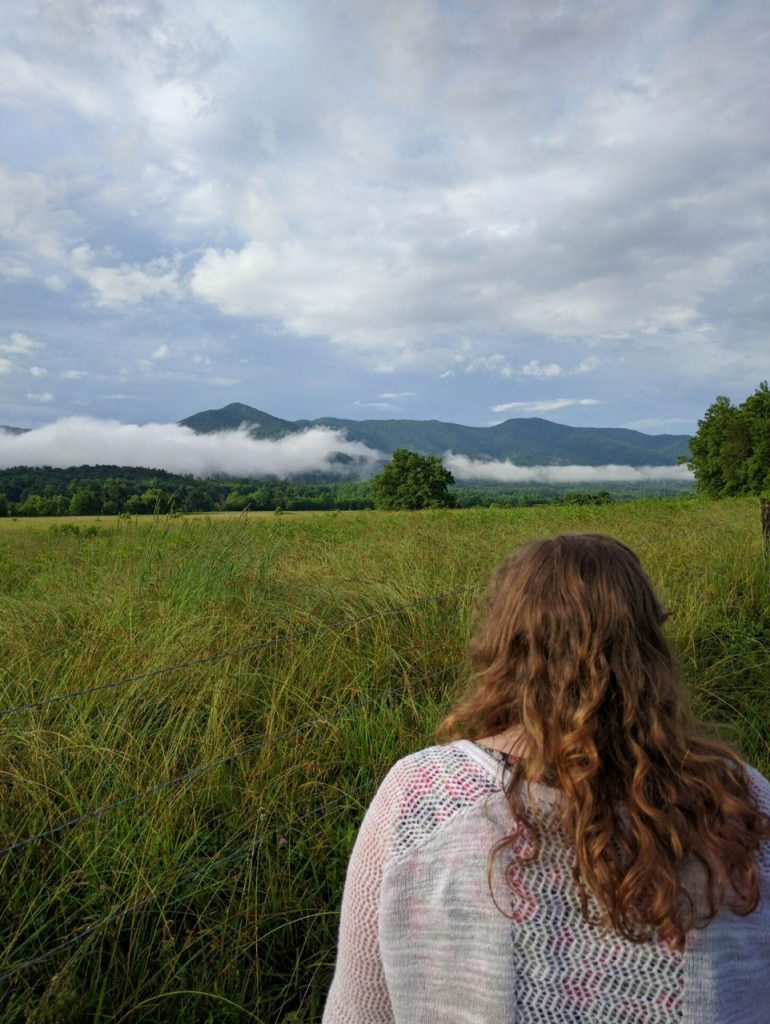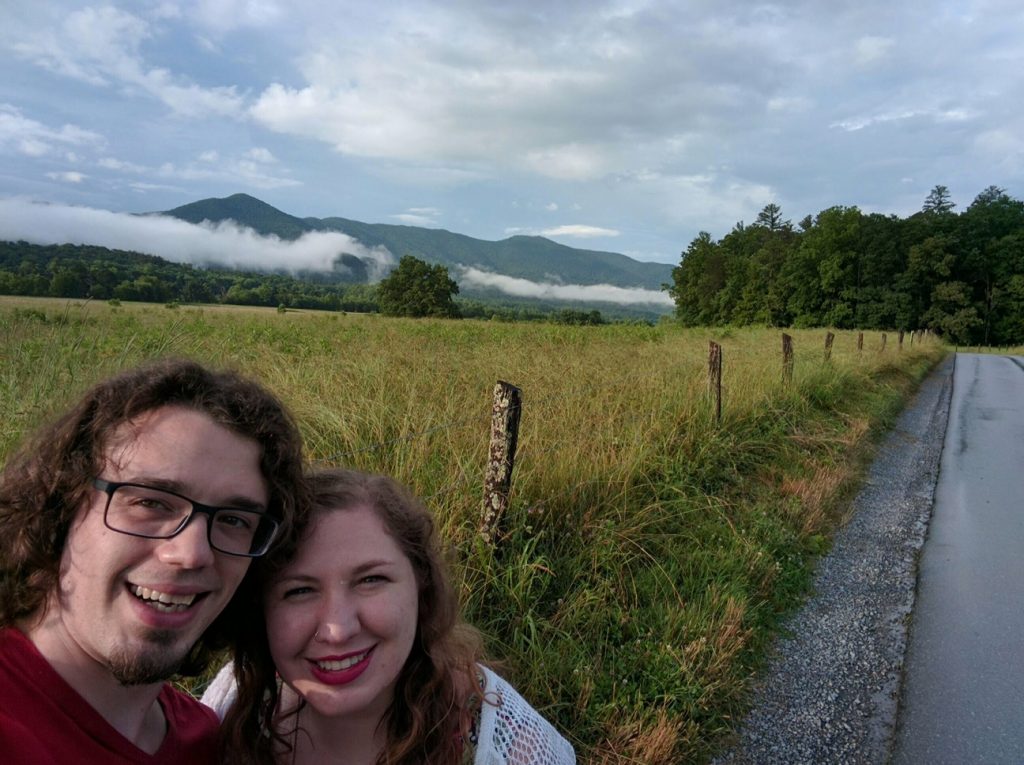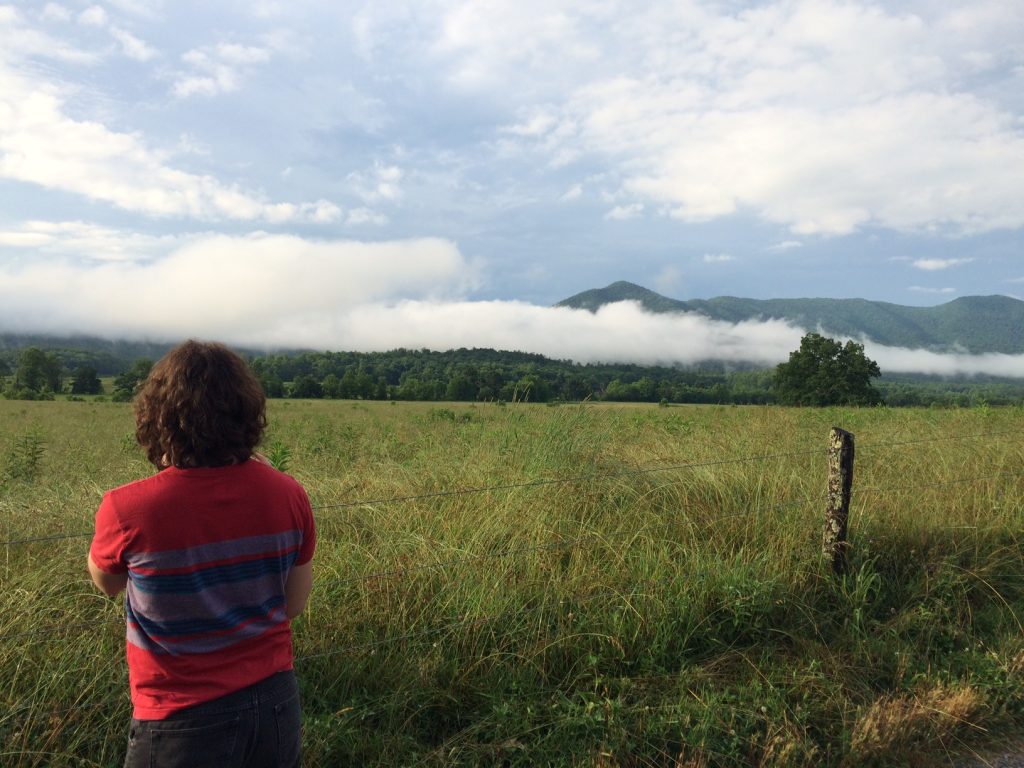 On our way out of the park, we had to drive very carefully because wildlife could jump out in front of your car. This is an example: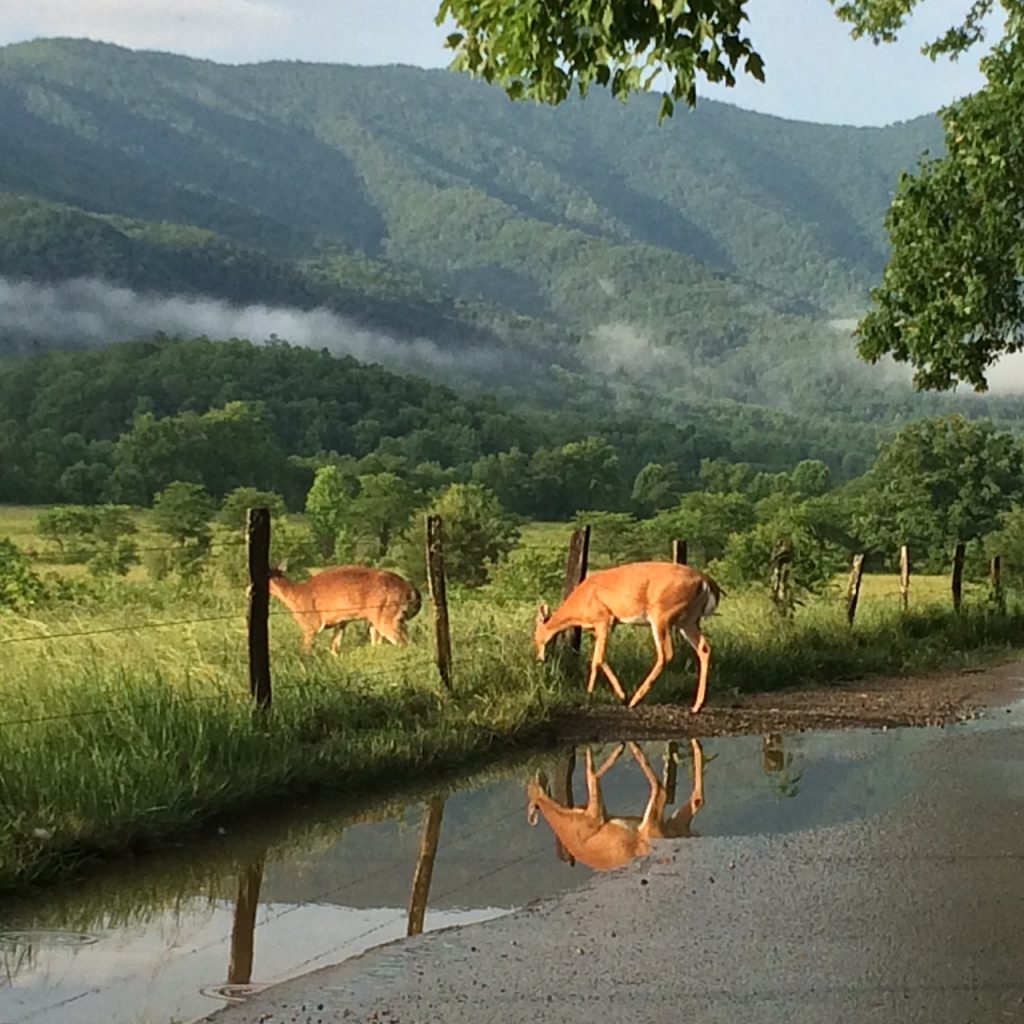 How majestic!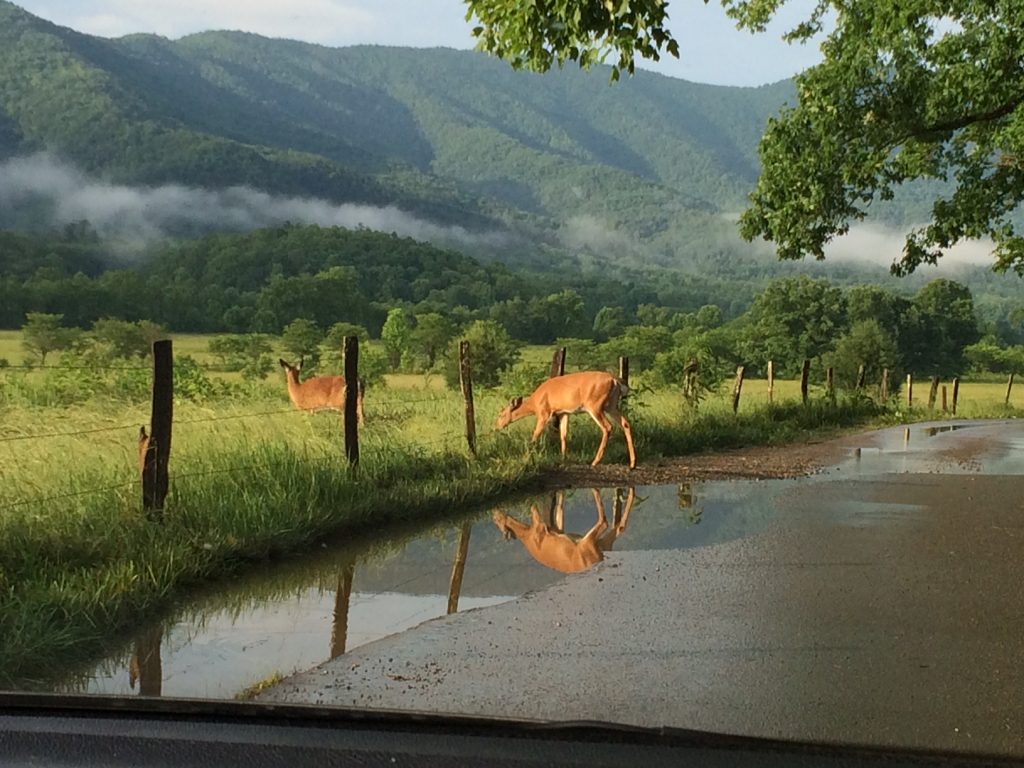 I love how the deer is reflected in the water on the road which was left over after it had rained. The smoke on the mountains was so beautiful. This is probably one of the best pictures I've taken with my iPhone! I made sure you could see our dash so you could tell we were indeed driving!
If seeing 2 bears, a double rainbow, and other wildlife wasn't enough, we ended up getting to see a momma bear and 2 cubs! On our way out of the park, I turned up some worship music and settled in for the long drive back. We came across lots of cars parked. There, in the forest, was a momma bear and two cubs. The lady beside me said they were the smallest cubs she'd ever seen and that they were probably very young. We couldn't get a good picture, but it was a very special ending to our night. Praise the Lord and His beauty!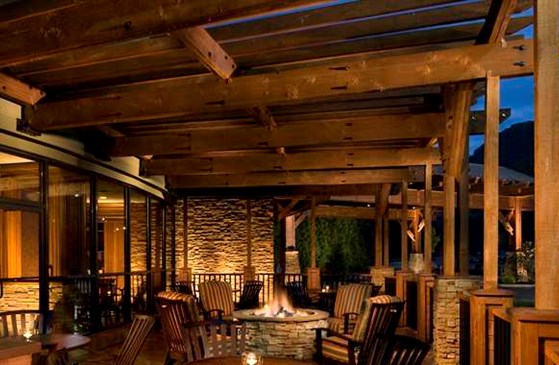 After Cades Cove we drove back to The Park Vista and checked in. We enjoyed the room and also went down to their bar for our free appetizer. There was a lovely outside patio, rocking chairs, and fire pit. The space was called Fireflies. The hummus plate was really good and we sat around the fire.

Later, we decided not to swim but to enjoy the room and watch Cops. One of our favorite travel tv shows.
It had been a long day, but I was so happy we saw BEARS!
Love & Laughter,
Tiffany