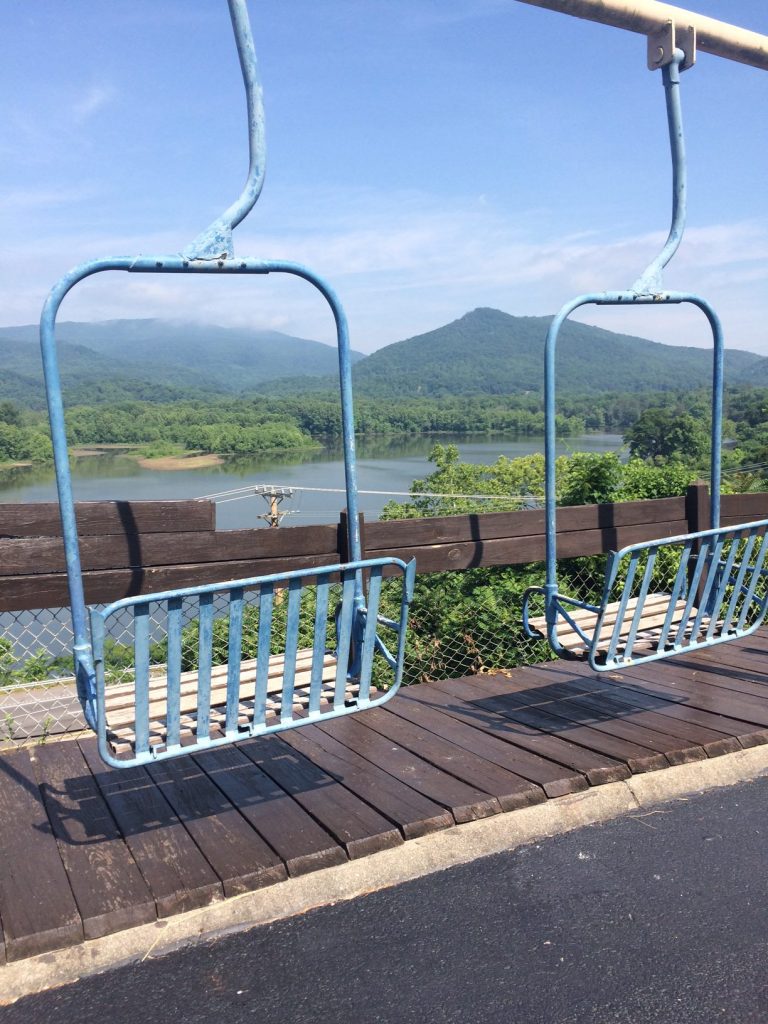 We woke up at the Hampton Inn in Caryville, Tennessee and were shocked at the beauty that surrounded us! I knew ahead of time it was located in the Cove Lake State Park, but I didn't realize you could see the mountains and a beautiful lake from the breakfast space! We began our second day of our road trip on Saturday, June 3rd. The hotel was pretty busy. Their breakfast was really well done. I loved the raisin bran and fresh fruit. Before, I would wonder what in the world a vegan would eat…but now it's pretty simple. Fruit, whole grains…you get the picture.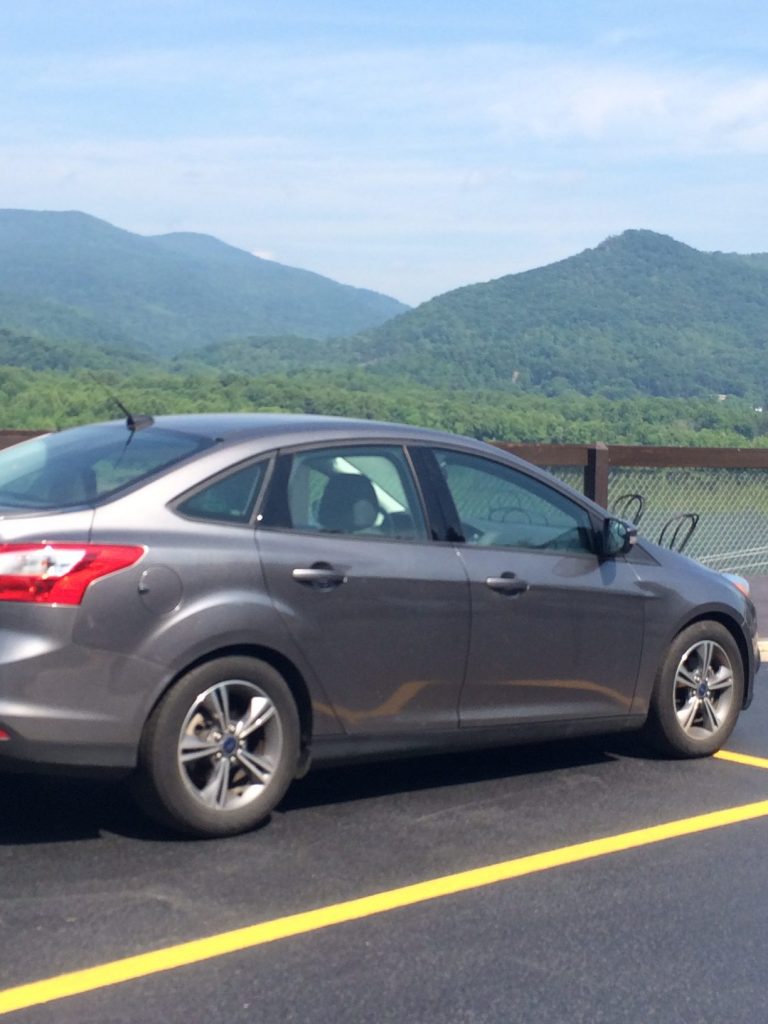 My dad always took a picture of our cars when we went on vacation. I always thought it was weird but now I get it. You want to remember what you were driving and where! It's harder to remember different parts of your life when you get older. Looking back you can be like "oh, I remember that clunker" or "oh, look at the two door thingy." Well, this is our "new" 2014 Ford Focus that we bought last May. It was celebrating its first birthday on this trip. I didn't post that we bought a new car on Facebook since it seemed a little braggy. Well, it's a year now and I'm posting it here. I love the color. We got a great deal on it and it has AC! Our last car was the same as one as Dustin got for his birthday as a teen and it was on its last leg. We had the ability to donate it to a person which was awesome. So, yeah, here's the car and it's in Tennessee. I'll probably look back at this and smile.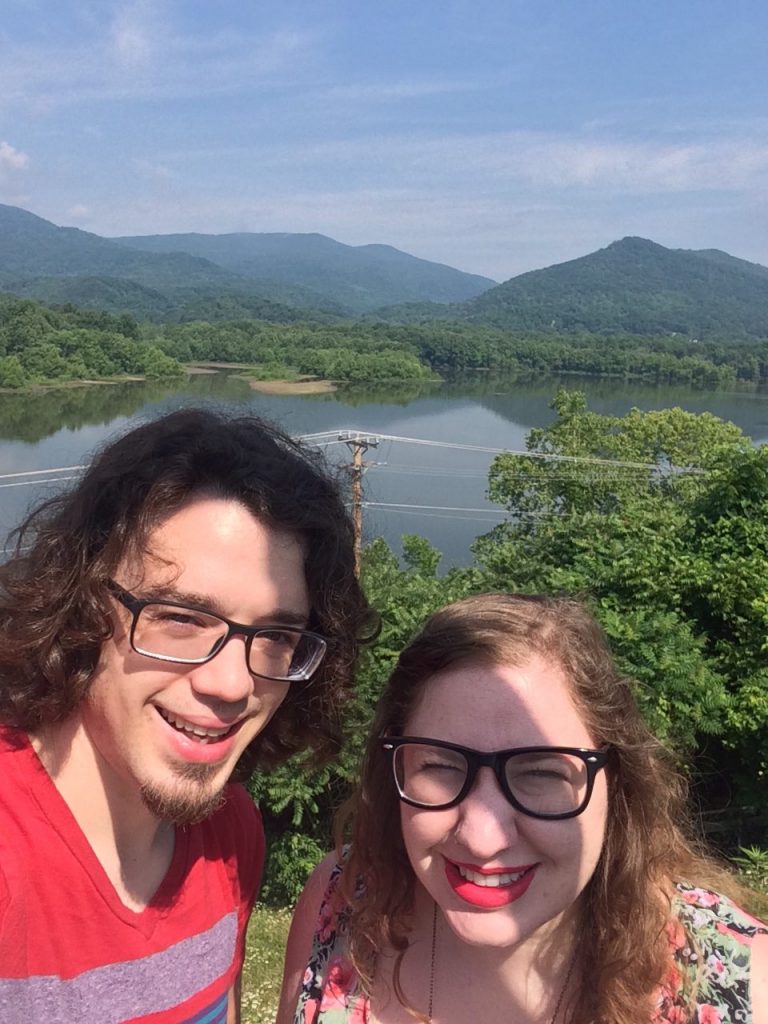 Selfies are hard!  We are twins with our black Zenni-Optical $20 glasses. (It really does work, I was skeptical too) I'm also wearing a tank top I got from Volunteers of America for $2 before the trip! One of the best things about losing weight is finding clothes that are on sale that fit! Woohoo.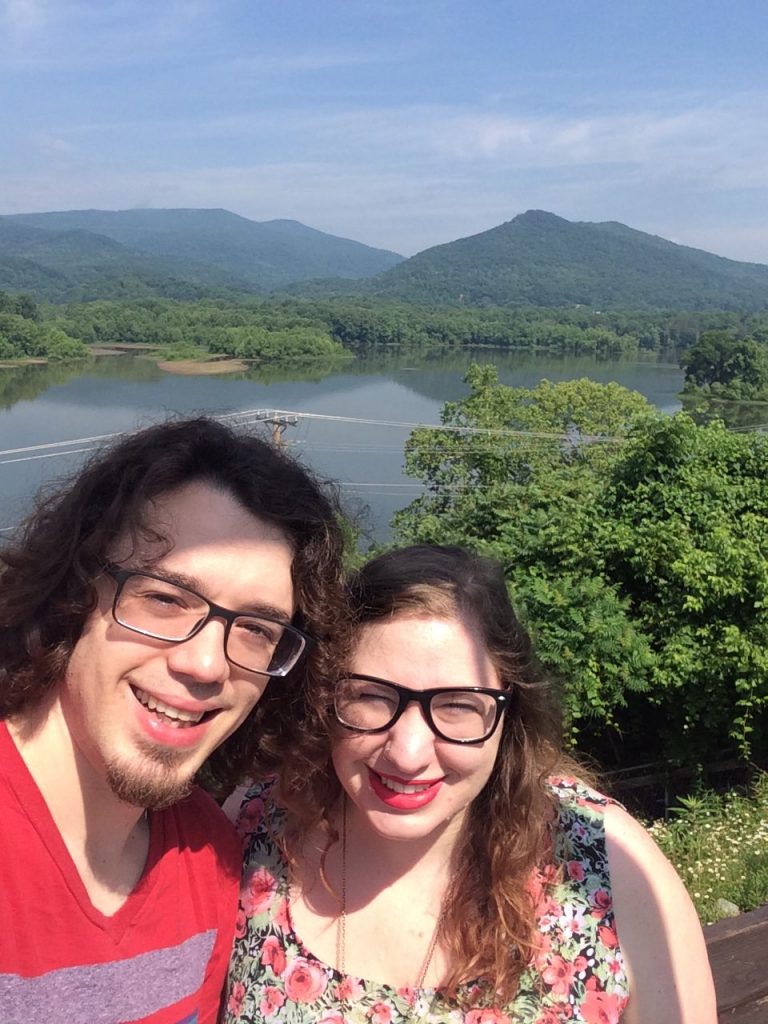 Take 2. Still squinting into the sun. I should've brought the selfie stick my brother-in-law got us for Christmas. It was a cool gift even though I laughed my butt off at it.
Isn't it strange how much easier it is to wake up early on vacation? I just needed to say that. Because my butt was up EARLY…and it never is at home. I think the promise of the fun day planned ahead had me excited.
Big Green Dragon, Caryville, Tennessee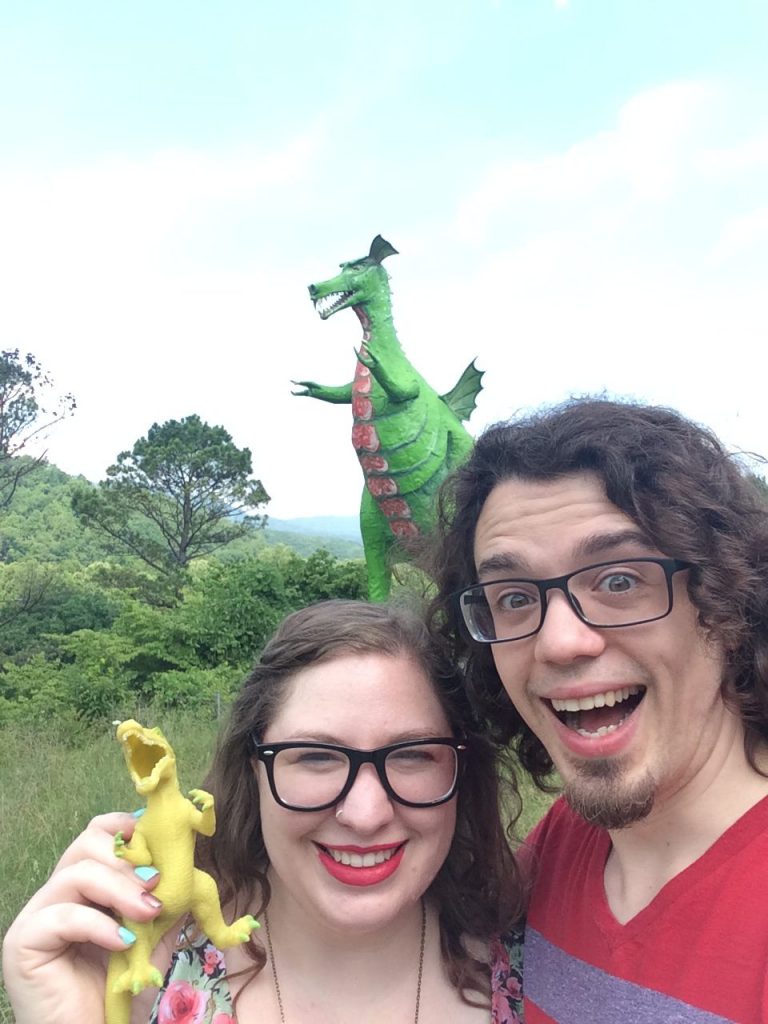 Don't laugh. Ok, laugh. It's hilarious. I saw this road side attraction on the Roadtrippers app and had to see it in person. This Big Green Dinosaur has been there for quite some time. You can see it from the highway. It's now behind a Dollar General store so you have to park and walk behind the store for a picture. It's handmade from fiber glass. It's been there since the 1980s. Don't judge me, I read it's history online. Anyway, it used to be for a fireworks store until the store burned down. It's funny because it's a fire-breathing dragon. Our Dino met the road side Dino. We had fun with this. It was also less than a mile from our hotel.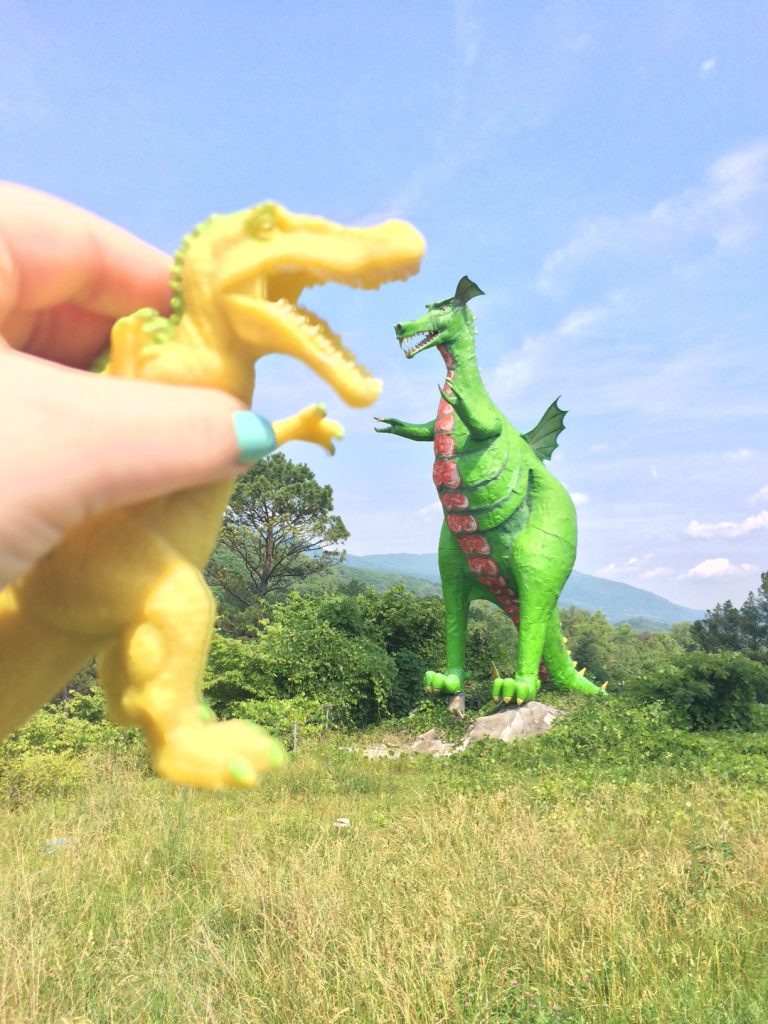 World's Fair Park, Knoxville, Tennessee
Next, we drove to downtown Knoxville, Tennessee. I don't think I've ever been downtown there. I know we drive by the big gold thingy but never have I stopped to think what it was. Well, this time was different. The big gold thingy, also known as the Sunsphere, was going to be our next stop.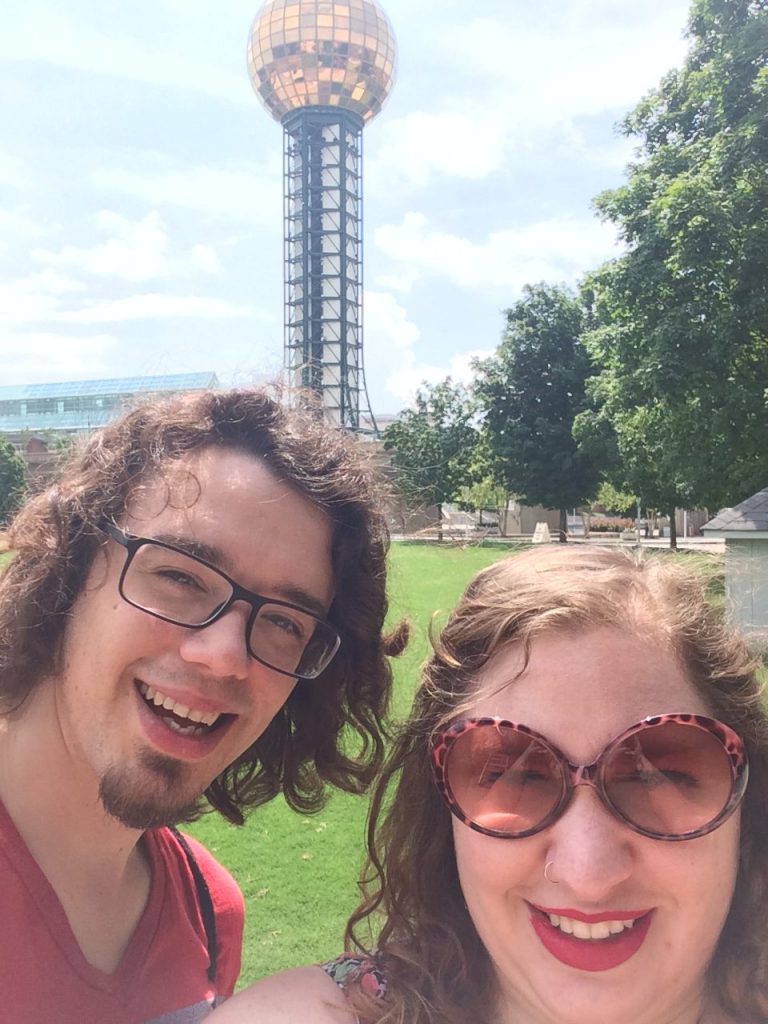 Parking downtown was a little challenging but we figured it out. The park downtown is lovely. There's a big amphitheater where Johnny Cash and June Carter once sang. It's big and green and relaxing. There were lots of families out and kids playing in one of the water features. There was also a kick-butt park. It had climbing walls and things you could hold onto and slide on. We walked to the Sunsphere. It was free. At the base we just hopped on an elevator that took us up. The observation deck was cool. You can walk all the way around. There's also history on Knoxville. That's how I knew about the Johnny Cash thing. We were bored with it pretty quickly. I tried to hit the elevator button to take us higher (where other offices and a restaurant was) but it didn't work.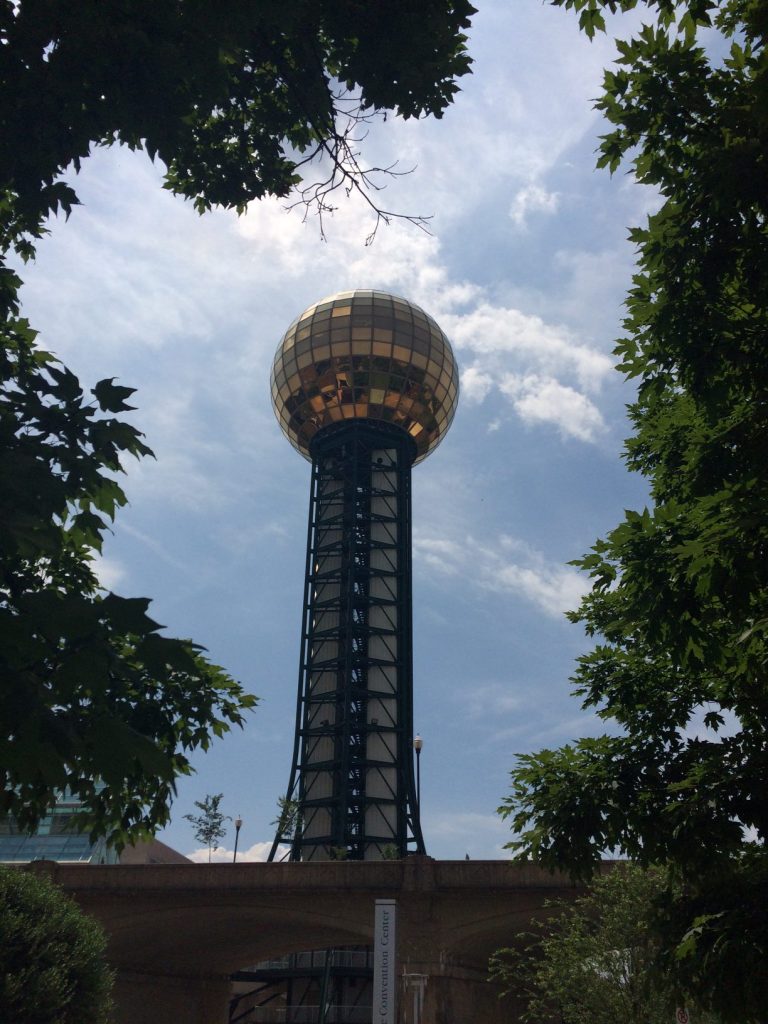 All and all it was a cool stop since we were driving through but I wouldn't stop again for it. PS- It was built for The World's Fair and most of it is still original. They charged $3pp to go up in it.
Goats On The Roof, Pigeon Forge, Tennessee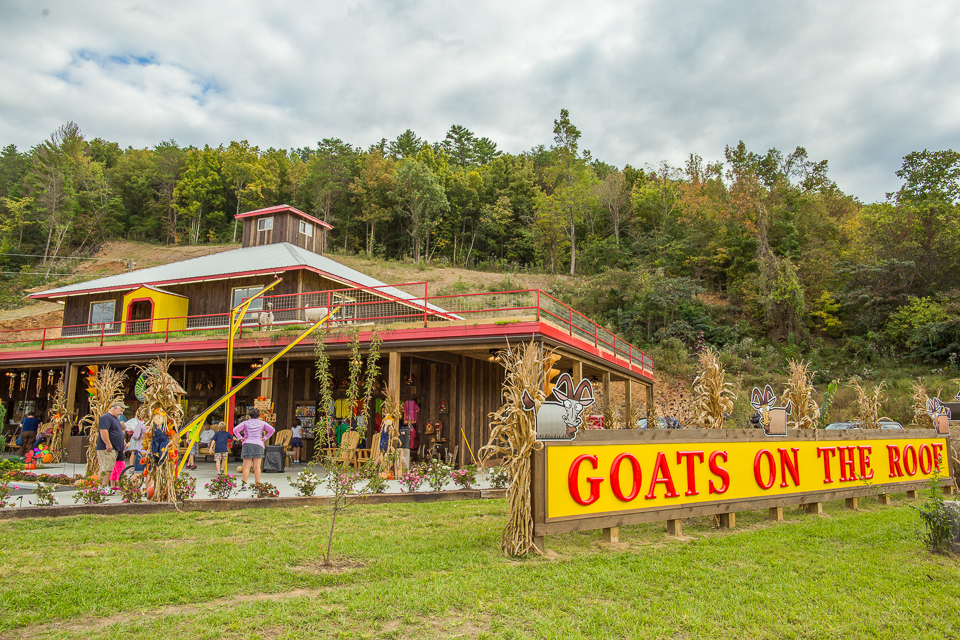 There's one thing you got to know about me: I love animals. What do I like better than animals? Baby animals. What do I like better than baby animals? Nothing. Ok, I actually like feeding them. That's why we stopped at Goats On The Roof in Pigeon Forge. Last year we were here and road the Alpine Coaster. It was fun and thrilling. (It looks boring but it isn't.) We went back to feed the goats who live on the roof. I'm not lying. You can feed the goats on the roof and on the ground. They also had baby goats. It was only 50 cents per cone of food. We bought 2 for $1 and fed the goats. Adorable. You can ride a bike that makes a chain move your cup up to the goats so you can feed them.
A tip? Walk upstairs in the shop so you can see the goats up close on the roof!
Our day was just beginning, but there's much more to say in another post.
Love & Laughter,
Tiffany