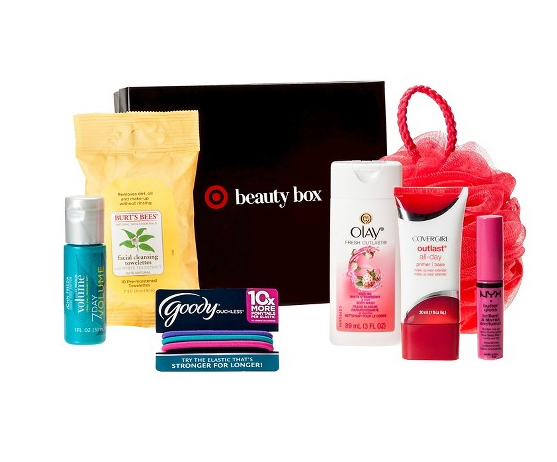 Now is the time to grab you debit card and buy both of the Target Beauty Boxes! They're up live for back to college and are GREAT deals. I purchased both and an extra one for my sister-in-law who starts back at college in the Fall.
The Target Beauty Boxes are basically Target's response to the beauty box fad. They highlight different beauty products and release boxes at different times of the year. I'm not sure if there's a schedule but I saw a link on a forum (BeautyBoxes) I follow on Reddit. Here is what is included in each individual box:
Back To College Honor Roll Box (pictured above)
This box is my favorite of the two. It includes a lot of products I'll use on a regular basis. It's also the one I bought my sister-in-law. Here's what's included:
Bathery Delicate Pouf, $1.99, full size
John Frieda Luxurious Volume 7-Day Treatment, 1 ounce, sample size, $2.25
Olay White Strawberry Body Wash, 3 ounces, sample size, $0.99
NYX Butter Gloss Strawberry Parfait, full size, $4.99 (it might be a tad bit smaller)
Goodie Ouchless Elastics, 3 bands, $0.99
CoverGirl Outlast All-Day Primer, full size, $9.79
Burt's Bees White Tea Facial Wipes, 10 wipes, $2.99
That's a total of $23.99 worth of products for only $5! I personally would spend $5 alone on an NYX butter gloss. I think that's what caught my eye first. I like that there's the perfect mix of makeup items and skincare/hair items. You can never have enough bath poufs, body wash, or elastics! This is an excellent deal and  comes with free shipping. You can order it here. Act quick though, these sell out quick!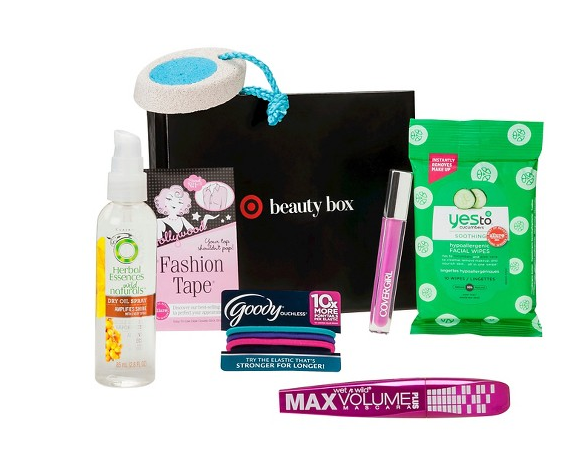 Back To College: Head of the Class Box (pictured above)
Even though I won't use a few of the items like the fashion tape and the pumice stone, I think this kit is still a steal. The mascara and Covergirl lip color are what sold me. Here's what it includes:
Goody Ouchless Effects, 3 bands, $0.99
Bathery Pumice Stone, full size, $1.99
Hollywood Fashion Tape, sample size, $4
Covergirl Colorlicious Lip Gloss, full size, $5.99
wet n' wild Max Volume Plus Mascara, full size, $4.99
Herbal Essences Wild Natural Illuminating Dry Oil Spray, full size, $5.99
Yes to Cucumbers Facial Wipes, 10 count, $2.99
This box has a total of $26.94 worth of products! Even though the value is higher, I still liked the other better because I'll use more of the products. I'm not sure what the hair oil will be like. I use a lot of other brands like Beauty Protector and Bumble and Bumble so I may end up giving it away. I do, however, like the Covergirl lipgloss. I'm curious what color will come. Again, you can purchase this box here but order quickly! They may sell out by tonight! Each comes with FREE SHIPPING.
Which box sounds the best to you? Are you going back to college? Would you like one of these in your mailbox?
Love & Laughter,
Tiffany