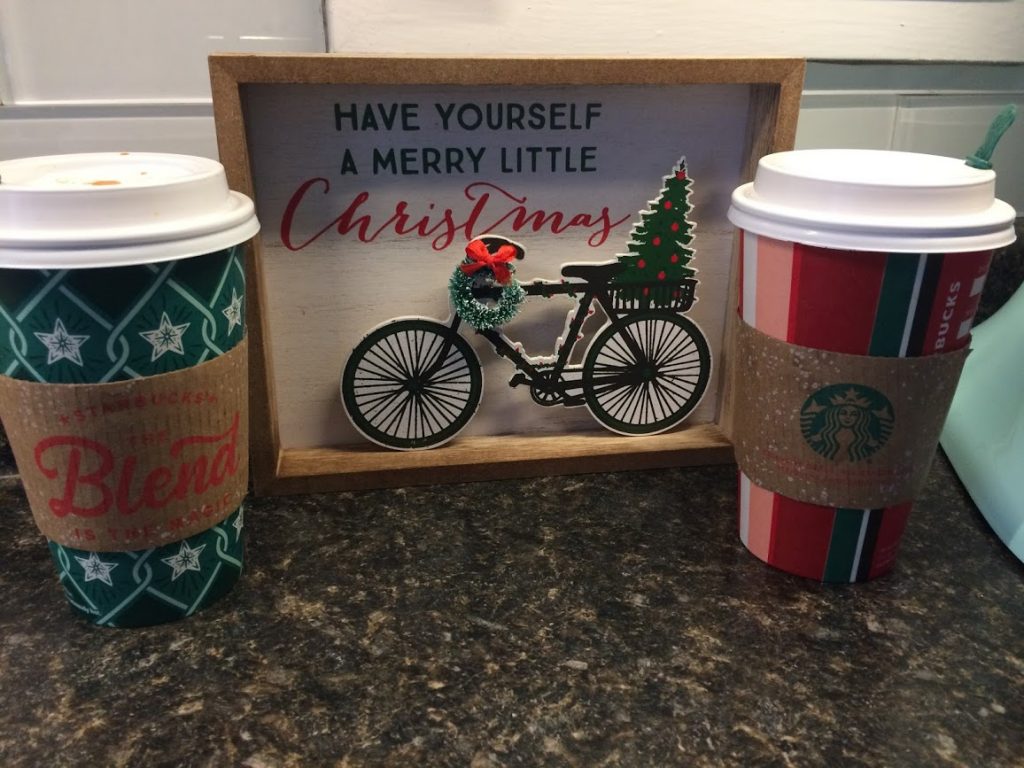 Hello Everyone!
I'm so excited that I was able to have time to be creative over the last month or so. Thanks to my amazing husband and family, I've had a little bit of free time here and there to de-stress and enjoy crafting. I've always loved making things with my hands and baking. With Bella, I haven't had a lot of time, energy, or funds to do it! For Christmas I received some awesome craft items from generous family members and I discovered felt quiet books as well!
Jaxson's Quiet Book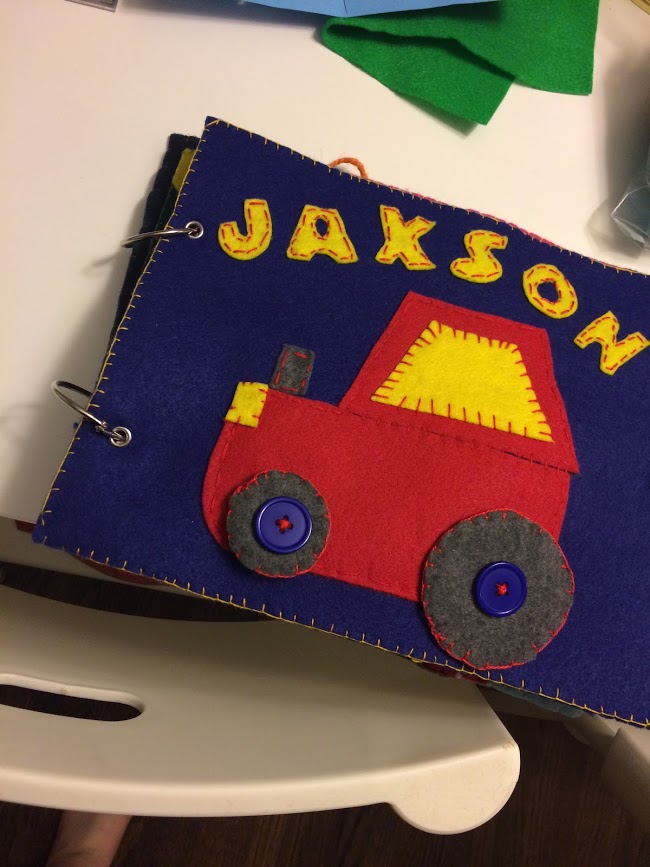 I learned about Quiet Books and became obsessed with them. I started by teaching myself and cutting everything out and sewing it by hand. In the end I learned how to do a blanket stitch, install grommets (metal rings) and follow free patterns. The other things I knew how to do before.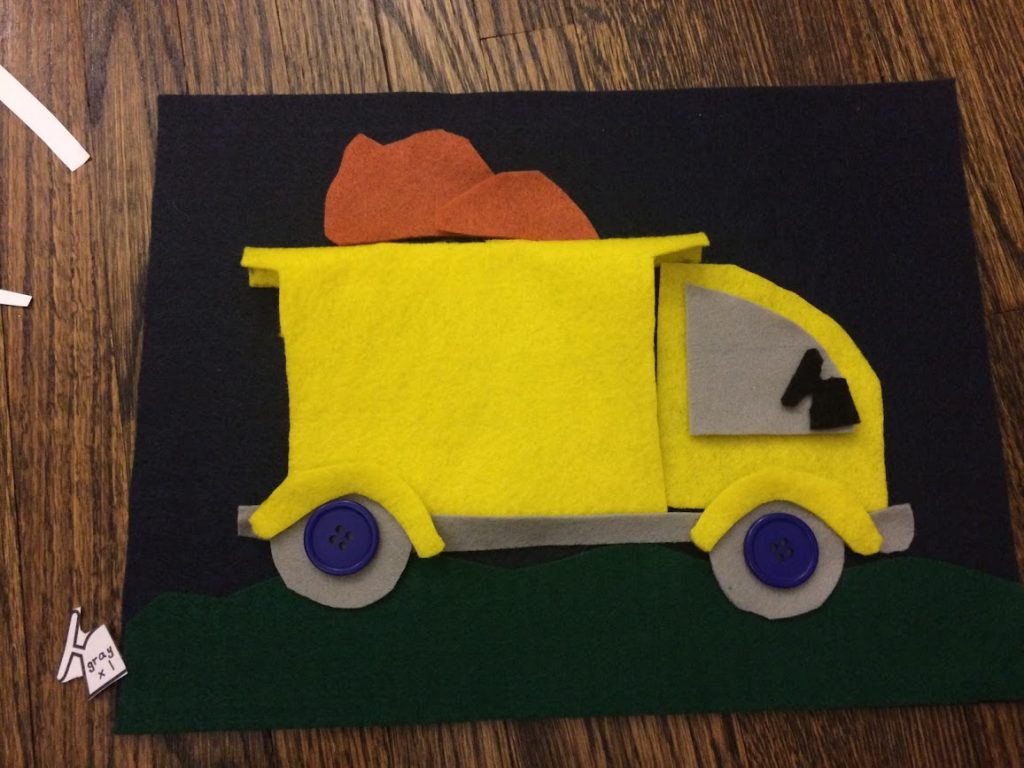 I used templates from the blog Imagine Our Life (thank you!) as well as some I found online and others I freehanded.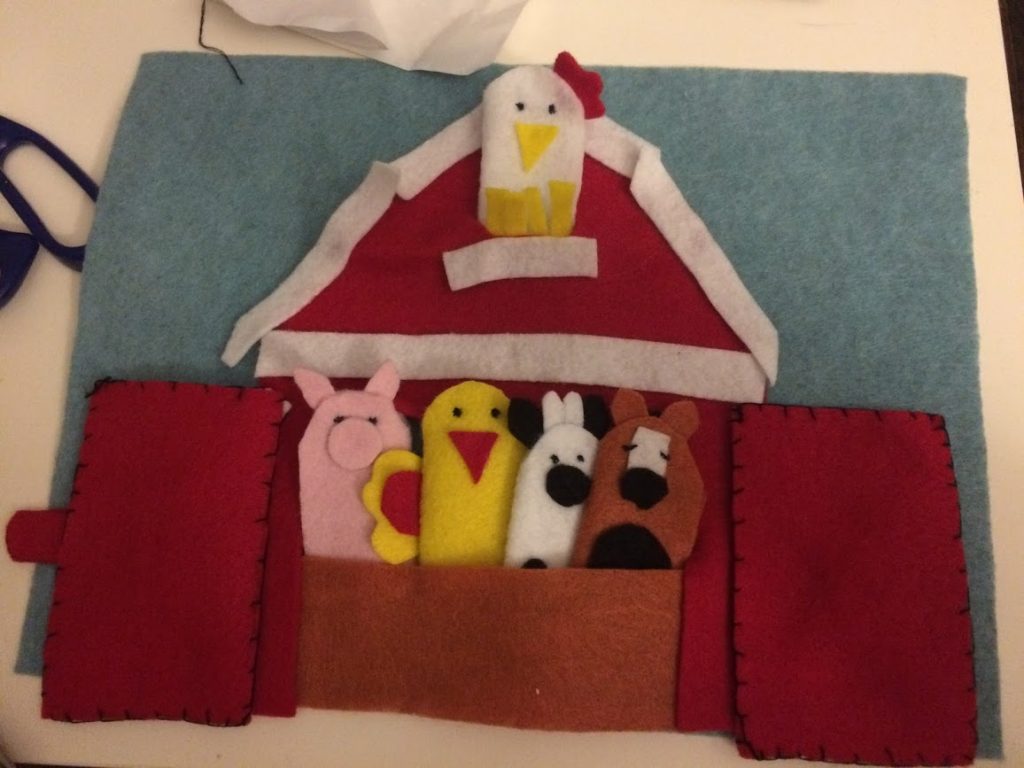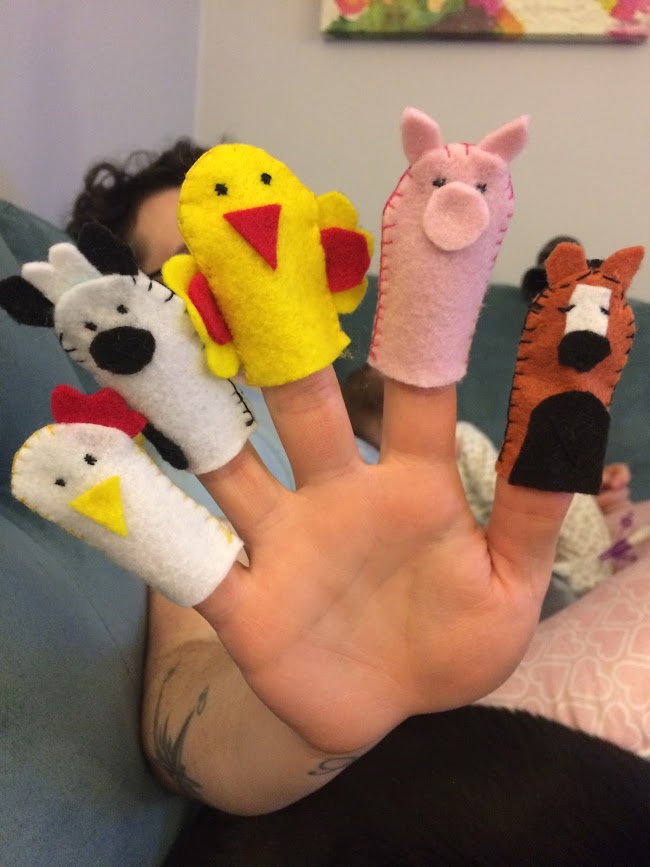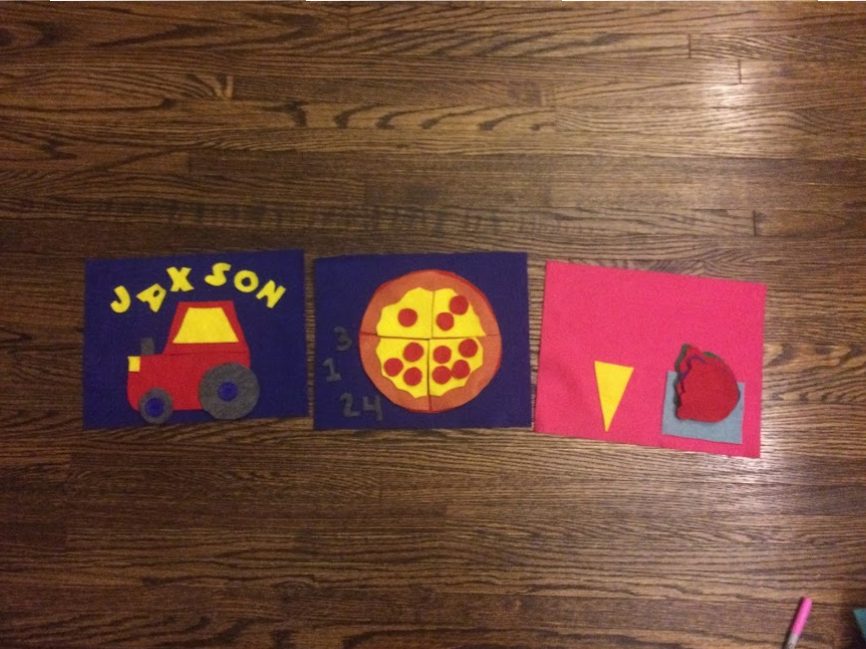 In the end, I made the following pages:
Cover Page, Tractor, wheels spin
Pizza Page, Pizza slices with pepperoni can be counted and can Velcro onto right spaces
Ice Cream Page, Stack a fun colorful ice cream cone
Farm Pages, Finger puppets with open/close barn doors, Page for puppets to "play"
Dump Truck Page, Dump Truck "empties" and you can take rock in/out of truck bed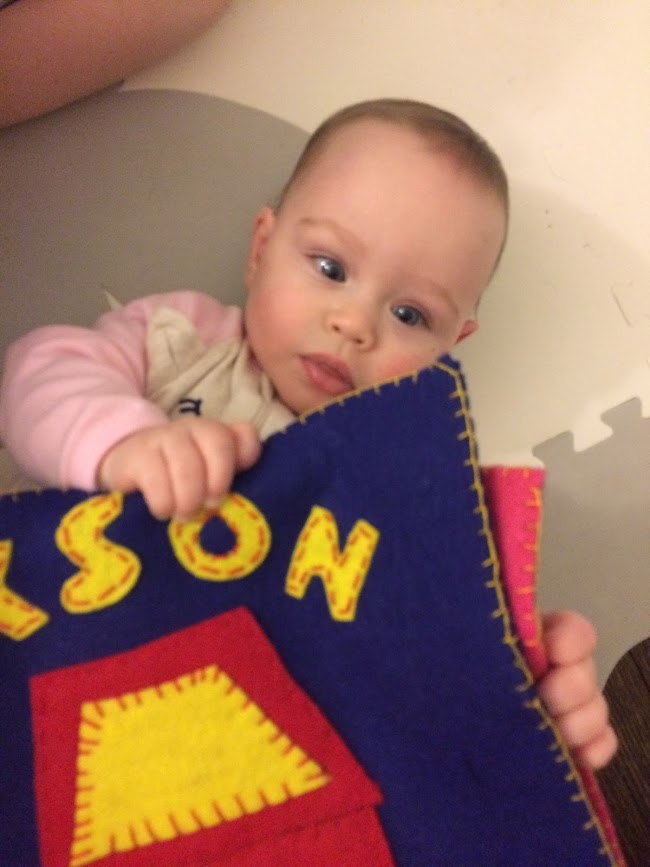 I bound the pages with grommets and binder rings. This way. I can add/subtract to the book. I choose to finish off each page individually so that we could interchange them easier. Believe it or not, I never took pictures of the finished book! I gifted it to Jaxson and forgot to do a video of the book pages. I will have to do that. A lot of these pictures aren't or it finished but in different stages. I loved it. It took a lot of time though, and planning!
Baby Christmas Felt Books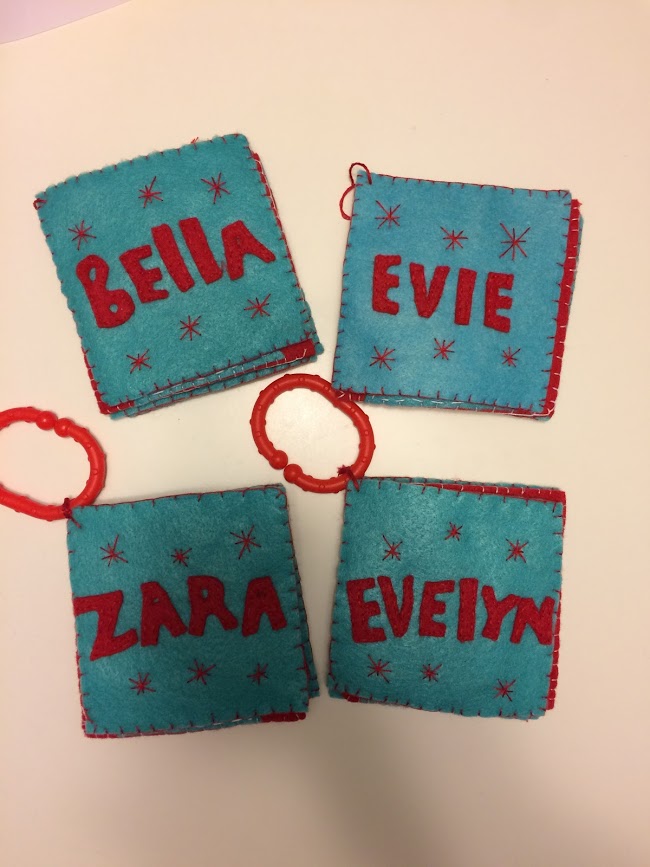 Then, I decided to make Christmas themed baby felt books. I made a total of 4. They also took more time than I planned! Almost all of these I freehanded but the fox. I found the pattern here.
I really loved how these turned out. I stuck to easy silhouettes and only used embroidery thread and felt. I struggled with binding them, since I didn't want to use the grommets or things that could be a choking hazard. I ended up threading them together and tying a knot. For two of them I attached them to little baby links. Of course for Isabella's I had to "sign" it on the back. Each had 4 pages. They are pretty small. Jaxsons was bigger, but these were meant to be handled by little fingers!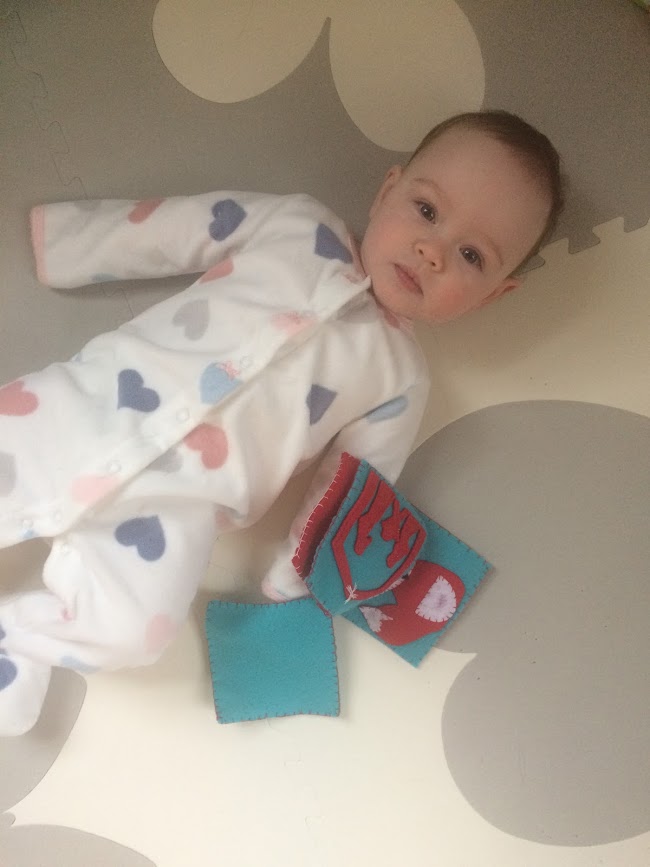 Bella's face doesn't show it, but I swear she loved it and enjoys the contrast!
I began a baby book (first) when learning but abandoned it because I switched to the Christmas idea. Below is where I began and I'll get back to completing it eventually.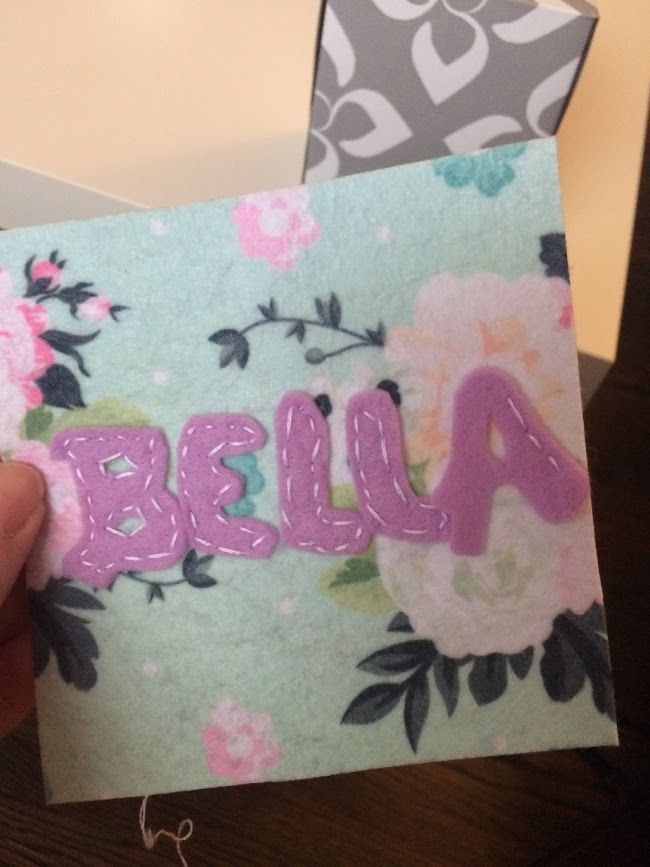 I Got to Bake!
We have an old German family recipe for lard sugar cookies. Yes, lard! It's crazy but really addictive. I've been making and eating them since I was a little girl. We made them with my dad (as always) and I was creative and decorated the ones below.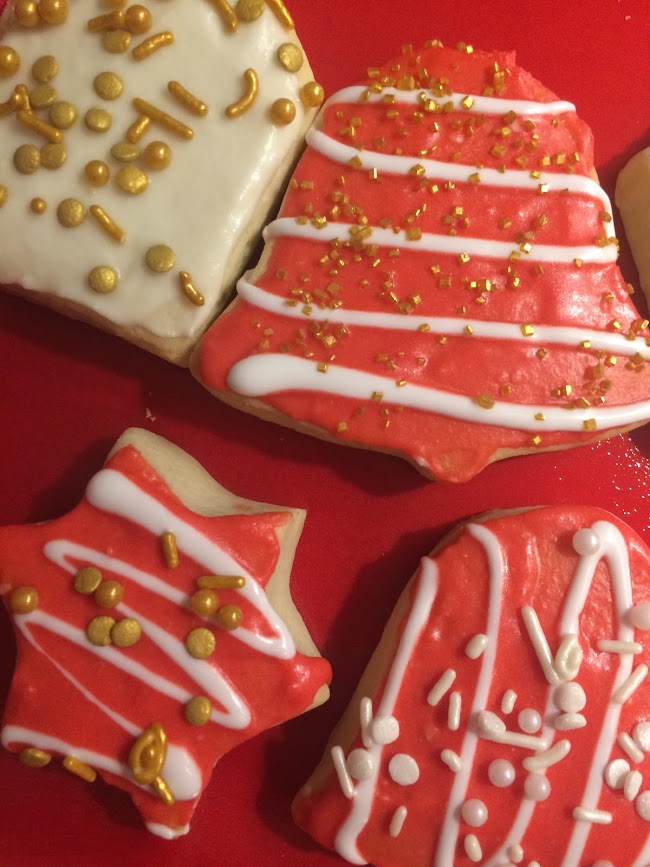 I also was able to get my mixer out! I made some quick peanut butter cup cookies. They were a big hit at our family get togethers. I didn't make my fun "twisted buckeyes" but may make some for New Years Eve.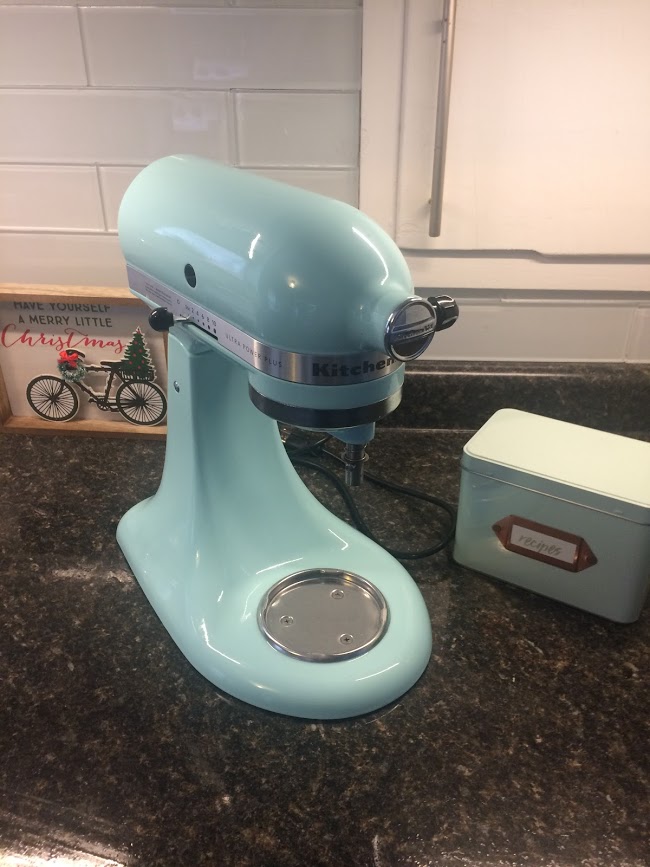 Fleece Blankets
Money has been a bit tight this year! We cut our budget back by quite a bit. Instead of buying everyone on our list individual gifts, we made everyone a fleece blanket! This was fun because
1.) it was pretty cost effective (no blanket was more than $17 each) We bought the kits from Joanns when they were 40% off. 
2.) it gave me something to work on and craft
3.) each was picked out based on the person's likes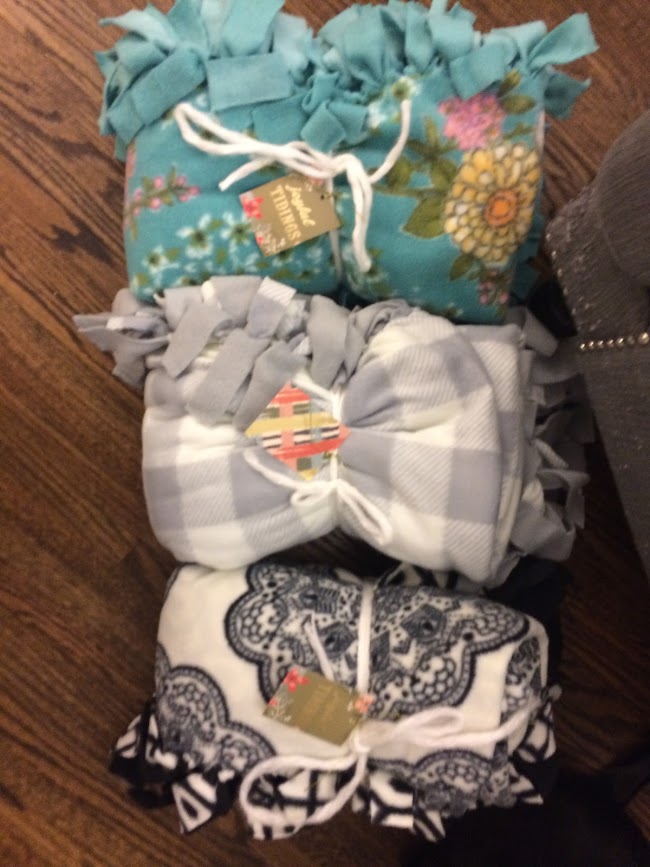 Everyone liked theirs. They wash up really well (I've washed mine A LOT with Bella vomiting) and I did a different tie which made the prints switch sides. It was more of a "in/out" fold instead of a tie. It helped the blankets to lay nicely. I'm not sure what it's called. I used this video and cut the notches.
This project took longer than I thought as well. Haha. I was rushing around trying to finish them in time. I folded and tied them with yarn.
I Got A Cricut! And Used It!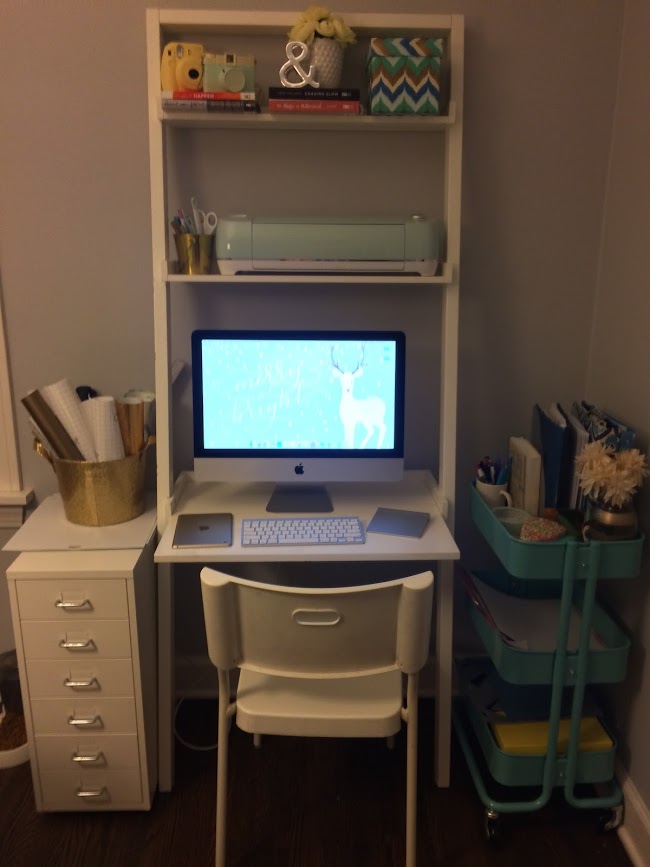 Not the best lighting above, but you can see that I've been busy organizing my office/craft space. I've moved it upstairs and in the dining room. I received the Cricut Air 2 in mint for Christmas from my dad and other wonderful accessories from other family members.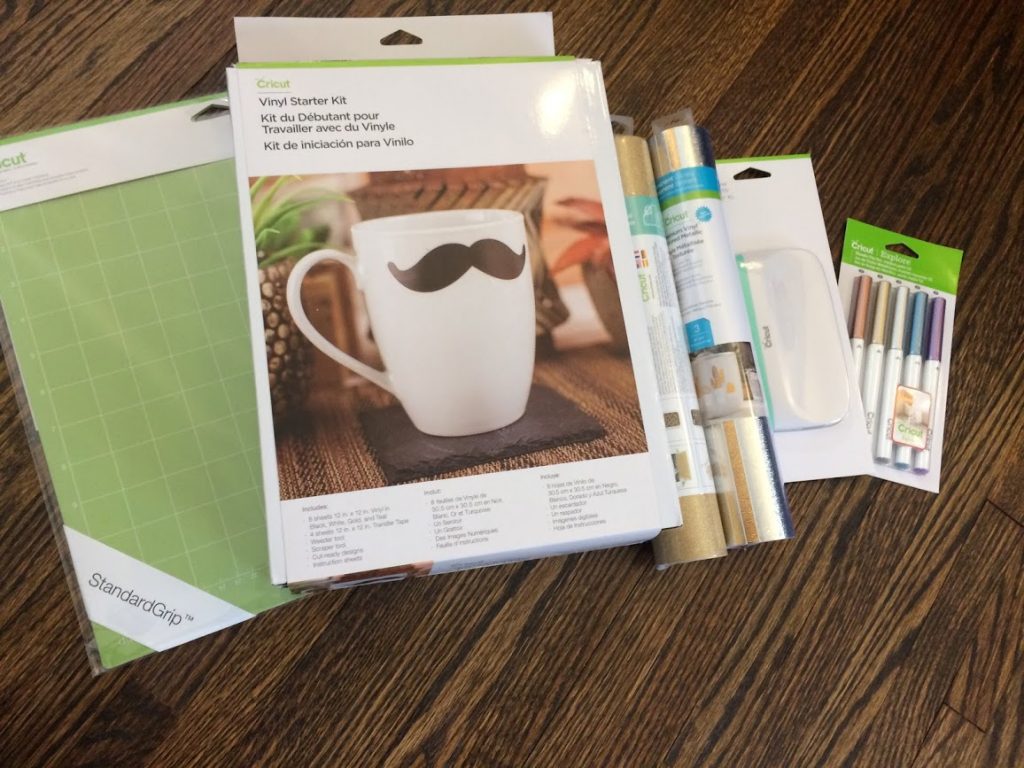 Before Christmas, I used $50 to get everything above. It was all 50% off at Joanns!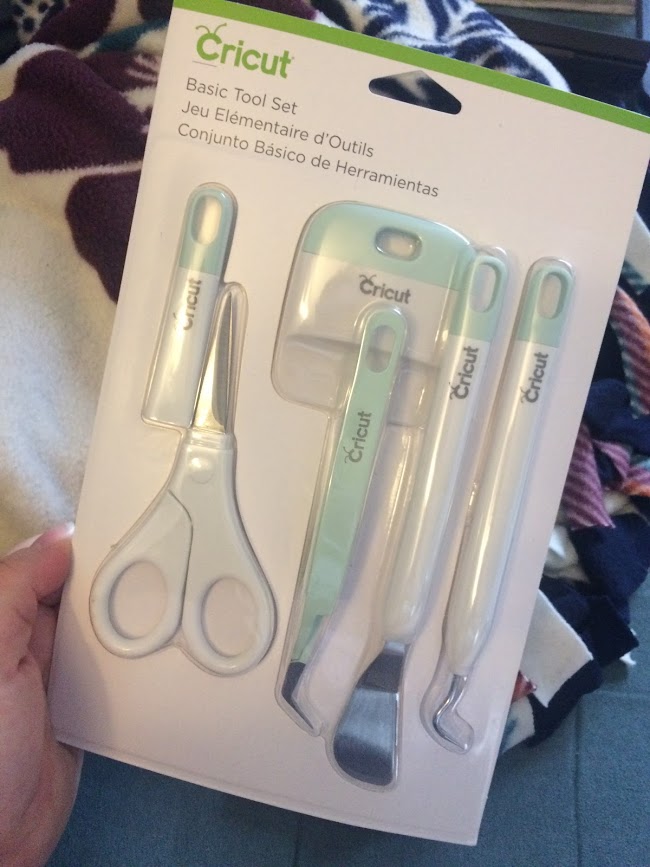 I received this tool set (it matched my Cricut) and new mats!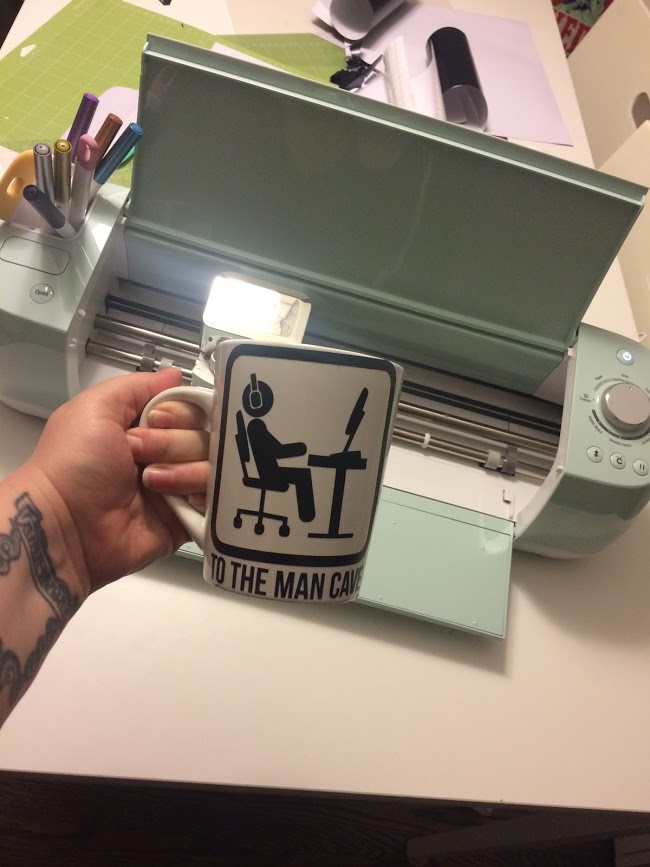 I'm still learning, but thus far I've made mugs with vinyl, phone decals, platters, cards, Christmas decorations, coloring sheets, and more.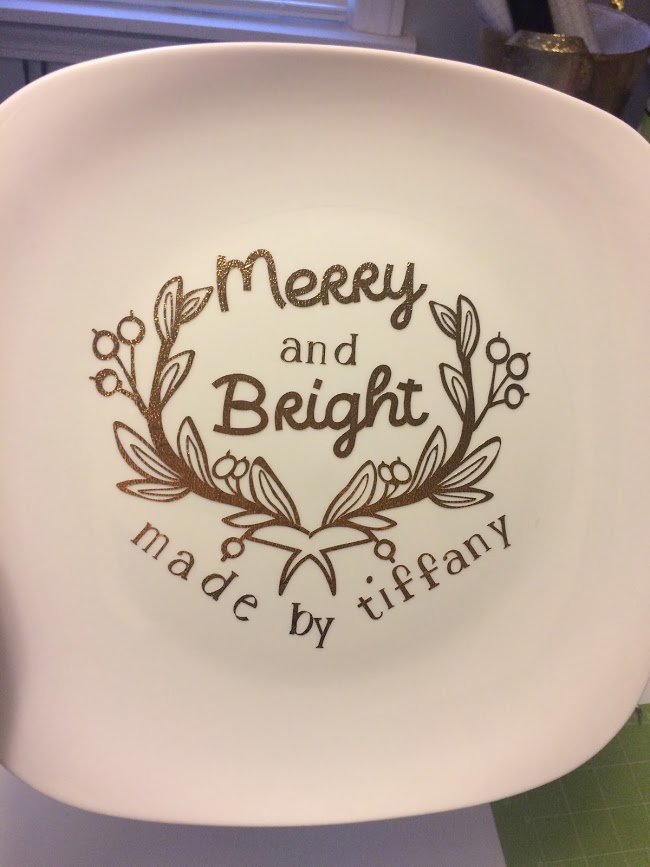 This fun personalized platter was bought at the $ tree! I used my Cricut to cut permanent vinyl for it. I placed my peanut butter cookie cups on it to take to family get togethers.
The mug I made for Dustin was my first attempt. I don't love it because it's too big, but it held up to our dishwasher and is fun. I will probably redo one and make the design smaller.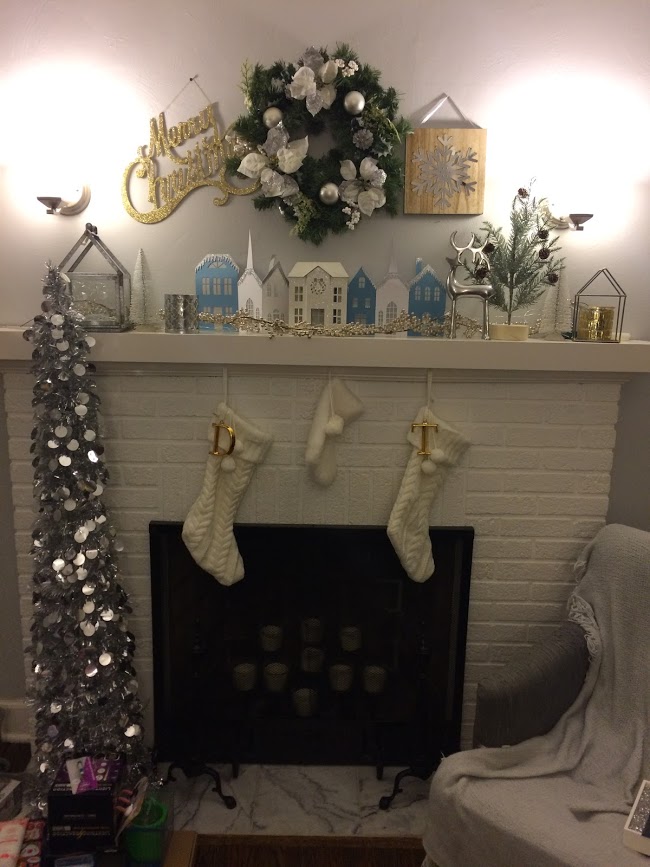 I really love the Christmas village I made with cardstock and vinyl. It was one of the "make it now" projects. I already had a glittery metal house on my mantel. I added this fun accordion style paper village behind it. You can place tea lights behind it as well to make the windows glow.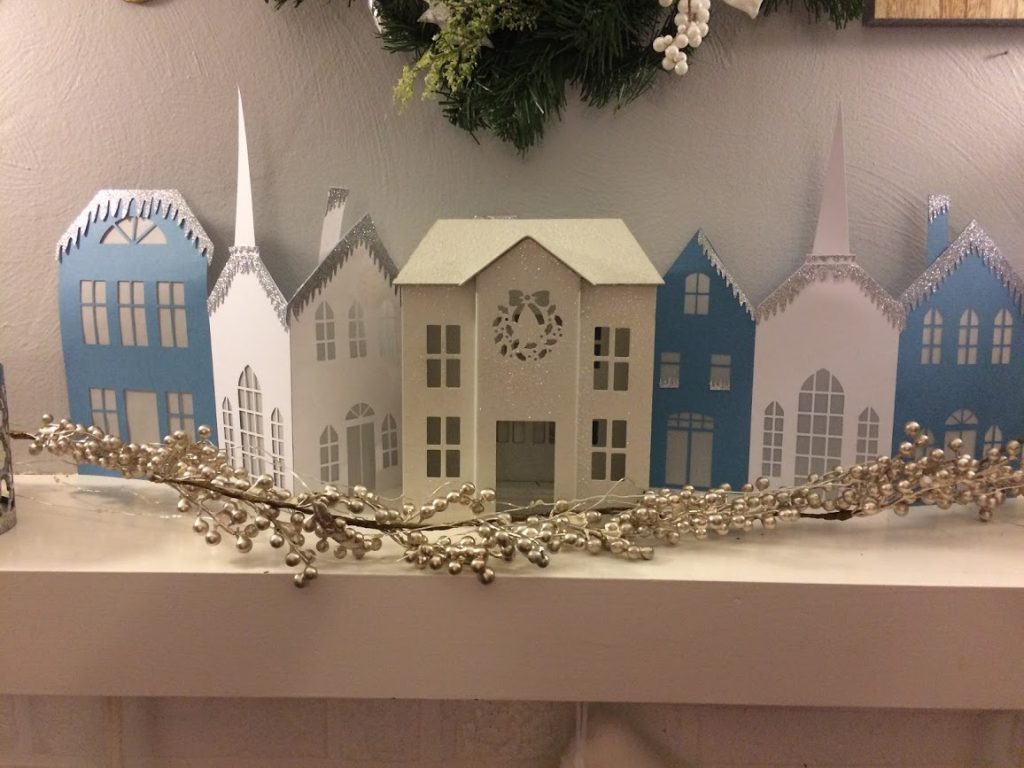 I adore the glitter snow on the rooftops. It feels so cozy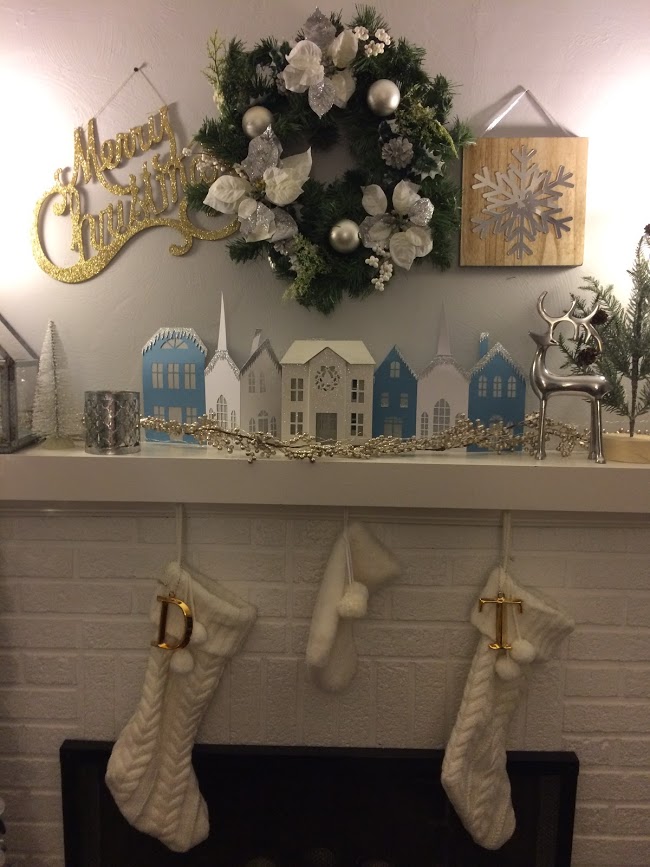 Instead of only using white, I added in blue for a pop of color.
Baby Craft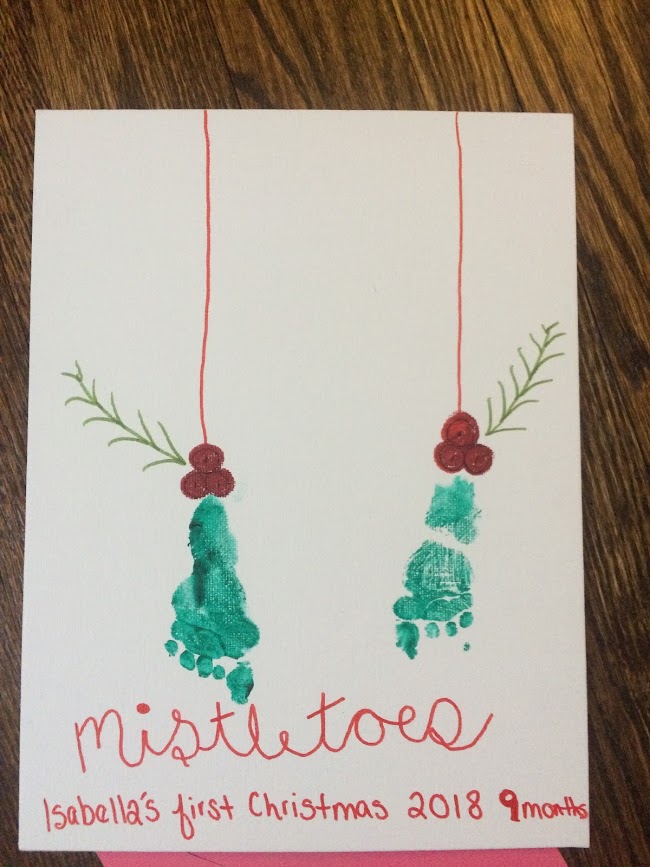 I saw this idea on Pinterest and had to try it. I wasn't crazy about it, but was bored and wanted to make a Grandparent gifts from the baby. I made a big mistake by getting her toe nails dyed green after applying water color paints! haha The cards weren't perfect, but it was a free craft (I had all supplies at home) and I had fun making memories with Bella.
You can see I've been pretty busy crafting! This has helped a lot with stress. It's been very fun to work with my hands and make beautiful things.
Hope you had a blessed Christmas,
T