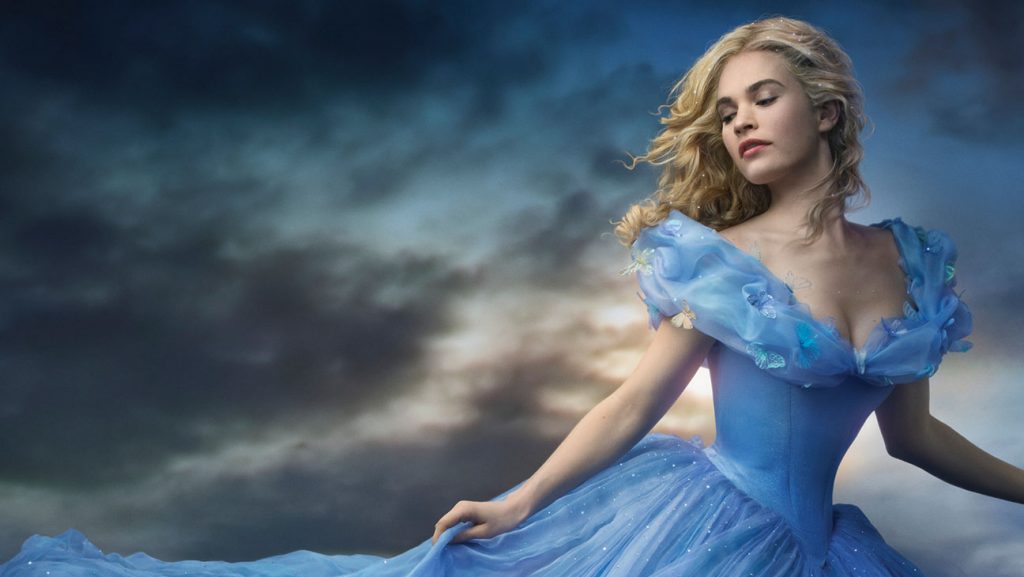 I don't usually go to movies. They're pretty pricey and I like the opportunity to lounge in my comfy clothes, cuddle my cat, and grab extra popcorn at my leisure on the couch. This past week though, my mother-in-law  planned a girls day and we got to see the movie (and she paid)! We also grabbed Olive Garden afterward. Confession: I ate 6 breadsticks. While the movie was happening, I literally almost began writing notes because there was so much to say and share with my fellow bloggers. Instead of boring you with an essay, I've determined 5 things that made the movie fantastic.
1. Have Courage & Be Kind
You'll hear the advice young Cinderella's dying mother offers a thousand times during the film. "Have courage and be kind," is woven throughout the Disney flick and is what propels both Cinderella and the Prince throughout the tale. Although at first this advice seems simple and almost cliche, even Cinderella admits to having a hard time being kind and shows there are times she feels far less than courageous. What makes the theme work so well is the acceptance that it's almost impossible to have these traits all the time, but when we look within ourselves (or to the Holy Spirit) we can achieve the unimaginable.
According to Vanity Fair, writer Christopher Weitz, explained that "There are plenty of movies in which heroines are tremendously active and aggressive, and there was room for a character whose resilience was really the most important aspect of what she was doing."
Resilience. I don't know about you, but being steadfast is more difficult than fighting back. So, today, take a lesson from Ella and have courage and be kind. Or as a little book says in Joshua 1:9 "Have I not commanded you? Be strong and courageous. Do not be frightened, and do not be dismayed, for the Lord your God is with you wherever you go."
2. Waterworks for the Prince
(Spoiler) There's a scene where the Prince is laying in his dying fathers arms, crying. This moment in the movie brought tears to my eyes and made me think a lot about how the media portrays men. In the past, a man of authority wouldn't cry or show a lot of emotion. In this adaption of Cinderella though, the Prince is strong, brave, and … emotional. He isn't ashamed of shedding tears over his father and Cinderella  has empathy towards his personal loss. I want to live in a world where men can be "real" and can have strong emotional reactions that are accepted and encouraged. Hey, even Jesus had compassion. (John 11:35)
3. Forgiveness
After Cinderella wins over the Prince and is about to leave for the castle to live happily ever after, she turns around and sees her stepmother on the stairs. Without a prompt, she simply says "I forgive you." Now, I get that she's supposed to be good-hearted, innocent, etc. BUT as a Christian, I felt this was given just the right amount of attention and really helped bring closure to the abuse Cinderella endured.
4. Love Wins
An argument could be made that people don't really marry to unite kingdoms/gain money/success/etc. anymore but I'd have to disagree.  I've known so many situations where couples settled into marriage because it was convenient or was their only "life option." It was refreshing to see two people working hard for their connection. I want to believe that I'd marry my own Prince – even if it meant living on Ramen Noodles and going without AC for a year. It helped, of course, that Cinderella's man had some serious cash.
5. Helena Bonham Carter
She's my girl crush of the moment. Even if her and Tim Burton split. Her role as the fairy godmother and narrator gave the movie some spunk. Enough said.
P.S. I've read the articles against Cinderella and have admittedly watched the hilarious Honest Trailer – Cinderella 1950. I am a pretty feisty feminist and agree that the original Cinderella basically worked against the empowerment of women. In some ways that can translate to this rendition. Overall though, I give it a thumbs up and appreciate some of the sensitivities Disney incorporated. Ex: Cinderella  actually having a personality & the connection between her and the Prince, not just her looks.
Love & Laughter,
Tiffany